Happy Monday everyone and Happy Halloween! I hope you all had a great weekend and managed to get in some Halloween celebrations along the way. We had a Halloween party on Friday afternoon, another one Saturday afternoon/evening and then a Halloween themed birthday party yesterday! So it's been a fun old weekend for us! Tonight we will be taking Dexter trick or treating for the first time which I am very excited about!
We will be bringing you a spooky, gothic themed styled shoot later on this afternoon but first of all we have this gorgeous rustic barn wedding for you from Sarah Jane Ethan. It's a simply perfect wedding jam packed with the most wonderful ideas, details and fab decorations. The Village Fete theme runs throughout, complete with homemade splat the rat, hook a duck and coconut shy. Gorgeous flowers that enhance the rustic red theme, as well as the most beautiful looking barn. I know you are going to love it.
The happiest and best day ever.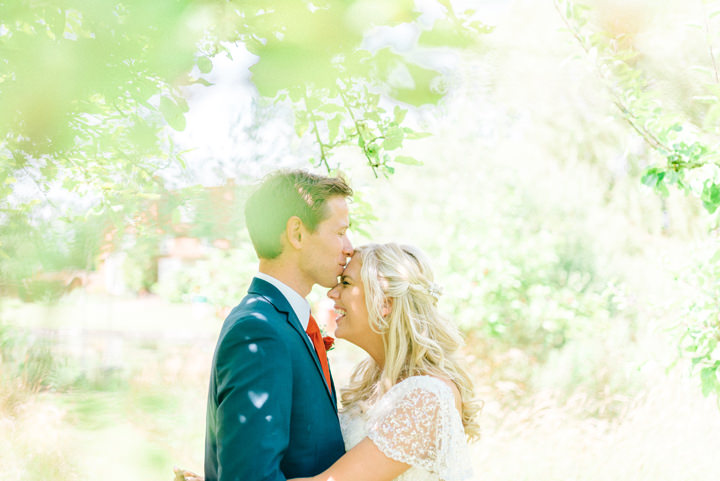 Paul and Katie were married on the 16th July 2016 at St Peter and St Paul Church, Little Bardfield Saling followed by a reception at Anne of Cleves Barn, Great Lodge, Great Bardfield. 'Paul and I both live in London but were originally from Surrey and Essex. That meant that we had a pretty large area to look at for wedding venues. The main thing that we were looking for from a wedding venue was flexibility, we wanted somewhere that we could make our own and create our own day.  We wanted something relaxed where we got create a village fete, where people could just kick back and have a great time. From the moment that we walked into Great Lodge, we fell in love with the venue and knew it was the right one for us. The venue was made even better by the owner Rebecca she was so warm, welcoming and accommodating. We got married in a beautiful little church nearby the wedding venue – St Peter and St Paul. The small size also meant we were able to fill every available seat with our 120 guests and the clear windows meant the whole church fills with bright light on a summer's day and was decorated amazingly by our florist, family friend Sue. We had 120 guests for the day and 30 more for the evening. We booked the barn in December 2014 and started planning things quite slowly. We booked up the main things – photographer, videographer and caterers – quite soon after to avoid disappointment and make sure we had the suppliers we really wanted. After that we bought and renovated our first house so planning the wedding took a back seat for a while.'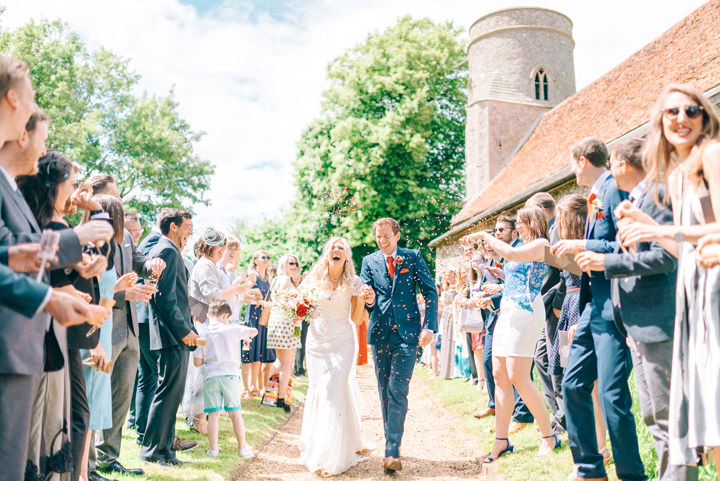 How they met
Paul and I met at University. We actually met on our first day and ended up having dinner together on the first day – I think that the rest of the group who were with just got fed up of waiting for us and left us to our own devices. We had been together around eight and a half years when Paul proposed and 11 ½ years when we got married.
The proposal
We got engaged while we were on an around the world trip in 2013. Paul proposed to me on a beautiful desert island on a five day sailing trip between Panama and Columbia.  The trip went through a beautiful group of desert islands called the San Blas. On the second day we were together, just the two of us, on a tiny island with just two palm trees and Paul got down on one knee and took an engagement ring out of his pocket. I could not have asked for a better proposal.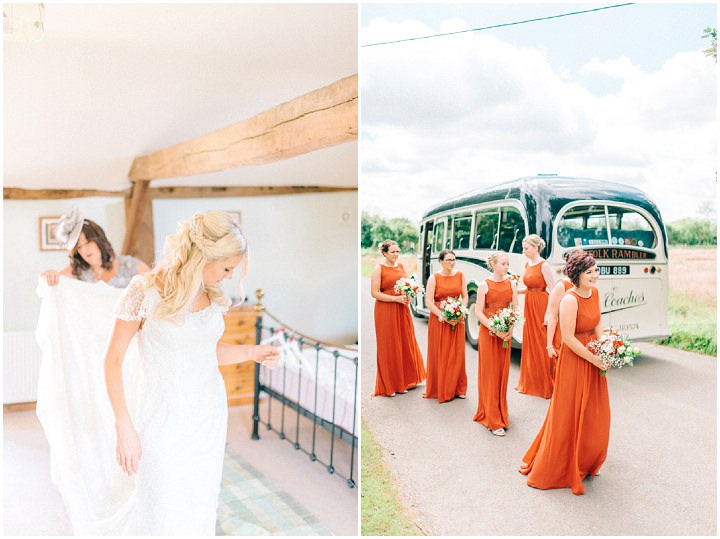 How did you allocate your budget?
We tried to stick within a budget for the wedding but where we came across somethings that we knew would make the day extra special we allowed ourselves to spend a little extra than we had anticipated. The fact that we had so much control over what we did on the day meant we could really pick and choose what to spend our money on and where possible, save money by doing things ourselves. We kept track of most of the costs with a spreadsheet so we knew how much we were spending and how much we still had to pay our suppliers.
Where did you splurge and where did you save?
We tried to spend our money wisely, making sure we went for quality and good suppliers where it would make a big difference and doing as much ourselves where we could to save money. Paul made all of the fete games himself which saved us hiring them and we bought a lot of the decorations ourselves. The catering was a big cost but as we both love our food, we wanted to make sure that we had really some great food to eat on the day. We also made sure we had the exact photographer we wanted, as we will be looking back on the photos for years to come. Having a makeup artist for me and my bridesmaids – Tayla from LB Studios – was also important as she added some extra glam to the day.
How did you choose your photographer?
We looked at a number of different wedding photographers and when I stumbled across SJ's website, I knew that she was the photographer for us. Her photos were so different from all of the other photographers that we came across. SJ's photos are incredibly natural and everyone always looks like they are having an amazing time. We also wanted a photographer who could take photos while we were enjoying our day as we wanted to spend as much time as possible with our guests on the day. I knew that we had made the right choice, when we met SJ as she immediately puts you at ease and it helped for our wedding to be as relaxed as it possibly could be.
We also had a videographer – Toby Sleigh-Jones . I was initially reluctant to have a videographer but having seen the trailer of the wedding venue I could not be more impressed. He truly has captured the essence and the feel of the day.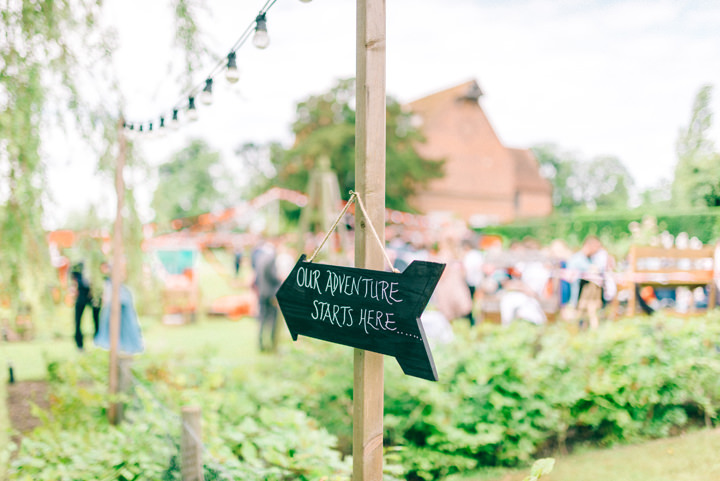 The Dress
The dress was an Ian Stuart dress which came from MiliMili bridal boutique in Colchester. I had absolutely no idea what kind of dress that I wanted and she patiently waited while I tried on what seemed to be everything single dress in the shop. I almost didn't try on the dress that I chose as I thought it had a little bit too much 'bling' for me but I was convinced by Mum. I never had the  'moment' which most people speak about, which slightly worried me afterwards but I trusted in my mum's and Lauren's opinion who picked the dress from the moment that I put it on. I am so glad that I did as I absolutely loved the it.
The shoes were from Charlotte Mills, hey complimented the dress and the style of the day perfectly.
The rest of the wedding accessories were from Liberty in Love.
The Suit and Bridesmaids
Paul, his groomsmen, his Dad, my Dad and my Grandad all had three piece Ted Baker suits. They went for dark blue suits with white shirts, red ties and brown shoes and belts which looked really smart on the day without being too formal.
The bridesmaids' dresses were from Maids to Measure.  Originally I had thought about having everyone wearing different dresses as I just wanted everyone to be comfortable and each of my bridesmaids had their own and different styles.  However, when we were in Maids to Measure, there was one style of dress which suited everyone and was the one that we decided to go for.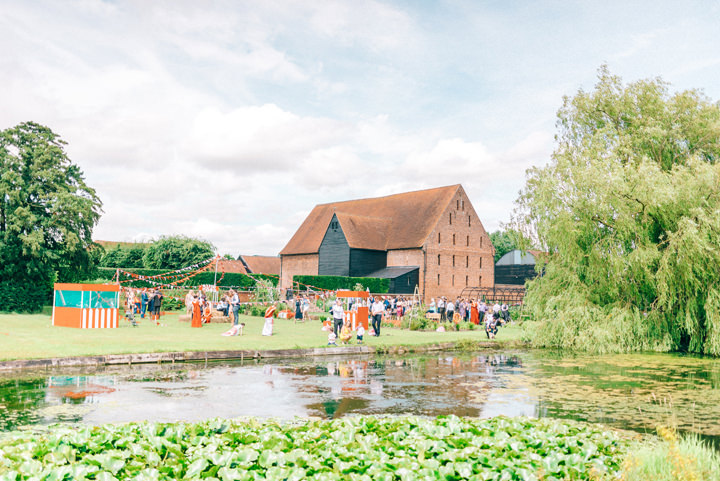 Theme or Colour Scheme
We decided to go with red for our colour scheme because it fitted really well with the fete theme and gave us a strong colour we could work around for all of our flowers and decorations. The décor inside the barn was quite rustic, to fit in with the style in the barn with lots of wood everywhere.
Flowers
The flowers were through a family friend – Sue McGarry (Flowers for all Occasions) – and she helped us to create the perfect look. I wanted to create a very natural look but with red being the main focus so Sue came up with various shades of red, pink and green that worked well together and gave us the rustic and natural look we were looking for.
Sue created some beautiful bouquets for me and my bridesmaids, button holes for the guys, corsages for Mums and grandmothers, gorgeous centrepieces for the tables and some lovey large displays which we had in milk churns outside of the church and barn. As well of all of that she also created an enormous 18ft long display for the top table which had 120 large flowers embedded within it, one for each of our guests to take away with them.
Decoration
We had quite rustic decoration in the barn, using a lot of wood, candles and flowers to give us the look we wanted. We had some large pieces like the MR & MRS letters, the dresser with the pick n'mix and a display with wedding photos from our parents and grandparents wedding days which we created using some old fruit crates, signs and lights was a really nice touch.
Food
Bouquet Garni from Colchester did the catering for us on the day and did a fantastic job. We had a mixture of hot and cold canapes after arriving at the reception venue followed by a traditional three course wedding breakfast in the barn. Guests could choose from; a warm goats cheese salad or roasted Mediterranean vegetable tartlet for a starter; thyme roasted chicken breast with green peppercorn sauce and gratin potatoes or slow roasted shoulder of lamb with dauphinoise potatoes for a main; and a trio of summer fruits pudding, honeycomb cheesecake and chocolate brownie for desert.
Bouquet Garni also provided the food in the evening from their vintage Citroen H van which was fantastic. They served guests with burgers, haloumi wraps, chicken fajitas and potato wedges all from the van which was great fun and tasted fantastic.
Wedding Cake
We had a three tier naked wedding cake from Clare at the Little Bear Cakery in Hackney. We had a different flavour on each tier, chocolate on the top, carrot cake in the middle and a classic Victoria sponge on the base. The whole thing was on a wooden stand on top of a big wooden barrel Rebecca had at the barn.
We also had a three tier cake made of cheese with a selection of crackers, fruits and chutneys.
Entertainment
We had a mariachi band called The Mexican Way play outside at the fete which was great. The played a mix of Mexican classics and pop covers and we absolutely loved them. The fete games were great fun and the music was a great background to everyone playing the games and enjoying themselves.
In the evening we had a DJ from Monitor Music who did a great job keeping the dancefloor full all night and playing a great mix of songs to please all of our guests.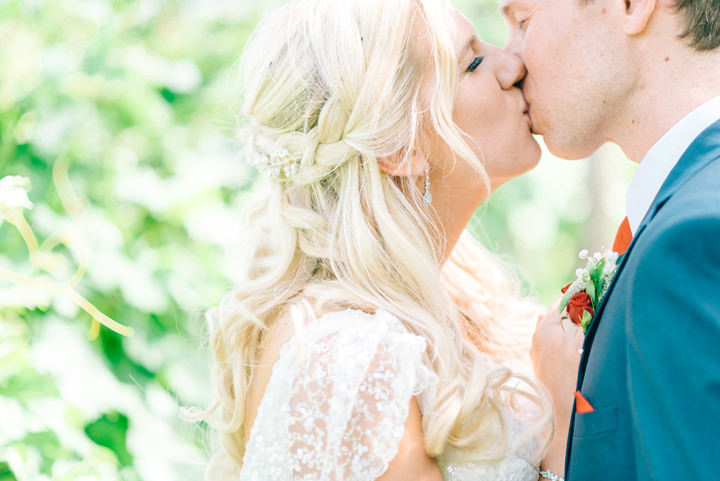 Stationery
The wedding invitations and on the day stationary was provided by norma&Dorothy who provided wedding invitations, name tags, orders of service, table numbers and an order of the day. I loved the wedding invitations so much that I kept on going back and ordering more. This is definitely one of the areas where we splurged but I loved the overall rustic look of the stationary and it definitely helped us save some time towards the end of all of the wedding prep.
Personal Touches
We tried to do quite a lot ourselves to give the day a personal touch and to get things exactly how we wanted. Paul and his Dad made all of the Fete Games, Paul also made all of our table centre pieces which he made out of big slices of tree trunks and hollowed out logs for the vases. We also made our table plan ourselves as well as a lot of the signs and decorations around the barn.
My Mum did a great job putting all of the wedding favours together and she also made personalised gift boxes for all of the kids with games, books, sweets and all sorts of fun things to keep them entertained throughout the day.
Special Moments or Highlights
One of the best highlights of the day was to have all of our friends and family in one place. Everything seemed to go better than we could have hoped for and the day was filled with so much fun and laughter. In terms of particular highlights, my sister singing Adele's "Make you Feel My Love" in the church while we signed the wedding register was an incredibly special moment (my mum could not stop crying). I also loved it when Paul and I had finished our first dance and everyone came onto the dance floor to finish the dance as was amazing to be surrounded by all of our favourite people. Finally, the speeches were my ultimate highlight – everyone did a phenomenal job; from my sister quoting Joey Tribani from FRIENDS which almost had me crying with laughter, to the heartfelt words from my Dad, the funny stories from Paul's brother , the speeches were absolutely amazing. Paul's speech was incredibly special and even though he finished it on the way to the church he could not have written a better speech. I had to try very hard to hold back the tears.
Advice for other couples
The best advice that I received when planning my wedding was that about three days before the actual day, stop doing anything else and accept that the last minute details and tasks are not that important. If they were important you would have done them earlier! Taking this approach, meant that on the day I was relaxed and was able to enjoy every moment of the day. Things will happen on the day; not everything will go as planned but if you are organised beforehand and go into the day being relaxed and in a good frame of mind it will mean that you are able to react to everything in the right way. My dress broke after the church but I always knew that somehow it will get fixed, so I didn't panic and it did get fixed (oh a sewing kit in a bathroom is a good tip too). Sharing the day's schedule and assigning jobs to the bridesmaids, groomsmen and friends on the day also meant that everyone knew what they were doing, which meant that we could really relax on the day.
Biggest Surprise
It was not so much of a surprise on the day but the best thing about the wedding was all of our friends and family helping us the whole day and just how much hard work everyone put in to make the day special for us. We could not feel more privileged to have such special people in our lives.
Supplier Shout Outs
[jprel]