Yes it's Wednesday already! The joys of a four day week! I trust your week is going well so far and if you are trying to juggle work and the Easter holidays with children I hope you are coping OK? We are heading to a destination not far from me today as I take you off to the beautiful Peak District in Derbyshire. In fact, I was at the very spot that Jen proposed to Evie last Sunday! Evie and Jen always knew they wanted an outdoor wedding ceremony, so a tipi reception was the perfect addition to such a beautiful day. They took their inspiration from nature when it came to the decor so left it all very loose, natural and unstructured. A beautiful day taking in lots of the local landscape, which has been captured perfectly by long-term sponsors of the blog Benni Carol Photography.
The day was filled with such a sense of deep joy. As soon as our eyes met at the end of aisle it really felt like our hearts were joined and we really became a team allowing us to be so present for the rest of the day. From the elegant and slick ceremony to the italian feast and four hilarious speeches to the beautiful sunset and dancing into the night in a tipi surrounded by our favourite people it really was, to us, the best day ever.
Evie and Jen (Alex) were married on 29th July 2017 at Swallow Barn in Matlock, Derbyshire. 'We knew we definitely wanted to get married outside (risky!) and living so close to the Peak District (we are Sheffield based) gave us so many ideas. We found Swallow Barns online and the pictures really spoke for themselves, once we had been to visit it we knew it was the place for us.  We felt strongly from the beginning that we definitely wanted everybody that was invited to be with us all day, not having extra people join us in the evening, so we landed on 91 guests! Over all it took 6 months to plan, of course there was some last minute details a few weeks before but everything was sorted with suppliers and guests within the first 6!
How they met
We met on a missional church gap year and finally admitted to liking each other halfway through. We have been together just over 3 years.
The proposal
Jen proposed eighteen months into our relationship, it was a complete surprise. We had just got back from our first holiday together and he asked me if I wanted to go and watch the sunset that evening. As we were driving out to our favourite spot (Surprise View) the sun finally broke through the clouds creating an incredible sunset. I didn't know but Jen had been out to the peaks earlier in the day and had written the words "Will you marry me" on the rocks all the way up the route. I couldn't see them but
he was taking pictures of me with the words in the background. Then when we got to the summit the whole thing was written again on the rocks at the top. I read the words, turned around and he was on one knee with the ring. tears in his eyes. We both began to cry and neither one of us spoke for at least a minute! He asked and I of course screamed yes! Plus incredible to have photos of just before and just after THE moment.
How did you allocate your budget?
So we knew we definitely wanted to get married within the year and that our both our parents were incredible generous so we worked out how much we could save ourselves and put it together with what our parents had offered.
Where did you splurge and where did you save?
We our big foodies and knew from the beginning that's where most of money would be spent so we had an italian feast! We didn't bother with the things we personally weren't bothered about so we didn't have a cake or special cars, we made a free wedding website to invite people! We didn't have a registry and we made our own seating plan, name cards and orders of service. Plus because our venue was so beautiful we didn't feel the need to add any of our own decoration so no table centres either!
How did you choose your photographer?
Searching through hundreds of recommend photographers from different online registries, we finally found our deam photographers right here on Boho Weddings. We knew we wanted a relaxed, natural style of photography with potentially a background in landscape photography so when we found Benni Carol it was a no brainer! They're website is wicked and gives a great sense of who they are. We also knew that we would definitely want to do a pre wedding shoot mainly to meet them and learn how we look in their lenses.
The dress 
I wore 'Journey' from the Blue by Enzoani collection by Enzoani but had the straps changed! I wore the necklace and earrings my mum wore on her wedding day and had a bracelet and chain especially made to match those from an etsy shop! I also controversially wore my gold nose ring! I wore a chunky heeled white and gold crossover sandal from Truffle Collection. My veil was huge and thankfully blew perfectly in the wind (hallelujah) and I had a sweet tiny cardigan from Coast for when I got cold!
Suit and bridesmaids
My bridesmaids were spread across 3 countries so we thought the easiest option was to use Asos and ended up going with everybody in the same floor length TFNC dress in a dusky pink with different sandals (completely up to them) and I also surprised them with a Katie Loxton clutch the morning of the wedding, all different along the colour scheme. All the guys wore the same mid-blue suits which were from Moss Bros and the same dark blue tweed tie, white shirts, stone socks and brown shoes. Jen differed slightly in that he also wore a waistcoat and some yellow Ralph Lauren socks.
Theme or colour scheme
The theme kind of found us as we went along, with nature dictating most of it. So it was lost of greens, gentle pinks, dark blues and gold. I love gold!
Flowers
One of good friends own and runs 'Of the Wild' in sheffield so she was the only choice for us! As her name suggests, Kath's flowers are wonderfully wild with an elegant edge using lots of beautiful pastel colours. My bouquet was fairly large and the bridesmaids were the same just half the size, they were all tied together with white ribbon. We also had posy bouquets on the chairs down the aisle again in the same colours and beautiful ribbon to attach.
Decoration 
We kept it really simple. The tipis looked great with fairy lights and the natural beauty of
the location did the rest.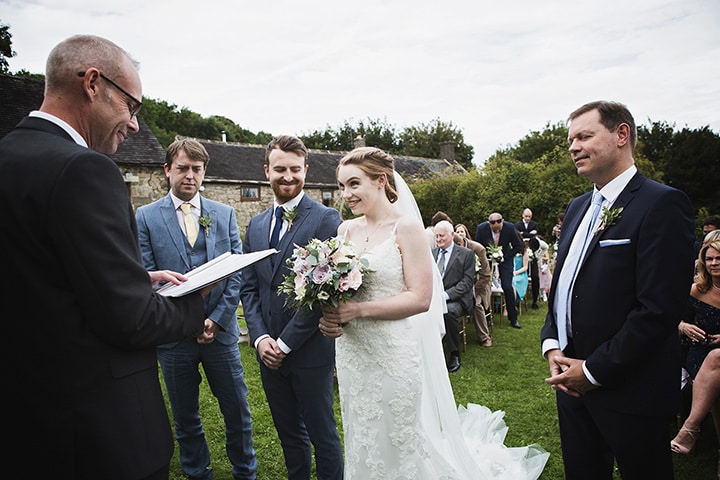 Food
Straight after the ceremony we had dark & stormy cocktails and finger foods. We then sat down for an italian feast. A sharing board to start with Pea & Mint Arancini, Olives, Crispy Fried Squid and Aubergine stuffed with mozzarella and parma ham. Then 3 mains! Chicken Milanese, Mushroom and truffle tagliatelle and roast porchetta all accompanied by parmentier potatoes, ratatouille and a quinoa salad alongside different breads. To finish we had a vanilla panna cotta merged with a orange polenta cake which turned out to be everybody's favourite!
Wedding cake
We didn't have one – we aren't really in to cake
Entertainment
we had a DJ and everyone filled up the tent dancing, chatting and laughing. It wasn't a late night due to the venue restrictions but it all worked out well.
Personal touches
We had help from friends who helped us make the seating plan and we made the namecards and orders of service ourselves! One of our best friends made a wedding video for us which was absolutely perfect, I probably watch it once a week..zero shame.
Special moments 
The whole thing was obviously incredible. Losing my grandad a few days before the wedding was obviously heartbreaking and so painful but if anything it made us as two families pull together even more and love really deeply and well. We know that we are so lucky with our families and are so thankful to them and for them. The ceremony was just as we wanted it because our faith was at the centre of everything helping us to celebrate more than just ourselves but our families and grandad as well. Having friends from all over the world able to be with us was such an honour. The food was perfection and the speeches and dancing in the evening were the best way to finish the day.
Advice for other couples
Don't worry about sticking to all the traditions and focus on what you want YOUR day to be. However also know that during the planning process some things won't go exactly the way you want them to, because that's life. Read the contract with the venue carefully and get specific things agreed and in writing.
Biggest surprise 
You get told by a lot of people that it's a really stressful day but we enjoyed it so much because we could just feel the love from everyone!
Supplier Shout Outs
Venue: Swallow Barn Weddings
Photography: Benni Carol Photography
Hair: Kinkks
Catering: Vanilla in all Seasons
Flower: Of The Wild 
For more information on Benni Carol Photography go to
www.bennicarolweddingphotography.com / www.bennicarolweddingphotography.com/benni-carol-photography-blog / [email protected] / 07454022243 / FACEBOOK / TWITTER / INSTAGRAM / PINTEREST
We are two Italian sisters in love with nature, adventure and people. Working together on the day, we combine fine art with alternative and creative photojournalism. We look for the beautiful, dramatic and authentic moments which make a wedding unique and have twice the eye to uncover these as the day unfolds. Above all, we love adventurous couples who are keen on experimenting to get the best photographs.