Hello you lovely people and how are you? How was your weekend? Did you manage to do anything other than stay indoors? Go for a nice walk? Enjoy Mothers day at all?  We tried to keep ours as normal as possible (whatever normal is at the moment) and we are trying to make sure we get outside every day, but as far away from people as possible. So Saturday we went for a walk in the woods and then Sunday we went to Chatsworth House to have a walk round their gardens (again staying away from other people) which was a real treat for Mothers Day. Moving on with the week. I have a couple of Coronavirus wedding posts to share with you this week, along with some gorgeous weddings and supplier information. I will have Dexter with me now, as the schools have shut, which will make things more challenging then normal, but I will do my best to keep things here at the blog as normal as possible and make sure you get your daily dose of wedding pretty. We are starting off the week with the wedding of Gina and Per who had a gorgeous church ceremony followed by a lavender inspired tipi reception. Bursting with Country Chic decor and lots of  beautiful rustic styling ideas. All captured perfectly by Benni Carol.
Benni from Bennni Carol tells us more about the wedding 
Gina and Per envisioned a tipi outdoor wedding and since they wanted to get married in Gina's home town, they decided to set up the bell tents in the backyard of Yelden Village Hall in Milton Keynes. The colour theme they chose was lavender inspired and you could really see the pattern going through every detail they carefully chose for their day. The reason why they decided to choose this colour theme has to do with the shared love Gina and her mum have for the lavender flower. Gina mum's garden was full of these wonderful flowers and she picked them up herself on the morning of the wedding and had them carefully placed in the church so all the guests could enjoy their perfume throughout the whole ceremony.
The bridal bouquet, as well as the bridesmaids ones, had all the same lilac colour pattern, which was the colour chosen for the bridesmaid dresses too.
Gina wanted to feel comfortable on her wedding day, so she decided to give up on wearing high heels, opting instead for low shoes. Just after the ceremony, she pulled off a pair of wonderful and unique lilac All Star sneakers, which were just perfect for the couple shoot we had in the fields surrounding Yelden.
If we had to choose three of our favourite details from their wedding, we'd go for:
– The seating chart display, made of two golden loops decorated with eucalyptus leaves with the actual seating plan hanging from them.
– Flowers, those lilac wedding flowers, so so incredibly beautiful
– The Wedding cake decorated with paper pressed flowers, it was gorgeous and at the same time so different and unique.
Oh right, and the photo booth made out of hay of course, not only did it look beautiful and in perfect fit with the whole country chic concept, but it also served perfectly for some fun, alternative photos both of the couple and of all the guests! So really, a must-have!!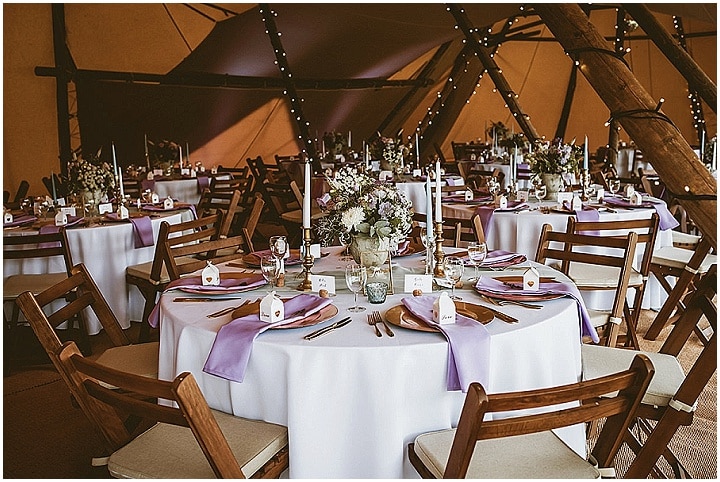 Supplier Shout Outs
FOR MORE INFORMATION ON BENNI CAROL PHOTOGRAPHY GO TO
www.bennicarolweddingphotography.com / www.bennicarolweddingphotography.com/benni-carol-photography-blog / [email protected] / 07454022243 / FACEBOOK / TWITTER / INSTAGRAM / PINTEREST
We are two Italian sisters in love with nature, adventure and people. Working together on the day, we combine fine art with alternative and creative photojournalism. We look for the beautiful, dramatic and authentic moments which make a wedding unique and have twice the eye to uncover these as the day unfolds. Above all, we love adventurous couples who are keen on experimenting to get the best photographs.