Happy Tuesday everyone! I'm not sure if today should officially be Monday after the long back holiday weekend? I hope you had a good Easter break? Did it snow where you are? It did here in Sheffield. Luckily, even though it was pretty heavy, it seemed to be short lived as it is melting now. To bring some much-needed warmth and sunshine into our lives, I have this gorgeous wedding from beautiful Costa Rica courtesy of Adri Mendez. Elizabeth and Brett love to travel, so they knew it would be hard to pick the perfect place to get married but they decided on this gorgeous beachside location in Costa Rica and I'm sure you will agree, it is totally stunning. The flower arch for the ceremony, set in the shade of a tree, sets the tone wonderfully for the rest of the wedding day. The beach fronted reception area filled with deep burgundy, white and pink flowers and a collection of jewel tone decorations really accentuates their Boho chic theme and is just the most gorgeous colour scheme against the white of the sand. The most amazing day from start to finish.
Elizabeth: I am quoting what I semi-shouted to brett as we danced our first dance to 'falling in love' by UB40. "This is EVERYTHING!"
Brett: Beautiful, joyous, regal, and amazing are the words for her, the day, and the feelings I had.
Elizabeth and Brett were married on 18th December 2017 at Pangas Beach Club in  'Brett and I had been talking for about a year before we got engaged about the potential of a wedding and how we would picture that day. We both envisioned a destination wedding. Pangas Beach Club in the fun-filled, easy-going city of Tamarindo, Costa Rica…this became the starting point of planning for our day.  A Beachy-boho, cool vibe, it would be! Costa Rica fit in our plans because we were able to bring our idea of a beach wedding…together with the vision of a December wedding date! It was the best of both ideas we envisioned. A tropical-winter wedding! We had around 50 guests, we knew a lot of people wouldn't be able to 'get away' with us because of cost, travel, etc., but we agreed this was a way to bring our families together and celebrate our marriage in a special and memorable way, filled with many memories and experiences. We found Mil Besos about a year before our wedding date.'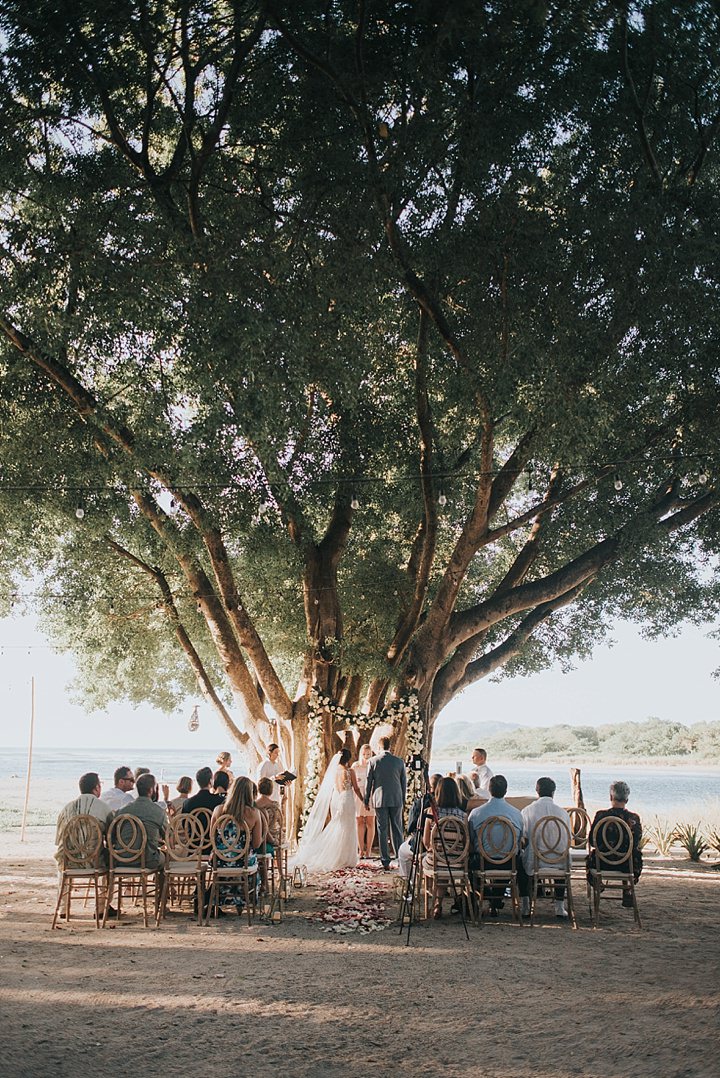 The proposal
Vegas, baby! It was supposed to happen at a private dinner table at Carbone. However, my dress strap ended up snapping from the dress….so, he chose not to, for good reason!! Haha! There were more magical moments he could have chosen, like the Britney Spears concert, but instead, it happened the last night, before going to bed, as he was helping me take off my heels. It was perfect.
How did you allocate your budget? 
Spent the most on food and venue. Also, spent extra on a full band. Saved on the little things.  We also ended up not doing a private event. We saved a lot. And it ended up being the best decision, we got more of that Costa Rican, friendly vibe. We Congo-lined through the guests on the beach, it was awesome! They clapped and sang along.  We decided what was most important to us, and went with it.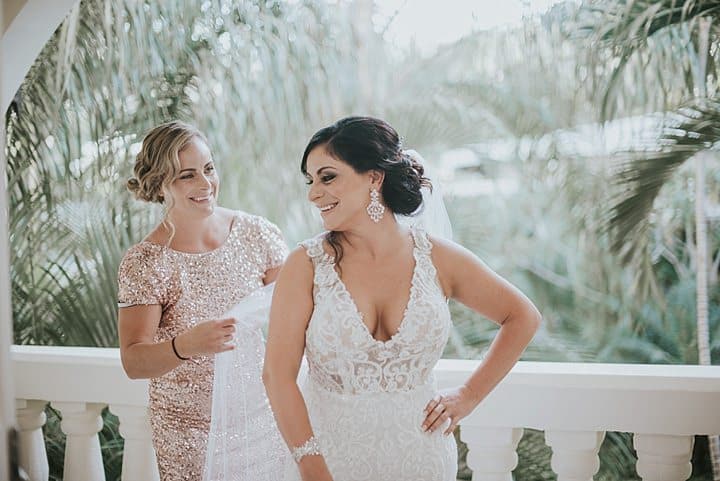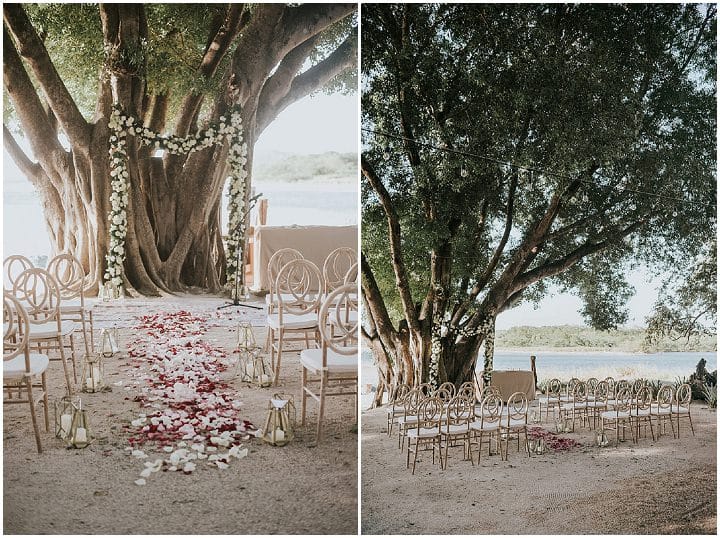 How did you choose your photographer?
I found two different wedding planning companies. We felt like Meghan was so helpful and connected immediately to our vision. The process was so easy and the people…that's the difference between Mil Besos and the others, the people you have the opportunity to work with. From the design to the vendors to the travel plans, they are the most welcoming and 'real' group. They only work with vendors, photographers, bands who they feel will bring the very best to their couples' big day.
Dress
Dress: Galina signature, Shoes: Betsey Johnson. Burgundy, velvet fabric.
Suit and bridesmaids
Brett's suit was custom made. The color was called 'sharkskin'. It was the exact color we envisioned. A mix between grey and pale blue. We ended up meeting the greatest suit maker extraordinaire! Thanks, Victor! The Bridesmide wore a gold and rose colored pink sequin dress. It was exactly what I had in mind for my sister.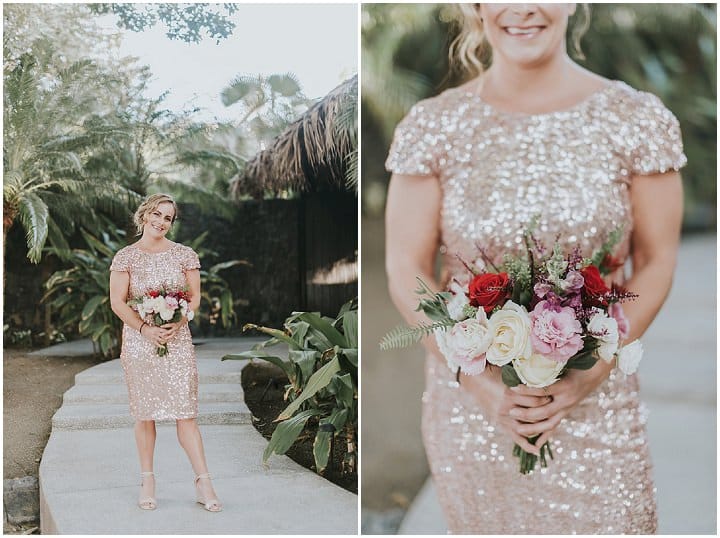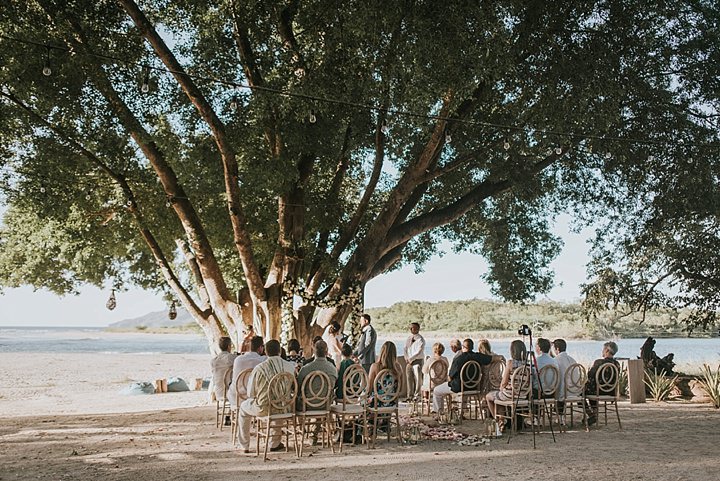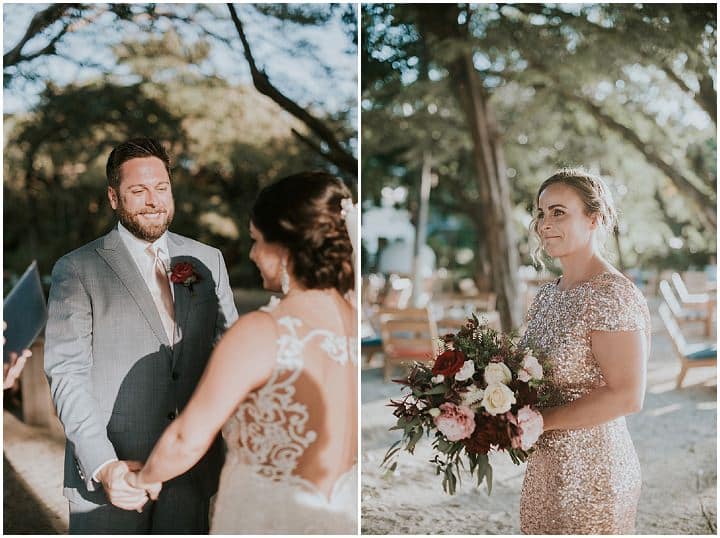 Theme or colour scheme
Burgundy and red with soft pinks and white. We added jewel-toned flowers on the table. We mixed in colored glass and Gold vases.
Flowers 
burgundy, reds, and jewel toned. On the wedding ceremony arch, we did cream and white colored, with Brown feathers and greenery. White roses were perfect with the green. This was the part of the ceremony we wanted the most, and it made the Boho-vibe work. We mixed that with the Aztec rug, gold lanterns, white candles, and red and pink rose petals along the isle.
Decoration 
I would call it Boho-chic! It was the most perfect mix of both. It felt romantic and gorgeous, yet simple.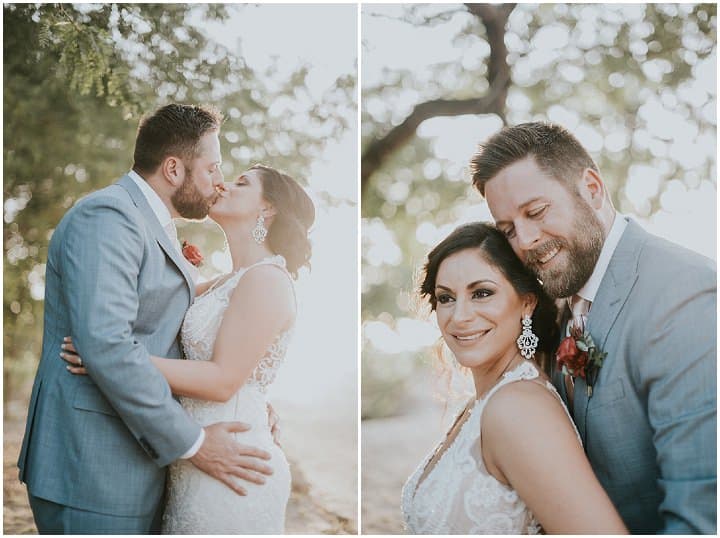 Food
We chose plated meals because it was more personalized and we had a  small guest count.
Wedding cake
Red velvet and cream cheese, vanilla frosting is my favorite cake because my mom always made me one growing up on my birthday. I knew I had to have it, and it went perfect with the colors of the wedding. Next to the roses, it was gorgeous, yet simple. We also added tiers of macaroons on the table.
Entertainment
A band! Best splurge ever!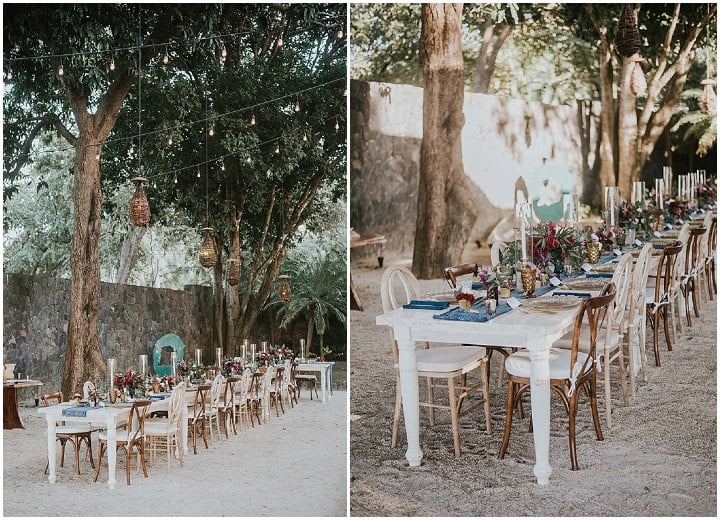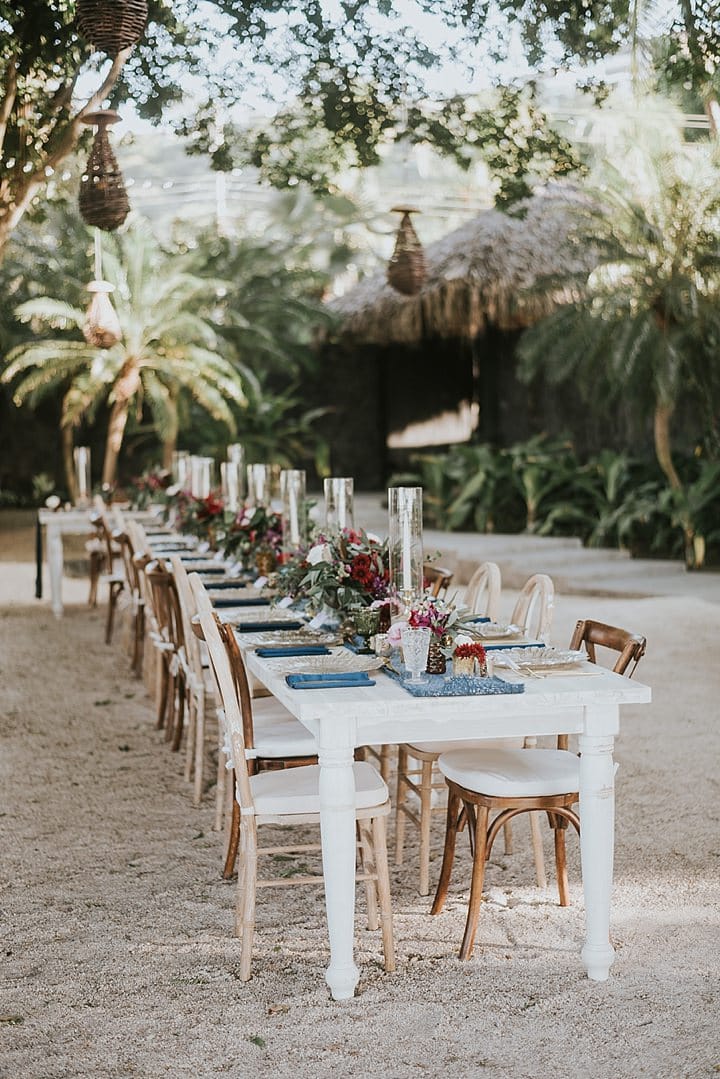 Who supplied the stationery?
I wanted to do custom, hand-made invites. This was the one thing from our wedding that surprised me the most. The cost of stationary. If I did it again, I would just do invites and include the wedding website on those. Save the money on 'save' the dates. Shutterfly/Wedding Paper Divas-save the dates and wedding invites.
Personal touches
Guest book-we made our own through Shutterfly. It was so much fun doing this leading up to the wedding, because it was fun to put the pictures together and look back at our engagement photos. Pink accordion hand-held fans…because 'duh'! Hand-scripted Name cards from Etsy. MajestyWrites. Local green salsa and coffee bags as wedding favors. They sat on the table for each of our guests.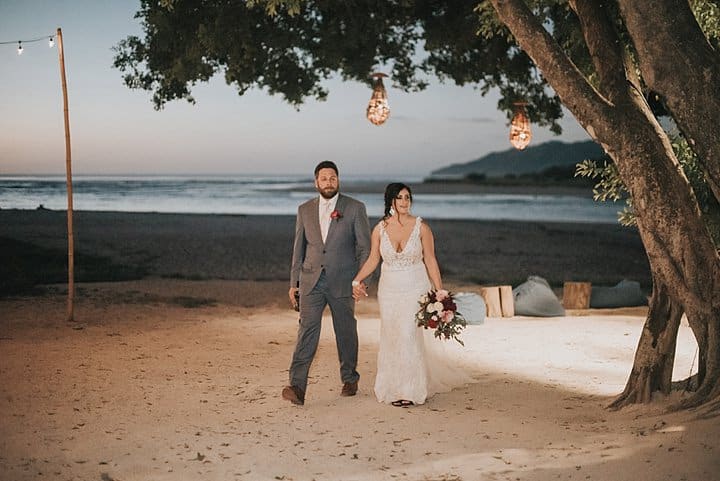 Special moments 
Drinking out of a coconut while talking pictures on the beach with horses.  Now…that is Tamarindo!
Advice for other couples
Follow your hearts and visions. Do what is best for the two of you! Make it simple. What you will remember are the experiences you had with those you love the most. All the little things do not matter.
Biggest surprise 
How un-stressed and relaxed I was the entire day! From getting ready with mimosas, my Mom, Sister, and Best friend, it was so easy and felt 'real'. I will always remember walking through the hotel grounds, my sister holding my dress, and crossing the busy street in town, looking up to see my Dad, standing there waiting for me. It was like a movie…I felt like Cinderella, in my own version of paradise! When I saw Brett standing under that gorgeous tree, I knew being married to him would be like this day…beautiful, fun, easy, and cool.
Supplier Shout Outs
For more information Adri Mendez go to
www.adrimendez.com/en / www.adrimendez.com/my-blog / [email protected] / FACEBOOK / PINTERST / INSTAGRAM / TWITTER 

I am a Costa Rica-based photographer with a soul full of passion, spontaneity, and warmth, which is why I strive to create images that hold the same feelings. I dedicate time to get to know each of her clients ahead of time, ensuring that I capture their most cherished memories in a way that reflects who you are. Constantly working to improve the technique and quality behind my photos, I am inspired daily by my clients and the ability to do what I love.

 

[jprel]