Today's real wedding is a real beauty of true bohemian celebration. Both the bride and groom wanted a wedding that reflected their love of the outdoors, their love for all things boho and of course their love for each other. Jennifer and Todd were married on 3rd December 2021 in Costa Rica. Their beach wedding celebration is just divine. The rich colours, the mixture of wood and macramé with the textures of nature and the stunning beach background all go to create the most stunning wedding setting. I just adore the whole vibe, the day is chilled, relaxed and full of laid back love. Big thanks to Adri Mendez Photography for the beautiful photos and to Mil Besos Costa Rica for submitting it to me.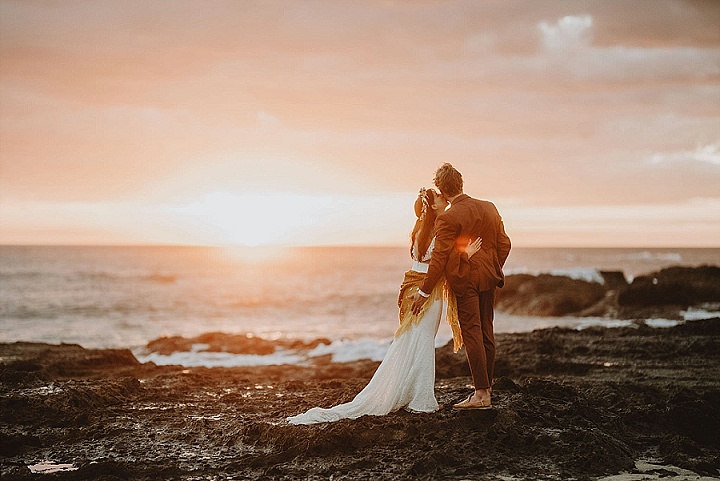 More about the couple and their day
This adorable couple met organically through mutual friends and co-workers at a pool party. Their love story started slow. They went exploring with their dogs on long walks, went camping and hiking frequently. Some of their favourite hikes included hikes to the Alpine lakes and all over their families lake houses. They stayed active from snowboard trips to concerts with friends and DIY projects on the house, they started collecting big memories in all the little moments.
The proposal was even cuter. Prior to COVID, they had planned a Summer trip to Mexico and that is when Jenny had believed Todd would propose. So when he surprised her with this idea to travel all across Colorodo with their dogs she had a feeling this was going to be a road trip she would never forget. So they took a much needed time off work for a vacation and Todd had it all planned out down to the itinerary binder. They camped outside of ghost towns, hiked along the continental divide, soaked in hot springs, found a hidden waterfall, drove over 13,400 elevation off-road trails, and glamped in the desert. They really did it all. Then on a long hike inside the Canyon of the Ancients National Monument historic area with a beautiful view overlooking the valley of the famous Sleeping Ute Warrior, he popped the question! Jenny said she felt like she was in a movie.
Jenny had been so excited about the wedding she knew exactly what she wanted. When we asked about their wedding ceremony inspiration, she said she loved a bohemian wedding arch, boho themed carpet, macrame everywhere, candles, benches for ceremony seating, a mix of weathered wood accents, succulents and eucalyptus with pops of jewel tones.
They skipped some formalities for a more laid back intimate vibe. They didn't have a wedding party and had a group patron shot after the big I do. For the reception, they opted for longer large tables for their buffet style dinner so everyone could feel like they were one big family. For décor they wanted minimalist touches, bistro lights, macramé runners, wooden dinner tables, lanterns, floor cushions and coffee tables. It really felt like a big party for close loved ones. The energy was warm and relaxed, just how Jenny and Todd wanted it!
Supplier Shout Outs