Happy Friday everyone. How are you all now we have reached the end of the week? I have had a good week as it's been my birthday. I started celebrating on Saturday night, then it was my actual birthday on Wednesday and tomorrow I am off for Round 3 with some friends in Derby! What a fun-filled week it has been! Oh yes, and we mustn't forget Mothers Day on Sunday! On to today's wedding and we are heading up to Scotland for the autumnal wedding of Lynsey and Michael. This wedding is filled with amazing rich tones and colours, browns, oranges, yellows and reds, so pretty. Amazing blooms, delicious cakes and all of the super pretty and personal embroidery decoration put together by Lynsey's mum. Big thanks to The Gibsons for the photos.
Personal – it was just how we wanted it and many of our suppliers were people we know and love. Relaxed – everything ran smoothly with no disasters!
Lynsey and Michael were married on 15th September 2017 at Pollokshields Burgh Hall, Glasgow. 'We wanted a venue that could host both our ceremony and the reception, and since we're both from the south side of Glasgow this venue was in the ideal location for most of our friends and family to get to. We loved the venue's features like the stained glass windows, and wooden panelling in the rooms. The venue didn't require lots of decoration as it's so beautiful already, so we could just add the touches that we really wanted. we had roughly 100 guests for the day, and an additional 50 in the evening, it took around 13 months to plan.'
How they met 
We met at a New Year's party in 2009/2010 and have been together since, so 8 years now. For the first 5 years I was in Glasgow while Lynsey bounced around between Newcastle, London and Aberdeen but in 2015 we were finally able to move to Edinburgh and be in the same place!
The proposal
I proposed to Lynsey on our summer holiday in Copenhagen in 2016 on the last day of our holiday (after carrying the ring around for the whole week but lacking the courage to pop the question!).
How did you allocate your budget?
We decided what was important to us (venue / cake / coffee) and what wasn't quite so important (fancy wedding cars / elaborate decoration). Some of our suppliers we already knew and are friends with (bakery47 / bearded barista) and others we just loved their style so had to work with them.
Where did you splurge and where did you save?
Lynsey chose a wedding dress that she totally loved but wasn't massively expensive, and our wedding party was pretty small so this helped with the budget. We used Majestic Wines for the alcohol for the drinks reception and meal, and got a great price there. We decided to prioritise good food and excellent coffee, so this is where we spent that bit extra. It was totally worthwhile. We were lucky that some family members had nice cars and were happy to drive us, which saved us having to hire cars.
How did you choose your photographer?
We already knew Chantal Gibson (The Gibsons Photography) as she is a friend of a friend and had photographed their wedding. We loved the pictures so just had to have them at our day.
The dress
Lisa and Jade from Dragonfly Dress Design, Glasgow made Lynsey's dress and were amazing! Lynsey's jewellery was passed down from her gran. Shoes were from KMB.
The suit and bridesmaids
Kilt was from MacGregor & MacDuff, Glasgow. We only had Lynsey's best friend Claire, who chose a dress from Butterbee Vintage, the bridesmaid line from Dragonfly.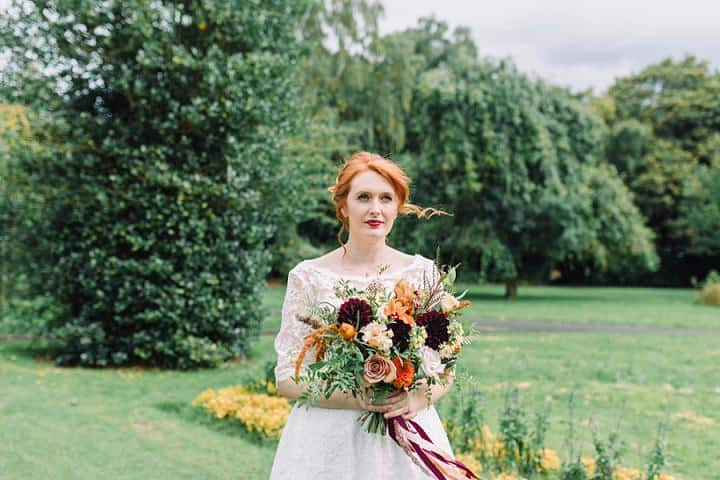 Theme or colour scheme
We went with an autumnal theme; deep blues, reds, oranges, greys & peach.
Flowers
Lynsey likes large informal bouquets, Floral Menagerie's designs matched this brief. She and her mum met with Lisa before the wedding and were excited by her enthusiasm and style. We were not disappointed on the day, her designs exceeded our expectations, they were amazing, a mixture of seasonal flowers of autumnal colour combinations and more exotic orchids, dahlias and roses.
Decoration
Festoon lighting, fairy lights, embroidered details.
Food
Sharing platters of charcuterie / meats / cheeses to start. Meat and veggie pies with vegetables and mash. Trio of desserts: sticky toffee pudding / mini lemon tart / chocolate orange pavée
Wedding cake
Naked victoria sponge cake as the centrepiece, with lots of smaller cakes to suit various dietary requirements.
Entertainment
Ceilidh band & DJ (The Vital Spark) Ray from the band is a good friend of Lynsey's dad and have provided the music for family ceilidhs in the past so it was the easiest choice of the whole wedding!
Who supplied the stationery
We designed it ourselves and had it printed. Lynsey hand stitched the names onto the invitations (a painstaking task).
Personal touches
Lynsey's mum Janice hand stitched a backdrop for the ceremony of our names with a beautiful floral motif. This is now framed and hangs at the foot of our bed. Janice also made all the flowers (sourced from friends and the family plot at Berridale Allotments) for the dinner tables. Lynsey hand stitched all the table numbers in the same format as the invitations. Our friend Cass made our wedding guest book that our guests filled with Polaroids on the day.
Special moments 
Seeing Lynsey walk down the aisle with her dad. Having all of our friends and family together in one place for a big knees up!
Advice for other couples
Try not to let the planning get you too stressed. Don't let it cause arguments. Make sure each person does his or her share of the work when planning. Don't feel like you have to follow common traditions. Plan your day how you want it to be.
Biggest surprise
Keeping composed through our speeches (and the day in general). We loved that our guests appreciated the charity pin-badges we chose in place of favours. The kids took a particular interest in collecting/stealing them from the other guests in a competition to see who could get the most!
Supplier Shout Outs
For more information on The Gibsons work go to 
www.thegibsonsphotography.co.uk / www.thegibsonsphotography.co.uk/blog / FACEBOOK / INSTAGRAM / PINTEREST