Today I am taking you to sunny California for this most fabulous wedding, courtesy of Kristina Lee Photography. I just adore this wedding. Everything from the brides style to the colour scheme of rose gold (my personal favourite) to the amazing hanging decoration to the super cute outdoor ceremony, it is all marvelous. The whole day is modern, yet has undertones of rustic styling. The best thing about it though is it's nearly all handmade by the couples friends and family. From the lighting to the signage, the stationery to photo wall, so much care and attention has gone in to making this a super stylish, modern and completely personal wedding. Katharine and Brad have done an amazing job of brining everything together, I just adore the whole day.
Best day ever!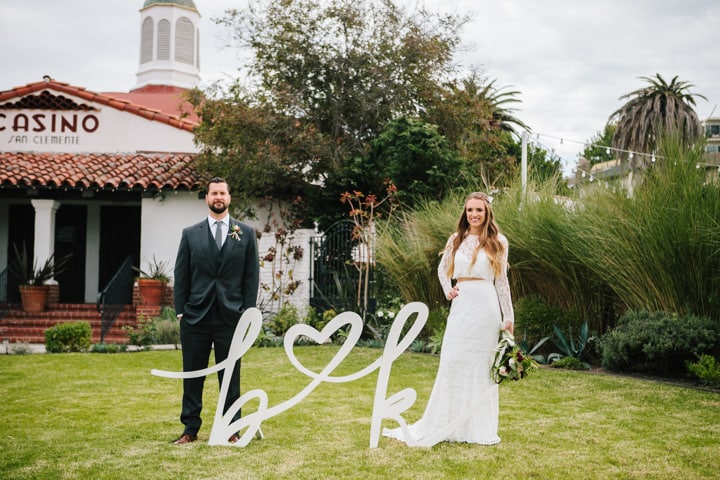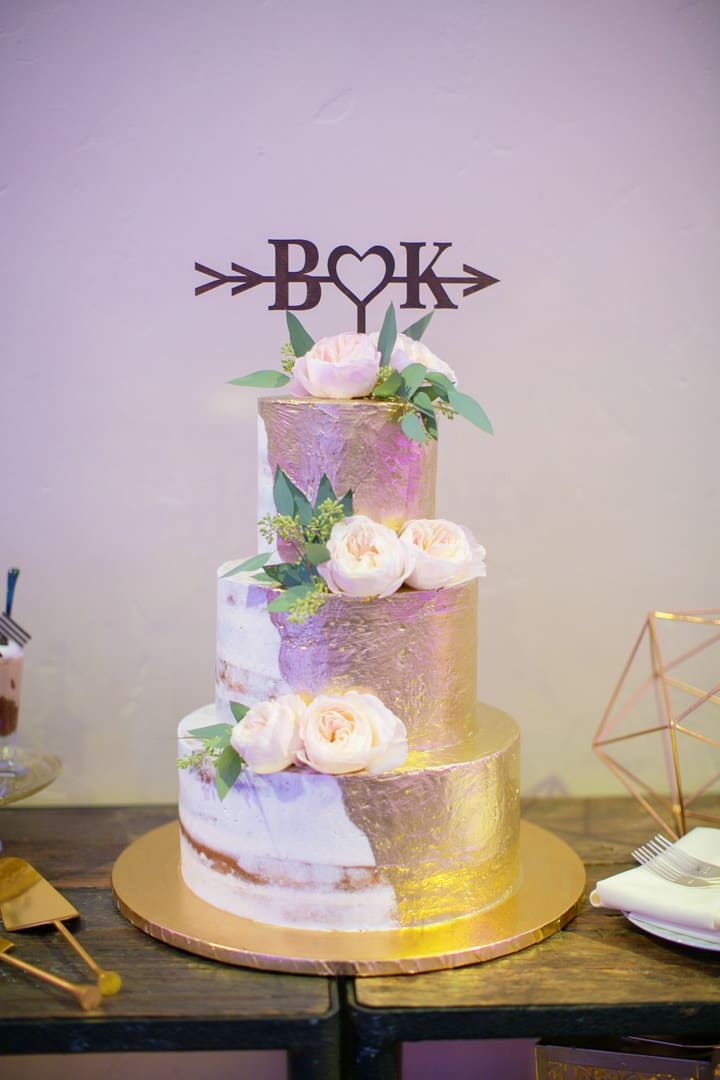 Katharine and Brad were married on 19th November at The Casino San Clemente in California. 'We've always loved San Clemente, and it's only 30 minutes from where we live in Huntington Beach. When we saw the Casino we instantly fell in love. We loved the history and details of the building as well. The location made it a "mini destination" wedding, which we loved! Guests could get a hotel room and make a little weekend trip out of it, but it was also close enough to drive home at the end of the night if they wanted to. My family rented a big house down the street from the venue and it made it SO perfect! We had our rehearsal dinner in the big backyard, my bridesmaids and I had a sleepover the night before the big day, and the day of the wedding we used it as our place to get ready before walking down to the venue! We had 170 guests, we got engaged in December, found the venue in February, and got married in November.' 
How they met
We actually met when I was 19 and we both worked at the same restaurant. We were always good friends and shared a lot of mutual friends. One day we both started to see each other in a different light. I don't know what it was, he says it's because I stopped wearing my hair in a pompadour… I think it's because we both were making careers for ourselves and got to see each other in a more mature way, and we liked what we saw. We started dating when I was 23 and the rest was history!
The proposal
The long-awaited proposal. As I said before, we had been dating for 6 years, we had lived together for 4 years already as well. It was December 23rd and my brother had called an "emergency family meeting" with my mom and I at her house. He was going to propose to his girlfriend the next day on Christmas Eve and wanted to show us her gorgeous ring! I was so happy for him, but I'd be lying if I said I wasn't a little bummed it wasn't happening for me. My friend and I headed to Duke's by the pier in Huntington Beach, where another friend met us and we all had a glass of champagne. We headed down to the beach to watch the sunset. Next thing you know, Brad taps me on the shoulder with a red rose and drops down on one knee! My friends were all in on it! I called my family and told them the news and they all came over to celebrate.
How did you allocate your budget?
We are not very good with budgets, but planning a wedding is where you really have no choice but to follow one. Our biggest chunk was for food & drinks. We knew we had to have good food and an open bar, no question. My brother owns a production company, so we knew any lighting, audio or prints we had covered. He really was such a crucial part in making our wedding amazing. My mom and I love to shop, so we had been collecting décor items throughout the year. Flowers and furniture rental are the 2 areas I decided to cut back. I actually used a little local flower shop and got way more than I paid for, so I really lucked out.
Where did you splurge and where did you save?
We definitely splurged with the catering. We both had little things we felt were important. For him, it was having glassware for drinks instead of plastic. For me, it was gold silverware and gold rimmed plates. We also knew this AMAZING violinist named Josh Vietti and we had talked of having him at our wedding the first time we met him. We saved the most by doing SO many things ourselves. I wanted to rent these incredible copper geos to hang from the ceiling at our reception, but it would have been another $1,000. Instead, my incredibly handy now-husband surprised me while I was out of town and made them himself! As a graphic designer, I was able to design our paper goods, signage, seating chart and menus.
How did you choose your photographer?
This was a no-brainer for us. We've known Kristina for years and always knew she'd photograph our wedding. Not only is she incredibly talented, but she is also so fun to be around! I knew I could rely on her for so much more than just photos: for laughter, for advice, and to always make sure I had champagne!
The dress
I am in no way a "brand" kind of girl. I had no idea what kind of dress I wanted, I just knew I wanted it to be comfortable and easy. I found my dress at Mon Amie bridal salon and fell in love. I am big on jewelry, but didn't want anything too flashy. I got my necklaces and earrings from Gorjana and they were simple, yet stylish. I'm also way more of a boot girl than heels, so I decided to go with Jeffery Campbell peep-toe boots so I didn't end up falling on my face at my wedding.
The suit and bridesmaids
For suits, we used theblacktux.com and it couldn't have been easier. For the bridesmaids dresses I really didn't have any restrictions besides color. I just wanted them to find something in the blush/gold color tone. Most dresses ended up being Adriana Pappell, and one was from BHLDN.
Theme or colour scheme 
I love gold & rose gold, so those were my main colors. Accented with burgundy, blush and ivory. I really wanted something eclectic, fun, and that represented my personality.
Flowers 
My main request was eucalyptus. I knew it wouldn't be too expensive and I love the look and smell of it. I also loved Amaranthus and how it draped and brought in the burgundy I wanted.
Decoration
My mom and I had been hitting thrift stores for months. We bought candle holders, candle sticks, frames, you name it. My girlfriends and I saved up our wine bottles and spray painted them to make candle holders as well. I really just kept my eye out for things I liked, or things I could spray paint to make match my style. All our décor was DIY, and it was my favorite part!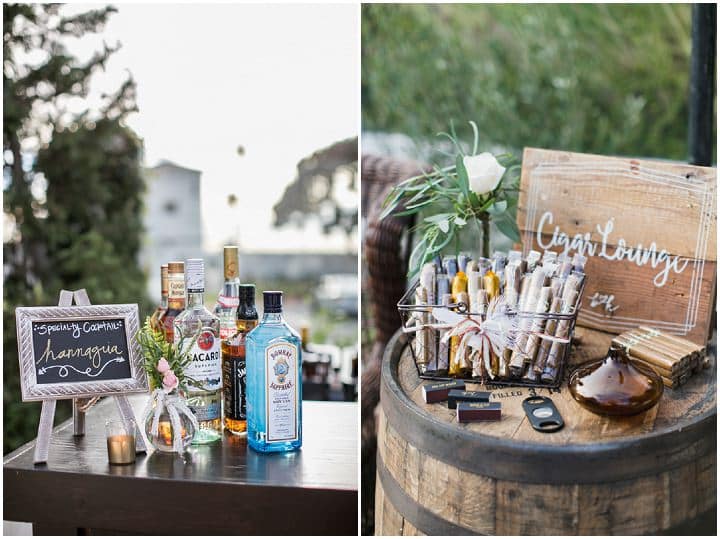 Food
We wanted to make sure we served something with substance paired with our open bar. We had tray passed appetizers at our cocktail hour: Shrimp Mascarpone and Flatbread Pancetta Pizza. For dinner, we served Meat Lasagna and Chicken Parmesan (a favorite of ours). We paired it with grilled marinated veggies, and a salad. We really loved the food and thought Jay's did a great job with everything.
Wedding cake
We did a cake tasting and ended up going with a marble cake. I knew I wanted a naked cake, but we saw a photo of one that had gold on it as well and I was sold.
Entertainment
We had Josh Vietti at cocktail hour, who was so amazing. For dinner and the reception, we had a DJ. We also had a photobooth, Corn Hold, Giant Jenga, and a caricature coloring station!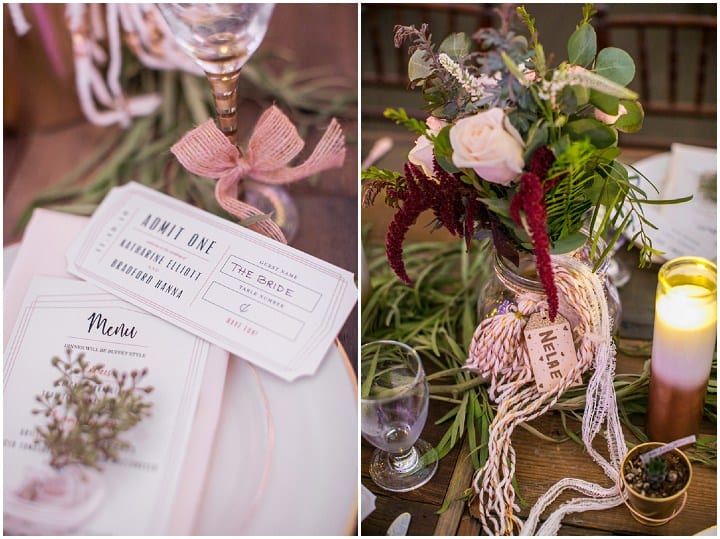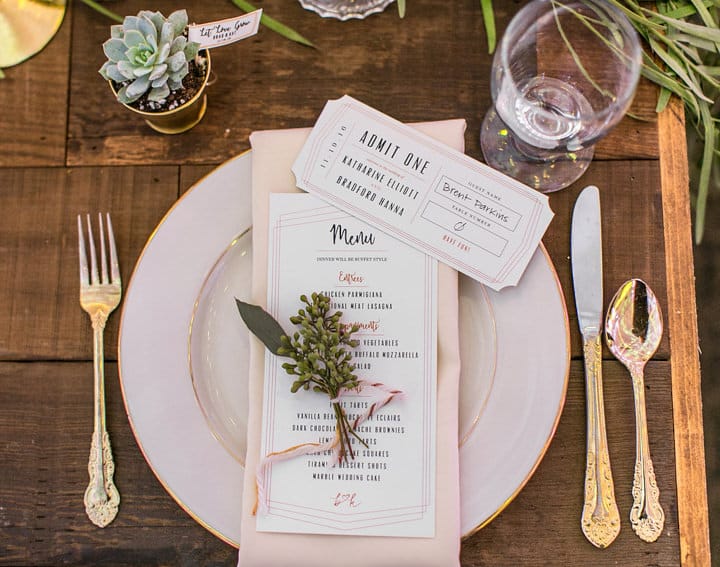 Stationery
I designed everything except for the invitation myself. The invitation was from Wedding Paper Divas.
Personal touches
It was basically a DIY wedding. Even the photo wall, I color-corrected and cropped myself for print. I designed our logo that we used throughout, my brother did all the rigging, lighting, audio and signage. My husband made the geos and brought in the large wood walls for our stage lounge. It really was a team effort and we brought all our talents together to make it beautiful!
Special moments
My highlights were definitely walking in and seeing everything we had worked so hard to create come to life. It was more beautiful than I had imagined! I loved that we took our family photos before the ceremony. Our time at the beach taking photos after the ceremony was beautiful, and because we took all other photos before, we were able to enjoy some of our cocktail hour and say hi to everyone then! We weren't about to miss out on Josh on the violin either!
Advice for other couples
It should be FUN! Not just the wedding day, but the whole process. I really look back on every bit of it as being such a fun time in my life, and I'm so thankful for that. My advice would be to make each step of the way enjoyable, because you will miss it once it's over!
Biggest surprise
The biggest surprise to me was how easy it was. I never felt stressed out the whole day, and it just went off without a hitch! I owe a lot of that to amazing vendors and my incredible wedding planner Amy.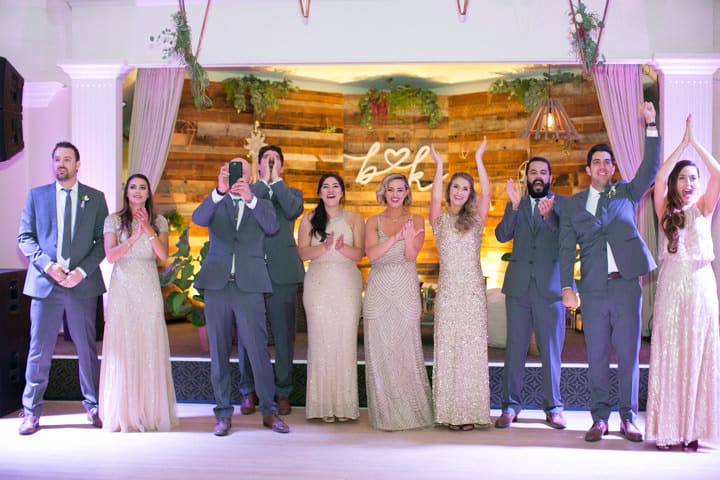 Supplier Shout Outs 
For more information on Kristina's work go to
www.kristinaleephotography.com / www.kristinaleephotography.com/kristina-lee-photography-blog / FACEBOOK / INSTAGRAM / PINTEREST

 

[jprel]