We start the week off with a fabulous, sunny and relaxed wedding, the perfect way to start what is going to be a very busy week on the blog. Later on today I will be launching the Boho Blog Readers survey with an amazing bumper prize to give away, so do pop back later to check that out. I will also have a little announcement for you on Wednesday………so an interesting week ahead for Boho!
Today's stunning wedding has been sent to me by Kenny & Helen  at Raw Photography and it's just lovely! The couple are great and took a no fuss attitude to their wedding, forgetting about colour schemes and all the little details, letting the day speak for itself, and I think you can see from the smiles on everyone's faces that they did the right thing! The venue is stunning, and  they really couldn't have picked a better day for it, that blue sky is just fantastic!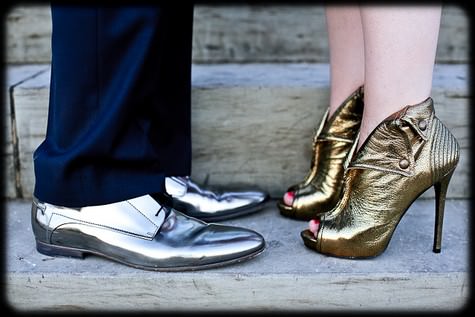 Full names
Ian Felmingham & Michaela Coyne
How did you meet?
We met at the Glastonbury Festival 2008- I was there with my brother & his friends & Ian was there with his friends – we met on the Friday whilst watching Vampire Weekend through a mutual friend of my brothers and that was it. We spent the rest of the weekend together.
Date of wedding
9th July 2011
Location
St Peter and Paul Church, Crosby and the Isla Gladstone Conservatory, Liverpool
What made you decide to get married where you did?
The church is my local parish church and the church we both attend. The Isla Gladstone was the only venue we looked at after visiting it a year previously – firstly it was in Liverpool as we were both conscious that weddings are already expensive for guests & we did not want to increase the cost by asking guests to travel out of town & stay in hotels. Also the natural beauty of the venue was the greatest appeal – it has undergone a mass refurbishment and it is so light & open and with beautiful grounds that we knew we would not have to add extra decorations. Its natural beauty & attention to detail was the main attraction. After attending other weddings I have been to venues where a lot of money has been spent on décor to make them look less like a conference room but ultimately it is still a room in a hotel! All we used was large helium balloons spelling "Love" and bunting that my sister decided to make with 5 days to go!
Also the staff at the Isla Gladstone were really easy to deal with – especially as we were quite unorganised with the run up. They also allowed us free reign in regards to timings, entertainment, decoration etc – we were never given a preferred supplier list to choose from & on the day everyone complimented the staff on how professional and polite they were.
Who was your dress by?
Blue by Enzoani,tiara by Ivory & Co, shoes by Alexander McQueen
And the suit?
French Connection, tie by Brooks Brothers and shoes by Hugo Boss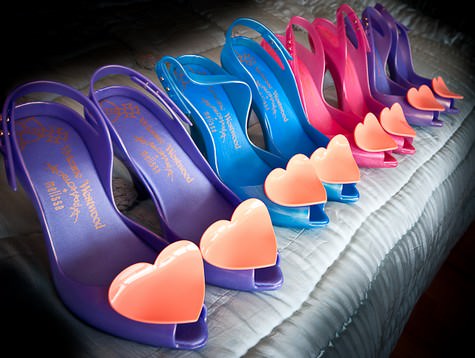 How would you sum up your day?
Relaxed & laid back – neither of us like fuss so we wanted our wedding day to be about enjoyment – not how extravagant our flowers displays, favours, string quartet, chocolate fountain were – I went to a few wedding fairs and all those types of extra's freaked me out as they never felt like something me and Ian would do.
Did you have a theme or colour scheme?
We had no theme outside of we wanted our guests to enjoy themselves – sometimes when a wedding is too themed people are intimated by the surroundings. There was no colour scheme through the ties and the bridesmaids all wore peach but all wore different Vivienne Westwood shoes so that added to the relaxed feel we were going for.
Did you have any personal touches? Or things that you did yourself?
The main personal touch was my father purchased an original 1967 Rolls Royce Shadow and spent a year making sure it was perfect for the wedding. I have a phobia against "Hummer Style" Limousines which were on display at every wedding fair I attended. The car was a great talking point and especially fashionable after Kate Moss had used a fleet of them at her own wedding a few weeks before – excellent timing by Dad!
A friend of a friend Enid made the amazing bouquets and unlike other florists I spoke to did not try to talk me out of my "Princess Di" shower bouquet, which suited the vintage style of my dress perfectly.
We reused all the bouquets at the reception for the top table and the church flowers and reception table flowers were all produced by my Mum – weeks of practice and numerous trips to the flower market but on the day they looked gorgeous – peonies and roses with lots of green foliage fitted in with our laid back feel – all the flowers were displayed in vintage champagne buckets which I bought on Ebay and junk shops.
I ordered the personalised M & M's from America and packaged them in the glassine bags with labels I stamped myself – they definitely looked homemade but none were left over – everyone either eat them or took them home!
The Save the Date's, wedding invites(day & night),RSVP's and church programs were all designed by our friend Robyn – for the day invites she used the original wedding invite that one of our closest family friends had at her own wedding in the 1970s.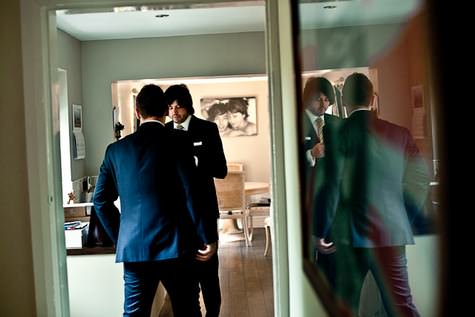 How many guests?
We had 80 guests during the time and an additional 50 guests in the evening – a BBQ was served in the evening.
What were your special moments and highlights?
The "Another Place " Choir at the church were amazing – they are a community gospel choir who practice for only 1 hour a week but guests are still taking about them. Only me and my Mum attended their rehearsals to it was a surprise to everyone – strangely even male guests said they were moved to tears by the choir. Before I got to the church they sang "Goin to the Chapel, O Happy Day & Higher & Higher" for the guests, during the mass they sang along with the hymns we had chosen and then at the signing of the registrar we had "La Vie En Rose" by Louis Armstrong and as a surprise for Ian they sang "Say A Little Prayer." I think it was so special as no one was expecting it and sometimes I think people are a little wary of wedding masses as they expect them to be quite staid but Father Furnival allowed us to use the choir and they made the mass feel very personal.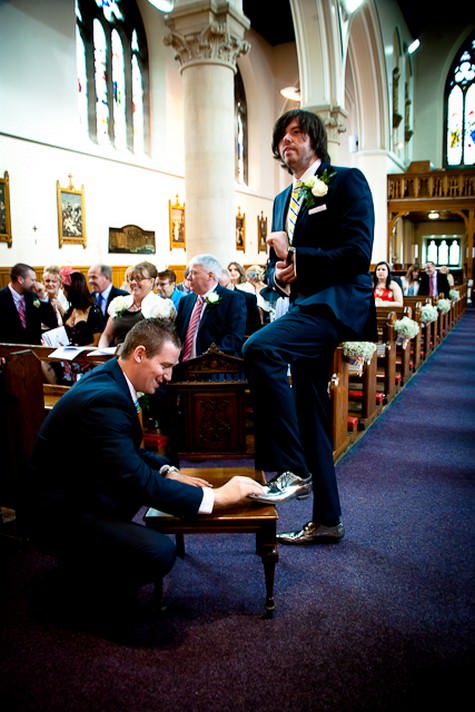 Is there anything you would do differently?
No – the whole day was perfect & the best thing for me & Ian was seeing all our family & guests get on so well – I think because so many people contributed to making the wedding so special everyone felt a part of it – it was like their big day too – not just an event they had been invited to.
What advice would you give any other couples?
Make sure you have an excellent relationship with your suppliers – weddings can get quite frantic so we felt it was really important only to use people we knew we would get on with. We met about 5 photographers but our first appointment was with Raw Photography and we knew then they were the ones for us, but had to see the others to be polite and grown up. Instantly we knew that we would get on with Kenny & Helen – poor Helen had to put up with me, 4 bridesmaids and my Mum running around frantically the morning of the wedding, completely unorganised trying to find scissors to cut labels out of the dresses, having a nightmare trying to secure my tiara & trying to fit my sister's eyelashes at the last minute – amazingly on the photographer we look like the calmest people ever! Everyone commented on the fact that they never knew they were there taking photos and we have some great photos (without having to resort to a whistle to get everyone's attention as another photographer suggested!)
Don't feel that you have to have all the wedding extra's – when you go to wedding fairs it can all feel quite overbearing – with the favours, photo booths, diamante shoes, dressing gowns etc – bear in mind what is important to you both and go from there.
For us it was for everyone and for us to enjoy the day – we made sure we had a great venue, good food and drink and fabulous music – most people know how to enjoy themselves if you give them the basics. Music is so important & we found it quite difficult to sort out music for the reception – most entertainment agencies were a little cheesy and just kept offering us tribute acts or swing bands – I could not see why we could not have the type of music we would listen to on a Saturday night – fortunately we found Wedding Jam. In our meeting with Paul he instantly got they type of music we wanted playing – even with an Old School Dance/Hip Hop Section and the band he arranged "The Andy Williams Band" were outstanding – the band played classic soul, funk and r & b live and proved to be the perfect wedding band.
Also you are surrounded by family & friends who want to help and most are quite talented at something – we took advantage of everyone's skills and this made the wedding even more personal.
What was your biggest surprise of the day?
People had warned me that no one starts dancing till late on in the evening when everyone has had a few drinks. After our 1st dance the dance floor was never empty – the best sight was seeing lots of high heeled shoes all lined up at the side of the dance floor so all the girls could carry on dancing – also seeing my Mum and her friends dancing along to Dr Dre near the end of the night was hysterical.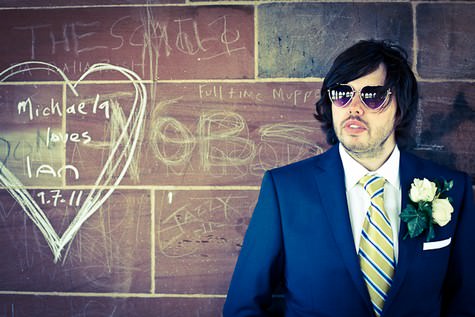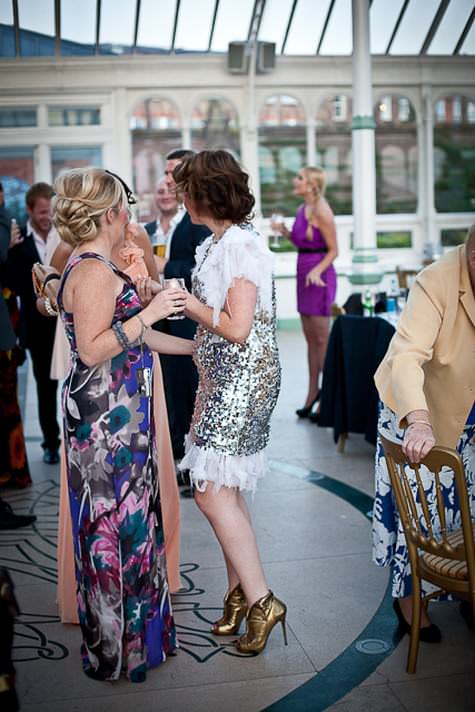 Supplier involved in the day:
Isla Gladstone – www.theislagladstone.co.uk
Wedding Jam – www.weddingjam.co.uk
Another Place Choir  – www.inanotherplace.com/gospel_choir.htm
Raw Photography  www.raw-weddingphotography.co.uk
For more information on Raw's Photography services go to:
www.raw-weddingphotography.co.uk
[email protected]
07961 591099 / 60
TWITTER