Currently the UK weather is pretty rubbish! As I look out of my window, the snow is thumping down and I'm a little unsure if I am going to make any of my appointments this week. PLUS, technically, tomorrow is the first day of Spring!! Well, to remind you that the sun does shine and that winter will end at some point soon, I have this gorgeous sunny and warm wedding from my favourite place in the world, Ibiza. As you may know, I got married in Ibiza so this magical island will always hold a special place in my heart! Today's wedding features a wedding venue that I almost got married in. Natalie and Scott also feel the same way about Ibiza, which is why they chose it for their beautiful day. Filled with flower power vibes, dream catchers, giant paper flowers and a colour scheme of blush and grey, this wedding shot by Sofia Gomez for Gypsy Westwood Photography is an absolute beauty! I wish I was there right now.
The most perfect day of our lives. If we could do it again we wouldn't change one thing
Natalie and Scott were married on 9th June 2017 at el chiringuito cala gracioneta booked through Mambos Weddings. 'We fell in love with Ibiza back in 2012. Scott had booked us 10 nights stay for my 21st. We've been hooked on its beauty ever since, we had 60 guests. We started planning pretty much as soon as we got engaged. We had been together 7 years at that time. Lucy from Mambos was a godsend and helped us make appointments and meetings with all our vendors. Once we had the venue booked I started small things at home like all the dream catchers. We flew over in 2016 to confirm vendors and have meetings with Lucy. I was anxious but she kept us calm and everything fell into place quickly with her help.'
How they met
We met through Scotts sister at New Year 2008. We had met a couple of times before. I told his sister I liked him and she told him. A week later we were together. We've been together for 9 years at New Year.
The proposal
Scott proposed to me in Ibiza on my birthday! We were staying at the Grand Palladium hotel it was simple and perfect. I'd given up waiting so was a real surprise when he popped the question. We celebrated my birthday and proposal at Ocean Beach Club that day.
How did you allocate your budget?
As we were the first of our group of friends to get married it was hard to know what to spend money on and what save on. We were the first couple we knew they had chosen abroad too so we had a great help from Lucy. She kept us right. We allocated most of our budget on the venue and meal as well as our photographer.
Where did you splurge and where did you save?
We definitely splurged on our photographer but we both agreed that was a priority. We had Sofia Gomez who works with Gypsy Westwood. We saved on decor. I hand-made 90% of the wedding decorations including the dream catchers. It was lovely at the end of the night all the girls took one home as a keepsake of our day.
How did you choose your photographer?
We got given a list of photographers from Lucy to get us started. I had already researched some myself and when I saw that Gypsy had worked with Lucy before I couldn't say no. Scott agreed. Once the day is over your only left with your memories and photos to look back. We couldn't see past Gypsy Westwood. She's fantastic and she captures the island perfectly. We had Sofia Gomez who couldn't have captured our day any more perfectly. Once we had our family and formal photos taken we didn't even realise she was there. Which is what we both wanted.
The dress
My dress was from Y.A.P Bridal in Newcastle. It's a Maggie Sottero gown. I'd been to one bridal shop before going into Jo's boutique and I'm so happy I went. The whole team of girls make me and my bridesmaids feel at easy. They make you feel like they're your friends willing you on to help you choose the best wedding dress in the world. I wore my mums pearls and Vivienne Westwood pearl earrings and Vivienne Westwood shoes. Hair and Make up was by the very talented Danielle Renshaw who I couldn't recommend highly enough. Hair was by the very talented Jeff Thomson. Everyone commented on how lush my hair looked.
The suit and bridesmaids
Scott, the best men and dads wore Marc Darcy suits. The boys got to pick their own belts and shoes and had matching ties. Scott wore a bow tie with Vivienne Westwood shoes and belt. The bridesmaids wore blush maxi dresses from Little Mistress. I let the girls have free reign over their dresses as long as they were blush pink. I wanted them to feel confident. It was the first dress they tried on that we went for. The flower girls wore beautiful handmade dresses I found through Facebook called Tutu Angels. They looked like little princesses and had a ball.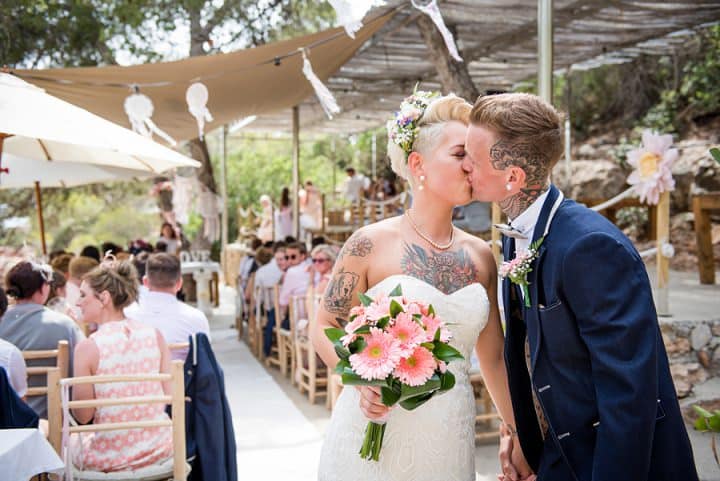 Theme or colour scheme 
I chose blush and grey pretty much as soon as we got engaged. By the time our wedding came around that was the colours of this summer!
Flowers 
My favourite flower is the simple gerbera daisy. I just love them. So we had them with a mix of babies breath and roses on the tables and just a simple bunch of pink Daisy's for the bouquets. The boys button holes were one daisy with some baby's breath. Nicole our florist also made my floral head band with a mix of beautiful flowers. I trusted her decision and didn't see it until the morning of the wedding.
Decoration 
We love Ibiza and our favourite party night is flower power. I wanted to incorporate a relaxed hippy vibe to the day but without the brightness of colour. I handmade lots of dream catchers. I found a lovely lady on eBay who makes paper flowers too which looked fantastic. I didn't want to over do the venue because I felt it speaks for itself. Lots of little jars and candles on the tables to go along with the flowers. Lucy again was great. I sent our decorations over a couple of weeks before the wedding and she sorted it all on the day for us. When I walked down the isle with my dad it was the first time I'd seen it set up. I couldn't have asked for it to be done any better.
Food
We chose a BBQ option for our meal. It was lovely and relaxed. The food was all served to the centre of the tables for guests to help themselves. Sitting up the top table and watching all our guests passing plates of steak, chicken & fish with different salads and potatoes and calamari was a highlight for us. We felt the meal got everyone together.
Wedding cake
Our wedding cake was AMAZING! Sharon couldn't have been nicer. We had tasted some samples the year before. We chose lemon and poppyseed cupcakes with a smaller cake for cutting on top. They went down a treat with our guests. Sharon also made love heart shaped biscuit lollipops, coconut squares and mini doughnuts. We had a selection of pick and mix too.
Entertainment
We had the very talented Richard for our DJ. He was great. We sent him a list of songs and let him choose what to play. We also had the amazing LuGotti on Saxophone. He played for an hour after out vows while our guests mingled and had drinks. Then again after the meal and speeches cranked up the noise and belted out the tunes. He was definitely a huge hit with the ladies too! We couldn't have been happier to have found him!
Who supplied the stationery?
I made our save the dates and got them printed through vistaprint onto magnets. I did the same with our invited once they were designed I got them printed through vista print and sent out. Our place tags where small blackboard style tags tied onto each guests favour.
Personal touches
The personal touches for us minus the handmade decoration was the speeches. Having all our friends there and make the journey to Ibiza for us was more meaningful than anything else.
Special moments 
The whole day was a highlight. From getting ready in the morning with my bridesmaids. To my dad walking me down the isle. Exchanging our vows in front of all our friends and family. Our flower girls! The food, the music, the drinks and dancing. Everything was amazing!
The end of the night was one of our favourite parts. We had Loch Lomond as are final dance. It's a scottish tradition we couldn't leave out even in Ibiza. Scott and I were in the middle of all our guests dancing. All our guests happy and linked together before the beat kicks in and everyone goes nuts. The perfect way to end a scottish couples wedding in Ibiza.
Advie for other couples
We guess what everyone says is just enjoy it. It's the quickest day of your life. You wonder how your up at 6am and when you ask for the time it's 11pm! Take lots of photos with you guests but enjoy every moment. Love your first dance because it'll be one of the only moments of the day you get to be alone together.
A wedding planner too! We couldn't have done it without Lucy.
Biggest surprise
That we managed to pull it off!
Supplier Shout Outs
FOR MORE INFORMATION ON GYPSY'S AND SOFIA'S WORK PLEASE GO TO:
www.gypsywestwood.com / www.gypsywestwood.com/blog / FACEBOOK / PINTEREST / INSTAGRAM