I have a real treat for you today with this fabulous bright and colourful Cornish beach wedding. The whole wedding is one big kitsch celebration of love, laughter and everything in between. Set at the amazing Lusty Glaze Beach in Newquay, Cornwall, it is full of the most wonderful decoration, bright flowers, fun props, fab food and of course the obligatory beach swim! Ollie and Fernando have done a great job in creating a fun-filled day that reflects them as a couple and I just LOVE it! Big thanks to Laura May Photography for capturing the day so perfectly.
The best day we've ever had. It was full of colour, laughter, tears, sunshine, champagne, friendship and love.
Ollie and Fernando were married on 5th August 2017 at Lusty Glaze Beach, Cornwall. 'We really wanted a beach wedding, and a family member in Cornwall knew of Lusty Glaze and highly recommended it. We were sold as soon as we saw it! we had 90 guests and it took about a year to plan.'
How they met
We went to university in Wales together. We've been together 18 years!
The proposal
We planned a short trip to Biarritz in France. Ollie thought it would be a great place to propose. He wasn't going to be formal about it, but friends persuaded him to buy a ring. On the day itself we went for a walk along the clifftop to the lighthouse. It was beautifully sunny, and Ollie went down on one knee. Fernando was shocked – he had been planning to propose the following month.
How did you spend your budget?
We spent far more than we expected! The venue and food was the biggest expense, and we wanted to ensure we had a good photographer and band so didn't want to cut corners there. We managed to save some money elsewhere by making things and getting good deals. And our family helped us out.
Where did you splurge and where did you save?
The venue was a splurge, and we also treated ourselves to good accommodation. Fernando also got a posh ring from America. We were worried it might not be delivered on time! In terms of savings; we got our suits in a sale and we made lots of the decorations ourselves.
How did you choose your photographer?
We have known Laura for ages, but she had only been a professional photographer for a few years. When we were researching photographers, we thought we'd check out her portfolio. There was one photo in particular we loved. It is of a bride and groom at the bar with their wedding party, laughing together. None of them knew they were being photographed, and it is such an excellent, intimate and fun image we were immediately convinced Laura would be perfect.
The suit and bridesmaids
Suit from Ben Sherman, the bridesmaids all chose their own outfits – we don't like telling people what to do. The bridesmaids all got together and chose individual outfits with large floral prints. They all looked stunning.
Theme or colour scheme
We had a bright, colourful, seaside theme based on some photos we love of Coney Island in New York. Think: red, blue, ribbons, yellow, green, orange, stripes, purple and kitsch.
Flowers
We wanted bright, bold and informal flowers; a little like a flower meadow. Kelly Ann recommended Gerbras as the main flower with contrasting flowers in various primary colours and lime green foliage. We absolutely loved them. One mum had flowers in her hair, another had a brooch of flowers. The bridesmaids had corsages, and the groomsmen had buttonholes. We had bright, largish, buttonholes that looked great against the highly tailoured blue suits. The flowers at the ceremony were in jam jars with wire handles, attached to the ends of the chairs. These were reused as the centre pieces on the tables during the meal, which saved loads of money.
Decoration 
Ribbon bunting, voile pom poms, ribbons, inflatable kitch (including a giant rose gold flamingo), retro sweets, a strongman ringer.
Food
A BBQ and posh salads, made of locally sourced Cornish produce.
Wedding cake
We went big! We wanted a non-traditional and fun cake that matched our theme. We had three tiers. The top tier had a dropped icecream on top with the melting cream running down the sides (all made out of gnache). The middle tier was striped like a piece of rock, and the lower tier was covered in hundreds and thousands. As for flavours we went for our favourite cakes, with a boozy twist. Carrot cake and cointreau on the bottom, lemon drizzel cake with limoncello as the middle, and strawberry and champagne victoria sponge for the top.
Entertainment
We had a band, Hitpinch, who played excellent pop covers. We had a strongman ringer so people could compete with each other. We replaced the first dance with a first swim – we all (ok, a third of us!) got in our swimming costumes and went running into the sea to the theme from Baywatch. There is a great picture of Fernando being pushed through the waves on a giant flamingo by his new mother in law. We also played limbo when the music ended. And we all had sparklers at the very end of the night. We also planned some other stuff but we ran out of time!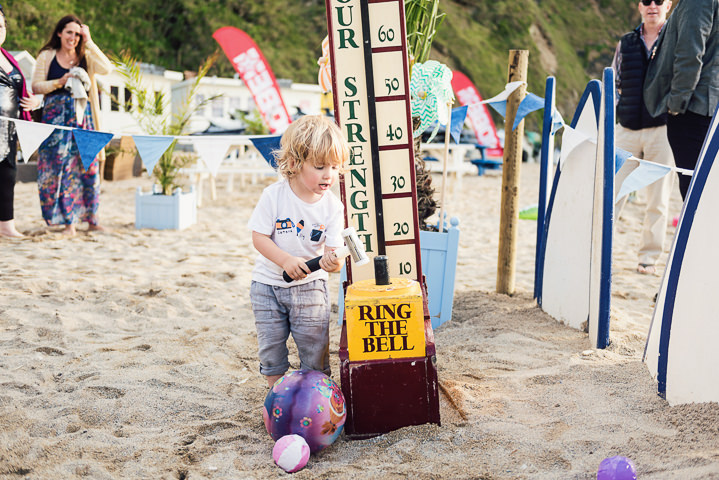 Who supplied the stationery?
Invitations were by Papier. Ollie designed the songsheets. Thank you cards were based on a Laura May photo.
Personal touches
We got some rock made with our names running through it, with a tatoo-inspired lable we designed. We also designed the songsheets for the ceremony, and spent 2 months making dozens of giant voile pom poms. We also found a wooden pallet dumped on the street that we painted with our order of the day on.
Special moments 
We really wanted the ceremony to be a special, and a big, part of the day. So we all sang an Erasure song, which was really fun (Ollie loves karaoke). And we had a sci fi poem we love read out by a friend. And then we had another friend with a special talent for accents read out our favourite poem: Roald Dahl's The Anteater. We were all laughing and crying.
Biggest surprise 
Our family made us walk down to the waves at sunset, when two aircraft arrived and did an amazing acrobatic display with fireworks. We still can't quite believe it: it was better than a Made in Chelsea wedding.
Also  – it was a hot and sunny day in the UK!
Advice for other couples
We have lots of advice! But the most important are:
Only invite people you really want to be there. It is your day.
Get the venue, band and photographer sorted early. If you get them right, you are 80% done.
Don't drink too early, or too much. You want to remember everything!
Give yourself lots of time to plan, and get lots of help from friends and family.
Dont stress if something isn't perfect on the day. We planned loads of things that didn't work out. But it didn't matter.
Make sure you talk to everyone on the day, because they have come especially to see you both.
Remember that all you, your partner, and your guests need to have the best day ever is each other. Anything else is a bonus!
Supplier Shout Outs
For more information on Laura May Photography go to
www.lauramayphotography.co.uk / www.lauramayphotography.co.uk/blog / [email protected] / 07734995754 / FACEBOOK / PINTEREST / INSTAGRAM / TWITTER
Laura May Photography is based in Shropshire but photographs across the UK. Laura believes documenting your time in this short life is a must, and your wedding day is no exception! Laura's style is beautifully natural and happy. Laura captures the realness of your wedding day in an un-obtrusive manner, I want you to look back through your gallery and re-live the day in all its laughter, emotion and celebration.