Today I'm taking you away from the cold windy British weather as we jet off to warmer climes for sunny Spain. Kate and Camden are from Brooklyn but decided that they wanted to get married somewhere in Europe and decided on the beautiful Andalucia in Spain. Finding the most gorgeous venue, they stayed there for the week with all of their guests, while holding their wedding ceremony and celebrations too. They also decided to keep a small guest list, which meant they could allocate their budget to other places and make the whole stay extra special. With the most gorgeous backdrop, stunning flowers and the most delicious Paella, this wedding is simple yet beautifully romantic and one that is bound to add a bit of Sunshine into your cold Thursday. Big thanks to Roxanne Turpen Photography for the gorgeous photos and to Mery Liccardi the wedding planner for the amazing submission.
We definitely did things our own way, from the ceremony to the small guest list to the menu to the flowers to the dress, and that made the whole day feel personal, comfortable, relaxed, and intimate. We made space for art and poetry, and we ended the night with plenty of silliness when we all jumped in the pool.
were married on 3rd July 2017 at Otívar in Andalucia, Spain 'We were looking for a beautiful villa in Europe somewhere, so that we could have an intimate and adventurous ceremony. It didn't hurt that I had lived in Spain for a year, so I speak the language and love the country. We had 19 guests and the whole wedding took 4 months to plan'
How they met
We met in 2013, when we were both living in Washington, DC. Camden was running a gallery; Kate came for the art and stayed for the dashing man. A year later, we moved to Brooklyn together.
The proposal
We wanted to have our own private holiday celebration before taking off for Christmas at Kate's parent's home, so we booked a night at the Highline Hotel in Manhattan. We drank champagne and exchanged gifts in the room, and Kate's gift to Camden was a frame he'd been admiring, with a proposal letter inside.
How did you allocate your budget?
We both really believe in being practical about wedding costs. But because of the very small guest list, we were able to be quite extravagant with the details. So we really went all out in some areas, especially on dream flowers and elaborate invitations. That said, the venue—which we rented for a whole week—housed all our guests and was spectacularly beautiful, but cost us less than most New York venues would charge for just one evening. So that felt totally worth it. Aside from the flowers, we didn't have to worry about decorations, because the gardens needed no adornment. The catering was super reasonably priced (and delicious), and Kate's dress was quite affordable at around $1,000.
Where did you splurge and where did you save?
Since this was a destination wedding, airfare (for ourselves, the photographer, and the officiant—both close friends of ours) was an obvious splurge. If we are measuring splurge based on the experience of enjoyment, the venue was undoubtedly the greatest splurge of our lives—but the enchanting week-long stay provided such a bang for our buck that we felt not at all guilty. The flowers were the only element that gave us sticker shock.
We saved big on the dress, the catering, and the photography, which were all super reasonable. But mainly, we saved by having a 19-person guestlist.
How did you choose your photographer?
She's a close friend of ours, and besides which, she is incredibly talented! We love her candid, playful photos, since we're not much for staged pictures. She has an eye for romance, but it never feels cheesy or contrived.
The dress
The dress was two pieces: a skirt from BHLDN and a sheer silk dress underneath from small Brooklyn-based designer called Aurora Vestita. Shoes were Intentionally Blank, earrings were Soko, and the hair-greenery was eucalyptus.
The suit
The suit was Boston-based 9tailors. There were no bridesmaids; Kate's gals wore whatever they fancied.
Theme or colour scheme
Mostly neutrals, with deep, dark pops of color in the flowers and what few decorations there were—dark red, black, navy, etc.
Flowers 
Kate asked especially for protea, peony, and amaranth, arranged with lots of greenery.
Decoration
We brought little name plates made of black agate, string lights hanging from the trees, and candles and flowers on the tables.
Food
Paella! Hors d'oeuvres that we heard were delicious but barely had a moment to eat.
Wedding cake
A layered "naked cake."
Entertainment
Live flamenco band and dancers, who were so, so wonderful. It's unusual to have a performance during a wedding, but because we were such a small group, we thought it'd be fun. Plus, we wanted to add some Spanish flavor. Once they finished their set, we put on a playlist and danced for a few hours before diving in the pool.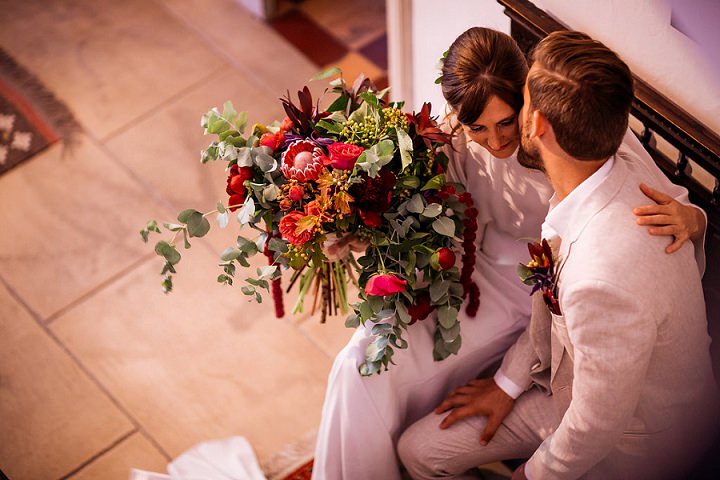 Who supplied the stationery
Brianna Nieman, whom we found on Etsy.
Personal touches
We wrote our own vows, which was the biggest contribution and the most difficult part. We had both our parents walk both of us down the aisle, in the spirit of egalitarianism. Kate's best friend—a super talented poet—served as the officiant, which was wonderful because what she wrote was both artful and personal. Rather than having people give readings during the ceremony, we invited everyone (since it was such a small group) to give toasts or readings during dinner, so most of dinner was spent listening to each other's stories and bonding as a group. We weren't able to do much ourselves, since we only arrived in the country a few days before the ceremony.
Special moments
For us it was the fact that we had the whole week! On the day before, we went on a group hike through a ravine with the most beautiful waterfalls. We loved picking fresh fruit from the trees in the garden, sitting down to casual meals at the long outdoor tables, and exploring the castle-like house.The photographer did a "boudoir shoot" with Kate, which was naughty and super fun. And it's hard to choose between the ceremony itself, the toasts, the flamenco, the dancing, the late-night swim… it was all so special.
Advice for other couples
We would highly recommend the small guest list, if you can get away with it! Or if that's not possible, then simplifying things as much as possible, so that it's no more stressful than it has to be. We loved having beloved friends and family integrated into the ceremony, so that's a good way to go. On the day itself, give yourselves more time than you think you need to get ready.
Biggest surprise 
How much fun it was! Once we got started, all the stress disappeared.
Supplier Shout Outs:
For more information on Roxanne's work go to
www.roxanneturpen.com / www.roxanneturpen.com/blog / FACEBOOK / INSTAGRAM