Today I am taking you for a little trip around my home city of Sheffield. Jodie and Ian's wedding is a real celebration of our fair city and takes in many of the sites. They wanted their wedding to be all about them; memories they had, places that meant a lot to them, making the day really personal and totally unique. They also wanted their day to be filled with amazing food and lots of drink. They achieved this with lots of delicious Thai food and amazing Mexican street food. Yum Yum! The whole day was totally relaxed with no formalities which meant a chilled vibe and lots of personal touches. Big Thanks to Mark Crayden Photography for the amazing images.
The perfect day. Relaxed, fun, booze and music fuelled and enjoyed by everyone we love and who loves us.
Jodie and Ian were married on 27th May 2017. 'Our ceremony was in a beautiful Unitarian church in Sheffield called Upper Chapel, we then went across the road to the Mercure hotel for reception drinks, nibbles and photos before heading over to the Hagglers Corner for the evening. We wanted a ceremony full of soul but neither of us are followers of any religion so unitarianism was perfect. Allowing us to celebrate in a spiritual way that didn't have to be secular. The evening venue (Hagglers Corner) was actually somewhere we went on the day we met so it meant a lot to be back there. We had 112 guests and it took about 17 months to plan.'
How they met
We met at a cider festival that we were both at with mutual friends. My (Jodie's) first words of "you alright?" were met with a very definite "I am now" from Ian! Our 4th anniversary was 5 days after the wedding.
The proposal
We were in a house in France for new year with all of my closest friends from University and their partners. Ian rigged a game of Mafiosa (if you don't know it, it's great!) to get me sent outside into the garden where he was waiting ring in hand. It was perfect and meant we could celebrate with some of the people we love!

How did you allocate your budget?
We used a wedding app from Weddingspot.co.uk which gave a really good "model" budget which we then adjusted to our needs and then we used that to track every purchase and payment. Towards the end I did start to lose track of the small items but generally it really helped!
Where did you splurge and where did you save?
Our biggest expense was our honeymoon to Vietnam! After that it was probably food and drink. My biggest fear was that people would go hungry or not get drunk! So we made sure that didn't happen! We saved a lot by doing a lot ourselves. I had an army of incredible bridesmaids/friends and family who helped out massively.
How did you choose your photographer?
We relentlessly searched online for photographers whose style we liked and who we could afford! We met a couple before finding Mark Crayden and as soon as we met we knew he was the one! He instantly put us at ease and we knew straight away he would fit into our wedding seamlessly. Having our engagement shoot really confirmed that for us. He is incredible! Mark also helped us to find Stacy Mae who saved the day when our videographer plans fell through – her video is better than we ever could have hoped or imagined!
The Dress
My dress was by Essence of Australia – I was always drawn to Essence and Stella York dresses on Pinterest and so sought out a stockist. I found the perfect dress at Emily Bridal in Sheffield and my consultant Danielle was a dream! My shoes were £10 in the Dorothy Perkins sale and I wore a Pandora Bracelet and a diamond pendant from Goldsmiths. Mine and the Bridesmaids make up was by the gorgeous Lauren Ashleigh and our hair was by Pretty Hair by Emily – Emily is phenomenal and has done mine and Ian's hair since we met!
The suit and bridesmaids
Ian's suit was a bargain from ASOS and the bridesmaids were all given a £70 budget that they could use wherever they wanted. Some bought from Coast others from ASOS. The best men just wore blue suits they already had!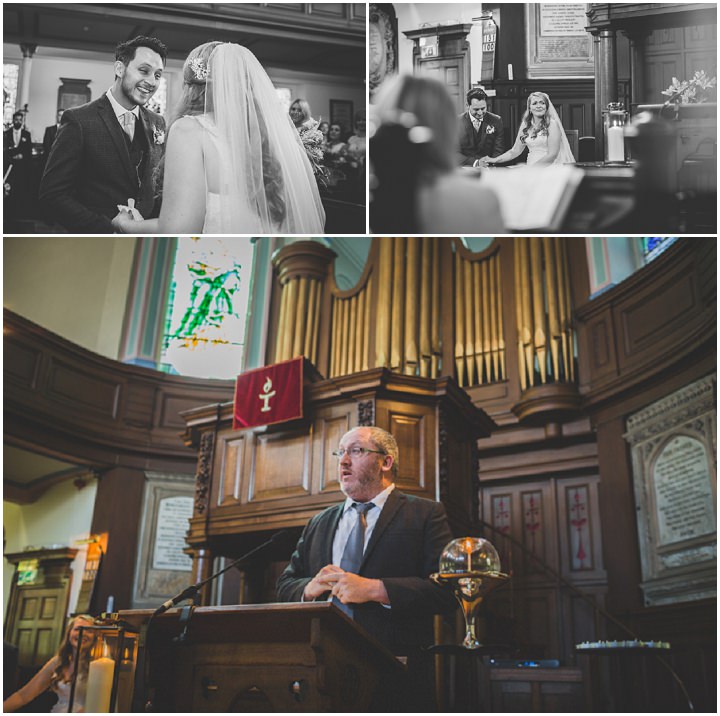 Theme or colour scheme
Our main theme was "us" things we love, memories we've shared etc. Hagglers corner is so beautifully random and eclectic that having a strict colour scheme made no sense. Bridesmaids had a "pink, mint, peach" brief. The Groomsmen were all in blue and we had accents of gold. And accents of almost every colour going to be honest!
Flowers 
One of my bridesmaid's mum is a florist (Rose Cottage Flowers) and she matched my brief and went way beyond! We wanted it them to be relaxed and so she filled Jam jars with an array of peach, pink and green!
Decoration 
We made most of the decorations ourselves. We had photo wheels, paper pom poms, hanging candles and the flowers were a key feature. Sarah at Hagglers also sorted some Hessian drapes for the marquee and hay bales for people to sit on.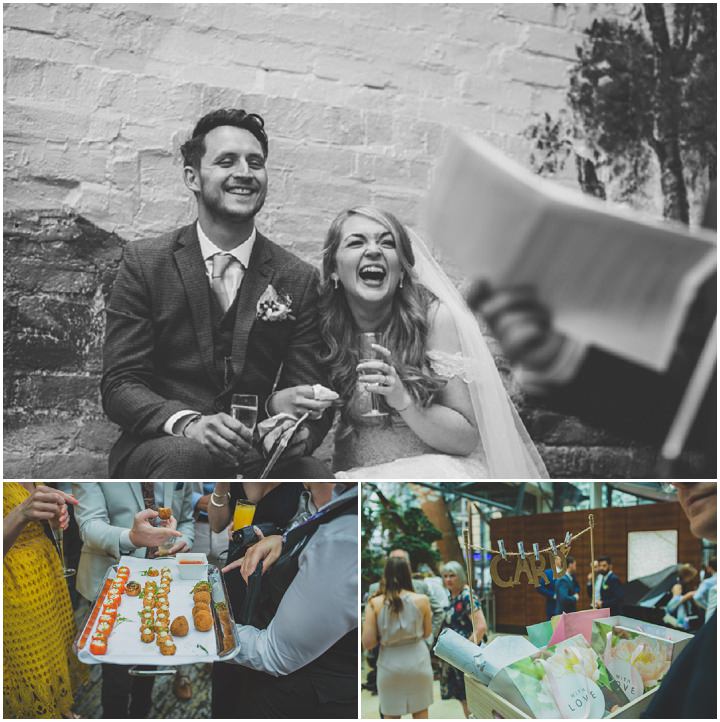 Food
We love Thai food and Mexican food so Hagglers provided a gorgeous Thai Style BBQ for our afternoon meal. We didn't want a seating plan so people just mingled about while they ate. The incredible El Kantina served pulled pork and taco bowels in the evening
Wedding cake
We are blessed to be surrounded by incredible bakers and so we asked friends and family to make cakes for our cake table. They outdid themselves!
Entertainment
Ian's grandad is Spanish and we LOVE spain so we had Synergy Live Band playing modern songs with a Spanish twist. These guys made our evening! I thought they'd be dinner music, they were absolute party starters! We also had Spotify playlists to take us into the early hours
Who supplied the stationery
We made everything ourselves… I thought it would be easy… after the first 5 I was bored!
Personal touches
Because of our theme we had loads of personal touches. One of my friends and her husband made a version of our first dance song for us which was beautiful. We tried to make sure almost every moment meant something to us.
Special moments or highlights
One of our Best Men presented Ian with a letter from Arsene Wenger (The Arsenal Football Manager) wishing us well on our big day. Ian cried more than he did at the ceremony! We also went to the casino at 2am in my wedding dress which was a great moment!
Advice for other couples 
Plan the wedding that represents you and the love you have. Even if people don't get what you are trying to do in the lead up it will pay off. They will get it when they see how happy you are. People thought we were mad for not having a proper colour scheme or a seating plan but it just wasn't what we wanted! 
Biggest surprise of the day
People always say that their wedding day went by too fast. I haven't ever felt that because we had so many distinct parts of the day and I made sure we took a moment to reflect on each part and how amazing it was.
Supplier shout Outs 
Fore more infomration on Crayden Weddings go to:
www.craydenweddingphotography.co.uk / www.craydenweddingphotography.co.uk/blog / 07919523920 /  [email protected] / FACEBOOK / INSTAGRAM
Hello I'm Mark- a South Yorkshire based photographer covering the UK & Europe. So I suppose this is the bit where I tell you how much I love being a wedding photographer and start to drop words like documentary, creative, natural, contemporary, candid, the truth is I'm all the above and a little bit more, you see I don't want to pigeon hole my style, for me that would just be a restriction on my creativity, I take photos of what I see, people being human, moments of feeling, touch, and joy, always trying to capture images in a real and honest way.