Today I am brining you the last real wedding of the year (sad face!) But don't worry as it's a really good one! I will be taking a little break over the Christmas holidays, but fear not as there will be other posts going up throughout the festive period and I will be back on 2nd January to bring you my big best of 2017 round-up! So make sure you keep an eye out for that. We are finishing off the year with a wedding that is very dear to me. The wedding is held in Sheffield (my home town) and is shot by one of my good photography friends Jess Petrie. Jess is a huge talent and creates the most delightful photography and todays wedding is no exception. Daniel and Lauren created their very own home away from Texas home, 'Honkey Tonk' wedding, filled with rustic touches, BBQ food and a Harley Davidson theme, due to their surname. The whole day is effortlessly cool, filled with love and laughter and the perfect way to finish of the year of fantastic real weddings.
An intimate, laid back, American 'back yard' BBQ themed celebration. Focusing on the theme 'Harley', we built a real Texan 'honky tonk' in the middle of Sheffield.
Daniel and Lauren (Harley) were married on 9th September 2017 at Ecclesall Woods, Sheffield. 'We chose the venue because it was a DIY venue – being a project manager meant I naturally wanted to take full control of the wedding and make it completely personal. We had around 100 guests and it took 18 months to plan.'
How they met 
Very romantically – through Facebook! I tell everyone that Dan came after me, but in actual fact I was the one that hit 'add friend' – shh! We have been together 5 years.
The proposal
I grew up going to Florida with family – its always been my home away from home. Dan had never been so I was keen to get him there. We booked a last minute trip – flying on NYE for a week. Dan had arranged for my family to fly in from Texas and meet us there – I was so caught up in seeing them that I did not even stop to think about a looming proposal! On the 2nd January 2016, we had always planned to go to Walt Disney World's, Magic Kingdom. I was busy drinking my latte and looking at my camera – but see Dan get down on his knee behind me – STILL not registering what was happening, I turned around and snapped a photo, it was only when I looked at the photo I realised that he was proposing!
How did allocate your budget?
Venue – photographer – food were my priorities, once we had that established and budgeted for we split reasonably what we thought was a realistic amount to spend on a wedding.
Where did you splurge and where did you save?
Photographer was our splurge – We wanted the best and we got the best! That was the one thing I knew we needed to nail, these photographs live with you for the rest of your life.
Event management – Given the fact that the event was completely DIY, so much 'behind the scenes' planning, organisation and project management was necessary. I am an international project manager so utilised my own skills to bring everything together – even to the day before full day set up. Luckily, I had amazing people around me that took charge on the day to make sure everything went according to my plan.
How did you choose your photographer?
I saw Jess' work on Instagram and instantly fell in love. For me, I am quite particular about photographer so I really wanted to find a photographer that understood my vision – knew that we didn't want 'traditional wedding photos' and that could capture the mood and feelings of the day. I knew as soon as I saw Jess' work that she was who I wanted – I didn't even bother speaking to any other photographers! I love natural light, and not heavily photo shopped photography, but more importantly Jess was a DREAM to work with. She has the kindest soul and makes you feel completely at ease – even my husband (a Yorkshire man through and through) relaxed in a potentially awkward situation.
The Dress
Dress, Stella York. Heels, Christian Louboutin. Boots, All the way from Texas! Earrings, Tiffany
The suit and bridesmaids
Suit, Kooples and Tom Ford. Bridesmaids, Biba (House of Fraser)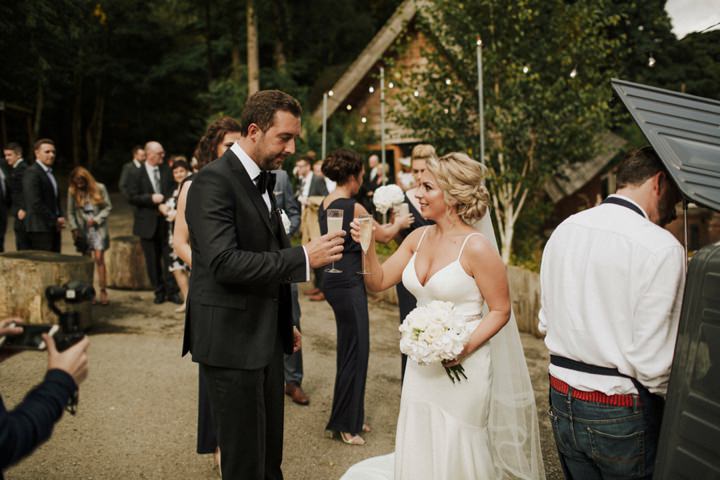 Theme or colour scheme 
It was more 'Texas country glam' – Navy and festoons!
Fowers
White Hydrangeas
Decoration
All American back yard theme, hand painted wooden signs by Vintage table wear in Sheffield. Festoons, A donut wall, Festoons, whisky barrels, personalised stadium cups and koozies.
Food
Deep south BBQ and Pizza from the oven!
Wedding cake
(it was fake – shhh!) We wanted a statement cake but knew it would not all be consumed – so Dan had a chocolate 'grooms cake' and Dan's mum made homemade cake on trays.
Entertainment
Michael Collings – He was on Britain's Got Talent and he has that real country husky voice which I have always loved. He played the song as we walked down the aisle (Zac Brown Band, Majesty) and our first dance (Joshua Radin, You Got What I need).
Who supplied the stationery?
Polly Pickle (@polly_pickle_design) on Instagram!
Personal touches
Personalised Koozies (drinks coolers)
Personalised Stadium cups
Personalised cocktail menu
Hand-made Donut wall
Personalised hand painted signs throughout
My cowboy boots
Mrs Harley Leather Jacket
Special moments
Michael Collings, My boots, The food (it was incredible!)
Advice for other couples
Enjoy it! I know this is super clique but I see so many brides stressing on the day. It doesn't matter if you don't get to spend the night talking to everyone, it doesn't matter if things go wrong, it doesn't matter if it rains – you get to marry your fiancé and your family and friends are there to celebrate. We took time all day to spend time together, even to just try and absorb everything around you. Everything goes so quickly.
Biggest surprise
I can't pin point one surprise, I surprised myself with how calm I was – it was torrential rain in the morning and I really didn't care!
Supplier Shout Outs
MORE ABOUT JESS PETRIE PHOTOGRAPHY
www.jesspetrie.com / www.jesspetrie.com/blog / [email protected] / FACEBOOK  / T: @JessPetriePhoto / I: jesspetriephoto / PINTEREST / 07581209794