I am over the moon to feature today's wedding, as it is the wedding of our very own Holly. Holly is our in-house style expert and her outdoor wedding in Portugal is an absolute beauty! Holly's parents live in Portugal, so it made total sense to hold their wedding there. It gave her and James the rustic backdrop that they wanted, a beautiful outdoor ceremony area, as well as a gorgeous outdoor reception area and the gorgeous summer sunshine that we all crave here in the UK. I have to say that Holly looks drop dead gorgeous, what a totally stunning bride she makes, I love her laid back bohemian look. The whole day that has been captured by Married Morenos is absolute wedding perfection.
Guests relaxed for a weekend get-away in a beautiful remote location. Everyone was incredible happy and nothing felt overly done, it was just full of love. 
Holly and James were married on Saturday 10th June, 2017 at Forte de São João da Barra – The Algarve, Portugal. 'My (Holly) parents live in Portugal and it has been a very special place for both of us over the years, with many happy holiday memories and family gets togethers. That, together with the guaranteed sun and rustic feel, won us over! We had 58 guests. We got engaged on Christmas day 2015, so we had a year and a half to plan. Although we didn't plan the whole time! It was actually really straight forward as we knew from beginning exactly what we wanted the overall look and feel to be so we really didn't waste time 'shopping around'.'
How they met
We met at the glamorous Vodka Revolutions in Bath when we were both at university there, James behind the bar and myself in front of it! We've been together ever since, which is pushing on to 8 years now.
The Proposal
We'd just bought our first flat in London 2 weeks before the Christmas of 2015 so it was a very special time for us. It was just the two of us on Christmas morning and James proposed to me after breakfast by our tree.  It was so romantic and personal. We had the excitement of a big family ski trip starting that evening so we had a whole week of celebration!
How did you allocate your budget? 
We didn't really have much of a plan to be honest. We just went step by step, location being the most important. We knew we wanted a small, intimate wedding and so we kept everything in-keeping with that.
Where did you splurge and where did you save?
I don't think we really did either to be honest, everything was pretty even. Portugal is great because you can get incredible wine and food at very reasonable prices – I guess having the wedding abroad turned out to be a huge saver actually. We also organised everything ourselves, nothing was provided 'in-house' so we got to choose the florist, the caterers, the music, the alcohol etc – that was a big saver.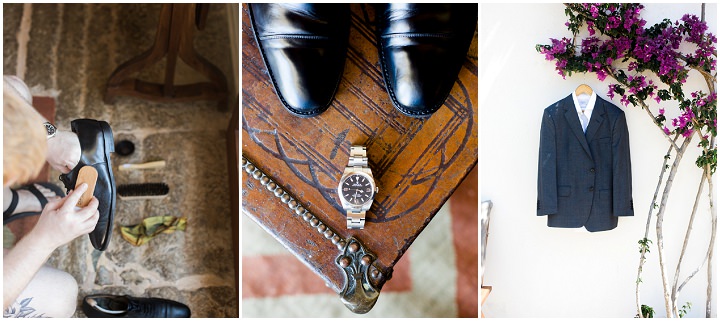 Why did you choose your photographer?
We didn't want a harsh, bright light as Portugal is bright-enough naturally. That was the main thing, finding a photographer that worked with the natural light and on film to create something romantic and beautiful – I was so lucky to come across Married Morenos on Instagram. They were amazing!
The Dress and Shoes
My dress was by a Spanish designer called Yolan Cris, who do amazing lace work. My shoes were platform open-toes from Jimmy Choo and my jewellery was actually an accumulation of pieces I wear everyday. Except my horseshoe necklace, which James gave me for my birthday and I saved to be my something new.
The Suit and Bridesmaids
My bridesmaids wore dresses from the amazing eco-friendly brand Reformation. The groomsmen got their suits from Zara as they do great cuts at high-street prices.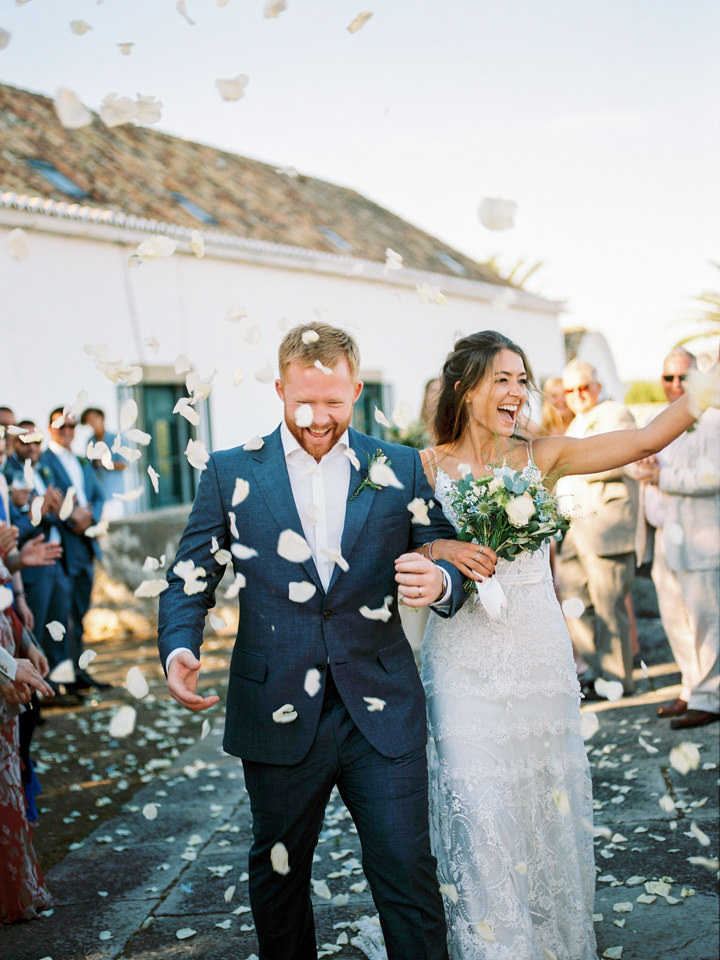 Theme or Colour Scheme
I didn't want a traditional colour-sheme so we decided to scrap that and stick to muted hues instead. I felt that it would feel too 'done' for the style we were after.
Flowers
My mums friend, Annette Box, made all the flowers for us. We went up to the flower market in Vauxhall and picked out lots of different styles that could stand the heat of Portugal. Annette arranged for them all to be flown out to Portugal two days before the wedding… which worked out brilliantly! She is an incredible florist, we were so lucky to have her onboard.
Decoration
We had an amazing moroccan inspired lounge area which was my favourite area to decorate! I got the faux sheepskin and rugs from IKEA and accumulated cushions from H&M and various candle holders from ETSY. We have fairy-lights and lanterns decorating a big feature tree which looked beautiful in the evening. I wanted all the crockery at the table to be terracotta, which made the tables look instantly rustic and in keeping with the setting. All the menu's and other details we made ourselves.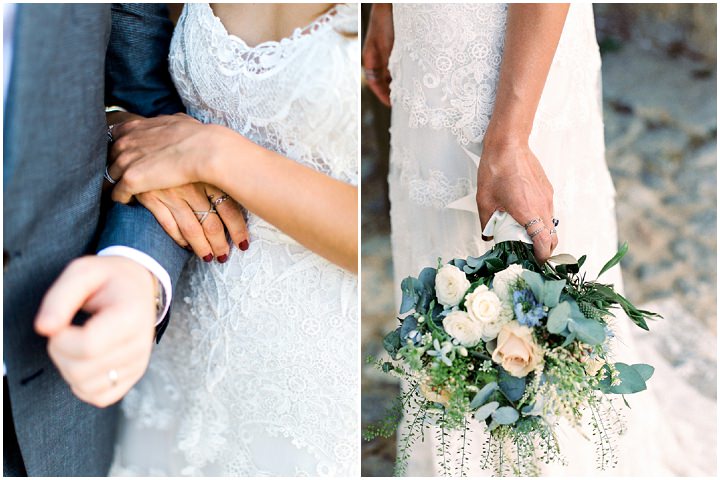 Food
A big vegetarian feast! Being in Portugal it felt fitting to have a traditional Mediterranean style meze. We started with a Portugese "covert" and went on to a beautiful vegetarian cataplana with wild African rice and lentils, all served in traditional terracotta bowls. Myself and James are both vegetarian and didn't want to have any meat servers at our wedding – as it turns out everyone really loved it!
Entertainment
We had a UK band that play regularly at my agency's christmas parties! She's called Chelsey Chantelle and she's just incredible. We love live music and Chesley is fantastic! Chelsey played at the reception while we were all having cocktails, and again for after dinner for the first dance – then at around 12.30am we switched to a DJ.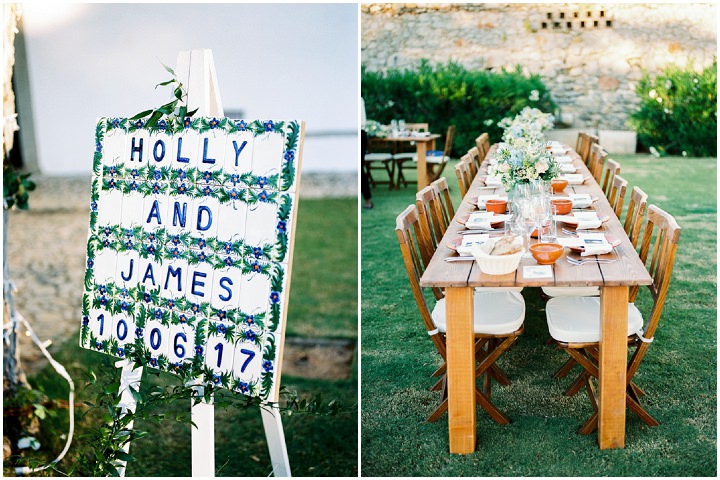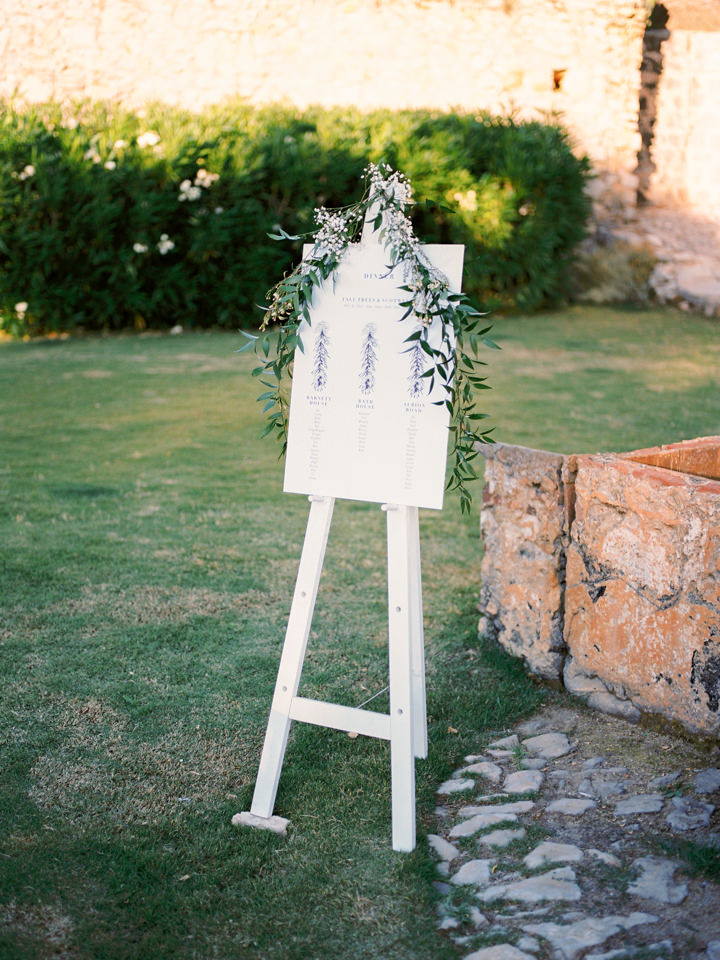 Personal Touches
Pretty much everything was done ourselves; from buying the boos, scheduling vineyard appointments, to making the guest book and illustrating the menu's. We really were all hands on deck! My family made our tiled welcome sign, our friends help hang lanterns in the trees and my mums good friend did all our flowers – it was a real team spirit style wedding! !
Special Moments or Highlights
During the ceremony we had one of our best friends do a speech which was the perfect balance of heartfelt and humour, we also had a live acoustic version of Rihanna "we found love" played when we were signing the wedding certificate which was a really special moment. To be perfectly honest it was all a highlight! Every moment was so pure and romantic, there wasn't a single thing I'd change.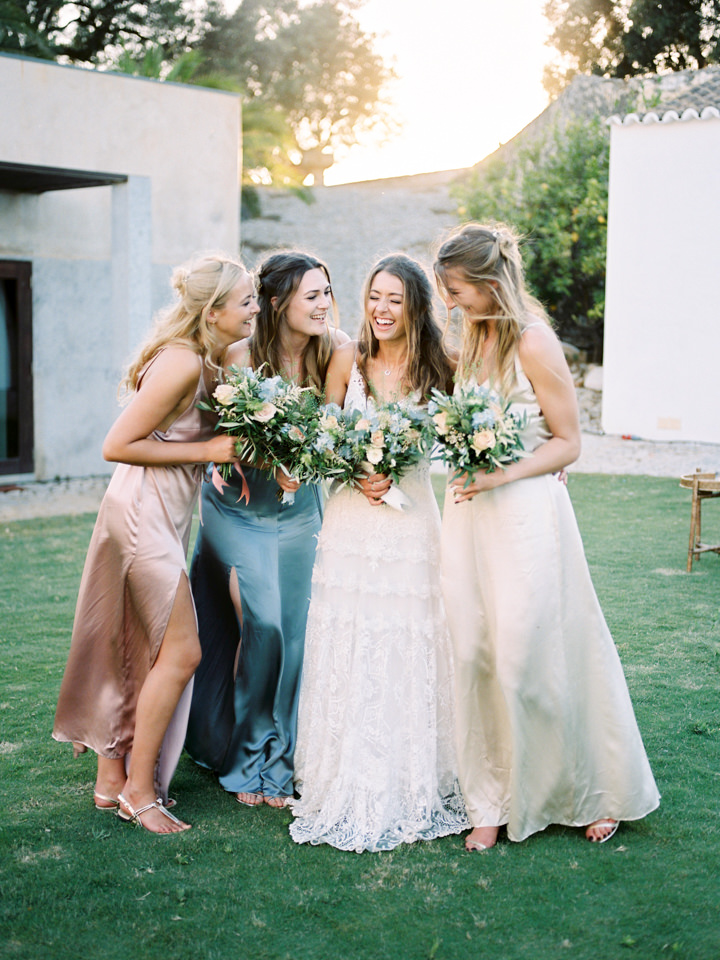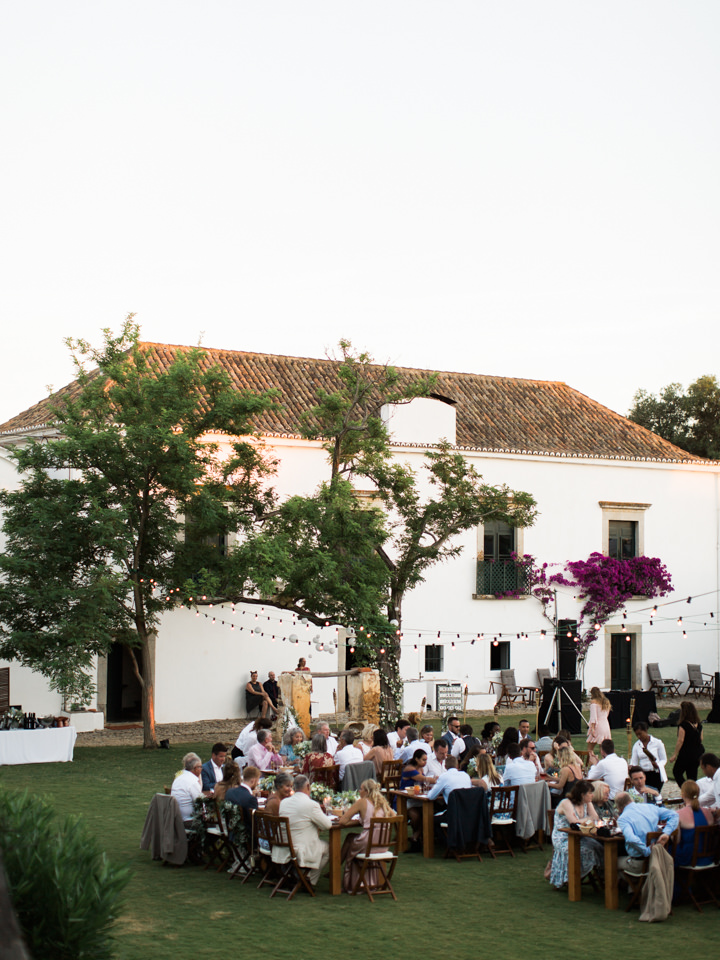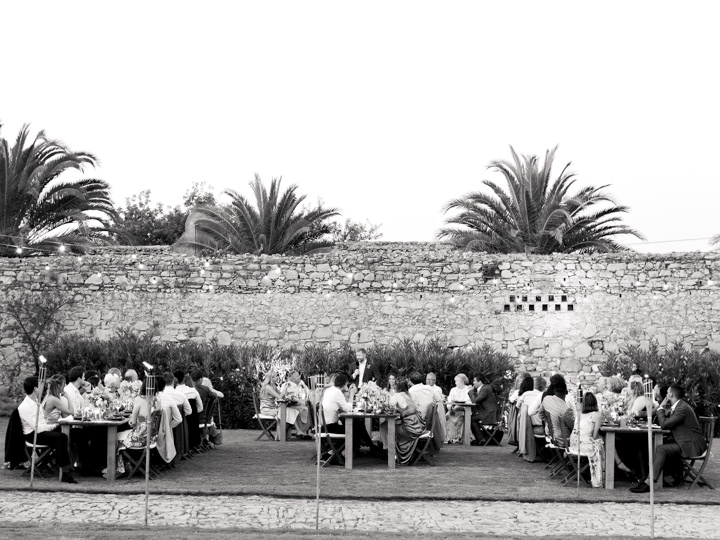 Advice for Other Couples
Pay attention to the little details a few months ahead of your day and have a plan of action. I am a real perfectionist so actually found that I'd done everything prior to the week leading up to the wedding so there wasn't much stress at all… that would be my advice.
Biggest Surprise
To be honest there were no surprises, maybe I was surprised at how smoothly it all went! There was no drama, just lots of love; It was perfect.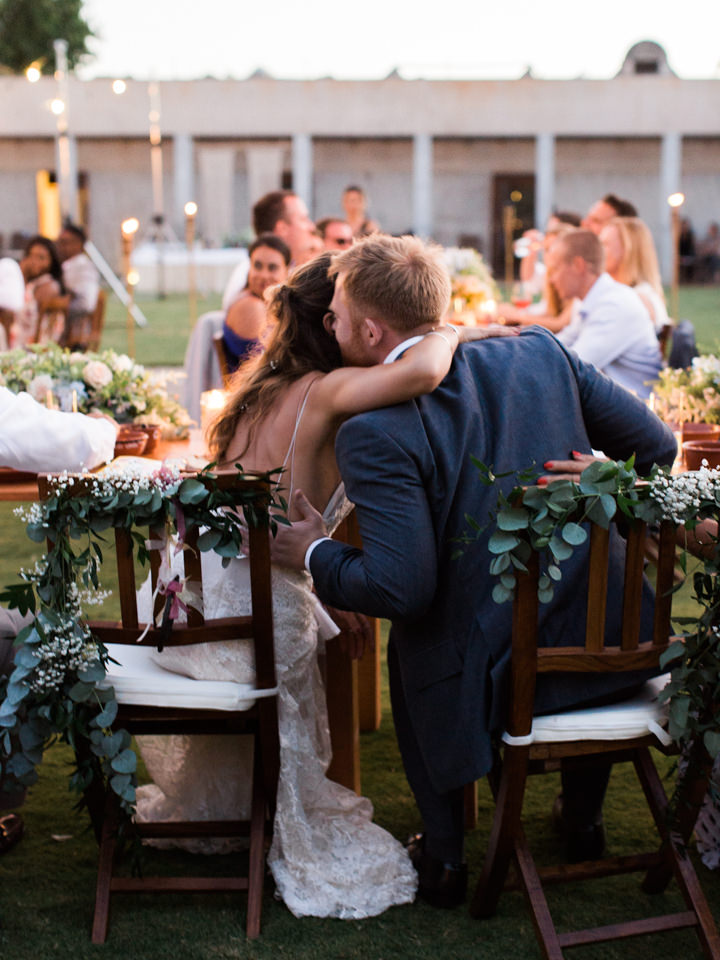 Supplier Shout Outs
For more information on Kaylea and Ryan's work go to:
marriedmorenos.com / [email protected] /  FACEBOOK / I: @marriedmorenos

[jprel]