Happy Wednesday everyone! I hope the week is treating you well so far? Today I have this gorgeous summer wedding for you from Colchester wedding photographer Kate Chilver. Anna and James held their beautiful Suffolk Tipi wedding at Anna's parents home. The farm was a renovation project for her parents, so it was the obvious choice as a wedding venue for the couple. It gave them the freedom they waned to run the wedding as they wished and made it super personal by holding it in their parents back garden. It meant they had a lot more freedom, and were able to have a wonderfully relaxed day. I just love the flowers, the bridesmaids dresses and of course the stunning couple.
An incredibly beautiful Suffolk Coast Wedding. Full of love, tons of fun and surrounded by their favourite people.
James and Anna were married on 22nd July 2017 at St Peter's Church, Blaxhall Stone Farm on the Suffolk Coast. 'Blaxhall is where Anna's parents live. They've put a huge amount of work into transforming Stone Farm (previously dilapidated) into a beautiful family home. The garden also has an air of mystery with lots of hidden pathways, a broken arch and a natural pond at the back. With St Peter's Church within 800m walking distance it was a no brainer. We had 110 guests at our wedding, which took around a year to plan with the big things being sorted last year and the finishing touches being handled in the lead up. Anna's parents (her mum especially) are phenomenal at just getting on with it in a calm and together way, which gave great results. We trusted their judgement and deferred to them on lots of decisions. They're really good at this sort of thing and we knew that.'
How they met?
We met one evening at a friend of Anna's house after Anna's sister Isabelle decided we should invite ourselves to the party. We sat and talked into the wee hours. And I slept on the sofa and in the morning Anna ran down the stairs to see if I was still there. It was really sweet. We've been together since the beginning of 2015.
The Proposal
I proposed at Glastonbury up on the hill by the sign. Being Glastonbury and one of the wettest in years, she got caught in Glasto's greatest ever traffic jam with the radio announcing it might take some people until 3am to get on site. Anna decided to walk the remaining 4 or 5 miles which took her about 2 and half miles. On arrival she looked teary and emotional and informed me that her sister had rang her on the bus and that she and Henry (my friend from university) were having a baby. So, realising that today was going to be a big day for Anna's parents we trudged off up the hill towards the sign. I'd convinced Anna that although she was super tired from her journey, I had to take a photo of the site from the top of the hill for a friend. She somewhat reluctantly agreed to the walk up the hill, but, thankfully was much more enthusiastic when the proposal arrived. In fact, so surprised was she that she promptly lost all her personal belongings bar the ring!
How did you allocate your budget?
We chose a great venue, most of the budget went on Cambridge tipi's for the reception plus delicious food and lots and lots and lots of drink. The essentials!
Where did you splurge and how did you save?
Splurged on the tipi's for the reception and on the food. The drinks were all really good quality but Daren (Anna's dad) had lots of tricks up his sleeve for getting great wine and beer at great value from Cotignac in France, which he drove over to get. My dad provided the champagne.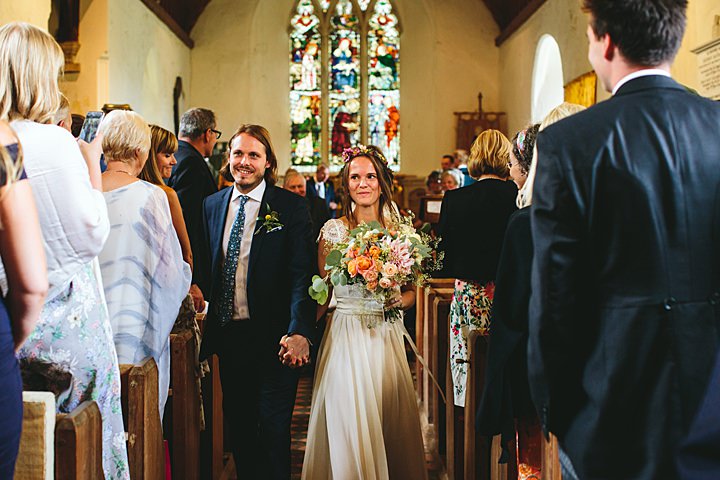 Why did you choose your photographer?
She was recommended by a friend, and we're really delighted with what she did. Everyone told us that if the photographer is good you won't notice them on the day. And Kate was really lovely. She knew how to capture all the best moments without ordering people around or being fussy. I think she did an absolutely wonderful job.
The Dress
The dress was Truvelle and both dress and veil were from Heart a Flutter in Hackney. The shoes were from Harriet Wilde London bought from Liberty in Love
The Suit and the Bridesmaids
Hugo Boss for the suit and the bridesmaids dresses were from ASOS!
Theme or Colour Scheme
No theme just natural and relaxed. We went with a palette of soft pastel shades for the bridesmaids with designs that reflected their personalities and body shape. All from ASOS but expertly altered by amazing seamstress Miki Fukui.
Flowers
The flowers were natural and wild in style with bright seasonal colours, oranges and pinks with plenty of greenery and all locally grown. We had two huge halos of foliage and fairy lights hanging from the apex's of both tipi's which looked very beautiful.
Decoration
Very rustic look in the tipi's with vintage wood tables and chairs, linen napkins and flowers in jam jars, night light candles and vintage bunting.
Food
The food was delicious. We had canopies (seared tuna, summer rolls) followed by Ottolenghi style colourful salads served with crusted salmon and spicy chicken.
Wedding Cake
Beautiful rustic naked wedding cake served with lots of summer berries as the pud and it was made by a friend of the family.
Entertainment
Cool music played by 3 members of the Gypsy jazz swing band Cafe Manouche and then playlists for dancing chosen by all the family.
Who supplied the stationery?
Anna being an illustrator designed the quirky wedding invitations.
Personal Touches
Anna's aunt made wonderful strawberry jam and lime pickle for the wedding favours.
Special moments
James: "Watching Anna come down the aisle gave me the strongest case of butterflies".
Anna: "Getting back to the house after driving back from the wedding. Everyone was walking back so the reception was empty and it was just us".
SUPPLIER SHOUT OUTS
For more information about Kate's work go to:
www.katechilver.com / www.katechilver.com/blog / [email protected] / FACEBOOK / INSTAGRAM