Happy Wednesday everyone, you have made it to the middle of the week, well done you! Isn't this weather just glorious! it's so lovely to have all this wonderful sunshine instead of all the horrid rain we have had lately. I have to admit though that being a red-head I'm not coping to well, I do tend to get a bit hot and bothered but I'm doing my best to embrace it and enjoy the warmth!  We are heading back to May of this year today with this gorgeous Tipi Wedding held at Sherbourne Park. It's a beautiful day with some wonderful photography, courtesy of Three Flowers Photography . The day looks super chilled and so much fun, with some wonderful weather thrown in for good measure.
'It was the most relaxed and fun day! Great people, delicious food, wonderful music and lots of love and laughter!'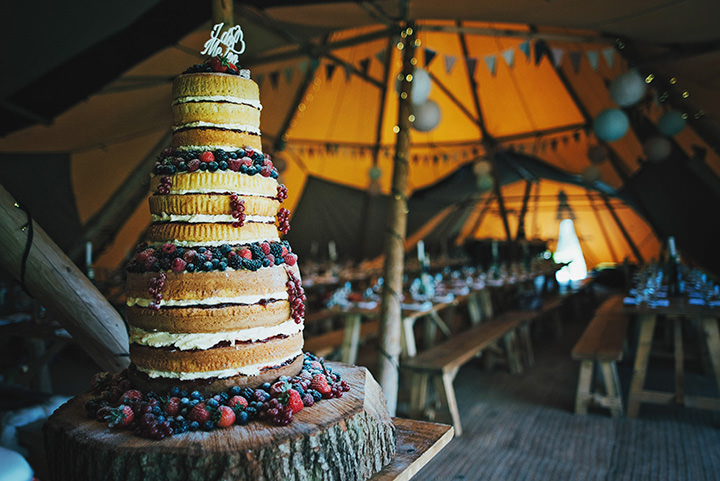 Lisa and Harry were married on the 29th May 2016 at Stratford-upon-Avon Town Hall followed by a reception at Sherbourne Park. 'We loved the grandeur and romance of the town hall, and we fell in love with the gardens, atmosphere and (oddly) the symmetry at Sherbourne. We had 110 guests for the day then about 20 extra in the evening. The wedding took 15 months to plan.'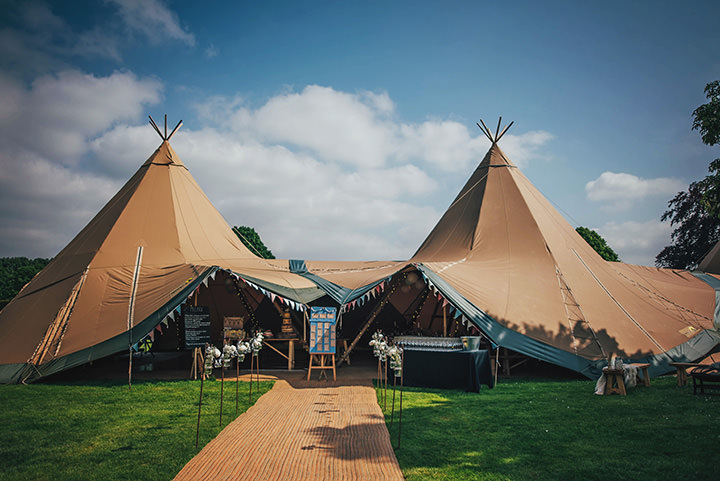 How they met
We met through a mutual friend on a night out in Leamington Spa. We have been together for 7 years this August – Harry really took his time!!
The proposal
Harry turned 30 last February so I surprised him with a trip to New York over the Easter break. The day before we left (end of term for me as a teacher) I arrived home to find our dog (Murray – unfortunately not invited to the wedding!) shut in the hallway of our house. I shouted out for Harry and got a bit narky when he didn't reply. Then I opened the door to our dining room and the curtains were drawn, the lights turned off and across the table written in tea lights was 'Will you marry me?' Harry was all dressed up and got down on one knee. Even though we'd been together nearly six years it was still a big shock, so much so that I just said "Oh, go on then!" He proposed with a ring from Accessorize(!!!) but made up for it by having organised a personal shoppper at Tiffany's on 5th Avenue on the following day for me to choose the official ring. He knew that I would want to choose it and it was a great experience doing so.
How did you allocate your budget?
We were very lucky to have parents who wanted to help. My parents paid for my dress, veil and shoes, all the flowers, the bridesmaids' dresses and groomsmen's outfits. Harry's provided the food and the wine. Harry and I then decided which bits were important to us and paid for those each. For me it was all about the ceremony, the rings and the photographer. For Harry is was all about the party!
Where did you splurge and where did you save?
The reception venue took up most of the budget. The tipi cost a good chunk as did the venue for it. We saved money on a lot of the decoration. The cards' box was a decorated trunk from Harry's boarding school days and the table plan a shutter from his parent's house in France! We then made the bunting, decorated the jars, designed and made the invites and made the groomsmen's ties.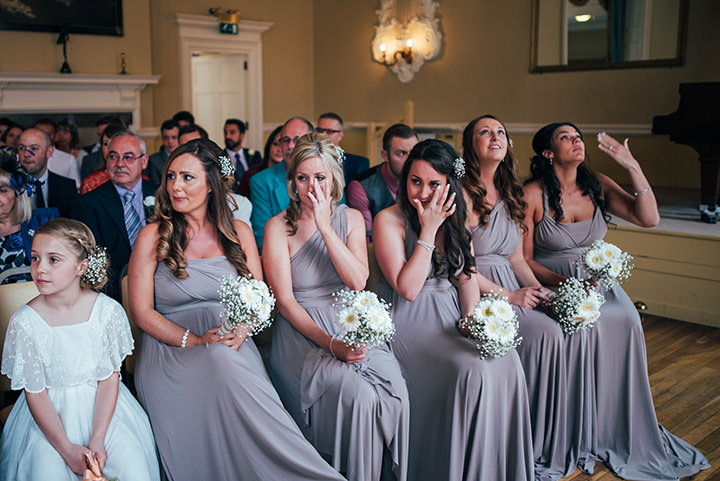 How did you choose your photographer?
We just loved her tag line – unobtrusive storytelling! Neither of us particularly like posing for photographs and we also didn't want to be away from our guests for a long time having them taken. We loved how inventive Charlotte was and all the different shots she captured. Most guests we have spoken to didn't even realise she and Lesley-Ann were there!
The dress
Dress is called Rosalie by Willowby from Watters. Shoes are from Rachel Simpson. Veil was from HM veils and the accessories were from Ivory and Co. All were purchased at Coco and Kate.
The suit and bridesmaids
The suit was from Hugo Boss. Bridesmaids  wore infinity dresses made by Atom Attire on Etsy. They were a bargain at £50 each, compared to others I had seen in wedding shops which were £150- £200. They were so easy for my bridesmaids to wear and style however they liked.
Theme or colour scheme
We wanted something neutral and understated and I saw taupe bridesmaid dresses on a photo on Pinterest so sort of ran with that! Harry wanted a blue suit and we knew we wanted a casual look for the groomsmen.
Flowers
I've always loved gerberas so wanted those as the main flowers. The bridesmaids had white gerberas mixed in with gypsophila and the groomsmen had a mini version for their button holes. Harry, my flower girl and I had peach gerberas and roses mixed in with peonies and some other flowers, that I can't recall the names of, that were blue.
Decoration
Very little decoration on the tables, just wine bottles with table numbers around the necks and candles in the tops. We were told by our caterers they would need lots of space on the tables for the food so we couldn't do anything else. We then had homemade bunting and paper lanterns around the top of the tipi.
Food
Canapes and drinks on arrival. We went for all vegetarian canapes as our main course was very meat heavy and we wanted to make the waiting staff's job as easy as possible. We then had Moscow Mules, Pimms and beers for our guests and then people could also help themselves to orange juice, ginger beer and water. For the main course we had BBQ sharing boards. Each person had a steak, chicken skewer, halloumi and vegetable kebab, prawn skewer and sausages all served on a large wooden board per table for people to dig into. On the side there was a mix of breads and condiments, salad, coleslaw and caprese salad. Hence why we couldn't have any table decoration!! For afters there was the best mango and passionfruit cheesecake we had ever tasted!!
The cake
This was an immense 3 tiered, 12 layered naked Victoria sponge cake decorated with fresh berries lovingly made by Harry's mum. It looked fantastic and tasted even better. Harry's nan then also made us a gorgeous fruit cake too!
Entertainment
Harry is a musician so we wanted music to play a big part in our day. Two of Harry's friends, Thom Kirkpatrick and Natalie Palmer, kindly performed in our ceremony three songs: We've Only Just Begun, The Longest Time and The Book of Love. When people arrived at the reception we had an amazing local duo called The Peas (also friend's of Harry's!) and for the evening we had Harry's band Mowgli (minus the groom!) The music really set the tone for the day.
Stationery
We designed and put together the invites but they were printed by pocketfoldinvites.co.uk who couldn't have been any more helpful!
Personal Touches
I wore a ring which belonged to Harry's nans. His paternal grandmother left it to his maternal nan who then gifted it to me! It was my old, borrowed (although now I have kept it) and blue as the stones are turquoise.
Special Moments or Highlights
I loved the ceremony. It was so special and for the first time I seven years I got to se Harry cry, even more than me which was a shock to everyone – Harry included! We both then had a blast at our reception. The weather was on our side as the sun shone all day and helped to create the relaxed and laid back atmosphere we wanted.
Advice for other couples
Don't sweat the small stuff. Who cares if the food is later than planned or it you have a power cut (we did, but thankfully at 12:50am and we were due to finish at 1am!!) Other than the two of you no one knows the plan, so they won't notice or care if things don't go according to it! Just sit back and enjoy the fruits of your labours!
Biggest Surprise
Harry crying! He is the most British – stiff-upper-lip man I know so to walk down the aisle to him blubbing was a shock! My friends have since nicknamed him Captain Blub which he is hoping won't stick for long, but knowing my friends, it definitely will!
Supplier Shout Outs: 
Invites – Pocket fold invites www.pocketfoldinvites.co.uk
Dress, veil and shoes – Coco and Kate www.cocoandkate.co.uk
Bridesmaids dresses – Atom Attire www.etsy.com/AtomAttire
Harry's suit: Hugo Boss
Groomsmens' waistcoats and father of bride suit: Next
Flower girl dress: Monsoon
Flowers – Suzanne Evetts www.suzanneevettsflorist.co.uk
Photographer – Three Flowers Photography www.threeflowersphotography.co.uk
Food – Taste Events Catering www.taste-eventscatering.co.uk
Ceremomy venue: Stratford-upon-Avon Town Hall www.stratford-tc.gov.uk/content/town-hall
Reception venue: Sherbourne Park www.sherbournepark.com
Wedding car: Silk and Satin www.silkandsatinweddings.co.uk
Reception music: The Peas www.thepeasduo.com
Evening music: Mowgli www.facebook.com/mowgliband
For more information on Three Flowers Photography go to:
www.threeflowersphotography.co.uk / www.threeflowersphotography.co.uk/blog / FACEBOOK / PINTEREST / T: @3flowersphoto / I: @threeflowersphoto