Today's gorgeous wedding has been sent into me by the couple's Floral and Decor Designer, Kelly, from Angelic Affairs. Christopher, who did most fo the planning ,and Kasey wanted a laid back, no fuss wedding day, so they chose this lovely vineyard for their relaxed celebration. Kasey only wanted the colour white, with florals and greenery to keep a simple, blank canvas and let the stunning vineyard venue be the main focus of the day. The results are truly beautiful, with a lovely outdoor ceremony made even more special by the mist that surrounded them, followed by a great looking indoor reception filled with the most amazing flowers. I've mixed in some stunning shots from the next day by the wonderful Selene Pozzer, which were taken on the shore line and really capture the setting golden light.
A magical wedding day filled with so many smiles and so much laughter. A day where the most important memories were made surrounded by all of the people they love.
Christopher and Kasey were married on 12th August, 2017 in the Newport Vineyards, Middletown, Rhode Island. 'Chris had actually convinced me to go see Newport Vineyards. I hadn't ever thought about getting married at a vineyard but as soon as I walked in the door I fell in love. We both did! Everything about the venue suited us and it just felt right. When you know, you know! We took around a year to plan the entire wedding and we had 130 guests.'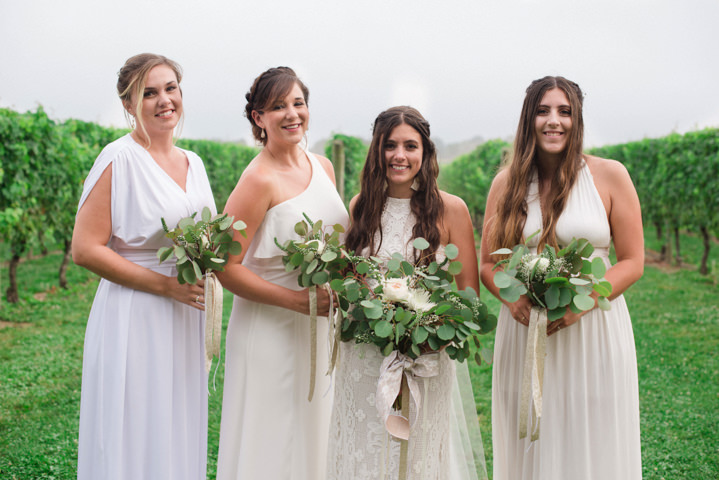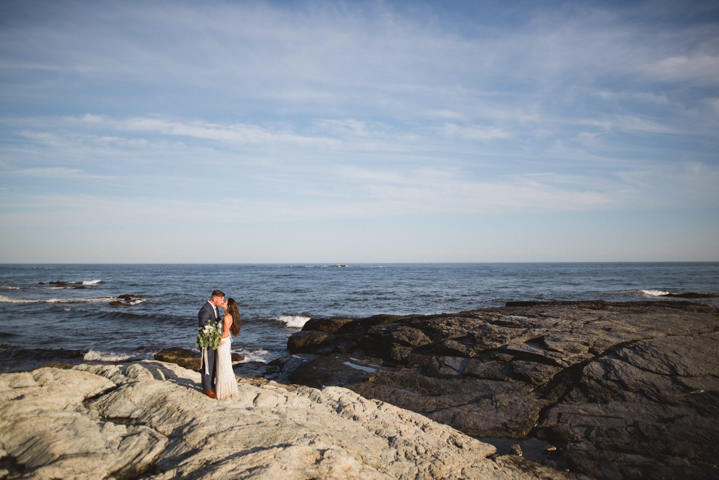 How they met
We met out one night through an odd connection of mutual friends. Neither of us had planned on being out that night so it feel like it really was meant to be. We've been together a little over two years now.
The proposal
My favorite story! Going back to our first Christmas together; I opened up a box that contained flight details to Italy and Croatia. My first trip outside the US! The trip was planned to be during our one year anniversary. On the day of our one year anniversary we were in Venice. Chris had planned an adventurous day exploring the city and then a dinner later that evening. We crossed the canal to the small island of San Giorgio. Chris had found a photographer called Selene Pozzer online and had her waiting for us on the island. We walked around a bit and then it happened. He popped the question and I, of course, said yes! It was truly magical.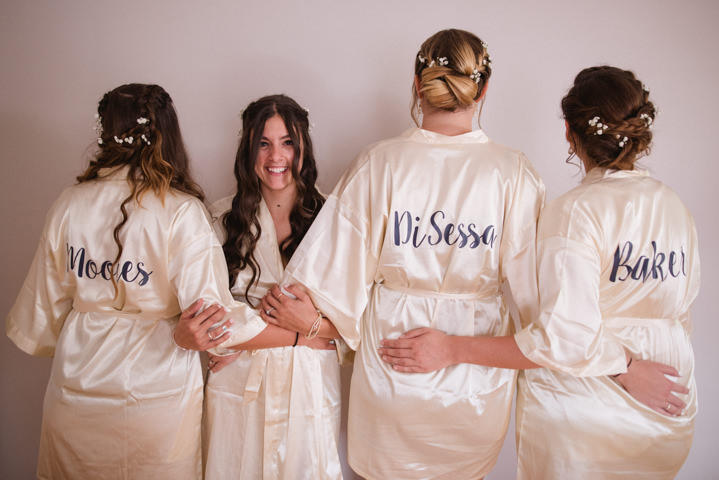 How did you allocate your budget?
We did a good bit of research to find our vendors. We did a good job distributing our budget evenly and we really couldn't be happier with all of our choices.
Where did you splurge and how did you save?
We truly didn't splurge anywhere. I think we got very lucky with all of our vendors as they were all exactly what we were looking for and didn't break the bank.
Why did you choose your photographer?
Selene was our photographer for our engagement and we never thought it would be possible to get her to the states for our wedding. We had talked about how amazing it would be and within the same week that we had talked about it, Selene messaged us and asked us if we would be interested in her doing our wedding. We were beyond excited when we found out Selene wanted to do our wedding!
The Dress
My dress was by my favorite Australian brand, Spell and the Gypsy Collective. My veil was from Paris by Debra Moreland (at BHLDN) and my shoes were Bed Stu. Most of my accessories were items I already own and wear every day. My earrings were the only other accessory I purchased and they are from Anthropologie.
The Suit and Bridesmaids?
All of the suits are Calvin Klein and my bridesmaids dresses were each from different places as I told the girls to just pick any dress they like in white!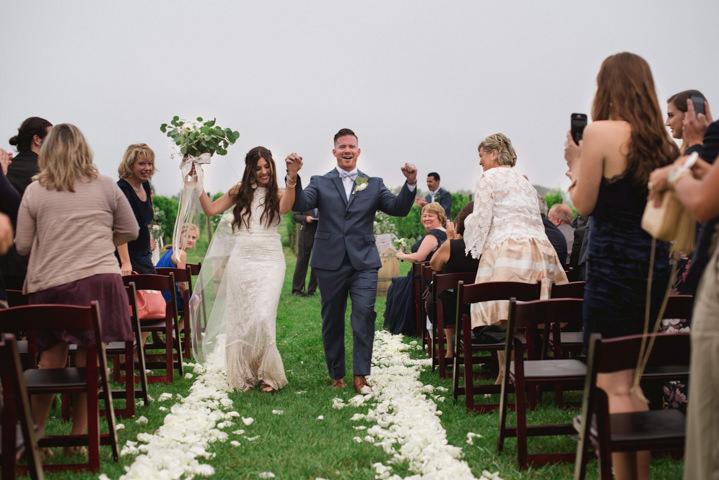 Theme or Colour Scheme 
I wanted it to be very simple with just white, no accent colors. I wanted my bridesmaids in white and I told Chris he could pick any color suit and accessories he likes.
Flowers 
Our flowers were stunning! Kelly at Angelic Affairs did a phenomenal job making our wedding look so amazingly beautiful and unique. I wanted lots of greens with just white flowers. I didn't have many specifications as to what type of flower I'd like as I trusted Kelly to make it look wonderful, and she did!
Decoration 
We loved our venue so much and it had such a romantic feel on its own so we didn't really want or need many decorations. I made a welcome sign and a small set up for our guest book (polaroid camera and scrap book) but otherwise I really wanted the venue and flowers to be the star of the show.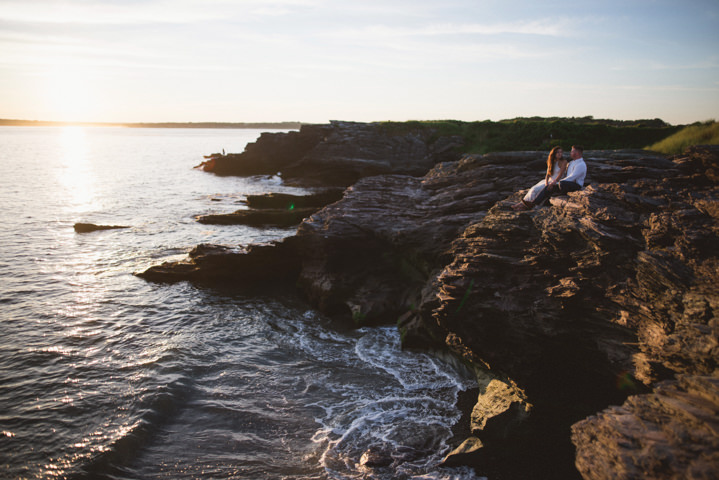 Food
We decided to do stations instead of plated meals so that our guests could have their choice of anything! We did a New England station that included clam chowder, lobster rolls, stuffed clams and a few other classic New England foods. We also had a carving station with a risotto and veggies and a pasta station with countless options!
Wedding Cake
We didn't do a wedding cake because, let's be real, no one even eats it! We did a dessert display with a chocolate lovers set up, a seasonal cobbler and a creme brûlée bar (my favorite!)
Entertainment
We hired a local Boston band that we'd seen out one night called The Classic Yellow. They were so fun and knew all the right music to play to get the crowd grooving!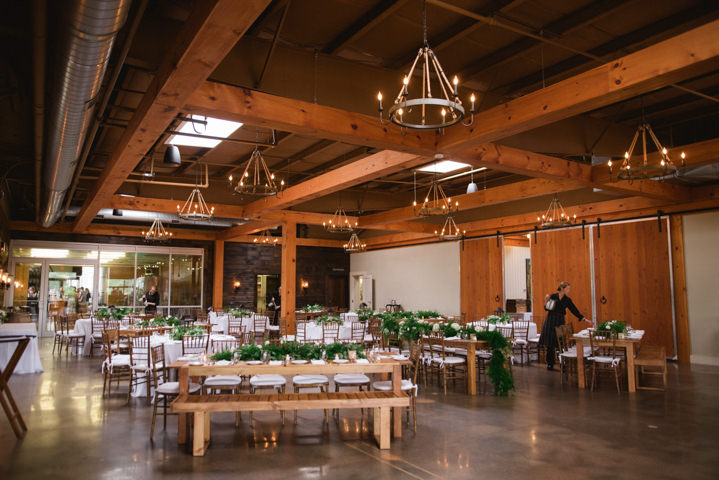 Who supplied the stationery?
My friend is a graphic designer so I had her design our save the dates and invitations.
Personal Touches
I made a few decorations for the ceremony and did my own hair and makeup.
Special moments?
I would have to say my favorite part of the night is that Chris and I took a moment to step out just the two of us while everyone else was dancing and enjoying the party we were throwing. We just stood outside in the fresh air, in the vines and took a moment to just be together. It felt so special to take that small moment to take a step back and savor the night.
Advice for other couples
Don't get caught up in the small details. I think so many people get so caught up with the little things when, really, the color of the tablecloth isn't going to effect your wedding day. Chris and I were both very easy going and carefree when it came to these details. Your wedding day is about joining two families and being in love with your best friend. Let it be just that!
Biggest Surprise
I had wished for clear blue, sunny skies but our wedding day ended up being overcast and misty. To my surprise, it made it so much more magical and I wouldn't change the weather we ended up with for anything!
SUPPLIER SHOUT OUTS
For more information on Angelic Affairs work go to:
www.angelic-affairs.com / FACEBOOK / PINTEREST / INSTAGRAM / TWITTER
Created in 2011, my goal for weddings has always been to unify and showcase both the bride and groom as the individuals they've become by celebrating their union in marriage in a way that's totally unique to them. I design and coordinate all sorts of weddings from tradition to unconventional with the aid of my talented assistants.
For more information on Selene Pozzer's work go to:
www.selenepozzer.com/en / www.selenepozzer.com/en/blog /  [email protected] / FACEBOOK / INSTAGRAM
I am based in Vicenza, Northern Italy but I work all around the world as destination wedding photographer. I am a Wedding Storyteller: I love portraying my couples as they truly are, so that their real selves and their emotions can flourish both in the candid pictures and in the portait sessions.
Due to an email issue if you have emailed me between the 2nd & 9th of December, please resend it.
X