Happy Friday everyone and how are you al today? I hope you have had a wonderful week and are now looking forward to the weekend! Roll on 5pm! I am off today, spending the day with Dexter, visiting friends and family, and it's much of the same for the rest of the weekend. Lots of people to catch up with, a 3 year old's birthday party, a dinner date with a friend and lots of family time, I can't wait! What about you?
To finish off the week we have this lovely wedding courtesy of How Photography. It's the wedding of Sian and Philip, and Russ & Laura from How Photography have done a marvelous job in capturing the day and making the most of the very changeable weather. First rain and lots of it but finishing off the day with some gorgeous sunset shots. Their wedding was actually the first to be held at their wedding venue Primrose Hill Farm and as you can tell it was a huge success.
Fun, relaxed and so happy. There was a lot of love in the room!
Sian and Philip were married on the 10th September 2016 in a ceremony at St Johns Church, Banbury followed by a reception at Primrose Hill Farm, Arlescote. 'We were really undecided about whether to have a church ceremony or not – however when we visited the church we got married in we knew it was right for us. Phil's uncle is a priest back in Northern Ireland so he was able to marry us. Our reception venue was a really lucky find. We knew we wanted a barn rather than a marquee or stately home but after a few venue visits felt a bit disheartened because we couldn't imagine our wedding at anywhere we had seen. Luckily one day, my mum's neighbour randomly heard that someone was building a barn on a nearby farm. We gave him a call and popped over. On our first visit, it was a building site but we knew it would be perfect. We were their first booking but we had complete trust in the owner, JJ. He is literally The Nicest Man In The World and couldn't do enough for us in the preparation and on the day. He absolutely made our wedding day. We had 105 guests and we got engaged in July and married the following September, so just over a year of planning.'
How they met
We met on the first day of Bristol University when we moved into rooms next door to each other, almost 12 years ago. It's a special place to us now – our table names were places from around Bristol.
The Proposal
Totally unexpected! We went away to Lisbon for a weekend and after spending a lunchtime drinking sangria, Phil told me he had arranged a group boat trip down the river. When we arrived, it turned out it was a private yacht…15 minutes later he was down on one knee and I almost fell overboard in surprise. He had been designing a ring in secret and I still can't work out how I didn't guess.
How did you allocate your budget?
There was a lot of spreadsheets. Excel was our friend.
Where did you splurge and where did you save?
Being able to have a free bar was a must for us and was a big part in our decision making. However, my mum and dad went on a booze cruise to France for the wine which made it a lot more affordable. The photography, band and the venue were our other key priorities.
We saved by serving prosecco instead of champagne, my brother making the cakes and serving it as dessert, and hiring nice taxis instead of wedding cars.

Why did you choose your photographer?
We probably looked at about 100 photographers. I'm really self-conscious about having photos taken due to having Bell's Palsy a few years ago, so spent a lot of time on various websites. Russ and Laura from How Photography were recommended by our bridesmaid Rachel who had been bridesmaid at another wedding they photographed. We spoke to Russ on skype and booked him about 2 minutes later. On the day, they were absolutely brilliant. It was a brand-new venue so completely new to everyone and it was really rainy for the first half of the day too. They never seemed to stop and worked relentlessly. So many of our family and friends commented on how lovely and friendly they were. And we are so happy with our photos too.
The Dress
Dress by Pronovias, bought at Rachel Ash in Warwickshire – they made the whole experience really, really lovely for my Mum and I. Veil by Kelly Spence. Peep toe shoes from asos – a bargain at £20 so I didn't mind them getting completely trashed when we ran across a field filled with sheep to get a sunset photo.
The Suit and Bridesmaids
Phil and my Dad both got bespoke 3-piece suits made at Jack Bunneys in East London – I'm biased, but I was totally blown away with how they looked on the day as I hadn't seen them when they were getting made. The usher's suits were from M&S and our three mini-ushers (our nephews) rocked outfits from Next and trainers from Asda.
Our bridesmaids wore dresses we found in the sale at Mango. Our youngest bridesmaid, our beautiful niece Lily, wore a dress from Next.
Also need to give a shout out to my Mum's outfit. She completely and utterly nailed her MOTB look and I felt so immensely proud of her.
Theme or Colour Scheme
We didn't really think about a colour scheme but loved how it randomly seemed to come together on the day. In terms of theme, we just wanted everything to feel relaxed and I think I yabbered on to Phil about 'bringing the outside in' a few times – which meant trees, candles, lots of fairly lights and lots of eucalyptus and olive
Flowers
Joules from Willow and Thyme was amazing and so patient with my indecisiveness. I asked for lots of texture, foliage, nothing too pastel and nothing too bridal. She blew it out of the park and I was over the moon with them. The bouquets included protea, eryngium, roses, astrantia, rubus (blackberries), rosemary, eucalyptus and olive foliage. Joules also installed an amazing hanging ladder with similar flowers and some pink hydrangea.
Decoration
The barn is beautiful and speaks for itself. Decorations mainly focused on putting candles everywhere. On the tables we had grey linen, wooden globe lanterns with foliage around them and our table names in gold frames from Oliver Bonas.
Food
We went for a bit of a Spanish theme even though we have absolutely no link to the country. We just have lots of happy memories eating in various tapas restaurants around London. Canapes are always our favourite bit of wedding food so we took our time over choosing them. We had ham croquettes, seared tuna crostini, feta stuffed peppers and goats cheese crostini. For starters, we had platters full of other Spanish treats – meats, cheese etc. Mains were three types of paella. Our caterers Ross & Ross were recommended by our venue. We loved that they served amazing food that wasn't too fancy but done really well. In the evening, we had pizza from Baz and Fred served in the outside courtyard area.
Wedding Cake
12 of them…made by my brother (thank you Gareth!). He's a brilliant baker and when he agreed to make our cake I don't think he knew he was signing up to make 12 of them. We didn't want to do the whole cutting cake thing so instead our dessert course was 'Cake and Gin'. Phil and my Dad made 12 personalised cake boards that could hold a cake, a bottle of homemade sloe gin and shot glasses. Doing shots with our friends and family outside on the grass as the sun started to shine after the rain is one of our favourite memories of the whole day.
Entertainment
For the service, we had a Welsh Male Voice Choir singing beforehand and during the ceremony. Their soloist also sung a beautiful version of Ava Maria as we signed the register. For the reception, we had a band called The Somebody's. Picking a band is always a risky one but they were amazing and we were so chuffed with them and they kept the dance floor packed all night. They even got my Dad dancing!!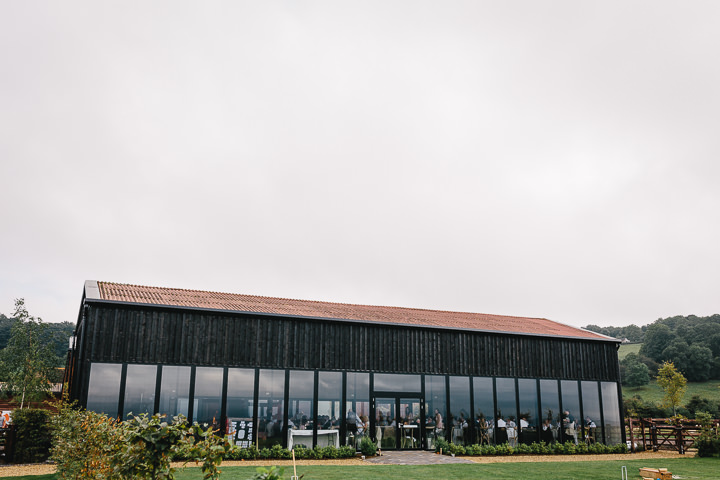 Stationery
Our save the dates and invitations were designed by one of Phil's schoolfriends, Ali. Our on the day stationery were designed by Wood and Wood. Chloe really is so lovely – she couldn't do more to help. We would recommend them in a heartbeat.
Personal Touches
Our name places were badges that had a sentence or two about each person. I had seen them a year before the wedding, but only managed to persuade Phil we 'definitely needed them' two weeks before the wedding. Luckily Katie from Oh Squirrel is some kind of superhero and made them all within 3 days. Our table plan included a polaroid of each of our guests – it was really fun collecting them and then seeing people's reactions to it on the day
Special Moments or Highlights
Sian: Walking down the aisle on my Dad's arm and seeing Phil for the first time whilst the Welsh Choir sang Canon Lan was incredible. I couldn't keep still!
Phil: The shots on the lawn with everyone and then running across the fields to get some last minute sunset photos.
The speeches were our favourite bit of the day. Phil spoke so beautifully about his amazing mum who we lost a few months before the wedding, Dave gave the best Best Man speech we've heard and then my Dad rolled out a surprise PowerPoint presentation about the business launch of brand 'S&P'
Advice for Other couples
Do a speech! I was totally undecided if I would do one and so didn't tell many people I was planning one, but I'm so glad I did – you never really get a chance to stand up in front of a crowded room and tell people how much they mean you. Everyone says it, but please don't worry about the weather. We woke up to rain after a week of glorious sunshine and it really didn't matter one bit. In fact, it meant everyone stayed together in the drinks reception and helped create a cosy atmosphere. After dinner, the sun suddenly came out and we spilled outside. It meant there were different 'parts' of the day and worked really well. Plus, rain on your wedding day is lucky!
See it as a year long experience not a day. It helps justify the cost! Every weekend we went back 'home' to do planning meant we got to spend more time with our families. My mum and dad became our unofficial wedding planners and we are so grateful to the time they gave up.
Biggest Surprise
My uncle turning the back of his car into an impromptu bar next to the church when the bus taking everyone to the venue was late. Things go wrong, but if you've got prosecco and beer to hand everything magically works out.
Supplier Shout Outs
For more information on Russ and Laura's work go to:
howphotography.co.uk / [email protected] / FACEBOOK / PINTEREST / INSTAGRAM / TWITTER

[jprel]