Good afternoon everyone, today I am thrilled to welcome back Tracey of Campbell's Flowers to the blog. As you may already know she is our resident florist expert, bloom buff, greenery genius and all round bouquet magician. Today she is here to chat hanging floral designs, bound to make an impact! From little succulents to hanging peonies, walls of florals and oversized garlands there really is no end to both her talents, and your options… let your imagination run wild!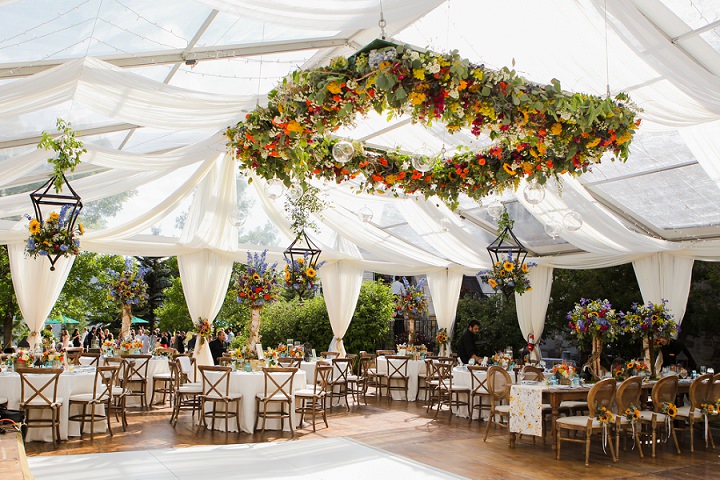 Over to Tracey… 
Hi everyone and huge thanks to Kelly, as always, for entrusting us with her wonderful blog for this post.  It's awesome to be back as one of her 'experts' (her words not ours!) and as we head full on into wedding season we thought we'd look at decorating your venue.  Specifically, we'll be looking at hanging designs in some detail as we've found more and more of our couples are turning away from ditzy little jars and looking at ways to create the wow factor, still in our signature romantic, wild, style of course.
So, without further ado, let's press on with our hints, tips and advice and general inspiration on ways you can incorporate hanging designs into your big day.
Floral Chandeliers
We've been making these for a little while now and just love their versatility.  They can be absolutely huge, full of flowers, showcase just foliage, feature ribbon trails or foliage trails or be any combination of any of these!  We've used them in marquees, to add texture and a little brightness to the white canvass, we've used them in barns and even in stately homes too.  Whatever, your venue they'll definitely add a touch of the wow factor!
Flower Curtains
These pretty designs are so popular with our couples, perfect for adding a romantic twist to your décor and they fill large open spaces beautifully too.  I'm totally in love with how they can incorporate all the different flowers and foliage from the floral theme and create a perfect backdrop for 'that' shot.  Whether full of blowsy peonies, seasonal bulbs or Christmassy cones, a flower curtain one of my absolute fave ways to create a statement at your venue.
Large Scale Designs
If you're a fan of pinterest, you just can't have missed the current trend for large scale hanging designs.  Whether they frame your top table or create impact and a focal point at end of your ceremony aisle, we just love how adventurous our couples are and how they can't wait for us to construct stunning hanging designs full of tumbling foliage and amazingl blooms.
We've also found that as many of you turn towards a more urban wedding in cool warehouse spaces, hanging designs fill vast spaces by filling hanging geo-vases with candles and creating terrariums filled with the cutest of succulents.
So, as always. I hope this feature has inspired you to think big and challenge your florist to get out their tool box – never have our power tools seen so much work! Massive thanks to Kelly, as always for asking us to contribute, it's always such a pleasure.
If you have any questions or want some specific advice on all things flowery, then do leave a comment at the bottom of this post and Kelly and I will be sure to get back to you as soon as possible.
Tracey x
AS ALWAYS YOU CAN FIND CAMPBELL'S FLOWERS IN A NUMBER OF WAYS
website, Instagram, facebook, twitter, pinterest, YouTube
Tracey is an uber creative and multi-award winning artisan florist & lover of British flowers. Tracey adores individuality and is inspired by you and your special day.

[jprel]