Happy Monday everyone, i do hope you all had a wonderful weekend? Mine was lovely, I took the whole weekend off and spent it with friends and family, pure bliss! what about you? Todays wedding is a cracking celebartion of when a self confesed rebel fairy marries and wannable rockstar. The results are a fun filled barn wedding, filled with the most gorgeous blush pink wedding dress, lots of pretty DIY details and delicious food. Big thanks to Amy Taylor for the wonderful photos.
A relaxed, bohemian wedding between a rebel fairy and a wannabe rockstar. 
Sophie and Michael were married on the 10th April 2017 at Curradine Barns, Worcestershire in the West Midlands. 'Curradine Barns was the third venue we looked at – the relaxed yet chic atmosphere with the rustic style and friendly staff made us feel at home instantly. We had 85 guests in total. We booked the venue two years ago and hired our photographer & florist not long after.  However we did not really start planning our decor, cake and entertainment until 8 weeks before – we didn't want to get too bogged down in it and lose sight of what mattered.'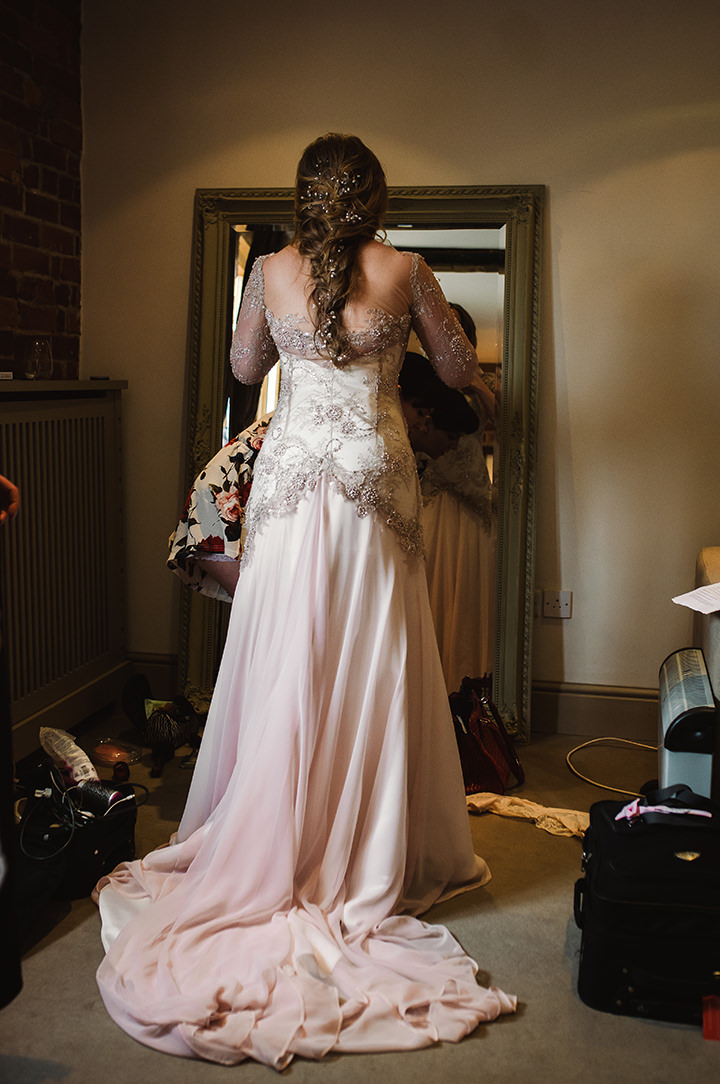 How they met
We met at work, and two years later decided we actually liked each other. We have now been together for 5 years and have a 2 year old son, Indy.
The Proposal
The proposal was me arriving home (slightly tipsy!) and spotting blue balloons on our front door (which does have a hidden meaning!) and going into rose petals and a laptop with a video of Mike holding up cards (like Love Actually). He then came downstairs and proposed. It turns out this was planned to happen outside the restaurant I was eating in that evening, however about 3 days before I had told Mike I hate public proposals so the whole plan had to be changed thus the video was made. I wondered why all my girlfriends I had been out with had refused to go for cocktails after dinner – turns out they were trying to keep me as sober as possible!
How did you allocate your budget?
We spent our entire budget unfortunately. Mike is a whizz with excel and so there was a lot of careful planning.
Where did you splurge and where did you save?
The biggest splurge was definitely my wedding dress. We did save money by decorating our own jam jars for flowers, making our own table confetti and name settings. I also saved pennies by purchasing cheap accessories as I knew I was unlikely to wear these again, and by ordering my wedding ring from Glameria.
Why did you choose your photographer?
We chose Amy when we met her at our venue's tasting event. As soon as we met her we knew we would love to work with her. Her photos are completely unique. Amy is not just a photographer she is a genuine artist. Her work is beautiful and we are so lucky we found her. We had a pre wedding photo shoot which was a great way to get to know her and her shooting style (which it turns out seemed to be whatever you find comfortable). Amy was not only a fantastic photographer but also a brilliant support on the day.
The Dress
My dress was by Claire Mischevani. I knew I wanted to wear one of her dresses before I was even engaged! I saved money on accessories with £1 earrings from primark and a pearl necklace that cost me about £8. My shoes were Jenny Packham and I paid £35 in the sale! They were probably my best bargain.
The Suit and Bridesmaids
The suit was Hugo Boss and our bridesmaids wore M&S dresses (which I got a 20% discount on due to being a staff member!). My younger sister wore a dress also designed by Claire Mischevani (pink sash)
Theme or Colour Scheme
We didn't really have a theme. Everyone kept telling us we needed one, but I think our wedding was just us! We used a lot of music paper and simple colours like ivory and blush.
Flowers
Our flowers were gypsophila and were done by Jane at Long Barn Flowers.  
Decoration
Curradine barns is beautiful with no decor. The exposed brickwork and beams look fantastic just as they are. We kept it really simple with tea light candles, simple flowers and table confetti made of music paper and old books. I made activity packs for the children and placed a birthday card on the chair of any guest born during the month of our wedding.
Food
We ate King Prawn and saffron  Ravioli with a garlic purée. Then beef two ways with dauphinois potatoes, parsnip crisp and butternut squash purée then a trio of deserts (Creme brûlée, fruit compot with caramel custard, dark chocolate shortbread with vanilla ice cream). This was followed by a surprise course of cheese. In the evening we had woodfired pizza.
Wedding Cake
The wedding cake was a naked cake made by Kimmy loves Cake.
Entertainment
We didn't organise entertainment which I was originally worried about. However we didn't get married until 2pm and our speeches (which involved a personalised edition of dear zoo featuring all my ex boyfriends, and a projector film of my husbands youth!) turned into an entertainment of their own! By the time the cake was cut and first dance was done there was no time for anymore entertainment.
Stationery
Our invitations were purchased off Not on The High Street from a seller called Talk of the Town and was made of recycled elephant dung!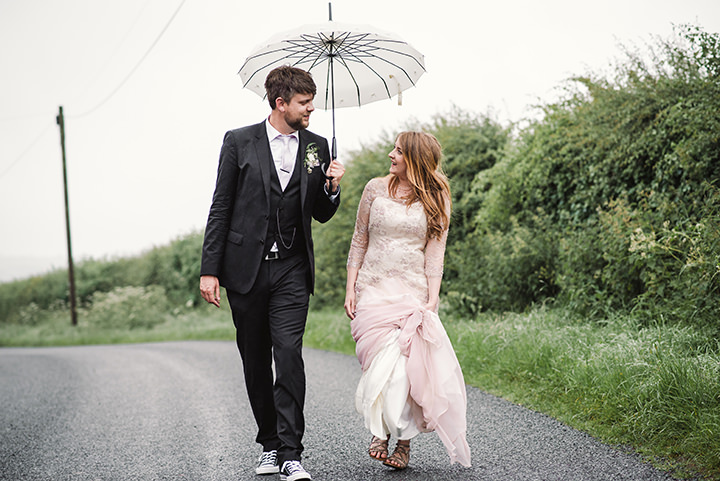 Special Moments or Highlights
The special moments for us were having Indy join us at the front during our ceremony. He spent the entire time saying "No Mommy – don't!" Whenever the registrar asked a question, which brought some humour into the room. The speeches were absolutely fantastic. Also having Dale from Curradine ensure we were brought our own tray of canapés every time they were brought out was absolutely fabulous. The entire day was absolutely amazing.
Advice for Other Couples
I would say to other couples not to stress out about anything. No one will notice if things don't go to plan. No one will care if the ceremony music goes wrong (this happened to us!) or if things overrun. Also don't over plan! Relax, enjoy it and remember the day is about celebrating your relationship however you feel appropriate!
Biggest Surprise
My biggest surprise was my usually comical husband have such a serious speech. And seeing the photos afterwards – we both normally hate pictures of ourselves but Amy has changed all that for us!
Supplier Shout Outs
For more information on Amy's work go to:
www.amytaylorimagingphotography.com / FACEBOOK / T:@amytiphoto