I have a super pretty wedding for you today full of fairy lights, ribbon, beautiful flowers, gorgeous decoration, as well as lots of DIY details. The wedding was sent in by Charlotte Hu who has captured this winter wedding perfectly. With beautiful table decorations, a gorgeous colour scheme and some amazing low winter sun light this wedding really is brimming with prettiness!
'It was hands down one of the best days of my life. The memory of such joy etched on our families' and friends' faces during the celebrations will stay with me forever'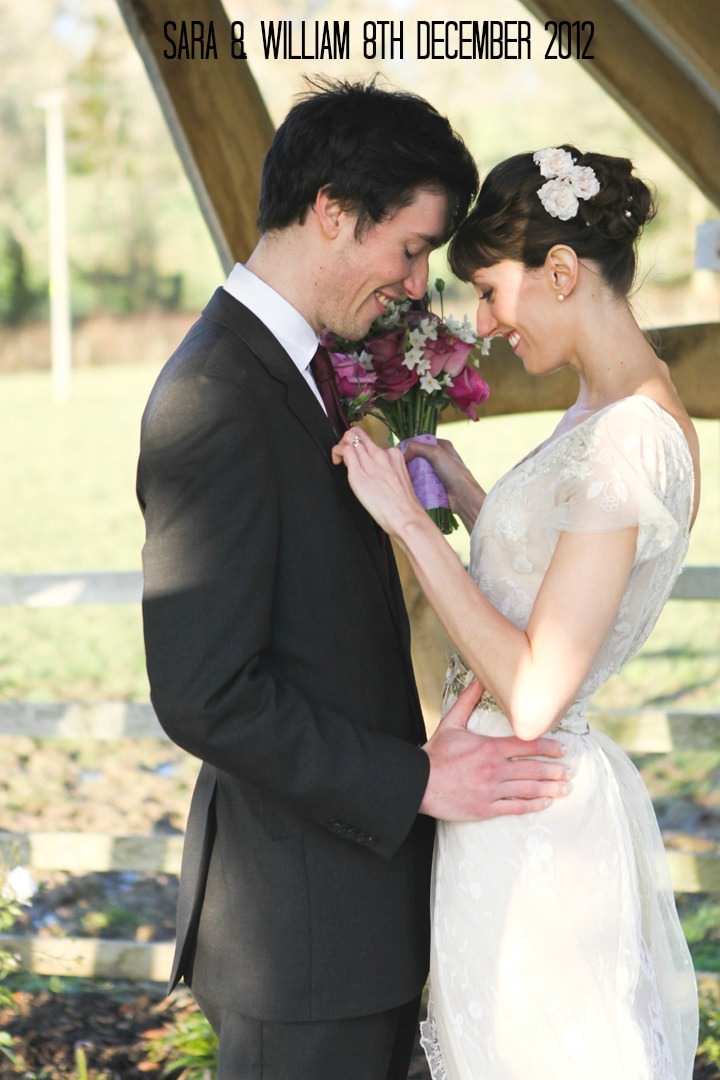 Sara and William were married on 8th December at Hyde Barn, Stow-on-the-Wold. 'Our first priority was finding somewhere near the groom's hometown. We also wanted a venue that was cosy and charming and would allow us to combine the ceremony and reception. The beautiful countryside views and rustic interior at Hyde Barn were too good to turn down! We had 80 guests and it took just 5 months to plan.'
How they met
We met in 2009 when I moved from the States to attend grad school at UCL. Will and I had the great fortune of being assigned to all the same lectures on the very same English MA course, though it took the majority of the academic year for us to begin dating. He asked me out in July 2010 and we've been a mushy couple ever since.
The proposal
Will's proposal took place in late July in a gazebo at Kew Gardens. We had discussed getting engaged at length by this point, at first whimsically (as you do) and then in concrete, realistic (grown-up if you will) terms, so I was ready to whip out the delightfully surprised expression and slightly breathless but still gracious acceptance nod I had prepared in advance the second I turned around to find him spreading a windbreaker on the ground to kneel upon (it had been raining). To this day I pride myself greatly on letting him finish the short speech he'd prepared, though less so on my response, which could be summed up as sweet but not so dignified. There was some squawking – YES! – followed by some kissing and hugging and jumping up and down. There may have been a high five. For the record Will participated in these activities too.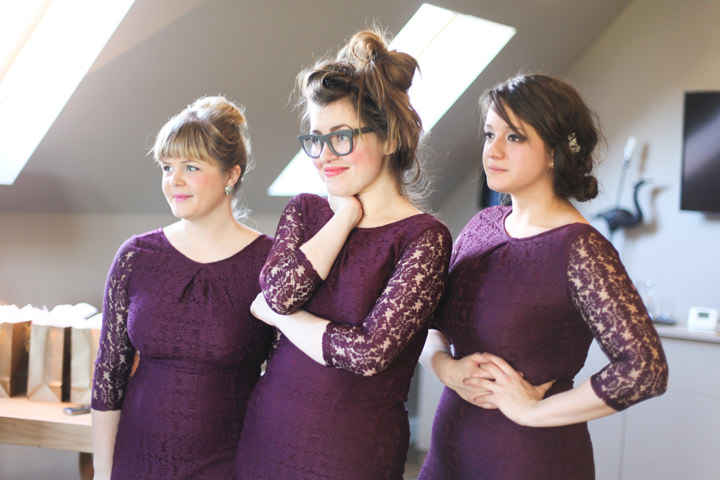 How did you choose your photographer?
We were trying to keep things to a budget, so I asked around for recommendations of friends-of-friends and was eventually referred to Charlotte Hu, a freelance photographer who grew up down the road from my now brother-in-law"s girlfriend. We hit the jackpot finding her – she was so kind and professional and understanding of the style/approach we were after. The photos we ended up with were exactly what we wanted.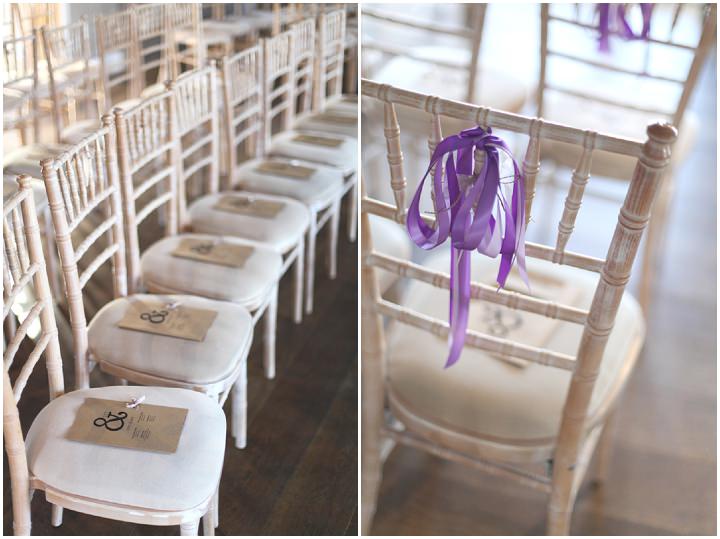 The dress
My dress was a quasi-vintage piece by Jane Bourvis, an ex-costume designer in Portobello Road who creates bespoke dresses out of antique fabrics. She fashioned my dress from two Edwardian lace wedding veils, which I wore over a blush silk slip and fastened with a belt made from an old headpiece. I accessorised with pearls borrowed from my mom, some fabric flowers in my hair and a pair of uncannily coordinating lacy heels I found knocking around a clearance rack on the high street.
The suit and bridesmaids
Will and his groomsmen donned charcoal grey suits with plum-coloured braces and ties, while the bridesmaids had three-quarter sleeve lacy dresses in a coordinating colour.
Theme or colour scheme
We aimed for a DIY, slightly rustic theme with purple, mauve and dusky pink accents. Think fairy lights and chalkboard signs.
Personal /DIY Touches / Decoration
• On the tables were tea lights in little glass holders dangling from the branches of the hazel arrangements, little clusters of flowers, some purple gems scattered around and a little favour on each plate – a sweets bag filled with homemade chocolate-covered pretzels.
• There were also fairly lights in the rafters and a few Christmas trees floating around, including a coordinating one the florist made from naked branches to tie in with the table arrangements.
• We added quite a few DIY touches ourselves like chalkboard signs, handmade place cards, a Polaroid guestbook, an abundance of ribbons (I think I bought the internet out of ribbons, actually) and a table plan I put together myself. The work that went into those was taxing (largely because I left it until last minute) but well worth it – the overall effect was really special.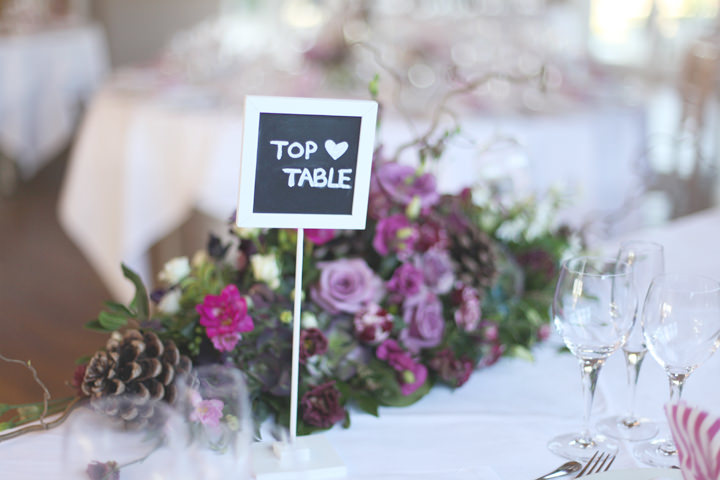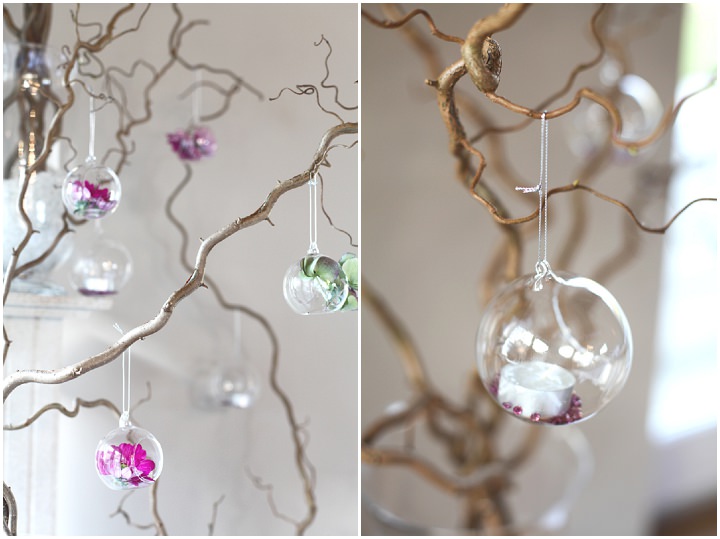 Food
The food! I can't tell you the amount of times Will and I have told each other how much we'd love to have that meal again. My nerves coupled with all the schmoozing I had to do throughout dinner meant that I only finished about half of my plate, but what I did manage was fantastic. There was a charcuterie board as a starter with meats, cheeses, salad and bread, followed by pork tenderloin with mustard mash and a brownie with white chocolate sauce and ice cream for dessert. (We also had a small fudge sponge and chocolate cupcakes for the cake bit, so we may have gone a little overboard on the chocoholic front.) Bacon sandwiches and potato wedges were later served as an unexpected but very well received midnight snack.
Entertainment
A neighbour of the family played retro tunes with his band and also DJ'd a few sets throughout the evening. We also had a multitude of speeches from the men in the wedding party: each of the three groomsmen, my dad, Will's dad, each of my three brothers, Will himself… I'd like to think people were entertained by that. Oh, and someone's date brought balloon animals! That was weird come to think of it.
Flowers
Our florist was an artist (literally – she wins awards at shows and everything) and put together the most glorious arrangements based on some vague descriptions and a few pictures I proffered. There were roses, cala lilies and countless other wildflowers in the bouquets – all in shades of purple and pink – and each table arrangement included a contorted hazel centrepiece as a wintry touch.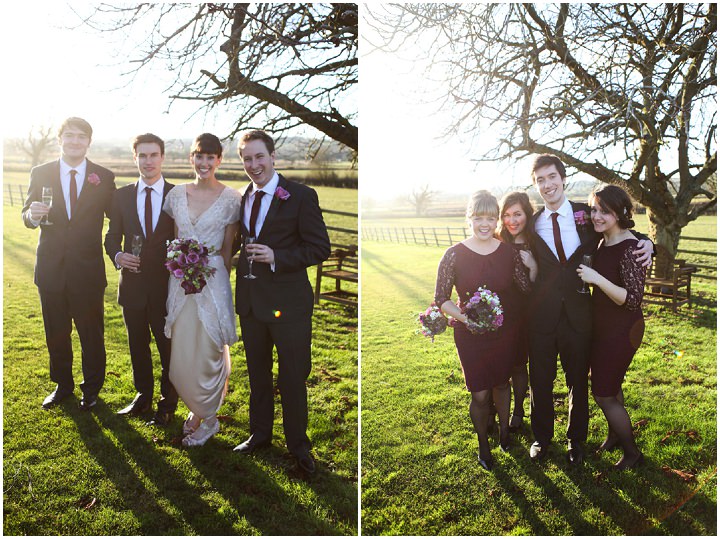 Special moments
Too many to count! Getting ready with my mom, listening to my best friend read my favourite poem at the ceremony, dancing the Charleston with all my brothers, signing the register with Neutral Milk Hotel playing in the background and exiting through a parade of sparklers are definitely up there.
Biggest surprise
Losing my voice after the ceremony! There are a lot of relatives and family friends on the groom's side who now believe I'm very friendly with cigarettes (full disclosure: I'm not). Oh, and there was a point when I knocked over a tea light and set some napkins on fire, which was… unexpected. Turns out nobody gets mad when you're the bride!
Advice
Don't make it all about you. You probably shouldn't let anyone boss you around on things that are really important to you of course (lest you end up with piles of resentment for them and/or yourself), but at the same time don't forget it's a big day for the parents involved, and they deserve at least a little say in the proceedings (especially if they're contributing to costs). And be kind to your friends with respect to arrangements – do what you can to make things easy on them because attending weddings is pricey business (travel, gifts, etc) and you don't want to put anybody out.
Also, don't get angry when the kid at Paperchase doesn't know the difference between taupe and mauve shades of ribbon. (I obviously have a ribbon fixation, but this goes for any kind of decoration query you might have there. You don't want to cross them.)
Supplier Shout Outs
For more information on Charlotte's work go to
http://charlottehuphotography.co.uk
[email protected]
FACEBOOK
@charlotte_hu
07947 222 072
I am London-based but am willing across the country (and beyond!). My style is candid and natural, reportage with a dreamy edge.