Today I'm delighted to share with you a gorgeous fifties inspired wedding brought to yo by my good friend Sassy at Assassynation Photography  It's a fun, colourful wedding set in the gorgeous Gloucestershire country side at the lovely Great Tythe Barn . As well as these fab pictures you are also treat to a video from the day taken by Frank Millar
Full names
Fiona & Steve Rogers
How did you meet?
Steve & I met 9 years ago through working at Gala Bingo, when he relocated to Aldershot as my General Manager. He still fondly recalls my red boots and lack of customer service as our first conversation was as a result of me shouting across a hall of customers "if that bird wants change, she'll have to come over ere and get it!" followed by telling some others to "oi! shut your noise". After knowing each after about a year, and improving my interpersonal skills (slightly) we then had our first night out at The Comedy Store in London and moved in together 18 months later.
Date of wedding
Saturday 25th June 2011
Location
The Great Tythe Barn, Tetbury, Gloucestershire
What made you decide to get married where you did?
Steve's family is from Gloucester. When we were unable to find anywhere that really appealed to us locally, we found the Barn through the internet and a picture of the pigs was the real clincher! Having accommodation for our guests to be close by was also something that we also liked the idea of.
Who was your dress by
Candy Anthony, London
And the suite?
Moss Bros
How would you sum up your day?
The day itself went so quickly, but having made a weekend out of it really helped to get a chance to spend time with everyone. Otherwise in the words of Mary Poppins – practically perfect in every way!
Did you have a theme or colour scheme?
Royal Blue and White Colour Scheme with a loose 'fun & fifties' vintage tea party theme
Did you have any personal touches, Or things that you did yourself?
We placed pictures of our Grandparents from their wedding days on our Gift Table, this was received really well by our relatives who thought it was a lovely way to show we had them in our thoughts.
A basket of confetti cones was made by Tiffany, Steve's niece and youngest bridesmaid.
The 'Eat Me' Favours were made with Ikea Spice Jars and Retro Pick n Mix by my two wonderful bridesmaids, Bev and Josie.
Having studied floristry a couple of years ago, I teamed up with Nicky, a friend I met on the course and between us we made the bouquets, buttonholes, corsages, teacup centrepieces, 'Thank You' hat boxes, vases of flowers in the windows and a large rose heart. Nicky, did an amazing job and really did most of the grafting, whilst I dashed between people, places and numerous last minute phonecalls.
It only seemed right to have a game of Bingo, as that is where we met and both continue to work now, so after an evening with Velma, an old school friend, her camera and the use of her bedroom we created our cover which a work supplier generously made into our bingo books with matching Bride & Groom dabbers.
John, The Best Man and fellow Bingo General Manager, then what I'm sure he would class as a 'pleasure', called the games (especially when the microphone broke down )
We also had a local Ice Cream Man, who can often be found round Steve's Dad's neighbourhood. He just so happened to have an old 50's blue and white van which fitted in perfectly with our theme. When my cousins and I were little, our Grandad always made us queue up with the rest of the children in the street after Sunday lunch with our bowls, and instead of cones we were treated to bowls full of Rossi Ice Cream!!
How many guests?
130 of our nearest and dearest, and oldest and furthest. Including my 90year old Grandad, our school friends, and those who travelled from Ireland and Australia just for us!
What were your special moments or highlights?
The build up seemed to go on for ages, and seeing it all come together in to the vision you have in your mind is really exciting. The cake was always going to be a big deal and when I got the first glimpse of it arriving on the Friday, was truly impressed. But never imagined quite so much cake…we are still polishing it off today!
The Poppy Field – Absolutely beautiful picture and really enjoy knowing that it isn't on anyone else's camera. Taking the time away for those few special shots is so worth it. The Photo booth was also brilliant and a great chance for everyone to get a picture with groups or families, and you are always surprised to see those who partook, many an eyebrow has been raised and conversations had.
My Bridesmaids. In the duration of planning the wedding these lovely ladies did everything they could to make the day the best it could be for us, despite both having babies just 3 & 4 months beforehand (just a few last minute alterations required , broken limbs and major surgery in between so was just brilliant to have them there healthy, to share the day with and act as the 'Dolly Dealers' demonstrating the prizes for the Bingo, in particularly the 'Space Hoppers' was fantastic.
Our Parents. Each one of our parents contributed greatly to our day, and went out of their way to make sure everything was done and that everyone had a lovely day.
Is there anything you would do differently?
There is nothing I would do differently, but has given me a desire to want to keep reliving it again and again and mostly to get to spend more time with everyone. (Filming the day should always be considered as you forget so much,and a lovely keepsake)
Expect last minute drop outs, and don't send the table plan to print until the night before if possible.
We did a drive-thru renewal in Vegas, and I think might just have to consider something for our Anniversary, would love maybe a winter setting at Somerset House but that's for about 25 years time x
What advice would you give any other couples?
Loose the lists!! I spent months armed with spreadsheets, folders, scraps of paper and lists. Although usually a lover of the list, the last two days I lost all lists I wrote and could have been the best thing to happen, as I can't think of a single thing that didn't get done. Do it together. I tried to be a proper control freak; some may use the phrase 'Bridezilla'? ;) and focused a lot on either the smaller things or the bits that got me excited, but when the pressure was on, it was Steve who picked up all the pieces and made all the finishing touches on the day!
Make it 'Your' Day. Wedding Magazines never seemed to feature anything of interest, Wedding Fayres seemed a waste of a day, especially when your bridesmaid is in a wheelchair and nothing is made to fit little chubba's. There is nothing wrong with doing your research as there are always people out there to try and persuade you in to things when the mention of 'wedding' is concerned but pick the suppliers who you can trust, have great communication with and most of them had an instant positive feel!
Most of all Enjoy it!
What was your biggest surprise of the day?
Seeing Steve's Face when I got down the aisle. When stood at the top of the barn and walking down, trying to catch a glimpse of everyone who was there, it's still Steve's face that I can picture. Having been together for so long never imagined either of us getting too emotional, but after I had just spent the morning crying at Bev, to look at Steve and see him just as overcome was lovely.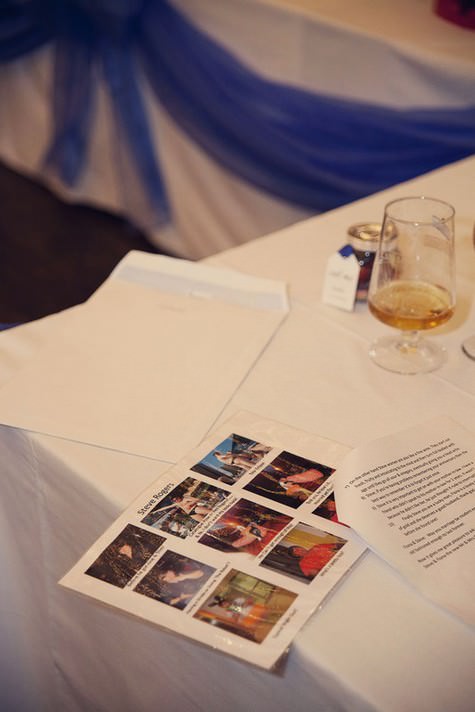 Suppliers involved:
Photographer www.assassynation.co.uk/
Videographer www.sassynfrank.com
Band www.ashmoreacoustics.co.uk
Cake Shop www.choccywoccydoodah.com
Cadillac www.americandreams.co.uk
Table Plan & Numbers www.no-me.co.uk
Bridesmaid Dresses & Petticoats www.honeypieboutique.co.uk
Rings & Cufflinks www.ringjewellery.co.uk
Hair & Make-Up http://lipstickandcurls.co.uk
Hair Comb www.chezbec.com
Catering www.crown-catering.co.uk
Tartaglia's Ice Cream
Venue www.gtb.co.uk
Fairy Light Canopy www.clairejayne.co.uk
For more information on Sassy's work go to:
www.assassynation.co.uk
[email protected]
Sassy on FACEBOOK
Sassy on TWITTER
07968948114