We are in my childhood home of Cornwall today for the gorgeous same-sex wedding of Lianne and Rachel. It's an outdoor Cornish Wedding bursting with love and lots and lots of handmade details. Lianne and Rachel fell in love with the venue as soon as they visited it, and they knew straight away that their dream day would be held there. With amazing views and delicious food included in the venue's services, the two brides were super excited to hold their wedding at Trevenna Barns. They kept the day relaxed by making a lot of the decor themselves, as well as the stationery and other wedding details. A super romantic day with brushed pastels and rustic signage and a whole lot of love from Lianne and Rachel and all their lovely guests. Big thanks to Aster and Oak Photography for the images.
A romantic, beautiful and relaxed Cornish wedding filled with great food! A day we will always look back on and remember with full hearts and big smiles; a beyond perfect celebration of love and happiness.
Lianne and Rachel were married on the 17th April 2017 at Trevenna Barns, St Neot, Liskeard in Cornwall. 'We went to visit Trevenna after finding it online as we wanted a Cornish wedding and a place where all of our family and friends could get together. We absolutely fell in love with the setting; a gorgeous place in beautiful grounds with exclusive hire for a two-day celebration! Perfect for bringing our family and friends together with them coming from all over the UK and Australia. Jonathan and the team made us feel very welcome, we could create our day exactly how we wanted. It was the very first venue we went to see and we didn't need to see anything more. We loved it. Trevenna held a food festival a couple of months after we'd booked for us to have a taster of their menu's and begin designing our own, being a pair of foodies it confirmed it was the perfect place for us. Jonathan and the team at Trevenna were on hand to guide and support on every step of the planning process. Stu our wedding host ensured everything went seamlessly. We couldn't praise them highly enough. Every guest felt special and we loved every second of our exclusive weekend with them. We had 80 day to evening guests and the wedding took 9 months to plan.'
How they met
Rachel (HR Assistant at the time) employed Lianne in 2012. 2 years later, we became friends on a night out and the rest, as they say, is history. 1656 days since that initial contract of employment was signed we then signed our marriage certificate!
The Proposal
Picture the scene… Porthmeor beach (St Ives)… empty… beautiful blue sea, gorgeous sand and one nervous Lianne (and a sneaky photographer). Rachel was assuming she was waking up to a normal work day, but was wrong! Lianne told her to pack a bag as she was whisking her away for a mystery weekend… away we went!  After a manicure, a tour around St Ives with Lianne's sister Charmaine, we walked towards Porthmeor beach. Lianne was waiting at the bottom of the slipway to grab Rachel's hand…Rachel walked around the corner, and there in big red letters is 'MARRY ME?' Lianne sang a little song, got down on one knee and presented a sparkler to her now wife to be! Rachel said 'of course I will' without hesitation and the rock was put on to her finger before going for a little impromptu engagement photo session.
How did you allocate your budget?
We had a list of important elements we didn't want to compromise due to cost so started there and worked backwards. We knew that the venue was important as we had lots of family and friends travelling from the UK and Australia. In addition to that we wanted great food- it's one of our shared passions and so this was a crucial element of the planning and budget. We also wanted to ensure we had photographs to capture the day as we'd want and after Christian from Christian Michael Photography had captured the proposal so beautifully we knew he was the man for the job! Rachel had a budget spreadsheet from day 1 and that was religiously updated to keep track of all the spending/saving along the way.
Where did you splurge and where did you save?
We splurged on the Venue, food, photographer and videographer… oh and Rachel's dress and Lianne's tailor made suit. We saved by crafting away for 9 months. We made all our own stationary- save the dates, invitations etc… Created a wedding website for RSVP's and additional wedding information. We made a lot of the decorations ourselves- lots of pallets, glitter and glue! We wanted it to be really personalised with Rachel's design skills and Lianne's DIY skills and save where we could. We were so proud with the end result.
How did you choose your photographer?
Lianne got in touch with Christian when she was preparing to propose to Rachel. He captured the day, the moment and mood so beautifully it was a no-brainer when it came to booking him for the wedding. After the venue it was the second thing we booked! Christian has a knack of capturing happiness and love- the mood seems to burst out of his pictures and we absolutely love that. Neither of us are comfortable posing for pictures, so his style of photography really suited us. We couldn't be happier with the end result- we are able to relive our feelings on the day again when we look through our photographs. Magical!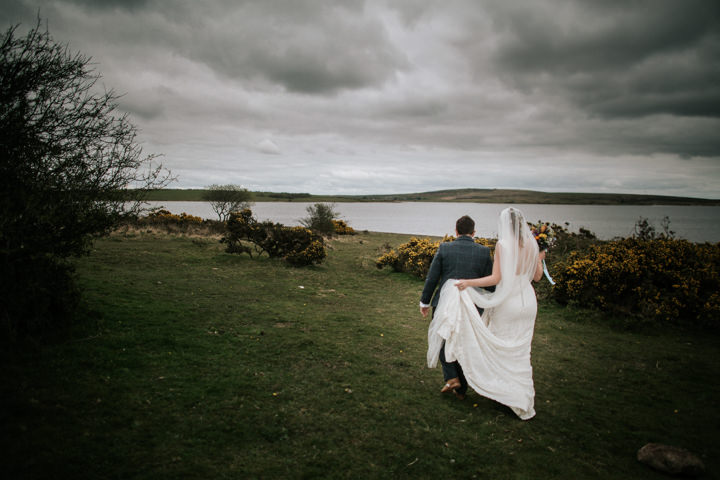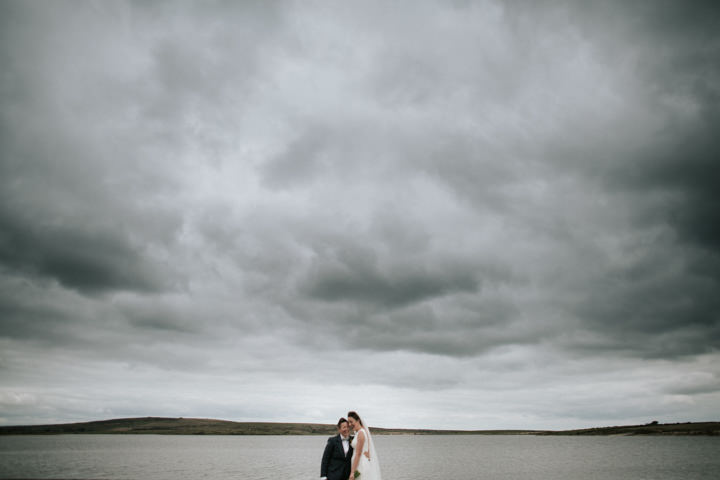 The Outfits
Rachel's Dress was called Marvela- a Pronovias St Patrick gown bought in Bridal Lane Usk with the lovely Laura Evans. Every fitting was super special including allowing me to facetime my mum and sisters in Australia to show them my beautiful dress. Paula the seamstress worked her magic to customise the dress with buttons down the back and fit it to perfection.
Hair: Kirsty from Serenity hair studio created a soft braid interwoven with flowers which was finished off with a Rainbow club, single tier, train length soft tulle veil.
Our wedding nails were painted beautifully by Liannes cousin Claire- classic red.
Lianne's suit was tailor made by Hawkes Bespoke Outfitters in Cardiff.  Her tailor Russell was fab with a keen eye for attention to detail and made her experience unforgettable. Lianne chose everything from the Saville Row material, the vibrant lining, cut and stitching. Her brogues were from Goodwin Smith.
Our wedding rings were from Pravins. Lianne has a rose gold wedding band, engraved with our wedding date and Rachel has a platinum and diamond wedding band.
Bridesmaids
We had the bridesmaid's outfits made as we wanted something specific, separates in relaxed materials and a beautiful shade of blue.
Theme or Colour Scheme
We didn't have a strict colour scheme, more of a theme. We wanted something romantic, relaxed with a boho/vintage twist and so muted, dusky pastels mixed with pops of vibrant colour, along with lots of home-made, rustic pallet signs and some sparkle captured it perfectly.
Flowers
We wanted bursts of colour and as it was spring it was the perfect time of year to have a wild flower look. Rachel's bouquet was beautiful- wild, fragrant with herbs and looked freshly picked. Lianne's button hole was personalised with her Nan's favourite flowers- lily of the valley, along with Rachel's favourite flower in her favourite colour- Mustard freesia along with some fragrant herbs. The bridesmaids had some hand tied gyp and the flower girls had posies of small camomile daisy's and gyp.
Decoration
We had festoon lights, lanterns and twinklies creating a lovely atmospheric glow. On the tables we had various gin bottles (great fun to collect) filled with colourful wild flowers, picture frames filled with some of our favourite trips and memories, tea light candles in glittery tealight holders, colourful glasses in pinks, greens and blues to pick out the flowers and little bottles of sand from the beach on which Lianne proposed- Porthmeor. The majority of the decoration was handmade and very personal to us.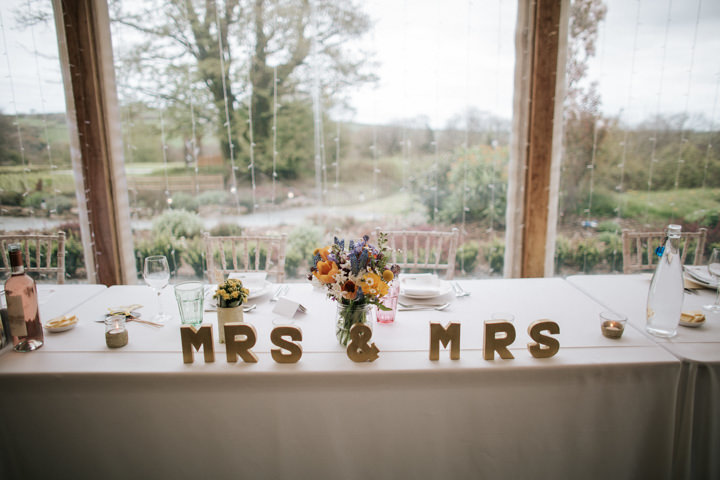 Food
We ate so much!
Our Canape's were: Thai crab cakes, goats cheese and caramelised onion tarts and chicken meatballs wrapped in coppa ham.
We had a gastro feast for the wedding breakfast which consisted of:
Sharing starters of: Roast Beetroot with pumpkin seeds and crème fraiche, baked camembert with garlic and rosemary, and a platter of Cornish meats.
For Mains: A choice of either Slow roasted belly pork with cubed potatoes or Treacle rib of beef with layered potatoes and seasonal greens.
A trio of desserts: Sticky toffee pudding with salted caramel sauce, Trevenna's eton mess with popping candy and a chocolate brownie with toffee popcorn and salted caramel ice cream.
For our evening munchies we chose to have a 'build your own' burger bar where as our own little twist added pickled onion monster munch with instructions to our guests that they add two whole feet into their burger- it was a hit!!
Wedding Cake
Trevenna's talented kitchen made our beautiful wedding cake. It was a 3 tier sponge. The top was lemon drizzle with lemon curd filling, the middle a classic Victoria sponge and the bottom chocolate cake with chocolate buttercream filling.
Entertainment
During the canape's we had a 1940's trio performing – The Burlette's. Our guests absolutely loved them! Fantastic and a particular hit with Lianne's Mum!
We had a bouncy castle to keep the kids (and adults) entertained during the day and evening.
During the evening we had a DJ- Stu from R2 Events and we had a Photobooth from Memory Maker Wales- this was such a success- our guests loved the props, the opportunity to leave us video messages and Jeremy's enthusiasm in running it for the evening.
Stationery
We designed and made all our own stationary.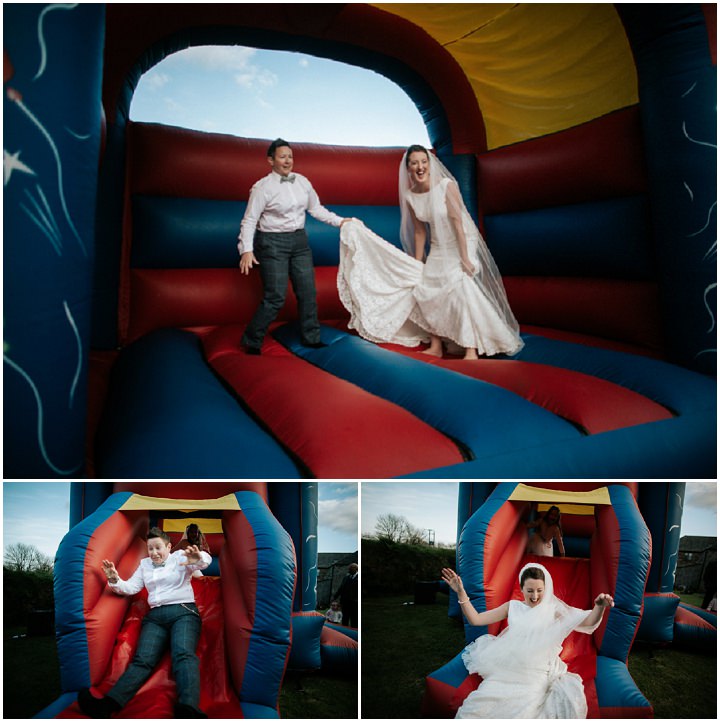 Personal Touches
The list is endless- we are very proud to say! The day was full of personal touches, from the hand-made Lego men police on the welcome cream tea's ensuring that the Cornish way of the cream being on top was adhered to, the Easter egg hunt the morning of the wedding for the kiddies, treat bags for the little people to keep them entertained throughout the day, to the pallet signs guiding everyone to the venue and giving them the order of the day to the little decorations on the tables, the table plans, the 'pick a seat, not a side, either way it's for a bride' sign, down to the corks that held each table's photo frame memory of us- all corks used were from the champagne bottles we had been given to celebrate our engagement. The day was a reflection of us as a couple. Everything was made with so much love. We designed the menu along with Trevenna so everything was completely bespoke and created by us.
The 'Marry Me' letters Lianne used in the proposal were displayed in the grounds as an eye catching entrance and a nod back to the day we began our big day planning. We also had postcards allocated for guests to record their favourite memory of the day. We gave them all specific dates on which to post them back to us- we'll be getting postcards back every week for the next 9 months!
Rachel's sister Tas wrote a beautiful reading for the ceremony and designed the celebration cocktail which went down a treat. Rachel's piano teacher accompanied her singing in the ceremony, the personal little touches are endless.
Advice for other couples
Lianne: I would say to make it as personal to you as a couple as you can possibly make it and not to worry about pleasing others and focus on what you both want as it is your day.
Rachel: Be organised from early in the planning process, it helps streamline the months leading up to the wedding day. Enjoy it- every day of the build-up holds wonderful memories for us- I'd do it again in a heartbeat. Steal away some time together to watch your guests, have a hug, take it all in and don't sweat the small stuff- it really doesn't matter on the day. That's the bit of advice everyone gives after the event but no one listens to it before the day!
Special Moments or Highlights
Rachel: My mum and sister getting me into my dress was a precious moment for me. The first moment I stepped out and saw Lianne- the smile she gave me took my breath away! I loved the moment I put the ring onto her finger. A real highlight of the day for me was Lianne's speech, it was so funny and touching and I was beaming with pride at my new wife. Seeing all of our planning and crafting come together was so special- at times it was hard to imagine the finished result so it was absolutely amazing to see.
Lianne: Watching Rachel emerge from the barn into the sunlight and seeing her for the first time in her beautiful dress and then her making her way down the aisle with a beaming smile. A special moment was Rachel surprising me with singing to me during the ceremony- she sang Eva Cassidy- Songbird. A feeling I will never forget from the day was looking out from the top table at all our guests, knowing that they had travelled from far and wide to be there to celebrate with us. It's a unique moment having all those groups of family and friends together- so special.
A particular highlight for us both was when of our favourite songs came on at the end of the night- All of Me by John Legend, we danced together and our friends and family formed a circle and danced around us finishing it off with a huge group hug; a perfect end to a perfect day- our very own love bubble.
Biggest Surprise
Lianne: Rachel Singing and how much everyone enjoyed the day and how much we were told that during the day.
Rachel: I was surprised that the love shared between Lianne and I was seen and felt in such a big way by everyone on the day. The registrar commented during the ceremony that she could just feel the love- as if it was bursting out of us. We were in a love bubble and all our guests stepped inside and joined us for the happiest of times.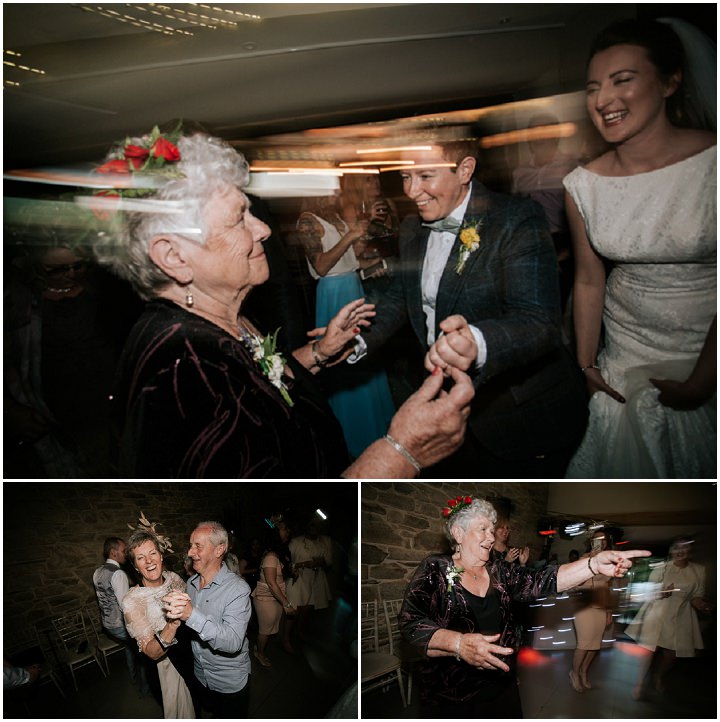 Supplier Shout Outs
For more information on Christian's work go to:
www.asterandoakphotography.co.uk  / 07479 549640 / FACEBOOK / PINTEREST
We're inspired by our couples, and do our upmost to portray the beauty and uniqueness in each wedding day. We adore what we do, it's our passion, our livelihood and our creative outlet.  Our imagery comes naturally, and displays an authentic narrative of each wedding day. It's about capturing the moments as they unfold and weaving together the tale of the love a couple shares with the stories created at each wedding.