The thought of marrying in a brewery just fills me with happiness. The thought of having any kind of event in a brewery does in fact! So when we received this wedding from James and Lianne, we just knew it was going to be good. Jenny and Steve were very keen to make sure that their day was one of laid-back, relaxed fun and that's exactly what they achieved. My heart did a little jump for joy when I saw Jenny's daisy flower crown (my favourite flower ever!) and I just love the sunny pops of colour in the groomsmen's ties and the bridesmaid's 50s style polka dot dresses. All in all a truly colourful, joyful, fun-filled wedding for Wednesday! Cue Pharrell William's 'Happy' song as the perfect soundtrack.
'We hoped to create a day that was all about fun, laid back and that would merge Steve's love of design with my love of everything bright and colourful.'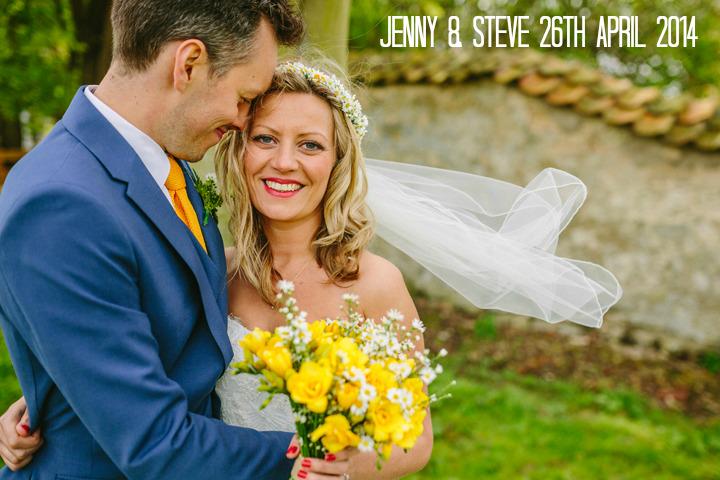 Jenny and Steve were married on 26th April at Settrington Church and Wold Top Brewery. "We got engaged 13 months prior but the planning only started to heat up about 8 months before. Jenny was brought up in Settrington and her parents are still there, her Mum is really involved with the church. Her sister one got married there last year and she was christened there. We were wowed by Wold Top Brewery, we wanted a laid back feel to the day and although we considered a marquee on Jenny's parent's farm we felt that we could make it our own at Wold Top. Also they have really good beer!"
How they met
We met in a dingy cocktail bar in Balham just under 3 years ago, we bonded over jagerbombs and bad cocktails.
The proposal
After a weekend in Yorkshire where Steve asked my Dad; he spent 2 days following him around like a lost sheep before summoning the courage after match of the day 2 on the Sunday night. We were back in London on the Monday and I came back from the gym to find a treasure hunt round our flat which led me to Steve on one knee with a ring.
How did you allocate your budget?
Steve loves a Google doc! Early on we decided the focus was on fun so we wanted to splash the cash on things we felt would be fun for us and our guests.
Why did you choose your photographer?
We were recommended James and Lianne by another photographer who has a similar style. It was so important to Steve that he found someone who could bring the wedding alive for us when we look back at the photos and they did exactly that. Having 2 photographers who work together so well really was twice as nice.
The wedding dress and accessories
I wore a Lusan Mandongous dress with a large patterned lace, 1920's type mint green shoes but my favourite part was the beautiful flower garland, Gemma at the Topiary Tree made it exactly as I requested and it looked like little daisies, although I am reliably informed that the proper name is Tanecetum
The suit and bridesmaids
Steve wore a lovely 3 piece suit from Reiss in a mid-tone blue, him and all his ushers wore personalised tie pins. I may be biased but I think I had four very beautiful bridesmaids, they all looked great in 50's style blue polka dot dresses, we had them custom made by Eleanor at Dig for Victory which allowed everyone to choose the style that suited them best.
The theme
We wanted a vintage, country feel with lots of yellow
The flowers
Jen's Mum and some of her friends decorated the church and the venue with beautiful teapots and jugs full of multi-coloured spring flowers. The bouquets and Jen's headband was made by Topery Tree, Gemma got the vibe just right with Tanecetum which are just like daisies and yellow freshias. I love that we choose something which brings back memories when we smell them now.
The food and wedding cake
We went for Yorkshire grub, so big portions and lots of it, we had Steak pie with mash, followed by massive meringues with fruit and at night, fish and chips from Stuart's Fish and Chips, He brought his huge van and very kindly did smaller portions for everyone. They were definitely a highlight for lots of people and I believe some even asked for scraps! The wedding cake was another home made element, Steve's Mum not only made the cake but very carefully packed it and drove it up from the South, it was covered in little white dots with yellow spotty ribbon and flowers to match the bouquets.
Buy or DIY your stationery?
Steve is a designer by trade so we went for a fun invite, with a little flow chart to respond to the wedding and get everyone in the party mood.
Personal or handmade touches
It was a real joint effort, my Mum spent hours in the back room making bunting which was so good we are lending it out to other friends,
Special moments
Before the wedding everyone told us that we'd value a bit of time together on the day, I thought I'd want to spend as much time we other people as possible as they'd travelled so far. However the most special part of the day was the London taxi ride from home to Wold Top, just Steve and I with a bottle of bubbles taking in the beautiful countryside. Oh and the fish and chips, they were amazing!
Advice to other couples
So many people gave us advise, some told us to go with the flow, others to make sure everything is as we want it. Everyone said to stand back and take a metal photograph. I totally failed on this and if anyone learns how to do it I'd love to know. My only advise is make sure you are really comfortable with your outfit, it's a long day and you don't want your shoes rubbing or your dress being uncomfortable when sat down.
Biggest surprise
For me it was the video Steve had made me with messages from friends who were abroad and couldn't make it as well as the taxi which took us from the church to the venue over the wolds.









Supplier Shout Outs:
For more information on James and Lianne's work go to:
jamesandlianne.com / jamesandlianne.com/category/blog / FACEBOOK