Happy Monday everyone, I do hope you all had a wonderful weekend! We have a jam-packed week on the blog, filled with amazing weddings and fab articles. I also have a particularly busy week as It's our 8 year wedding anniversary on Friday, it's also Dexter's 3rd birthday party on Saturday and it's fathers day on Sunday….so a very hectic week. You can follow my adventures on Instagram stories. To start the week, I have the gorgeous rustic Australian Log cabin wedding of Tegan and Mel. A stunning same sex wedding, with THE most romantic story of how they met, you just have to read it! A beautiful example of love conquering all and having no boundaries. Thank you to Pixie Rouge Photography for the lovely images and to the girls for letting me share their day with you all.
Our wedding was a festival of love pulled together by all of our family and friends. We picked the things that were important to us and left any and 'should's' at the door.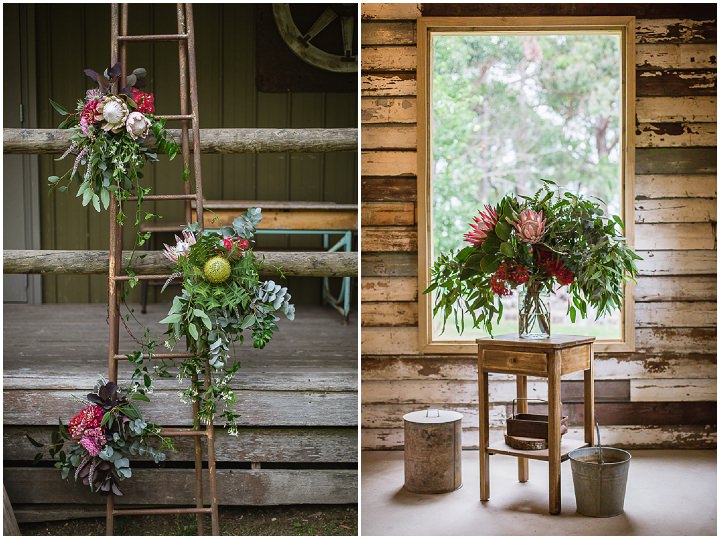 Tegan and Melinda were married on the 21th January 2017 at The Log Cabin Ranch, Monbulk, Victoria in Australia. 'We wanted a relaxed vibe and somewhere all our friends could stay over for a weekend long party! When we visited the Log Cabin Ranch we instantly loved it and all its beautiful details. We had about 70 guests. We started planning when we first got engaged, so almost 2 years! We pulled things together bit by bit, and really enjoyed the process.'
How they met
Here is how our celebrant told our story: When Mel and Tegan first met through their mutual friend Bec, there was an instant spark, a connection. But Mel liked girls. And Tegan liked boys.  But something was afoot and on their first drunken night out together Tegan kissed Mel. And Mel's tiny little head exploded. Chalking it up to a bit of fun, Mel tried not to like Tegan and Tegan went back to liking boys. But Mel and Tegan became friends. Good friends. Best friends. But Mel was determined to not like Tegan. And Tegan was convinced she liked boys. Then Tegan noticed something. She noticed a feeling. A feeling that she got when she was with Mel. She noticed that, when she made Mel happy, it made her happy. And Tegan wanted to be happy. Tegan's feelings and Tegan's body knew she 'like liked' Mel before Tegan did. Then, one day, Mel had a birthday and Tegan found herself wanting to make Mel happy again. So Tegan was kind and generous and giving at Mel's birthday party and Mel was surprised and shocked and delighted. After the party, Mel and Tegan had a serious talk. Then they had another serious talk. They talked and talked and talked. They like to talk. They talked until they couldn't talk anymore. All that was left were feelings. They both could both feel what they wanted most. Tegan wanted Mel. Mel wanted Tegan. And so they became 'Mel and Tegan'.
The Proposal
Tegan surprised Mel with 200 candles in their house after Mel had been out for dinner. There was champagne, flowers, a beautiful ring and lots of tears. Mel returned the favour and proposed right back at Tegan a few months later.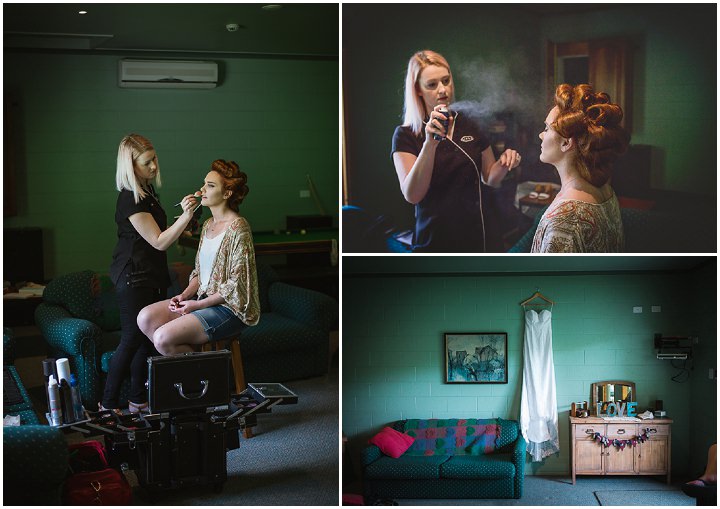 How did you spend allocate your budget?
We didn't really know how much a wedding would cost, we just knew that we wanted to spend money on the things that were the most important to us – that's food, wine, and our friends and family.
Where did you splurge and where did you save?
We saved a lot of money through asking each of our guests to contribute to our weekend in some way, instead of bringing a gift. Some people contributed playlists (so we didn't have to pay for a DJ), some brought cheese for the cheese table, some baked cakes. This didn't just save money, it meant everyone got to play a part in our day.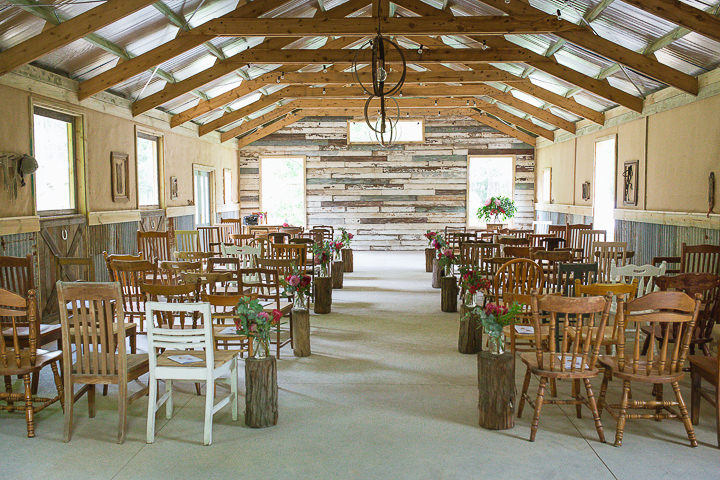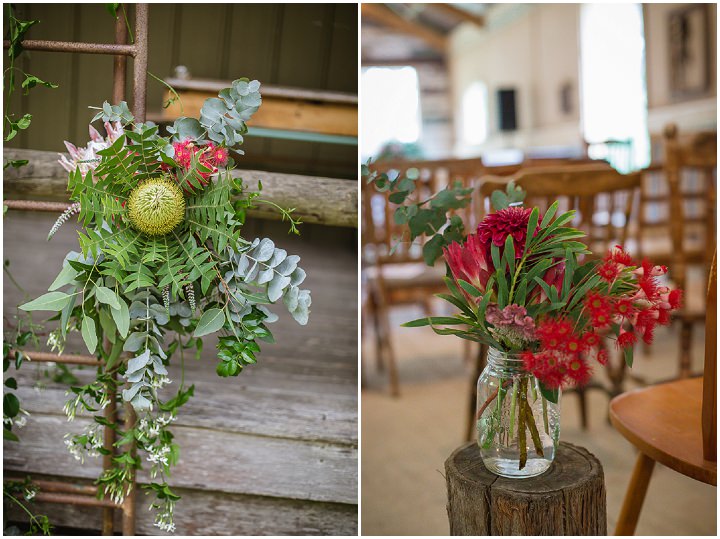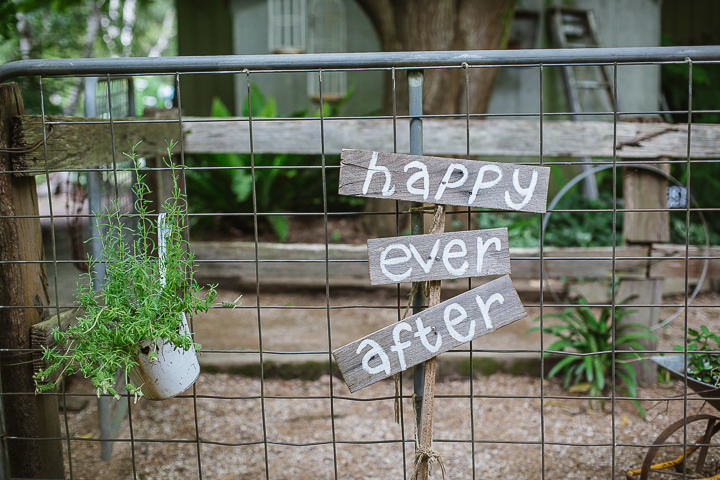 How did you choose your photographer?
Anna, our photographer, photographed a wedding we went to a while back. We loved how naturally she fitted in we the guests, but even more so we loved the style of her photography. Her photos really captured the vibe of our day.
Who was your outfits by? 
Tegan's dress was Made with Love bridal, Mel had her outfit made by a friend. Tegan's shoes were Midas, Mel's Edward Meller
The Bridesmaids
We didn't have bridesmaids, we had sidekicks! Our nearest and dearest. They were:
Tegans: Kara (sister) Andrew, Jen and Christina (friends)
Mel: Tania and Sarah (sisters) Kate, Jas, Grace and Renee (friends)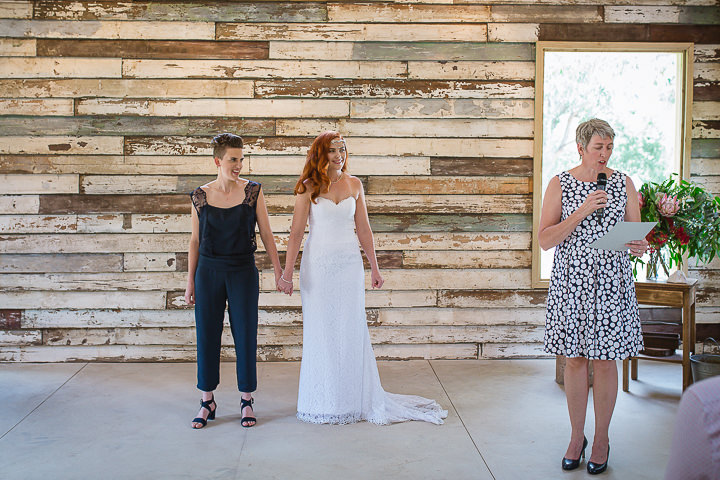 Theme or Colour Scheme
Our dress code was 'Wear what you want!'
Flowers
We had lots of foliage and native by Queen Protea. Hannah the florist absolutely nailed the brief of simple, natural and green.
Decoration
We didn't decorate much, the Log Cabin Ranch is beautiful enough!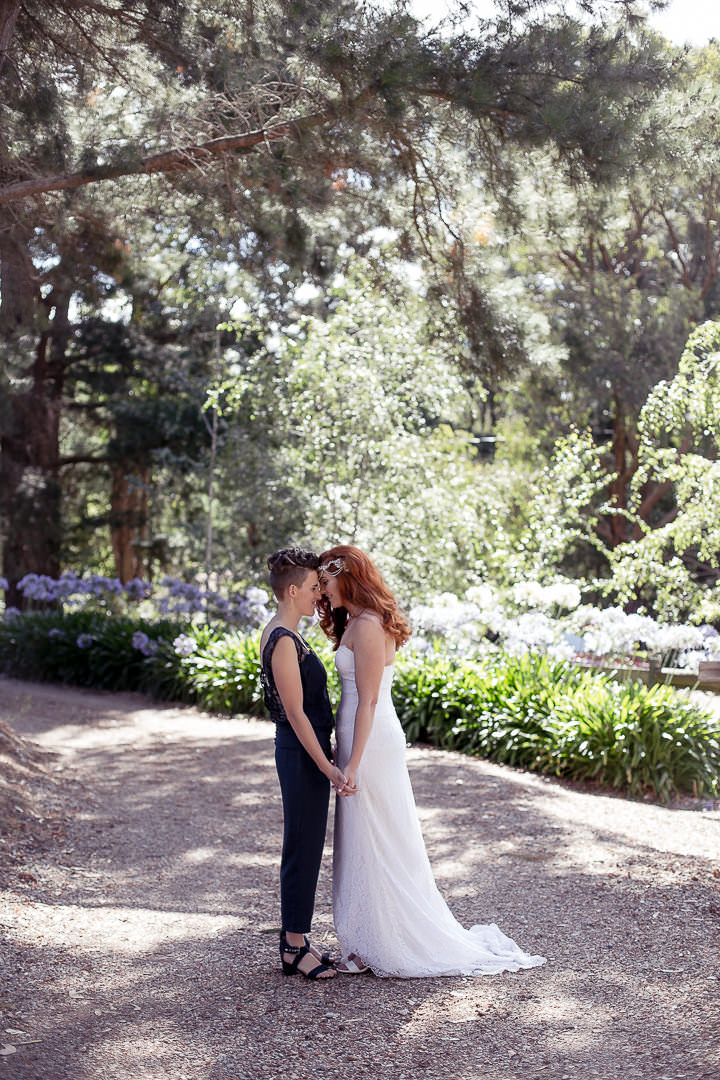 Food
We had lil' nom nom's food truck cater with delicious Vietnamese street food, preceded by a huge cheese table (all guest contributions) and the best dessert table you have ever seen (also pulled together by our fabulous guests). The Wandering Woodsman served us delicious wine and beer.
Wedding Cake
No wedding cake! Just lots of treats from our friends.
Entertainment
A number of our friends made us playlists to cover the weekend, which made sure everyone had something to boogie to! We also had lawn games, there was mini golf and even a low ropes course!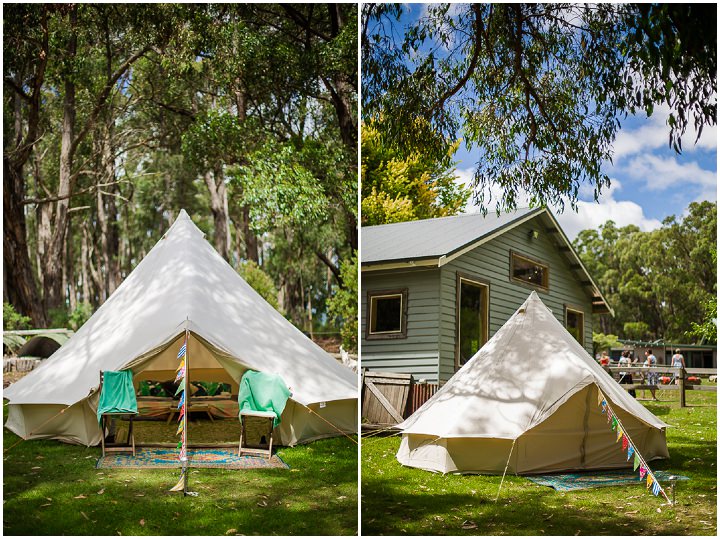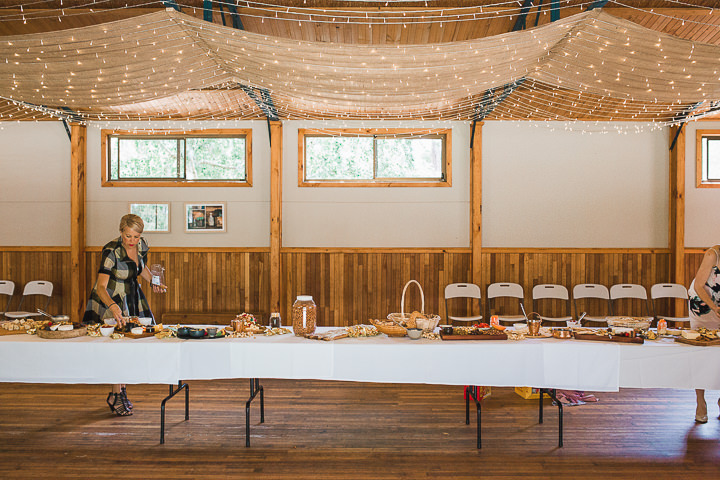 Who supplied the stationery?
Mel made it!
Personal Touches
We made all our own invitations, and we brewed up a big batch of cold brew coffee for our guests for the wash up breakfast.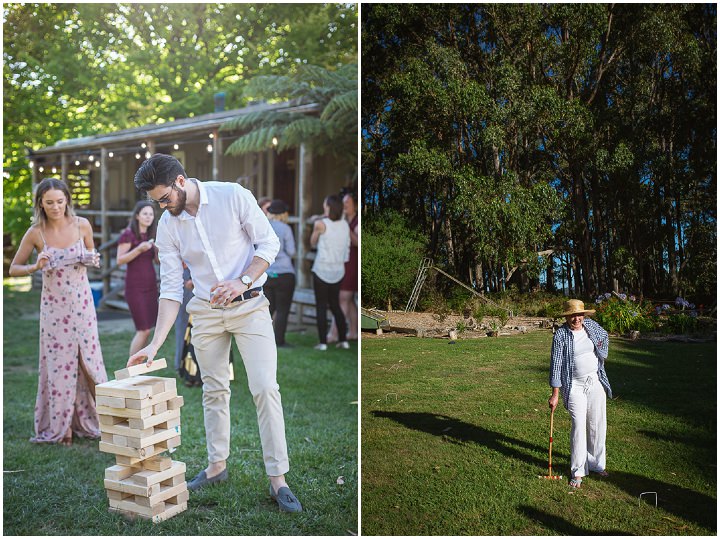 Special Moments
Tegan: Getting ready with lots of people coming in and out of the room (Tegan got ready on site), playing quoits with my hair and makeup done, walking to the barn with my dad and nephew, the speeches, and the end of the night with Mel
Mel: I loved watching all of our friends getting to know each other, laughing and playing games. I also loved the moments I had with Tegan when we escaped for our own space and watched what was going on around us.
Advice for Other Couples
Getting married is the best! Make sure you take the time to stop and watch all the love that's around you. Choose things that are meaningful and important to you, just have fun and let everyone else do all the work! Also, get photo's out of the way first if you can!
Biggest Surprise
Mel: Tegan absolutely blew my mind with her speech.
Tegan: My brothers speech was really amazing.
Supplier Shout Outs
For more information on Anna's work go to:
www.pixierouge.com.au / [email protected] / FACEBOOK / I: @pixierouge_photography /
Pixie Rouge Photography. Natural, whimsical & bohemian wedding photography Melbourne. Creative & organic images – something a little different. I just love being a wedding photographer, I believe it is the best job in the world. I have access into your lives and your intimate moments, I am surrounded by love and happiness all the time, introduced to your family and friends and invited into your home. I am capturing memories for you on one of the most important days of your lives, memories that will be passed onto your family and friends for generations to come. I travel to wonderful locations all over the world. I truly do have the greatest job in the world, a job I love and I pour all that love into my photos for you. My wedding photography is more on the documentary, bohemian and whimsical side, rather organic, raw and real. No excessive posing or awkward moments, just love and light