Happy Friday everyone, Did you manage to get out for bonfire night yesterday or did the rain put a dampener on your night? Hopefully the weekend will see a few dry spells so we can all enjoy some fireworks! Before that though I have this gorgeous Fall wedding all the way from Utah which ahs been sent into me by regular to the blog, Pepper Nix Photography. Shaun and Weston were married on 12th October at Log Haven Restaurant in Utah 'It was a special place in the middle of the mountains that we love so. We had 124 guests in total.' Such a lovely wedding full of beautiful warm tones, gorgeous flowers and some wonderful decorations.
'It was the most remarkable experience that I could never have dreamed up before I got to experience it'
The Proposal
it was our 2 year anniversary and we hiked to the top of our favourite mountain had a picnic and then he asked me to close my eyes and he popped the question.
The Dress
Well, when I first started looking at dresses I had no idea what I was going for. I wasn't the type of girl that dreamed about her gown or followed designers or even had ever picked up a bridal magazine… so the look just kinda evolved from my personality and the only thing that I knew I wanted was that I didn't want to wear shoes during our ceremony.
So I started searching and turns out what I was looking for was a "Rustic" wedding dress.
After trying on a lot of dresses I ended up finding the one that made me smile and that spoke to my earthy yet kinda classic self. I also had the pleasure of working with Pamela at Alta Moda who gave the dress a few unique finishing touches that really made it all my own.
As for shoes, I wore Sanuk ballet type teal slippers.Sanuk's are just fun casual mountain town type slipper/ shoes that made sure I was feeling causal and comfortable on the big day. After all they were just to get me down the isle, and then I slipped them off for our ceremony
Flowers
Earthy elegance
Wedding Cake
Simple 3 layer cake with texture and a simple "melting" color scheme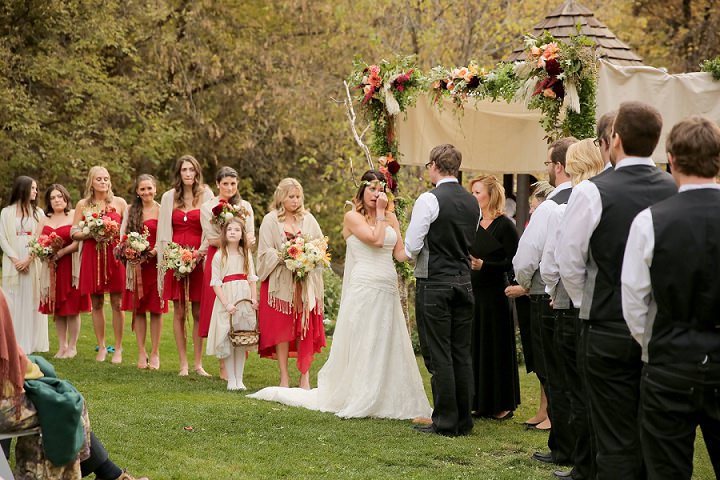 Decoration
The decor was all about keeping it in keeping with the naturally stunning location and venue we had chosen for our wedding. Log haven is a rustic log cabin in the middle of the Wasatch mountains. So we wanted to keep everything rustic and authentic to where we were. Sarah created beautiful centre pieces with notes of colours that nodded to my love of turquoise, subtle colours that evoked a sense of the fall season. She also used glass candle votives that had a rustic influence.
The desert table was also made with stacked wooden crate boxes and some burlap again giving it the rustic textures.
We wanted to make sure that the decor didn't become hokey or over powering. There was so much natural beauty that we just wanted to give slight enhancements to the space. Make it feel a bit more special in our own way.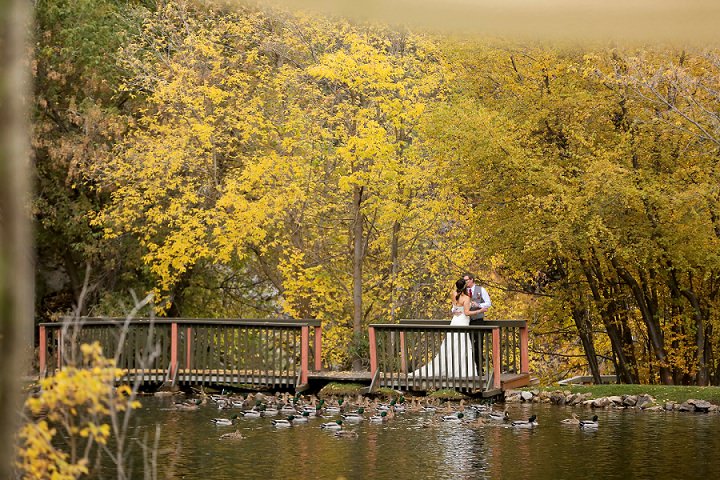 Special Moments
We went with the first look. We decided that the most important thing for us was to take as many pictures before the ceremony as possible so that we could enjoy our big day and celebrate with all who traveled to be with us.
Once we made that decision it was a no-brainer to do a special "reveal" that would create a special atmosphere for us seeing each other for the first time in our wedding attire.
In hindsight it was absolutely perfect! We got to have a few moments all to ourselves midst the mountains we love. It was truly special and by that time I was so needing to see my best friend and share the excitement and energy with him.
Advice to other couples
Make sure that you keep the whole thing in perspective. Remember why you are getting a dress, invitations, and creating such a beautiful space. Make sure you feel like you in your dress, hair and make-up. Be sure to take a few moments with your husband after the ceremony to take it all in. Dance your ass off and live up the reception!!!!
Supplier Shout Outs
For more information on Pepper Nix's work please go to:
www.peppernix.com / [email protected] / FACEBOOK / PINTEREST

[jprel]