Happy Friday everyone! After what can ony be described as a heartbreaking week here in he UK, I sure am happy it's Friday and that we have a bank holiday to look forward to! Hopefully the sun is shining where you are and you get chance over the next few days to enjoy some down time and spend your days with loved ones. I am looking forward to a bank holiday spent with family and spending some quality time with Nik and Dexter.
Today we have a gorgeous wedding from North Carolina, a Fall wedding filled with beautiful autumn touches, lovely muted tones, and the most stunning bare foot bride. Big thanks to Gabrielle Von Heyking for the beautiful images.
Our wedding was romantic/intimate, sentimental, relaxed, heartfelt, and the most wonderful day of our lives. Our hearts were overwhelmed with joy as we celebrated our marriage with our closest friends and family.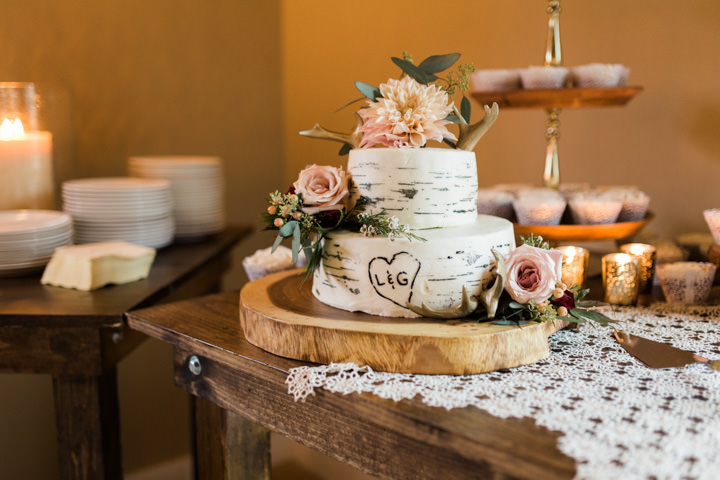 Lindsey and Gus were married on the 15th October 2016 at Silver Fork Winery  – Morganton, North Carolina. 'Silver Fork Winery was located in my hometown of Morganton, NC and allowed us to have a beautiful outside wedding with the Blue Ridge Mountains as our backdrop. From the start I knew it was my dream wedding location! We had 75 guests and the wedding took 8-9 months to plan. We started planning several months after our engagement.'
How they met
Gus and I met at our Crossfit Gym here in Greenville, NC. I had just moved to Greenville to attend nursing school at East Carolina University and he was one of the first people I ever met! Our relationship started with a "Hey, how are you?" on Facebook messenger, because he was too nervous to talk to me in person!  Gus and I were together for three and half years prior to getting married!
The Proposal
It was the day after Thanksgiving and we had just arrived to my parents house in Morganton, NC to visit for the holidays. Gus told me he was bored and wanted to build a bonfire down by the creek. I had gone inside the house for a while but once it got dark out I went down to the fire with him and his two girls (Jacci & Jordyn). We were sitting by the fire then Gus started getting really sentimental and saying all of these nice things. I specifically remember him looking at his oldest daughter Jacci and saying, "Jacci don't you want to make Lindsey apart of the family?" His daughter looked at us and said, "Yes," at this point Gus stood up and then shortly after asked me to marry him!
How did you allocate your budget?
Gus and I felt very blessed because my parents had saved over the years for my wedding day. They had a very specific budget for us to go by and from there we were able to allocate prices and budget accordingly.
Where did you splurge and where did you save?
We saved a lot of money by having a smaller wedding. If we would've chosen to have had more guests, then we would've had to cut from decorations and flowers (something I did not want to do). The decorations and flowers were very important to me because they set the tone and design for the whole wedding. We also decided to not have a videographer, this was a tough decision but allowed us to have more money in other areas!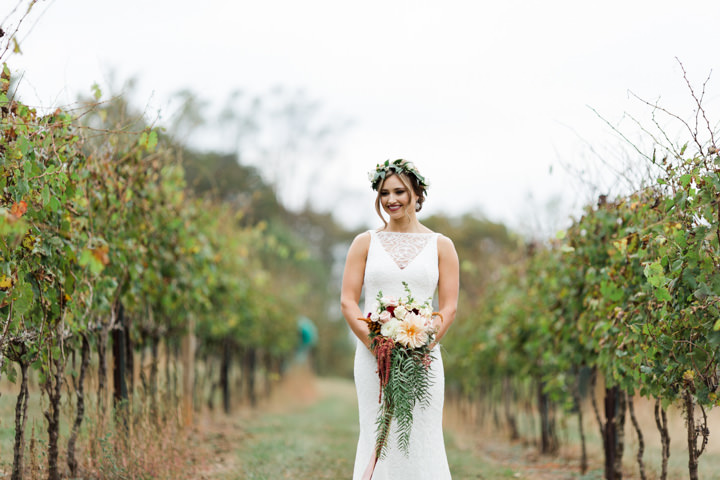 Why did you choose your photographer?
My mother had mentioned a photographer that one of my sisters friends had just recently used in the nearby area. I took a look at her photos and loved them. I wanted a photographer that would be able to capture the bohemian style that I loved and wanted my wedding to reflect. Gabrielle Von Heyking did that and much more, I couldn't have asked for a better photographer!
The Dress
Dress: Theia Couture from Lana Addison. Bridal Jewelry: I wore a pair of oval diamond/pearl earrings that my mother bought my sisters and I for us to wear on our wedding day. I also had accessories that represented my grandmothers- a gold sapphire ring, and a gold/rose cross on my bouquet. Shoes: I went barefoot for the wedding and then threw on some nude colored flip flops for the rehearsal! It was important to me that I was comfortable!
The Suit and Bridesmaids
Bridesmaids: The bridesmaids and jr. bridesmaids all got their dresses from different places (Free People, Belk, and ModCloth) . I just told them to pick out a dress that was off white/cream that would fit well with my bohemian style.
Groom: Coffman's ( a local Menswear store in Greenville, NC). Groomsmen: Jos A. Banks
Theme or Colour Scheme
I had a lot of pictures saved on Pinterest but I honestly let my florist from Inspired Design pick out the final colors that were used. I knew that they would be able to incorporate the fall season with my bohemian style perfectly. The flowers turned out perfect and made my wedding a dream come true.
Flowers
That would be a question for my florist, Inspired Design ! I let her do whatever she wanted flower wise–I do know that a large variety of flowers were used!
Decoration
Our decorations during the ceremony included a beautiful wooden arch covered in flowers, and rose petals down the isle. At the reception the tables were covered with off white linen runners, greenery, gold candle holders (large and small), votives, and some scattered flower arrangements.
Food
Our guests had two meat options- Chicken or beef burgundy- which was then served with vegetables and potatoes.
Wedding Cake
The cake was made by Alex's Cake Creations (a local baker out of Morganton, NC). We had a small two tier cake that was almond flavor with chocolate icing in between the layers. We also had a large variety of different flavored cupcakes. It was delicious.
Entertainment
We had a DJ and photobooth for Entertainment (Joey Enterprises)
Who supplied the stationery?
Minted.
Personal Touches
One of my sisters did all of the chalkboard signs we used throughout the wedding. They looked great, my favorite was the large welcome sign she did that was accented with flowers from the florist! Another one of my favorite personal touches was the use of my late grandmothers hand tatted embroidery on the cake table, it was beautiful.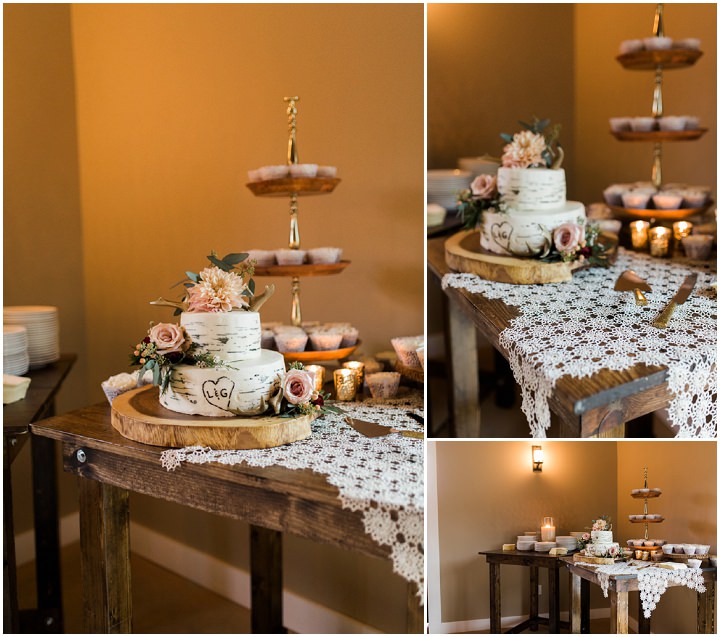 Special moments
Every moment was so special. My favorites were getting ready with my sisters, bestfriend and mother, walking down the aisle with my father, and seeing my handsome groom waiting for me!
Advice for other couples
Relax, don't sweat the small things and enjoy every minute of the day because before you know it will be over and you will wish you could do it all over again!
Biggest Surprise
I personally was surprised at how calm I was leading up to walking down the aisle. I thought I would be nervous and emotional. I instead found myself to be extremely calm and happy. I couldn't stop smiling
Another surprise happened when we my mother and I were trying to bustle my dress for the rehearsal, my dress required a french bustle which was much more complicated than I had thought when doing my final dress fitting. It took us thirty minutes and the input of multiple women to figure it out!
For more information on Gabrielle's work go to:
www.gvhphotographie.com / www.gvhphotographie.com/blog / [email protected]  / 1-828-423-9417 / FACEBOOK / I: @gabriellevonheyking / T: @gvhphotographie / PINTEREST
I am located in Asheville, North Carolina, USA. My style of photography is romantic and intimate, my favorite bride is the girly boho bride who is a free spirit that loves the beauty of nature.