Happy Monday everyone, I do hope you had a wonderful weekend! Mine was filled with a Christening and two children's birthday parties, I have had enough party food to keep me going for a year! We are kicking off today with this fabulous, all be it wet and rainy, woodland themed wedding, courtesy of Beth Joy Photos. Amanda and Graham were lucky enough to hold their wedding at their grandparents property which meant they could make the day super personal and full off special memories and amazing woodland themed decor. With an underlying fairy-esque theme the day is as magical and earthy as the colour scheme and flower crowns that the bridesmaids wear. A simply beautiful wedding, that I know you ae going to love.
Our wedding was a day that celebrated love and the joining of our families and friends. It was the perfect mix of rain, sun and dancing with my new husband under the stars.
Amanda and Graham were married on the 10th September 2016 on the bride's grandparents' property at Trollman's Field. 'I have always dreamed of an outdoor wedding and when I met Graham part of the reason we went so well together is because we both love the outdoors. Both of us spent our childhood's playing in the woods and racing through the fields and can honestly say that is where we are the happiest. We had 150 guests and the wedding took one year to plan with a lot of help from my mother and two younger sisters.'
How they met
We met at Alma College where we were both attending as undergraduates. Graham was an actor in the Theatre Department and I was a company member in the Dance Department. I had a total crush on him after seeing his performance as John Proctor in The Crucible and later I found out he "fell in love" with me while watching me dance at one of my shows. Both departments shared the same building at our College and we saw each other often, but never took the jump to talk to each other. It took until Graham's junior year and my senior year for him to finally reach out; and another couple of months for me to finally agree to a date.
The Proposal
While Graham was working on a show in Ohio, Amanda came to visit for the weekend. They hiked through some of the most beautiful trails in Hocking Hills State Park. At one point, Amanda even tapped Graham's pocket, asking him if he had a ring in there. Little did she know, she picked the wrong pocket. A couple of hours later, when he had found a private spot underneath a waterfall, he popped the question. She said yes.
How did you allocate your budget?
Setting our budget was the first "wedding planning" that Graham and I did. We both met with our parents and discussed what they were willing to help us with and from there chose what was most important to us. I love dancing and good music; so that was a good dance floor and DJ were important to me. Photography was the other area we allocated most of the budget to. We were lucky to not have to pay for a venue so that money was put towards our rentals. As far as food and décor, Graham and I both decided that they weren't as "important" to us, so we made sure to stay under budget for those.
Where did you splurge and where did you save?
I splurged on the photographer. I feel like your wedding photographs are something every couple and their families treasure for years and I really wanted someone that I knew would capture the magic of the day. We saved on the decorations and the venue. My grandfather is a pilot and owns his own runway, beautifully decorated with surrounding gardens that my grandmother spends all year grooming. Both Graham and I love the outdoors and the beauty of Michigan so a family owned outdoor venue was the perfect choice for us. It also happens to be the place my parents were married as well! The wedding planner was a business associate and friend of my mothers and had most of the decorations from previous weddings and events.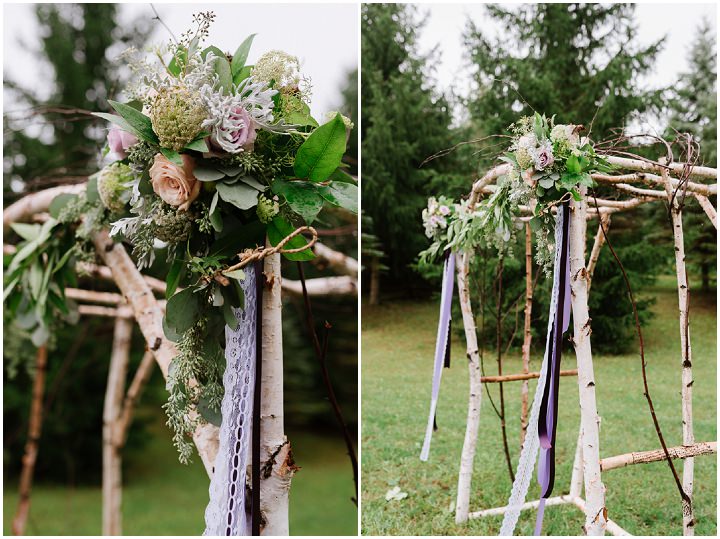 How did you choose your photographer?
I found my photographer on Instagram by searching hashtags. I fell in love with Beth Joy Photography almost immediately. The way they captured these beautiful, candid moments of couples was exactly what I was looking for. I wanted something very natural, relaxed, and fun; I felt like these qualities radiate through all of Bethany and John's photos.
The Dress
My dress is "Odette" by The Wedding Shoppe. The veil was part of the Accessories Collection at The Wedding Shoppe; I loved that the veil came down into a triangle and matched the triangle shape of the gown's train.
I found my shoes in a little boutique while shopping with one of my bridesmaids; how do you say no to blue suede shoes! They are by Liliana.
My baby sister surprised me with a brand-new pair of White Chuck Taylor Converse High Tops the morning of my wedding; a brand that's a staple in both of our closets. I wore those during the reception. They are now half brown from the mud that accumulated after the storm, but they are so special to me that I still wear them for special occasions or when I'm missing my sister.
The Suit and Bridesmaids
The suits were by Calvin Klein and rented from Men's Warehouse.
I let my bridesmaids pick their own gowns. I told them the colour scheme and that floor length, but I wanted them to buy something they left beautiful in and would wear again!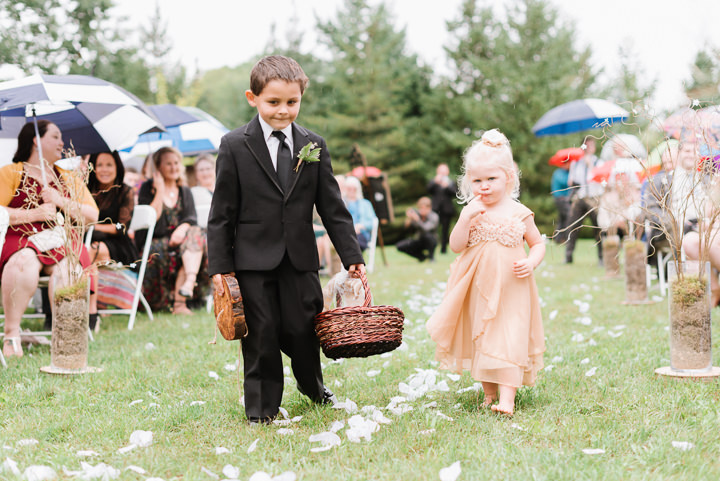 Theme or Colour Scheme
When I was envisioning my wedding, I wanted it to look like people just stumbled through the woods and ended up at a great fairy-esque party. For the colours, we stuck with a lot of earth tones – greens and browns with subtle hints of light purple and pink. We also decorated with a lot of moss and old bottles that we light with candles.
Flowers
Succulents were the only flower that I was really picky about. Besides that, I left my florist run with it. My vision was a lot of leafy greens and big blooms and I think Crystal nailed it.
Decoration
We stuck with very earthy decorations; using a lot of moss and pieces of birch. We varied between small succulents in clay pots and a ton of leafy greens and white flowers.  Graham's parents built us a birch arbor that the florist decorated with flowers and ribbons.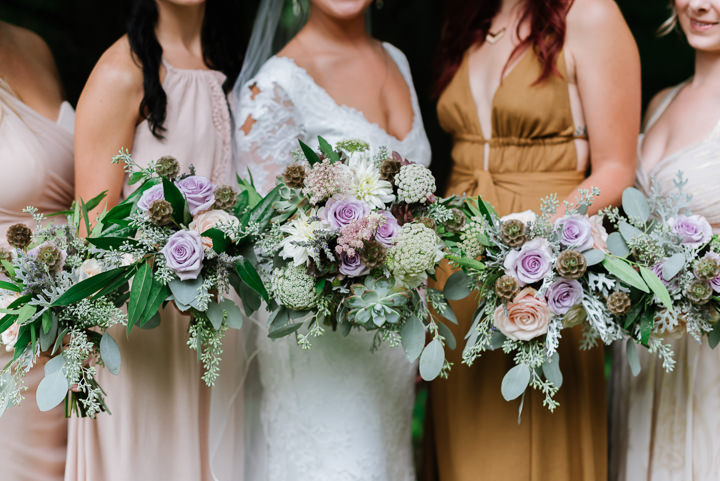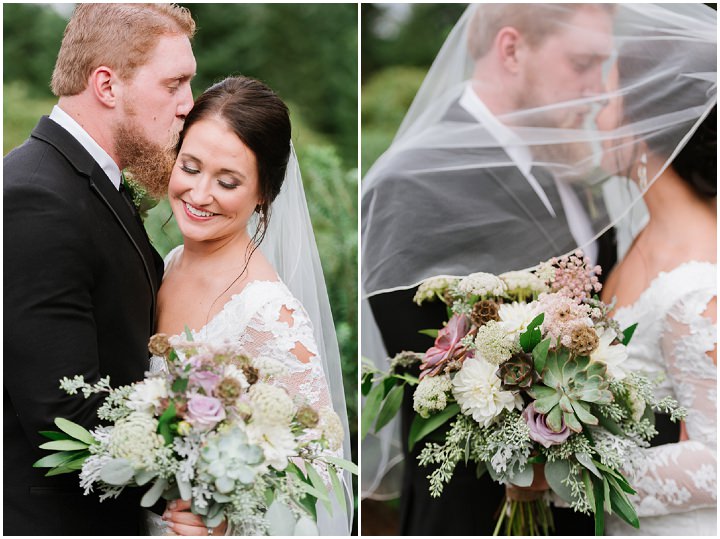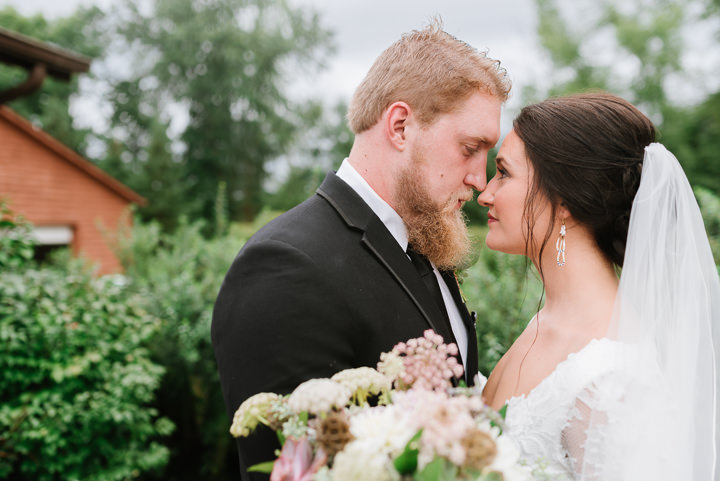 Food
For appetizers, a fresh fruit and cheese plate was served. For dinner, there was a full pig roast with homemade BBQ sauce as well as chicken marsala. The salad was a Saugatuck Salad with sundried cherries, black beans, homemade croutons, pine nuts, parmesan cheese served with a vinaigrette dressing. We went with a seasonal vegetable of acorn squash.
Wedding Cake
vanilla almond naked cake with alternating layers of lemon and strawberry filling.
Entertainment
During the ceremony, we had live music played Logan Ganter (piano) and Justin DeGroat (guitar). Both were recommended by my sister and maid of honour.
For the reception, we had DJ Ron Gutzeit of Plastic Box DJ.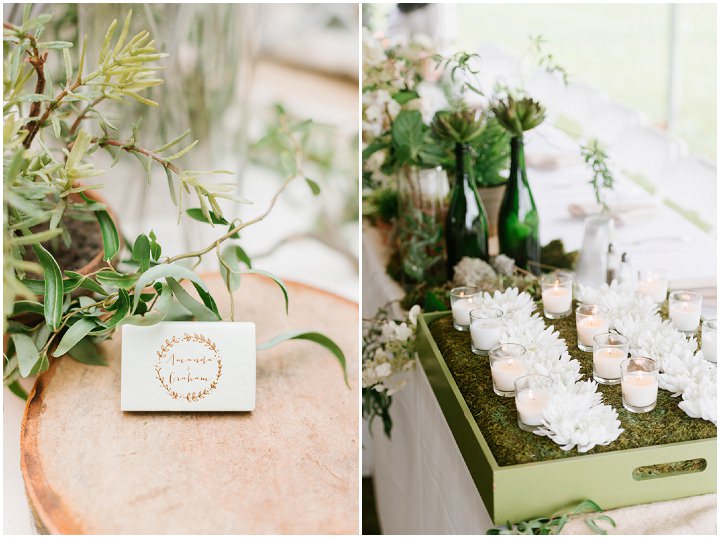 Who supplied the stationery?
Wedding Paper Divas
Personal Touches
Both of our parents handmade a lot of things for our day. Graham's parents built the birch arbor we were married under and built the full bar used at the reception. My stepfather built the yard games and my sister decorated the walkway between the ceremony and reception site with wood pallets and greenery holding photos of Graham and myself from our entire relationship.
Special Moments
The first-time Graham and I saw each other in about six weeks was when I was walking down the aisle. I was accepted into a school in New Mexico with short notice and it was an opportunity I didn't want to miss. I left Michigan the day after my wedding shower and couldn't get back until the night before the wedding. Graham and I discussed meeting up the night before, but already gone so long we wanted to make the ceremony even more special with that moment to be our first look.
Advice for Other Couples
Don't stress the little stuff. I can remember thinking that every detail had to be totally perfect and precisely planned, but at the end of the night, it wasn't the centrepieces and light fixtures that stood out, it was the company, endless smiles and dancing in the stars that made the day.
Biggest Surprise
The rain was the biggest surprise! Having both an outdoor ceremony and reception, made waking up to a forecast of thunderstorms a little nerve-wracking, but a little rain wasn't going to stop us. The only thing I had to change was my hair and for the rest, we just went with it. We had our ceremony while it sprinkled, hid in the trees during the thunderstorm, and danced the night away in the mud. I wouldn't have changed any of it.
Supplier Shout Outs
For more information on Beth Joy Photography go to:
www.bethjoyphotos.com / www.bethjoyphotos.com/journal / [email protected] / 734-660-4980 / FACEBOOK / T: @bethjoyphoto / I: @bethjoyphoto / PINTEREST
John and I are a husband-wife wedding photography team based near Ann Arbor, Michigan. :) We've been married for 3 crazy, beautiful years and are best friends, doing what we love, together! We create clean, light-filled, ethereal images that tell the story, display the emotions, and capture the intimacy of a wedding day. We believe that the wedding experience is not just focused on one day; instead, it is the beginning of a journey, and we are honored to document these memories that our couples will treasure for a lifetime.