Happy Tuesday everyone, I do hope you had a great bank holiday weekend, our last bank holiday weekend before Christmas, eek! We are starting off the week of real weddings with this superb wedding from Benjamin Stuart Photography. It's the wedding of Tessa and Stephen and it is totally gorgeous. They chose their local village hall as their reception venue and then enlisted a grade a list of wedding suppliers to transform it into the most beautiful area possible. Bringing the woodlands of the surrounding areas inside, the results are beautiful. The colour scheme of white, green and blush works brilliantly, bringing a calm, relaxed and laid back feel to their day. I am loving the hanging decoration, the bridesmaids dress, Tessa's gown and the amazing flowers. What a totally gorgeous day.
Beautiful location with the perfect weather, we even got the most incredible sunset to top off the day! The atmosphere and buzz from family and friends was magical, the vicar commented on the amount of clapping and cheering when she announced we were now married!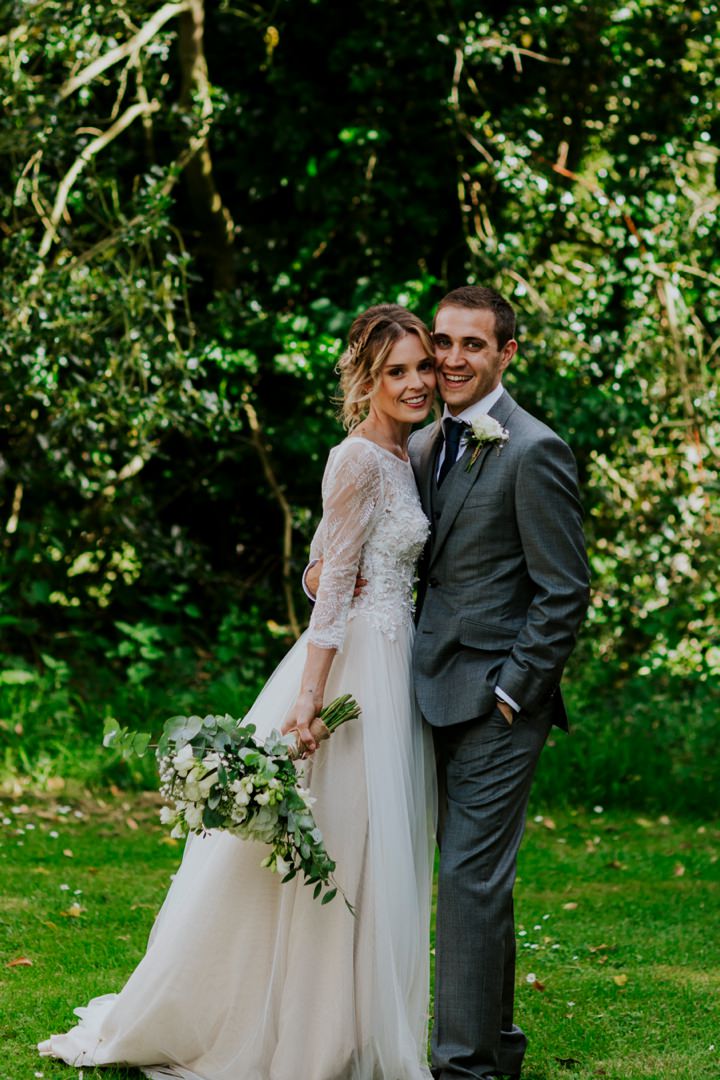 Tessa and Stephen were married on the 27th May 2017 in a ceremony at All Saints Church followed by a reception at Wytham Village Hall, Wytham, Oxford. 'I grew up in Oxford and always loved Wytham and after living in London for a number of years we moved to Oxford after travelling the world and wanted our wedding to reflect our current life. We wanted a venue that reflected us as a couple and that we could put our own style to, rather than something flashy which isn't us. We had 85 guests and the wedding took about 9 months to plan.
How they met
We met at University and were together a year before separating and I went off to Africa. After a 6 year break we began hanging out as friends again and got back together, which was over 4 years ago now.
The Proposal
We were travelling around Asia and we were in Bagan, Myanmar for Christmas and New Year. On 4th January 2016 he took me for a surprise sunset boat trip on the Irrawaddy River, just the two of us and the captain. The boat stopped as the sun was setting and he got down on one knee and asked me to marry him. I was obviously thrilled but didn't have words other than yes!
How did you allocate your budget?
We didn't have a set budget but we knew we wanted to keep cost as low as possible, without it being a huge amount for us to do in the run up or the night before. Having a village hall venue where we could choose our own suppliers helped keep the cost down and we had been to several weddings the year before so found out what we could save on and what we needed to be prepared to pay out for.
Where did you splurge and where did you save?
We splurged on food as we wanted to make sure our guests were treated to a feast! We had lots of drinks and a free bar but that was actually quite reasonable as we got from a big supplier. We had someone do our décor and she transformed the hall, but considering how hard her and her team worked it was good value. We splurged on flowers but the florist is a family friend so it should have cost more than it did. Our DJ came from London and was amazing, but again very reasonable as we knew him through a friend. Going by word of mouth or through friends/people you know is a great way to save money but ensure quality.
Why did you choose your photographer?
Stephen was recommended Ben by a work colleague who had recently got married. We explored his website and liked his documentary style.
The Dress
The dress was by Watters. I had no accessories as I wanted to focus on the dress and hair and make up. The shoes were actually from Mark and Spencers and worked perfectly with the look I was going for.
The Suit and Bridesmaids
The suit was from a high street retailers and the bridesmaids dresses were from ASOS.
Theme or Colour Scheme
I wanted to bring Wytham woods inside the hall, as the hall is in a huge field which is surrounded by woodland. I wanted to have as much green foliage as possible and the flowers to be white with some hints of blush to compliment the bridesmaids dresses. I also had some thistles as I love their silver/blue colour.
Flowers
I had a real range as we said to Dandy, our florist, to just get what was in season and coming into Holland. We trusted her and gave her free reign with a set budget. The bridesmaids all had Gysophila for their bouquets, as it is simple and meant there was more focus on the flower crowns.
Decoration
We had lots of flowers and candles in the church. We had green foliage hanging from the ceiling in the hall and festoons. We had flowers everywhere in the hall in miss matched jam jars. The chairs and tables were covered with white and hessian to keep it as simple as possible and we had lots of tea lights. There was a side room which we used as the bar and Hollie, our décor manager, created a vintage pub feel with arm chairs and quirky light shades. We also had Stephen's sister do a huge hessian drop with photographs all over it so guests could have a look when getting a drink. We didn't worry to much about the outside but made sure the cricket chairs had some hessian round them to look more fitting with the theme, the view was enough for the outside so we didn't need much else!
Food
We had canapes when guests arrived. For our starter, we had boards with prosciutto ham, hummus, olive oil and balsamic vinegar, fetta cheese, rocket and sundried tomato salad and homemade bread. The main was guinea fowl and tarragon mash with tender stem broccoli and roasted carrots with a jus. For dessert, we had a trio with lemon tart, strawberry cheesecake and chocolate brownie.
Wedding Cake
We had a naked cake where each layer was a different flavour and there was a layer for our guests who were gluten free.
Entertainment
Just our DJ from London.
Who supplied the stationery?
Our décor manager, Hollie from Daisy Says I Do.
Personal Touches
Just the photographs from Stephen's sister. We both have full on jobs so wanted to be efficient and organised with the wedding planning and get things sorted quickly.
Special Moments or Highlights
Walking down the aisle. When the vicar announced we were now married. Arriving at the venue and having everyone spray confetti all over us. The speeches and the first dance, as well as the dance I had with my 90 year old Nana!
Advice for Other Couples
Don't over think things, if you're happy with a supplier or decision you've made then stick with it. Where possible, use word of mouth, or people you know, so that you have full confidence in them. Keep a To Do List so you can keep track of what you need to do and when. Have a timetable for the day so that your suppliers and your MC, or best man, can keep things to time and you have plenty of time for the dancing, which was a priority for us!
Biggest Surprise
I am so organised there really wasn't any surprises for me, other than the fact that it far exceeded my expectations and genuinely was the best day of my life.
Supplier Shout Outs
FOR MORE INFORMATION ON BENJAMIN'S WORK PLEASE GO TO:
www.benjaminstuart.co.uk / [email protected] / 07738083385 / FACEBOOK / T: @@benjaminstuartw / I: @benjaminstuartphotography

I AM A DOCUMENTARY STYLE-WEDDING PHOTOGRAPHER. I ONLY USE NATURAL LIGHT WHEN AVAILABLE AND THE STORY IS THE MOST IMPORTANT THING. WEDDINGS ARE BEAUTIFUL BUT THEY ARE ALSO EMOTIONAL, NERVOUS AND JOYFUL. I WANT TO SHOW EVERY EMOTION OF THE DAY. I ALWAYS TRY AND BLEND IN AS A GUEST AND BECOME GOOD FRIENDS WITH MY CLIENTS. THAT CONNECTION IS SUPER IMPORTANT

[jprel]