Good afternoon everyone, I hope you are easing yourselves into this short week! Today I am pleased to welcome Dévotion Dresses to the blog and share their wonderful collection with you! From daring low backs and glam applique, to full skirts and sexy lace there's something for everyone! My favourite is definitely this top image, I just the modern detailing and cut yet modest sleeves. Just gorgeous!
The key to a perfect wedding is a perfect wedding dress.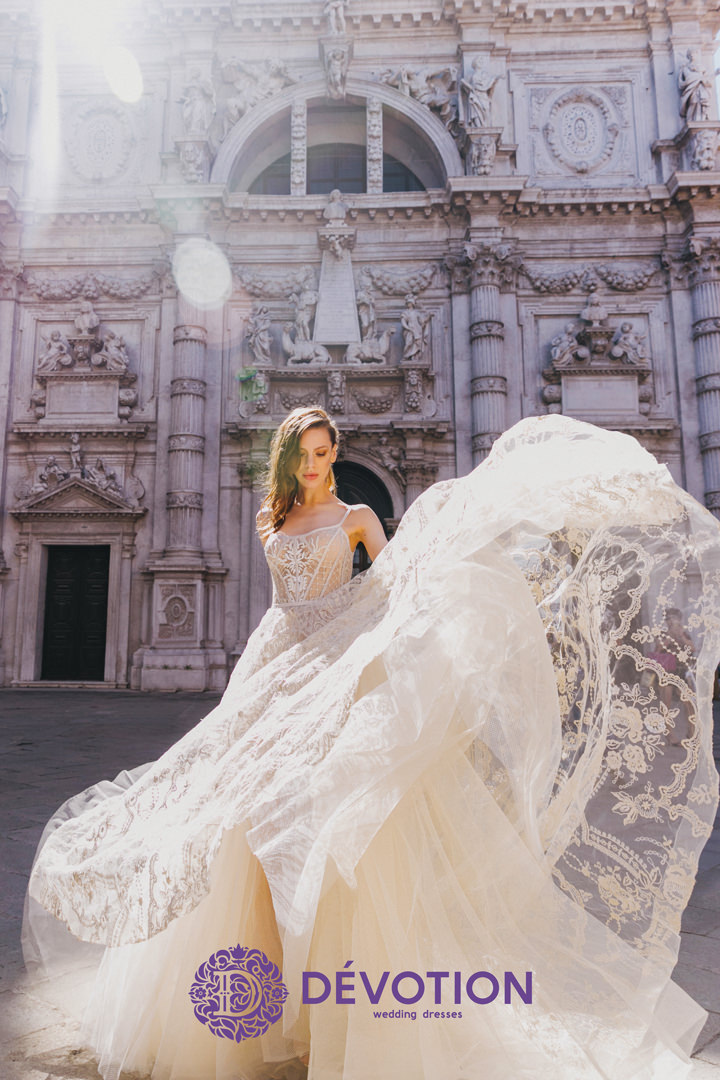 Devotion Dresses tell us more about their gowns and the service they offer.
A breath-taking walk down the aisle is all the more breath-taking with the right wedding dress, which is why DevotionDresses.com is there to cater to every blushing bride. You bring the bridal glow and our dresses will multiply it by 20. Aim for nothing short of perfection with a unique Devotion Dress wedding gown.
All our gowns share the following qualities:
Designed and made exclusively in Europe
Attention to detail in the dress-making process to create the perfect wedding gown is vital to sustaining our timeless European wedding tradition. We employ experienced designers and tailors that work hard to bring you the gown of your dreams. European top fashion houses with factories all over Europe ensure that our offer of wedding dresses is regularly updated to bring you a wide selection of the latest trending designs in the world.
Designed to fit you
Not only are our dresses stylish and unique, but we are also the first European company to manufacture custom sized gowns, as to ensure your gown fits you on your first try. Purchase a gown that truly fits you and accentuates your uniqueness. Our gowns are made from scratch and out of the finest materials.
Uniqueness all around
Not only are all our gowns customizable in terms of size, but a vast majority of our dresses can also be modified in terms of sleeve length, neckline, color, etc. Thanks to our individual approach to your dress being a unique bride is a given. Our designers and tailors with decades of experience will create your gown from the ground up to ensure it is every bit unique and breath-taking.
Maximum chic and perfection are guaranteed with our gowns.
Hottest designs
In line with the latest trends we unite the leading bridal factories in Europe and brings flawless works onto a single platform that can be accessed from the comfort of your own home. Designer quality that is tailored to fit you.
All different and all equally stunning, our clients select from hundreds of designs that are updated on a regular basis.
Regularly updated and filtered
To ensure you're getting the best the bridal world has on offer, we work hard to bring you the hottest and most stylish designs. We work with experienced designers to ensure that your gown is nothing short of flawless and one-of-a-kind. We make sure that when you walk down that aisle, you also walk down a runway.
Use our handy filters to find the dress of your dreams. Share your top picks with your friends, and follow us on our social media accounts for regular updates.
From sketch to doorstep safe and sound
To make sure that your dress makes it to you on time and in perfect condition, DHL Express ensures reliability and on-time delivery of our products. Furthermore, our specially designed boxes are perfect for un-boxing parties and wedding showers, strike a pose!
 
For more information on Devotion Dresses go to:
www.devotiondresses.com / FACEBOOK / T: @devotiondresses / I: @devotion_dresses / PINTEREST
this is a sponsored post