Good morning everyone – welcome to the weekend! I hope you have something exciting planned today, the weather is supposed to be beautiful so get out and enjoy! I'll be moving into my new house and getting stuck in stripping wallpaper, so think of me when you're enjoying this sunshine! I'm thrilled to be bringing you this week's Boho Pins edition – I have a soft spot for warehouse spaces and in Sheffield especially (where Boho Towers is based!) we are inundated with cool old industrial buildings getting revamped and developed into trendy warehouse spaces. For the bride and groom wanting a large blank canvas, with a touch of heritage, warehouse weddings are the way forwards. From lighting and props, to foliage, trees and drapery, the possibilities are almost endless… what would you do?!
Image Source via ANETA MAK PHOTOGRAPHY – MC Motors in London is one of my favourite wedding venues, a true industrial venue, that is oozing in urban style.
Image Source via The Roberstons – I love the light open ceiling in this wedding, mixed with the greenery on the tables is just wonderful.
Image Source via Emily Delamater – LOVE this lighting, it really adds a sense of style to any wedding and a real industrial touch.
Image Source via India Hobson  – We have lots of industrial venues here in Sheffield and this one at Kelham Island is one of the best.
Image source via Clean Plate Pictures – Such a lovely ceremony area, the lighting really adds to the overall feeling and the brick wall, makes it feel warm, yet urban at the same time.
Image Source via Kate Ignatowski – I love the addition of lots of foliage in industrial spaces. Make the most of the high ceilings and fill it up!
Image Source via Dan Brannan – Lots of warehouses have roof struts and girders which you can use to make a false ceiling, hang decorations off and really make a feature in the room.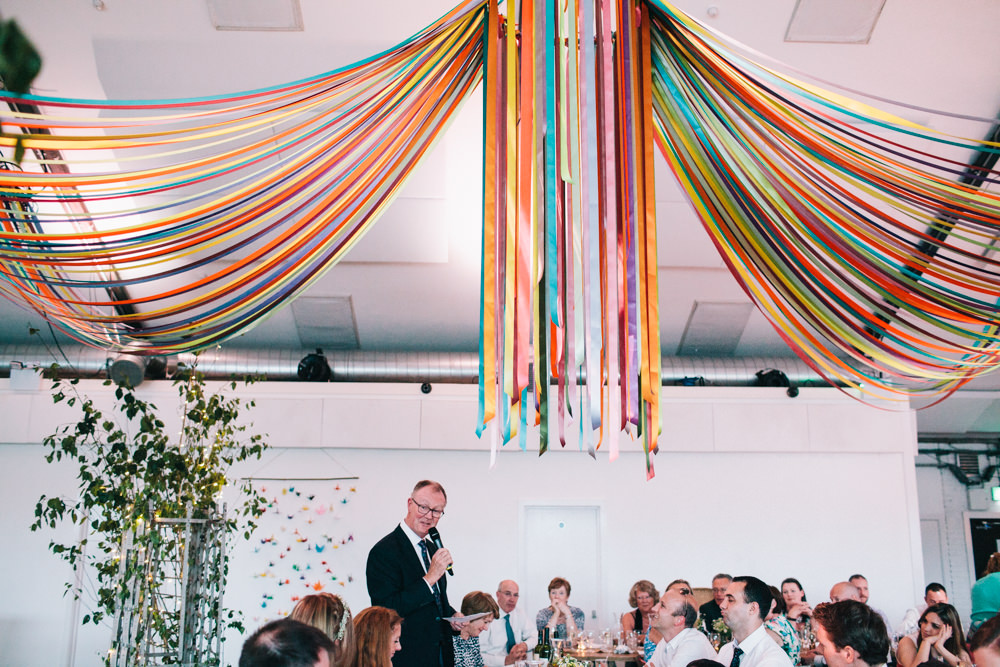 Image Source via Robbins Photographic – This bright and colourful industrial wedding shows that not all are grungy and gritty!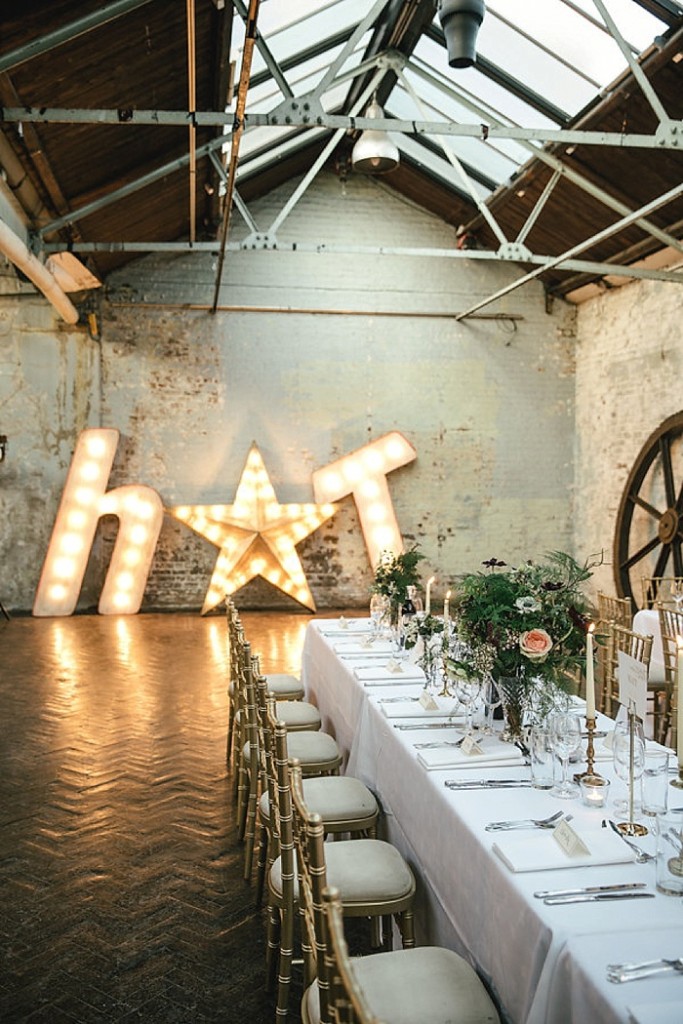 Image Source via KAT HILL – The best thing about big open spaces … huge props and decor like these light up letters!
Image Source – Finally, I love Image Source. I've been a few times now and the space, including the food and vintage caravans, is just amazing!