Happy Monday everyone, I hope you all had a good weekend? Mine was great, Dexter had his first sleep over at Nana's house for months which left Nik and I with a free night. We went to our friends house for a socially distanced BBQ, which was great fun. Saturday day we went to an Alpaca farm with some friends and on Sunday we went on a walk with some other friends. Isn't it lovely now we are allowed to see people again! I have the most wonderful wedding to share with you today. A perfectly laid back day filled with bohemian vibes, coupled with a massive party! Gemma and Lewis are the most gorgeous couple, you can tell that they just fit perfectly together. The whole day looks amazing, the bridesmaids in white, the beautiful Portuguese backdrop, the table linen, the flowers. Everything just works so perfectly! Now get me some sunshine!!! Big thanks to Ana Parker for the awesome images.
A never ending party with our favourite people, full of love, laughter, drinking and dancing.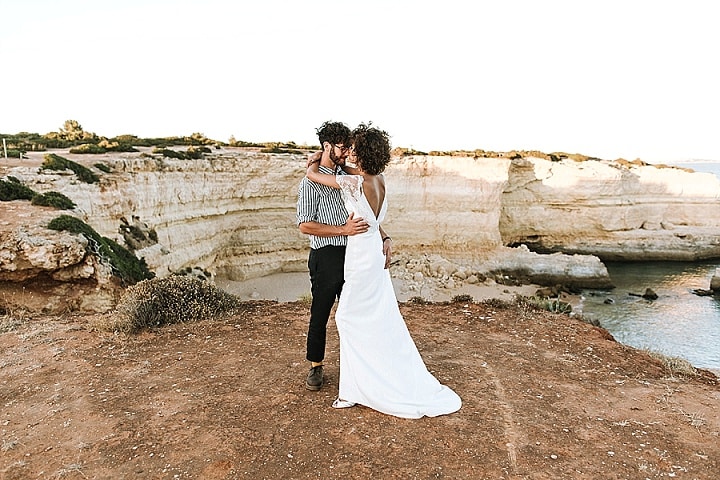 Gemma and Lewis were married on 29th July, both the ceremony and reception were held at Qunita Albasol, Algarve, Portugal. 'Lewis proposed to me in Australia while we were traveling in a camper van up the East Coast. It was so beautiful and sunny that we decided we wanted to get married somewhere warm and by the coast. Lewis's parents live in Portugal and Lewis has been going to Portugal since he was young. We manged to find a beautiful Villa (Quinita Albasol) not far from where they live, which allowed you to host weddings. We didn't want a fancy traditional wedding but one where we could have a big party with our friends and family and this villa suited us perfectly. We had 90 guests and it took just under a year to plan. Lewis proposed in June 2017 in Australia while we were travelling. We got back in August and started planning the wedding in September 2017 for the following summer.'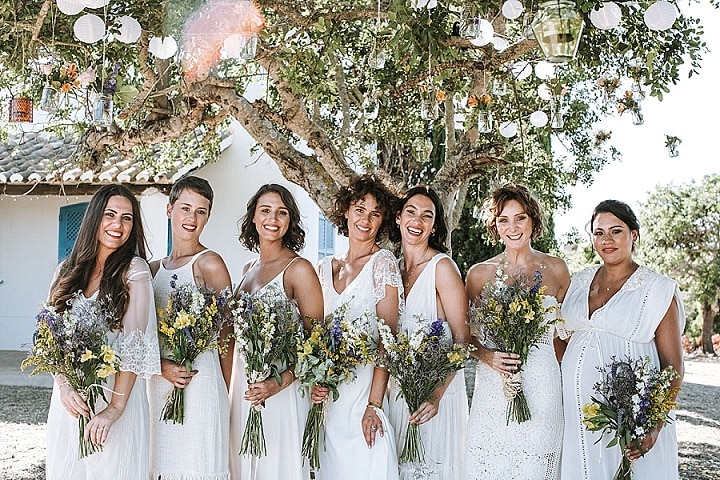 How they met
On a dance floor while out partying with friends. 13 years.
The proposal
We were travelling up the East Coast of Australia in a camper van. We did quite a lot of free camping and Lewis had found this free camping spot. It was dark when we eventually came to it so we couldn't really see much. We drove into the bush for a good 15 minutes and eventually arrived where Lewis said was the free campsite. Not being able to see much we parked up for the night. It was pretty scary and was feeling very wary. The following morning we woke to an oasis, with a salt lake to our left and the sound of crashing waves to our right. We followed the sounds of the waves over a dune to find a deserted beach with a pod of dolphins playing in the sea.
Lewis hadn't planned to propose that morning but he said he knew he may never find a place that was so lovely again on our road trip. We ate breakfast, sat outside the camper van then we went for a walk onto the beach to watch the dolphins again. Lewis got down on one knee while on the beach and popped the question, it was perfect!
How did you allocate your budget?
We knew we had a set amount and just stayed within that budget.
Where did you splurge and where did you save?
Splurged on the sound system and music equipment and the flowers and decorations.
Saved on the venue – it was great value for money. Friends could also stay at the villa.
How did you choose your photographer?
Lewis found her on the internet one evening while we were doing some wedding planning and having a few drinks. Her website just seemed to suit what we were looking for. She was everything we wanted and more. Ana was amazing.
The dress
Dress by Charlie Brear bought at white Closet in West Didsbuy Manchester. Shoes by Rachel Simpson. Accessories: wore two gold bangles on my arm made by my friend Alice Bessey Wedding bands made by our friend Lucy Morton
The suit and bridesmaids
We didn't go traditional here! Groom -striped blue and white shirts (from a kind of Guise ) with navy trouser (from Reiss), mustard socks and brown Dr Martens (trousers where altered so that the socks could be seen)
Groomsmen – the same as groom but plain white shirts, long sleeved rolled up.
Bridesmaids – all wore different cream dresses that they picked from different places.
Flowers 
A mixture of wild flowers (yellows, purples and white) with lots of greenery.
Decoration 
We had lots of flowers around the venue, greenery and flowers in different coloured glass vases. We had a long line of flowers hanging down in the middle of the marquee where we ate and each table had a vase full of yellow flowers in the middle. We had a number of fairy lights around the venue outside too.
We also used barrels and crates of lemons, oranges and limes to decorate the entrances of the marquee.
Where we got married was under a tree, the tree was decorated with lots of flowers (same as in bouquets) in small vases and fairy lights. There was an aisle made from hessian with shepherds hooks down both sides of the aisle with more flowers in (again similar to bouquets).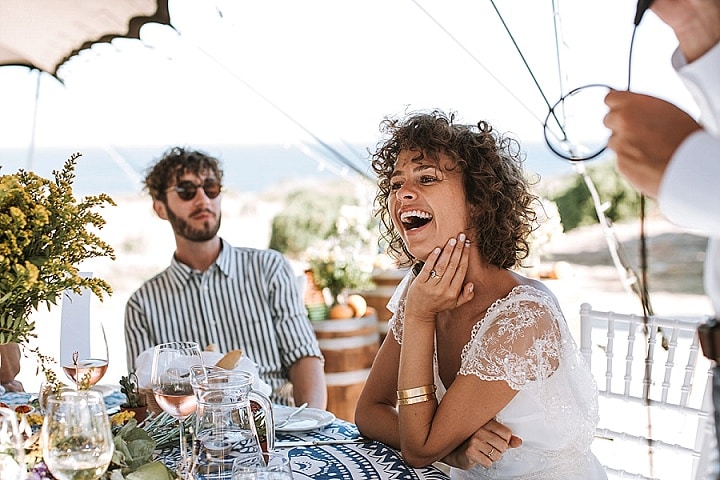 Food
We didn't have a traditionl 3 course meal. Canapes after the reception. Fish Cataplana (Traditional Portuguese dish) which was cooked in front of the guests. BBQ Served with salads and traditional Portuguese's dishes. Deserts a mixture of small deserts which included  pastel de nata, panna cotta, etc
Wedding cake
We had a cheese tower instead
Entertainment
Lewis and our friends DJ so they provided the music all day and night.
Who supplied the stationery?
We made ourselves.
Where did you go on your honeymoon?
We own a camper van, which we drove to Portugal in. Then after the wedding we drove up the cost of Portugal and into Spain. Camping and staying over in different places along the way. What an amazing time we had!
Personal touches
The whole wedding had our own personal touches as we picked and designed everything that we wanted on the day. We planned how we wanted the tables to look and bought the table cloths, we made the table plans and table names (each person had a cactus with their name on it). Lewis bought the barrels and fruit to decorate the entrance of the marquee.
We worked with the florist to decorate the venue with fair lights and flowers.
Advice for other couples
To enjoy every moment of your day and do it just how you want to. We felt so relaxed and calm on our wedding day because we did what we wanted to, we literally had the best day ever from start to finish.
Supplier Shout Outs
For more information on Ana Parker go to
www.anaparkerphotography.com / FACEBOOK / INSTAGRAM / PINTEREST