Happy Monday everyone, I hope you are well and have had a good and restful weekend, did you have snow? If so I hope you managed to enjoy it and it didn't get in the way of your plans too much. We have a week full of amazing weddings to share with you, starting off with this totally gorgeous day that has been submitted by Emma at Heart Full of Tea. Melissa and Alex had a lovely laid back day, with a festival vibe and lots of beautiful boho details. Jam packed with the most amazing DIY origami fish that filled their marquee with so much fun and colour. As well as hanging geometric shapes, pom-pom chair decor and a some amazing colourful dream catchers. This wedding is just gorgeous and will definitely one of favs of 2017!
Our wedding was a joyous coming together of two families and their friends in beautiful surroundings, that we could also call our home. Full of smiles, tears, laughter, well wishes and so much love, it was the best celebration we've ever had.
Melissa and Alex were married on the 3rd September 2016 in a ceremony at St Matthews church in Netley Marsh followed by a reception on their family farm called Thornlands Farm in Fletchwood, which was just a short walk away from the church. 'Originally we wanted to have the ceremony on the farm, but after looking in to it, we decided to do it for real (legally), in one place at the local church where both Melissa's grandparents and mum and dad got married. Neither of us are religious, and never thought that we would get married in a Church but we are very happy that we did. Our reverend was the nicest person we could of wished for to prepare us for the day and perform the ceremony. He made us both feel very at ease and encouraged us to 'live in the moment' which is eventually what made us decide to have an 'unplugged' wedding. 'We had 40 guests for the day and then another 70 came in the evening. We got engaged on Melissa's 30th birthday in September the year before, and we got planning not too long after that, which would make it just under a year to prepare for the day.'
How they met
We met whilst at university on a night out in Southampton. The first time I saw Alex, it really was love at first sight. Tall, dark and handsome – just like the saying – I had to speak to him. Since then, we've been together for 10 years.
The Proposal
The proposal was half way down Snowdon in Wales. Alex picked a rock off the track to sit on and we overlooked the surrounding mountains and lake. He was very sweet. I couldn't even look at the ring as I was so emotional. I was overcome with laughter, tears and disbelief/relief! I remember going back to our room and ringing all of our family and friends to tell them personally. My ring was so sparkly!
How did you allocate your budget?
We tried to be as savvy as we could, without compromising on what we wanted. The bridesmaids and I made the decorations, our friends did the catering and the venue was our family farm which helped. We didn't have a specific look for the ushers, we just wanted them to wear suites they already owned or would like to wear again. The bridemaids dresses were £40 each from H&M. The boho/festival look really suited our spending, we made our table plan and signs out of broken pallets found on an industrial estate, our decorations were made from coloured straws and the dream catchers where made from hose pipes!
Where did you splurge and where did you save?
We splurged out on the entertainment, we wanted to create the right atmosphere and music is very powerful at setting the mood. We almost couldn't book By The Rivers but thankfully our bridesmaid and sister Camilla helped towards the cost as a present to us. Melissa also spent more than planned on the wedding dress, but it was worth it – it was perfect, "I felt amazing in it and a completely bohemia look, I felt totally divine, which isn't that how you are meant to feel on your wedding day!". But the whole day would not of been possible if it was not for Melissa's parents, they had put money aside to pay for the whole day which was a great surprise and we are both very fortunate. It meant we could get married much sooner than planned.
Why did you choose your photographer?
Emma from Heart Full of Tea, came very highly recommended and she stood out from the other recommendations for her ability to capture the moment without awkward structured poses. Her pictures were different, natural, bright and contrasted. A style I particularly liked. And thank goodness we had her to share our day with us. I felt like I had made a good friend, she was invaluable, she became my fifth bridesmaid!
The Dress
My beautiful dress was by Yolan Cris and I wore Bella Belle sandals
The Suit and Bridesmaids
The suit was off the hanger from John Lewis so was inexpensive. The bridesmaids dresses were from H&M at £40 each
Theme or Colour Scheme
Our theme was loosely festival and boho. The main colour scheme for the bridal party was royal blue, dusty pink and copper, but everything else was very bright and multicoloured
Flowers
My favourite part of the bouquet was the vuvuzela roses and the yellow freesias, these reminded me of my nan as she had always loved roses and has many planted across the farm. But her favourite flower always was a yellow freesia. This was a symbol of her on the day, as I know she would have loved to have seen a wedding take place on her farm.
Decoration
We made 600 origami fish to hang in the marquee, we got the inspiration for this from a art installation we found at End of the road festival. My bridesmaid also got very hands on and made all the dream catchers and the straw bunting.
Food
Our menu was designed by our friends who founded The Peng Burger company which started serving in one of our favourite music venues in Southampton. They are both very good friends of ours so we knew they would deliver the ultimate burgers for both meat and veggie lovers on the day.
For our evening food we asked a local wood fired pizza company 'Liguori's pizza' to park up on the field. They are often found around the new forest outside lovely country pubs offering locally sourced toppings
Wedding Cake
This was supplied by a family friend who owns The Wonky Cake Company
Entertainment
We had the fantastic By The Rivers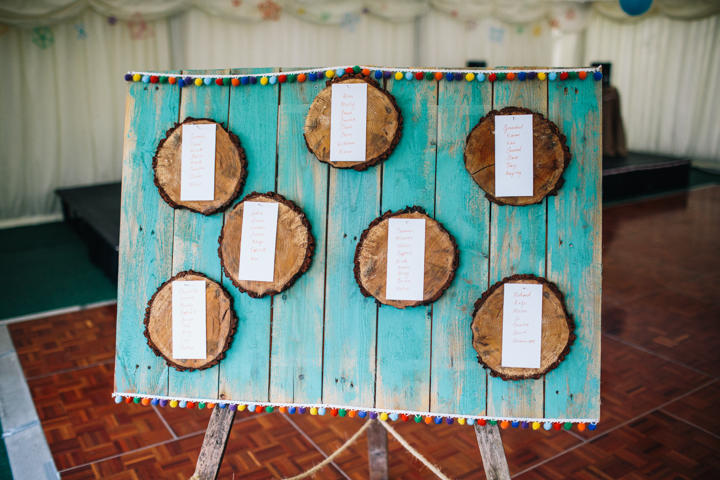 Stationery
I designed the stationary myself. I used watercolours for the background and ink for the writing of our names which I got debossed in copper foil
Personal Touches
My dad made the wooden plates from trees that had been cut down on the farm, and the bridesmaids boyfriend whittled us our salad spoons to match the wooden salad bowls we ordered. We also used our own morris minor to take the bridesmaids to the church and the brides brother found an identical model at a petrol station one day and got his details. He lived only a few miles away and asked us for a £50 donation to a charity as payment for chauffeuring the bride and groom for the day.
Special Moments or Highlights
My favourite moment was the ceremony at the church, this was the most intimate part of the day. When saying my vows I almost fell apart in tears but managed to hold it together enough to get all my words out. Apparently most of the men almost cried at this point, it was a very special moment to be shared with everyone. I'm pretty sure our photographer cried as well!
Advice for Other Couples
Share the load and get as much help as possible. Try not to get too carried away with spending, the only things that matter are the two of you and the people your sharing your day with. Take as long as you need to plan the day and don't rush into to it, enjoy being engaged and having no to do lists! And the most important thing of all – breathe. Learn to slow things down and live in the moment leading up to the day. We took meditation classes run by our reverend and this was probably the best thing to practice. It meant we managed to remember all the important parts of the day.
Biggest Surprise
There weren't any big surprises I would say. Just lots of lovely little ones. The day couldn't have gone better. The morning, the flowers, the church, the photographer, the presentation of the food and the speeches were all better than I could of imagined.
Supplier Shout Outs:
For more information on Emma's work go to:
www.heartfulloftea.com / FACEBOOK / I: @ heartfulloftea