Happy Monday everyone! I do hope you had a good weekend? Mine was full of children's birthday parties and playcenters. I imagine that would be some people's idea of hell, but I actually had a lovely time. Dexter had so much fun with all his friends and I got to catch up with a lot of my mummy friends, so happy days all round!
We are starting the week by taking another trip around the world, this time to sunny Italy, with this stunning Italian summer wedding. Kathryn and Steven chose Italy as Kathryn's mums side of the family is Italian, so it was the natural choice for a destination wedding. They chose a beautiful spot, that didn't need much adding to it, just some flower petals, lighting and their wonderful guests. Davide Zanoni did the honours of capturing the day perfectly and he really did do an excellent job!
The most scenic, relaxed, happiest and atmospheric garden party I've ever thrown! The day all our favourite people came together to share great memories, weather, food, drink and music – the biggest and best party of my life.
Kathryn and Steven were married on the 25th August 2016 at at the Town Hall in Comune di Cavriglia at 11am in front of just 10 people – it was a brief 20 minute ceremony then back to the villa. This was followed by a big ceremony in front of  85 guests at the Amphitheatre in the gardens of  La Selva Giardino del Belvedere, Montegonzi in Italy. The ceremony was conducted by Jo Bertolino at Tuscan Pledges . I saw the La Selva on Pinterest and knew then it was my ideal location! I contacted Francesco straight away…I hadn't been to see many venues in the UK and decided not to visit La Selva until the wedding.  Another reason is my mum's side of the family are Italian and we always visited Italy as a holiday destination growing up. For me it was like home from home and a good compromise between a large wedding and something more intimate. We had 85 guests and the wedding took a very relaxed 9 months to plan.'
How they met
Steve and I met on Tinder in April 2014 – he was the first and only date I went on.
The Proposal
Steve and I were travelling the West Coast of America from LA to Santa Barbara/Monica, Pismo Beach, Carmel by the Sea, San Francisco to Yosemite National Park and finishing in Vegas. He proposed when we were in Yosemite. We decided to hike up to Yosemite Falls Overlook point. This turned out to be a 4 hour hike in 25'c heat! I got half way and literally wanted to give up and go back – Steve dragged me the last hour! We got to the top of the falls and relaxed in the stunning pools at the summit, had something to eat then decided to get some pictures taken before heading down. Steve asked me over to the Overlook Point – a precarious cliff edge with the most incredible views…he had obviously planned to get down on one knee while I was turned taking a picture but instead I asked him to take a selfie. With him being 6"7 he had to take the picture,when I handed him my phone I knocked his hand and then heard something drop over the edge…without even flinching he carried on as normal – took the photo – and then preceded to panic – I assumed he had dropped part of my phone…I hadn't realised he dropped the engagement ring over the edge of the cliff!! Luckily for him it landed about 2 meters down on a pine needle filled ledge – after shouting at him not realising what was happening and still thinking he had broken my phone – he came back up and got down on one knee!!! Note to self or anyone in the future – don't attempt to take a selfie on a ledge while holding an engagement ring…it will only end in tears!!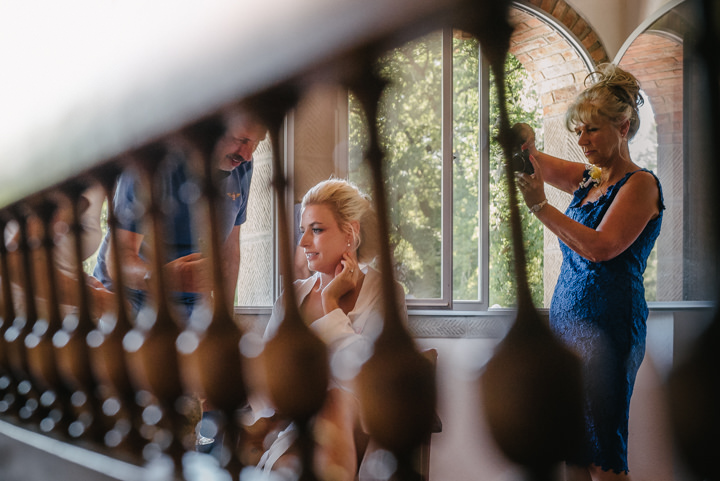 How did you spend your budget?
We spent £24,000 roughly – please note the drop in GBP vs Euro 6 weeks before we went with circa 10,000euros left to pay!
Where did you splurge and where did you save?
We splurged on things we knew our guests would enjoy – a free bar, entertainment and transfers as well as the venue for 16 people (all costs covered by us)
We saved on the stationary & the florist – initially we were quoted 600euros for table floral decorations but given the venue and setting I didn't think it needed anything else. My aunty surprised me – living in Hereford in the 3 months before she handpicked all her red/white/pink rose bushes in her garden, dried all the petals on the Aga and brought them out to Italy with her in huge batches – we used all these for table decorations and as confetti at the ceremony down at the amphitheatre.
Also Steve's mum handmade all the favours – hessian net drawstring bags with flowers sewn onto the front containing blowing bubbles and a glass for Limoncello after shots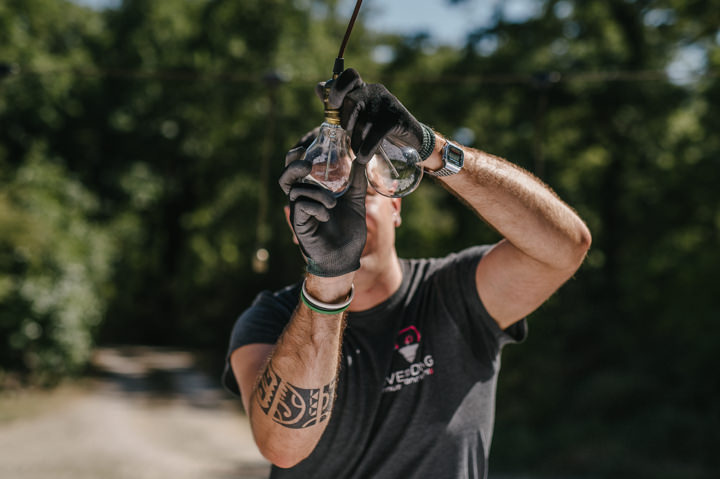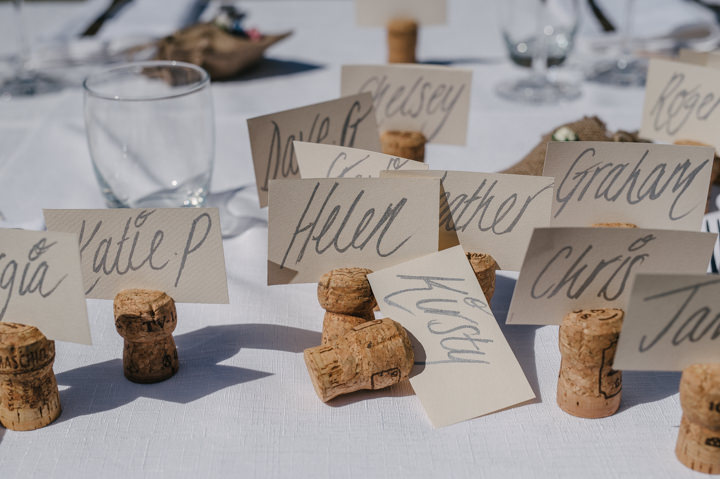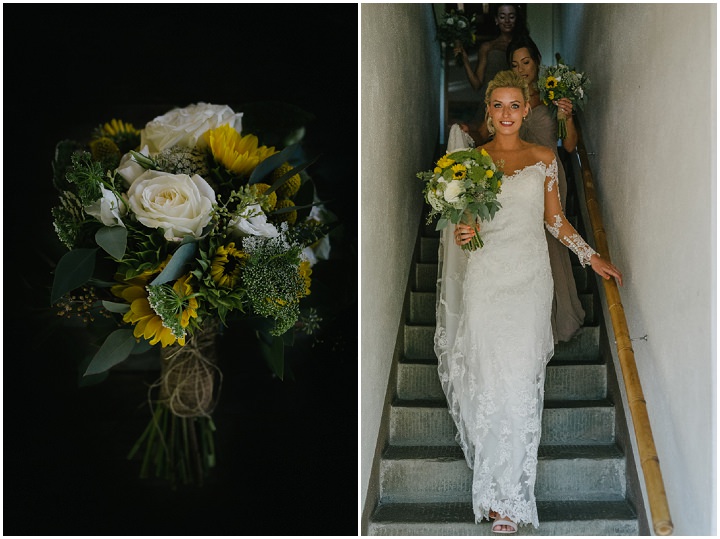 Why did you choose your photographer?
Davide had photographed the venue before, knew the setting and was a friend of Francesco's. I loved the informal style of his pictures and how natural his photos were. I literally didn't see Davide most of the day but clearly as you can see from his pictures he was never far away! He put me at ease – I didn't have to worry once about how I was standing or what pose I was in – he just caught everything in the moment.
The Dress
Dress was by Stella York from Alison Burgess Couture in Stockport. My Shoes were from Dune and for accessories I wore some Diamond and Pearl drop earrings lent to me on the day by my aunty who did the rose petals. I wore no other accessories – keen to keep things minimal.
The Suit and Bridesmaids
Suits were from Whitfield and Ward Wilmslow and Bridesmaid dresses were from Treasure the Day Bridal in Tutbury.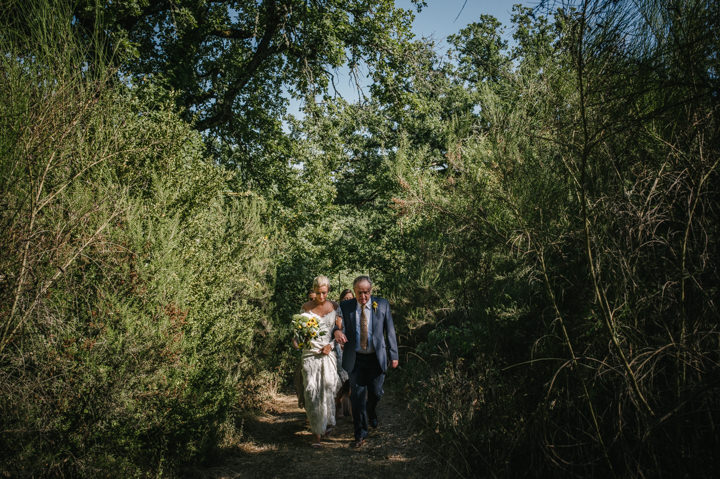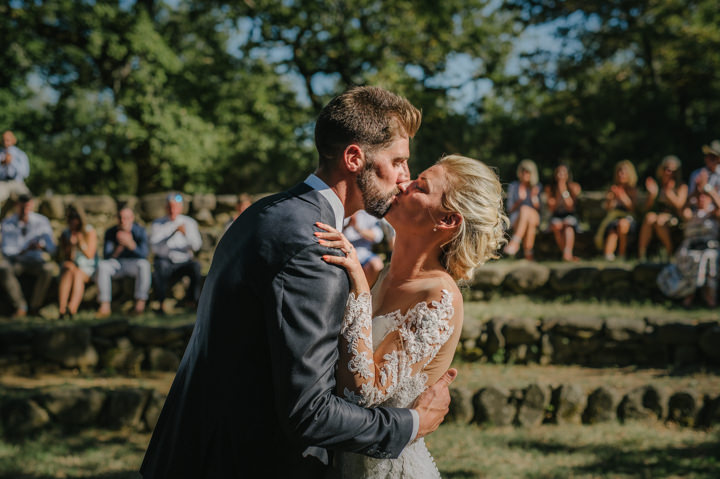 Theme or Colour Scheme
Keeping a natural/neutral theme so earthy colours
Flowers
Stiatti Fiori provided the bridal and bridesmaid bouquets – White roses, sunflowers, green leaves.
Decoration
None – we opted for low hanging outdoor bulb lights instead – to go with the simple garden party theme
Food
We had a selection of canapés, followed by starters served as a buffet, a pasta course, Main course served at the tables of pork or chicken or eggplant, dessert served as a buffet  and  in the Bar Corner Coffee & Italian liqueurs (Limoncello, Grappa, Montenegro, Nocino).
Wedding Cake
I wasn't really a fan of having a wedding cake – so opted for just a mixed fruit tart – I didn't follow tradition of cutting the cake – instead we had it on the table for people to help themselves
Entertainment
2 lovely Italian girls played acoustic selection for us from the ceremony till mid dinner (4-8pm).  2 fantastic guys performed our evening entertainment Guty & Simone.
Stationery
Our Usher Darren Alexander has a local printing business – NCA design & print in Stafford – he produced and printed the Menus for the day. We had no other stationary
Personal Touches
Jo read out our pieces to each other in the ceremony – it was so personal and heart felt. We said our own vows and had a 'wine box ritual' – in front of all our guests we both chose a local bottle of wine from the local vineyard, we put it in the wooden box with our letters to each other – we then sealed the boxed with nails and were told by Jo to open it in a years' time on our anniversary.
The table place settings were hand written on cream card by me and placed into Champagne/Prosecco corks – Steve and I saved all the corks ourselves over the 9 months before and brought them over with us – each from a bottle we shared together or with friends – 85 bottles of pure joy!
Steve's best friend Matt Domville played on his guitar and sang 'Wings' by Birdy as I walked down through the amphitheatre to the ceremony
Marina Tombs – one of our close family friends and guest is Italian and she performed all the legal translation at the Town Hall ceremony in the morning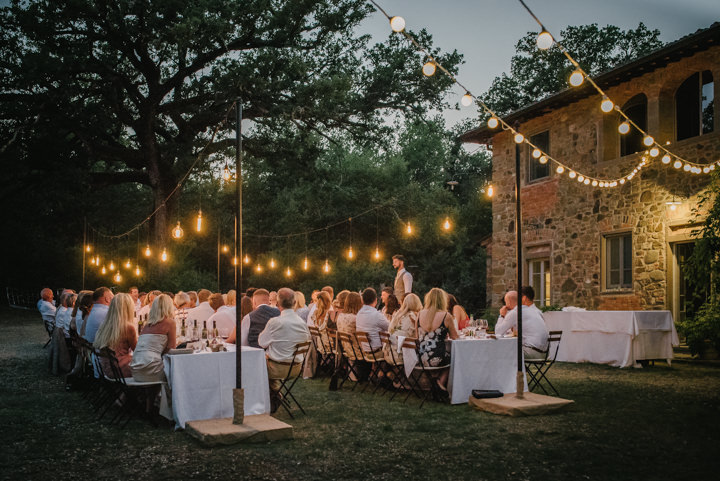 Special Moments or Highlights
The gorgeous legal ceremony at Cavriglia Town Hall listening to the traditional Italian vows in front of just our parents and my sisters (10 of us in total) with Marina Tombs (friend and guest) translating for us. Steves best friend Matt Domville playing 'Wings' by Birdy as I walked down through the amphitheatre to the ceremony. Everyone sat at the table toasting during the speeches after the sun went down with the lanterns above us and drinking the local Tuscan wine.
Advice for other couples
Go with your instinct – don't over complicate your decisions and don't be afraid to keep things minimal. Make sure you have the people you want there first – my mum said right from the start – "make sure you and Steve invite your friends first and family second" – that for me meant so much! We had everyone there who meant the world to us. The day goes so quickly – the only think I wish I had done and didn't was for Davide to have filmed the day – I wish I could watch it all back
Biggest Surprise
That it all came together with no input on the day from me – Looking out from the arched windows in the villa and seeing the incredible job that Steve, the best men and my uncle Geoff had done putting the seating arrangements and the table set up all together with no female input! I couldn't believe they'd managed it all!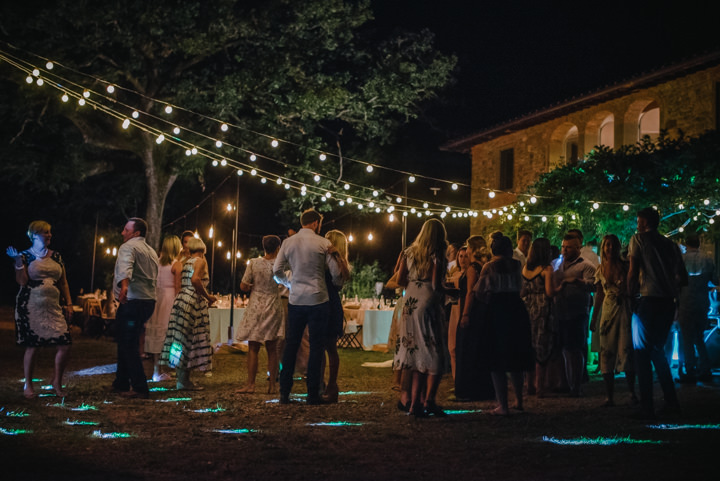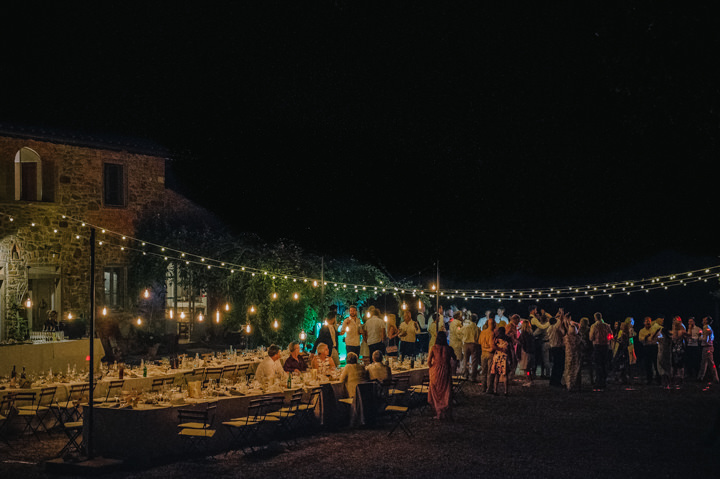 For more information of Davide's work go to:
www.davidezanoni.com / [email protected] /  +393480746408 / FACEBOOK / T: @davidezanoni / I: @ _davidezanoni_
Born and raised in Milan, I graduated at the ISA School of Art as well as at the Italian Institute of Photography IIF. Also, I am member of the WPJA, Wedding Photojournalist Association. I love telling stories through pictures and I always try to find the best way to capture the spirit of the wedding. My passion for photography comes from a curiosity to understand the world. Curiosity is an essential feature for those who want to approach photography.
Due to an email issue if you have emailed me between the 2nd & 9th of December, please resend it.
X