As the temperatures here in the UK drop to freezing, I thought it would be the perfect time to take you off to warmer climates and enjoy some summer sunshine! Today we are heading off to Costa Vincentian for this gorgeous laid back Portugal Wedding. Hayley and Tom visited this particular spot on many occasions, so it seemed like the logical step to hold their wedding there. Holding their wedding day at a yoga retreat meant the whole vibe was laid back, chilled and totally them. With rustic touches seen in the flowers and decor this wedding captured by Matt and Lena Photography is just perfect for a cold winters day like today.
The day was relaxing, fun and spiritual. A beautiful celebration with a rustic and bohemian feel.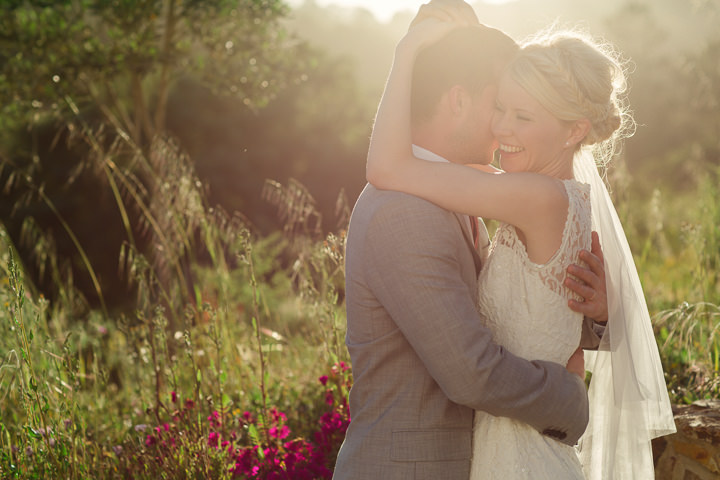 Hayley and Tom were married on the 30th of April 2016 in Orada, Odemira, Portugal. 'Tom and I are both British but we met by chance in Nashville, we happened to be traveling there separately at the time. From there we lived together in Australia for a while before returning to the UK. Tom and I love to travel and Portugal is one of those places we keep returning to. We have spent time at Orada many times in the past and it has become a special place to us. It's a yoga retreat nestled in the valley of the natural park reservation of Costa Vincentian, near Odemira. A unique and ancient valley chosen for its powerful tranquility and beauty. We feel one with nature here in this spiritual place and it was the only choice for our wedding. We had 40 guests altogether, and it took us about a year to plan the wedding. The people at Orada were amazing and helped so much in the process. We had the place exclusively for a few days which was great having friends and family around to enjoy all the lead up to the wedding. Having our closest family and friends staying at Odemira was important to us, people came from all over the world to celebrate with us and we wanted to spend as much time as we could with them.'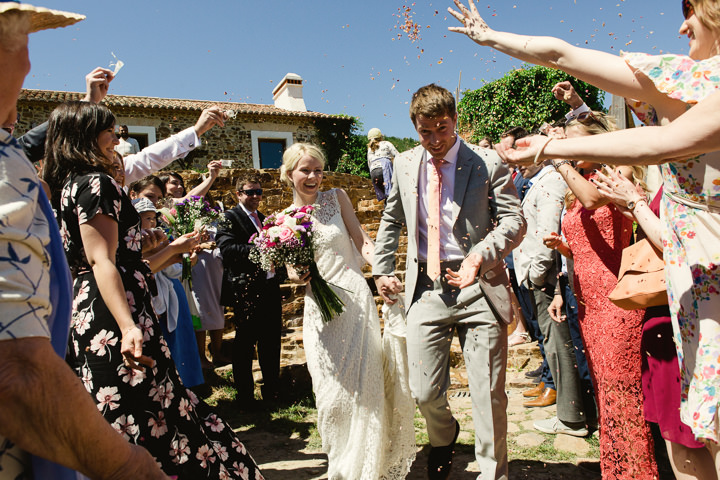 How did you choose your photographer?
We wanted lots of natural photographs, capturing the venue and the day – I love dusky photographs and lots of natural beauty in the surroundings. Matt and Lena were the perfect choice.
The Dress
My dress was Giovanna from Phase Eight Bridal and my shoes were from New Look.
The Suit and Bridesmaids
Tom's suit was from Reiss and the Bridesmaid dresses were from ASOS

Theme or Colour Scheme
The bohemian theme of the wedding went hand in hand with the venue. We didn't particularly have a colour scheme but we wanted a natural look with a bit of a rustic floral design.
Flowers
My bouquet and the centrepiece flowers for the table were an eclectic mix of wildflowers with a few roses and lilies.
Decoration
The yoga temple where we held the ceremony and the studio where we had the reception were beautiful in their simplicity, we didn't have to do much to make it amazing. There was a bit of bunting on the wooden beam ceiling and the table was adorned with wild flowers. The crockery was traditional Portuguese clay plates with a blue and white, azuljeho style napkins. Together with our floral design table stationary and kraft card menus. Rustic and eclectic elements in a very intimate and homly space.
Food
For our meal we had soup, arroz de maricos (sea food rice), feijao, vegetables/baked potatoes. Everything was made traditionally in the Orada kitchen and the vegetables all came from the organic gardens. All the wine came from the Alentejo region of Portugal.
Wedding Cake
We opted not to have the traditional wedding cake but we had an assortment of Portuguese desert, pastries and cakes.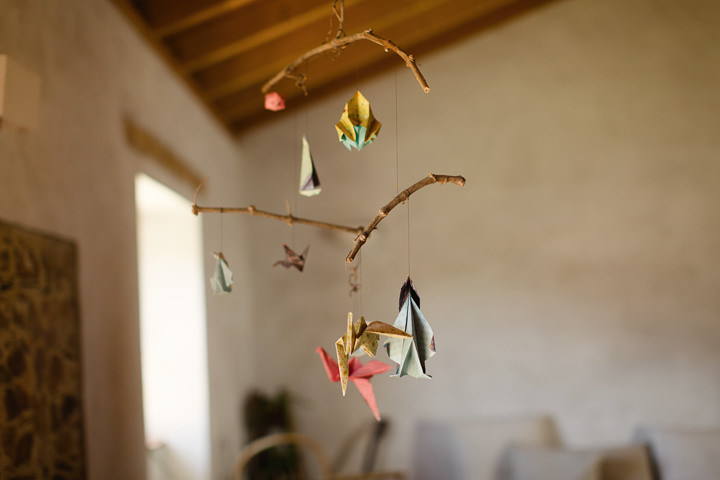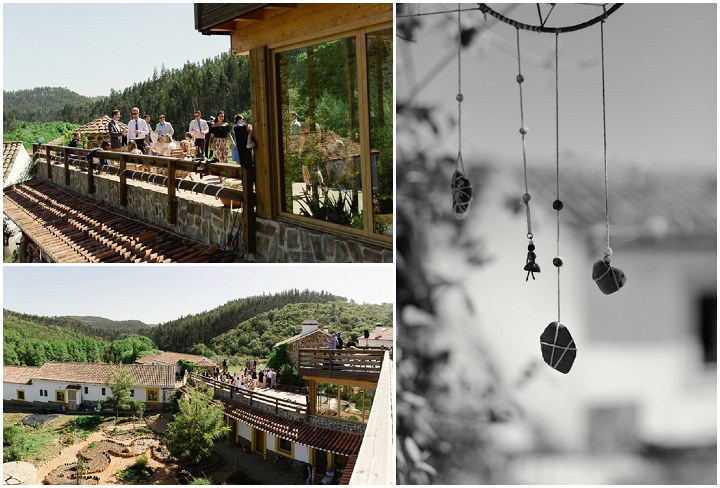 Entertainment
Our band was Hugo and the Munchies and they plaid though out the day, during the cocktail hour. In the evening a friend DJ'd.
Personal Touches
The ceremony was really special. My two brothers were the celebrants and did the blessing, making it so touching and personal. My nieces did a reading, it was wonderful. The speeches as well were so moving but also hilarious at times.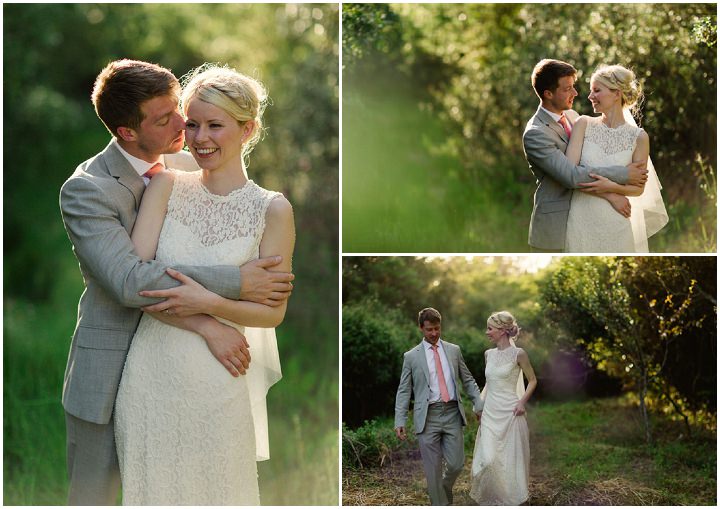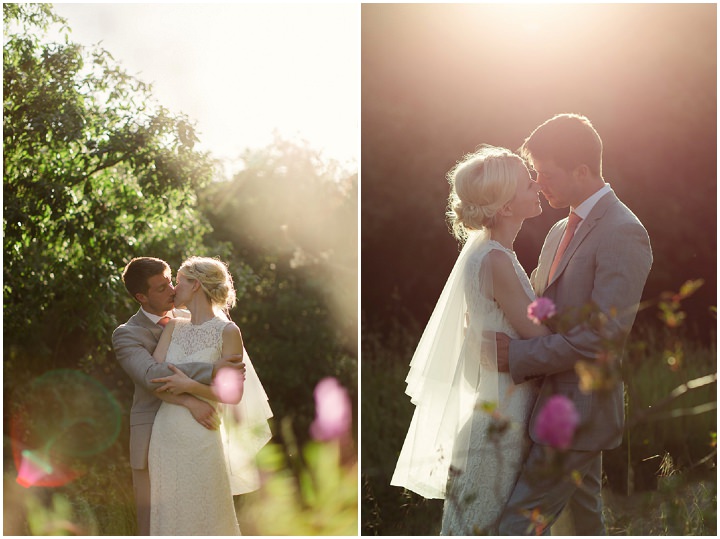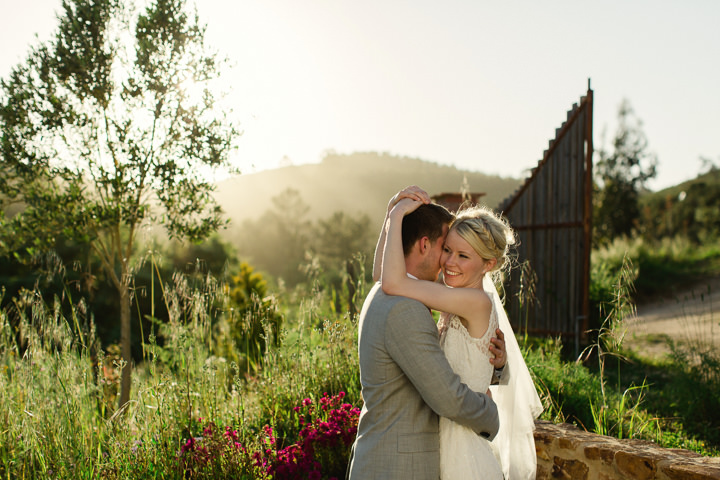 Biggest Surprise
There weren't really too many surprises on the day, everything was very chilled. The reception space was amazing, it was covered in wall to wall windows and had the most amazing views. These windows were open as it was Spring and the evening was warm. Once people had a bit too much to drink a friend of ours accidentally fell thorough one of the open windows on to the awning. He was ok, he didn't fall far, but once everyone got over the shock we closed all the windows and continued to party!
Advice for Other Couples
Take it all in, enjoy, because it goes by so fast.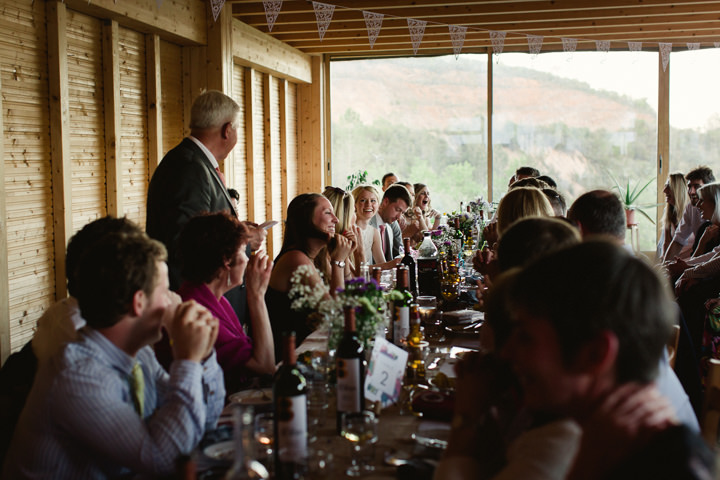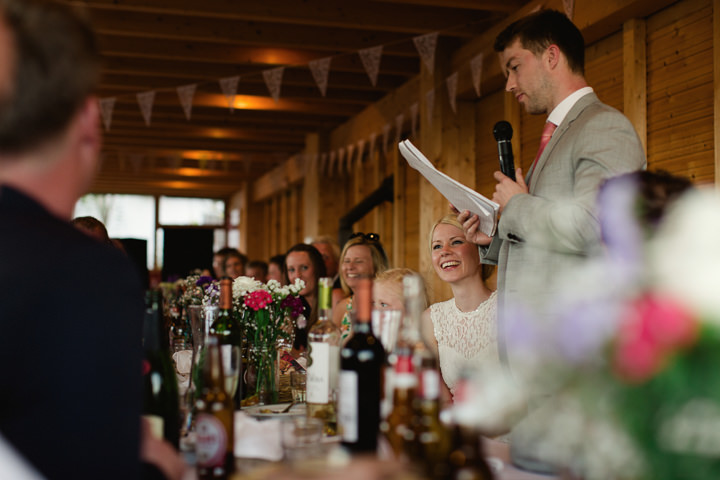 Supplier Shout Outs
FOR MORE INFORMATION ON MATT AND LENA'S WORK PLEASE GO TO:
www.mattandlenaphotography.com / FACEBOOK / I:mattandlena / PINTEREST / @Matt_and_Lena
We are a husband and wife wedding photography duo based in Portugal. Two photographers in love with beautiful light, adventure and each other. We love the freedom of creativity wedding photography offers.  Our style is a combination of art and photojournalism. We work with natural light to create images that tell the story of the wedding day, not just how it looked but how it felt