I have a gorgeous wedding for you today, I absolutely LOVE it! I thought it came from the US when it was first sent to me, but actually it took place in Southampton. Lou and Aaron took on the theme 'We go together like peas & carrots' and have created a wedding brimming with absolutely gorgeous details. The pale green and pink flowers are stunning, as are all the shabby chic and the rustic decorations in the marquee. I just love the details in this wedding so many beautiful things to look at, as well as the outfits, the bouquet, the farm transport as well as the super cute puppy that Lou got as a wedding present from Aaron. BIG thanks to Hayley Savage Photography for this perfect submission.
Amazing! The best day ever, we have both never smiled so much. It was everything I wanted & wished for, how it made us feel, the look of it was really us and went well with the venue, it was just truly magical.
Lou and Aaron were married on the 21st June at Christ Church Colbury followed by reception at Longdown Activity Farm, Deerleap Lane, Ashurst, Southampton (a local visitor attraction run by Aaron's parents). 'Aaron's mum Dawn had always loved the little church a few meters from the farm and both of his parents are friends with the Vicar Kate Wilson or 'Vic Chick' as she called herself – although Kate retired before we got married she came back especially to perform our wedding ceremony & was amazing! We were originally thinking of going away for our wedding as we both don't really like attention, but after chatting to our parents we decided to do it at Aaron's parents local church and have a marquee on the front lawn of the private cottage within the farm grounds. We had 120 guests on the day & around 50 more to the evening. Within a few weeks we had booked the key elements (church, photographer & videographer) and I knew the colours and style we wanted to go for (rustic, romantic & pretty).'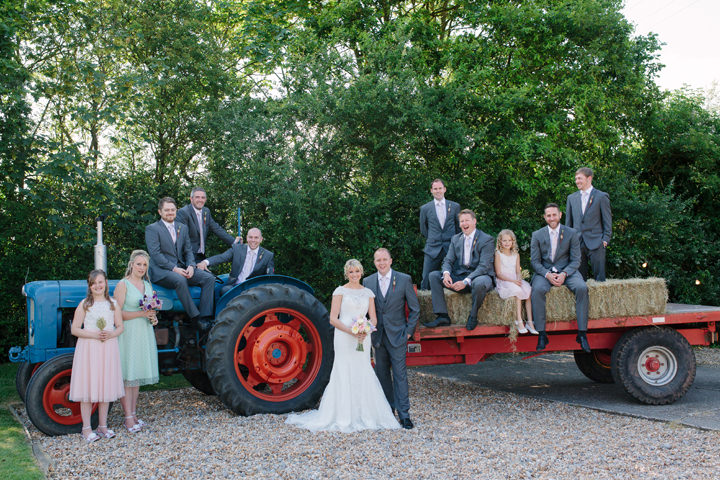 How they met
We had been together just under 3 years when we got married, we had lived together for 2 years in our own home. We were set up by my best friend Gemma & her partner Rich who worked with Aaron. I took nearly 2 months from then for Aaron to kiss me – we were so daft & too shy to admit we liked each other – which I think is kind of cute looking back. Within a few months Aaron moved back home to the farm & I partially moved in too so we could save for our first home – which we eventually bought in June 2012.
The proposal
Aaron proposed to me on Saturday 5th January 2013, in New York! We were in New York with 3 friends to go to a wedding & decided to make a little holiday of it. I was so surprised Aaron proposed! On the Saturday morning we went to the Rockefella centre to view the Empire state building and after we walked to central park. We got to the boat house & I lit up as I knew it was famous & had seen it in films. We got a table looking over the frozen lake, had something to eat & a glass of wine, where I am a photographer Aaron suggested getting some good shots back over the park from the secluded side of the boat house after lunch, so we walked round and with only a little squirrel watching Aaron hugged me and started saying how this had been the best holiday ever & the only thing that would make it better is if I would agree to be his wife – I was in total shock! I just started shaking and went quiet .He pulled out the ring box (which comically opened back to front & upside down) – I actually forgot to say yes. We phoned both our parents, brother & sister, our 2 best friends & Aaron's auntie before we called our friends to see where they were & met up with them & to tell them the good news, we celebrated with pink champagne. We had a lovely evening meal out just us 2 and had lots of cocktails. My ring was vintage inspired and specially made sapphire & diamonds.
How did you allocate your budget?
We were very lucky that both sets of parents wanted to help out as we were the first children to get married on both sides of our family. So our parents paid for the catering and marquee which were the most costly parts of our wedding. My granddad (who died just after we got engaged) left me some money so I bought my dress with this, so I felt he was a part of our special day. I called in a lot of favours and worked off some of the costs (DJ & Florist) by doing free work for them in return.
Why did you choose your photographer?
Where I am a wedding photographer myself (www.louosbornephotography.co.uk) picking Hayley as our photographer was one of the first things I did. I love Hayley's style and attention to detail, she is such a lovely lady and pleasure to work with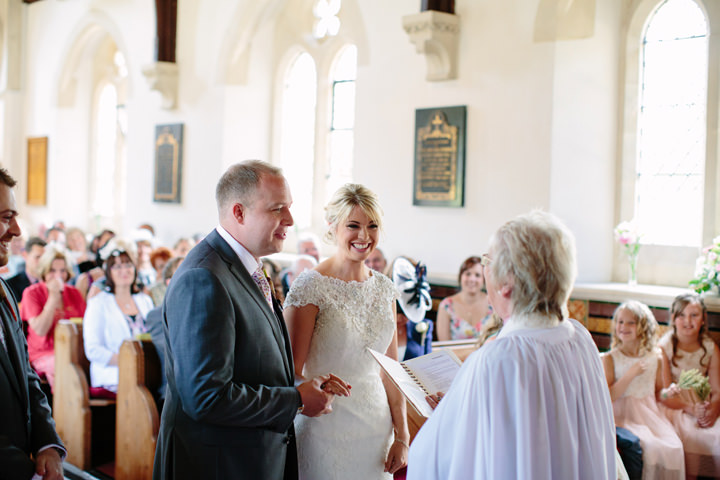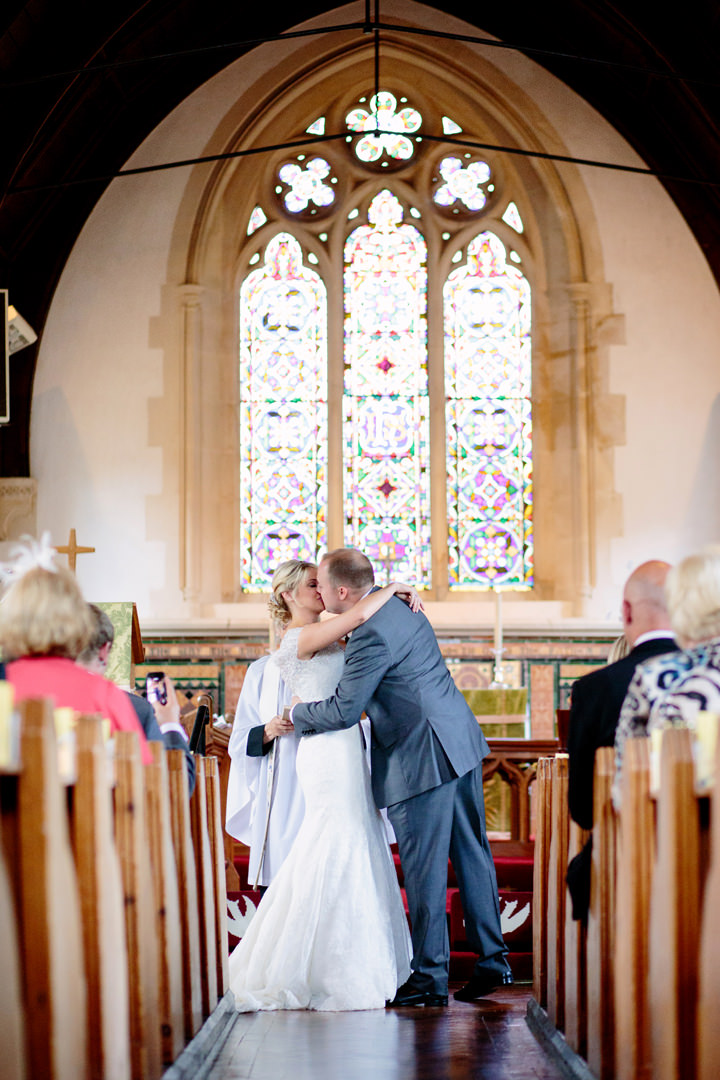 The dress
Ronald Joyce – I found it at Anya Bridal in Droxford. An amazing shop! It was the last shop I visited and the very last dress I tried on. My hair piece was an old brooch I borrowed from a friend – it was her mothers, my bracelet was my Nan's (who was too ill to make the wedding unfortunately). It is known among all our family & friends that I love shoes – so I could not have just 1 or 2 pairs – no – I had 6! Sparkly Jimmy Choos which I walked down the aisle in (something I had always said to my mum – 'I will get married in a pair of Jimmy Choo Shoes', a Bright green pair from Zara with brooches that I had attached to the front to make them look vintage, a pair of Irregular choice (my first semi -designer pair of shoes, that I had ever bought) A pair of pink hunter wellies (just in case it rained or was muddy on the farm), a stunning pair of Harriet Wilde shoes for the first dance & a white leather pair of Office shoes, which my amazing designer friend Samuel Baker decorated & personalised for me.
Buy or DIY your Stationery?
DIY – It took a lot of time and the help of my mum & a few friends but I designed, printed, cut etc all the save the dates, invites, orders of service, table plan, some of the favours (sweet peas seed packets) & place settings.The only pieces I didn't make were the signing board and guest book.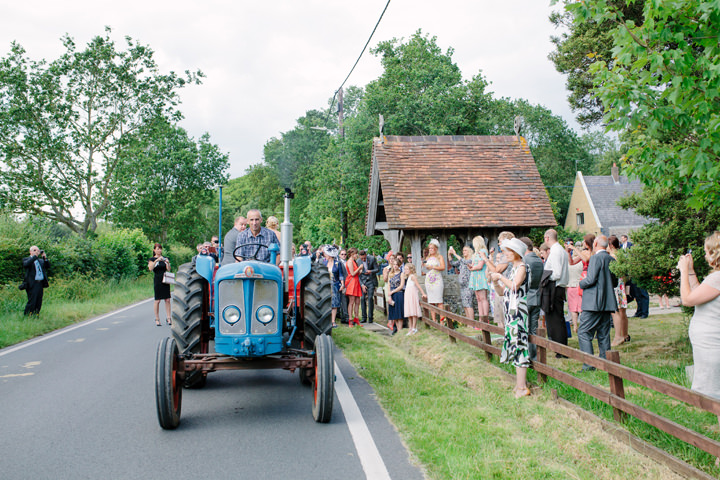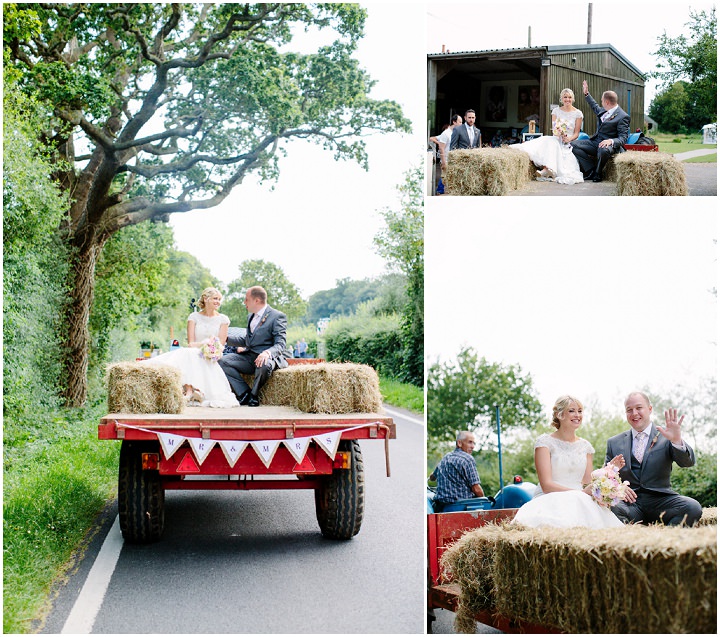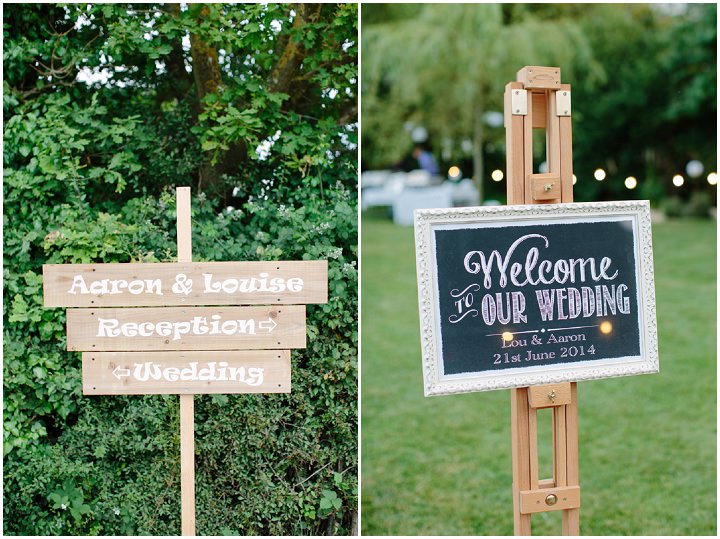 Theme or colour scheme
Pastel colours mint greens & dusky pinks, shabby chic, rustic look.'we go together like peas & carrots' – an old saying. Sweet pea flowers & garden peas – I love peas – I know that sounds odd but I do. Also the flowers and peas were the reason we picked to have the wedding in June as this is the right time of year for these plants. My granddad Reg would always grow peas & sweet peas for me & would try to show me how to grown them myself (I would have made him proud as me & mum grew both this year successfully). Reg died of pancreatic cancer aged 92 a few days after we returned from our NY trip where we got engaged and it was heart breaking for me.
The flowers
Owen & Anna at Little Lillies did our flowers, I love Owen and have begun to work with him at many wedding and also collaborate with him to promote his work. Owen is more of a floral sculptor than a florist, he loves things to be unusual & quirky. The boys had Purple Carrot Button Holes (go together like peas & carrots idea) & purple carrots tied in well. My bouquet was peonies, sweet peas, wheat, roses & little wooden heart buttons. My maid of honour Gemma had similar to me but with more purples going through her bouquet to tie in with the boys carrot. I wanted to keep the tables rustic so we got some tree slices for the bases, vintage milk bottles (from the farm as it used to be a dairy farm) & hand decorated jam jars that I had made with some help from some fab girl friends. These then had sweet peas, peonies & lots of garden peas & grass to make them look like rustic tree stumps in a meadow – that was what Owens brief was.
The decoration
I wanted the marquee to be as plain as possible initially so our flowers & décor would stand out. I bought pompoms and paper lanterns to hang from the marquee ceiling, pretty rustic trinkets and vases to hang in the surrounding trees, bunting, old vintage items we found in our parents gardens (ladder, suitcase, milk urn, metal watering can, lawn roller etc) Photos of our families weddings hanging in the tree outside the marquee. Straw bales outside, old wooden barrels.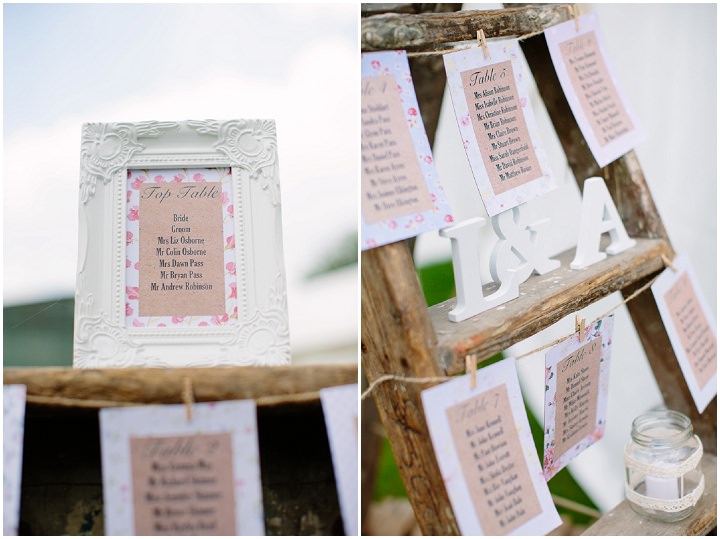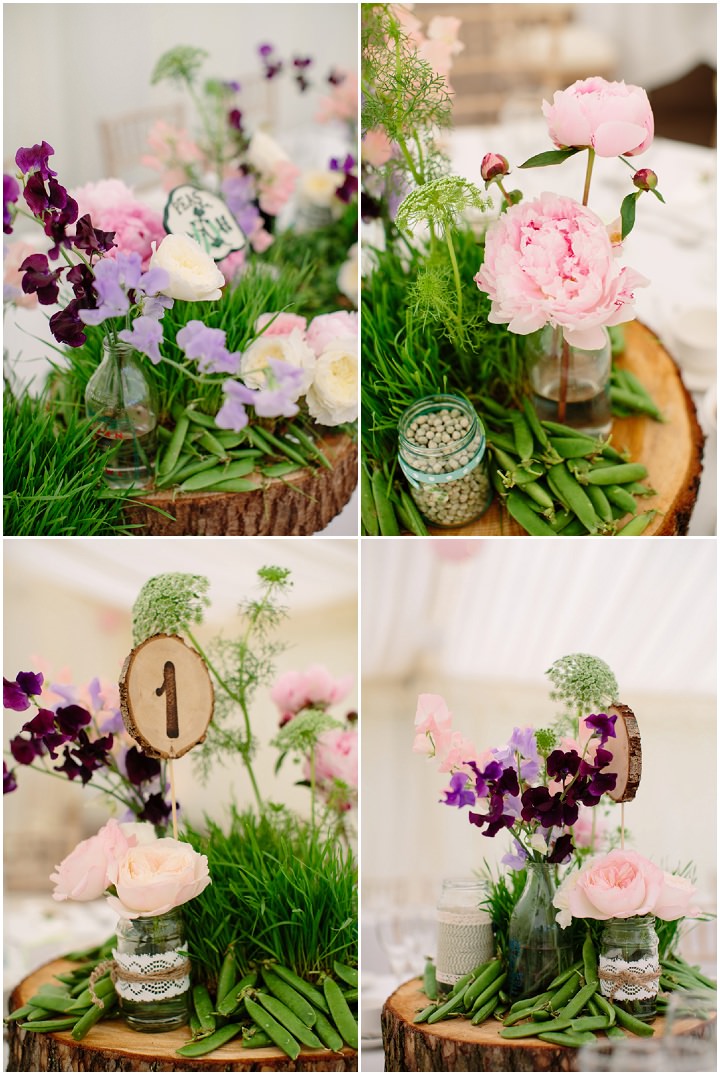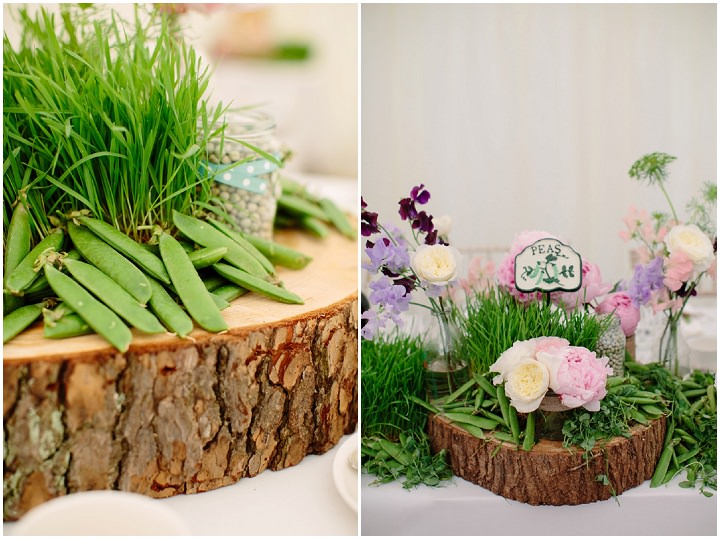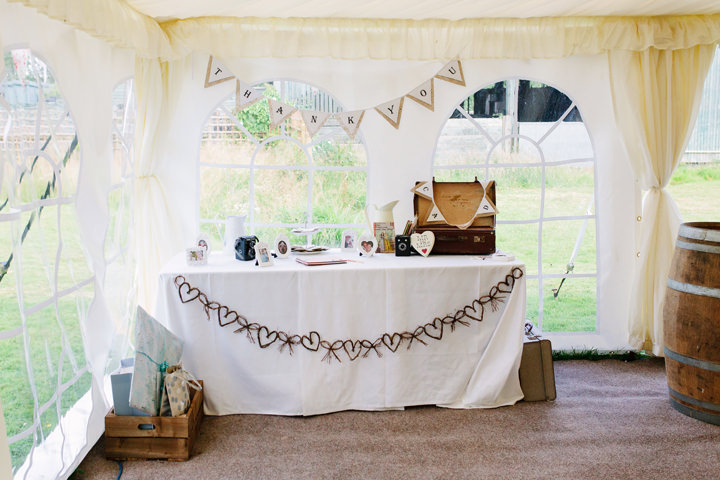 The food
We gave guests a choice when we sent out our invites –
Starters – Goats Cheese Salad or Pea & Ham Soup
Mains – Salmon with bubble & squeek cake with sugar snap peas or Chicken with mustard mash & Mediterranean vegetables.
Through the farm's produce shop we had Strawberries & cream for pudding and profiterole towers.
The wedding cake
Neither of us like icing and so we decided on a 'Naked Cake' which was 3 tier of lemon drizzle cake – my fav! The lady who baked our cake was only an amateur but the cake was amazing, I found her when I was photographing a wedding.
Entertainment
Atomic DJ – Tom Burrell was our DJ. I met tom at a wedding we were both working at (it is a very handy profession to be in when you are getting married). He was getting married 7 months before us, so we decided to trade services for each other to help out with costs.
We also had an amazing band – The Strand. The drummer of the band is a neighbour of the farm and also pretty much Aaron's godparent.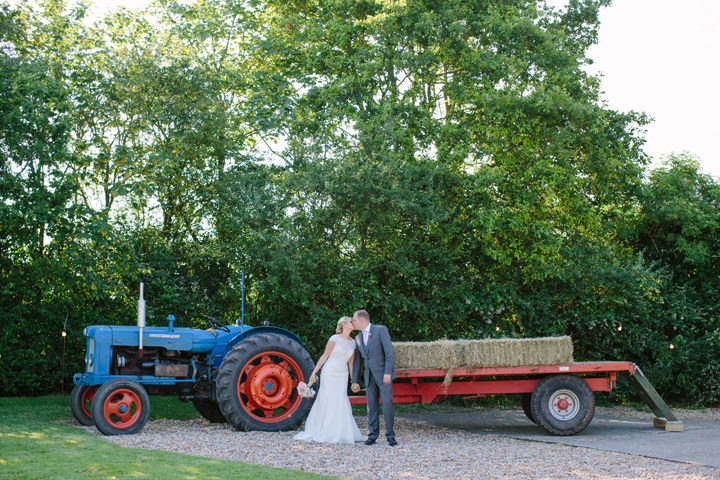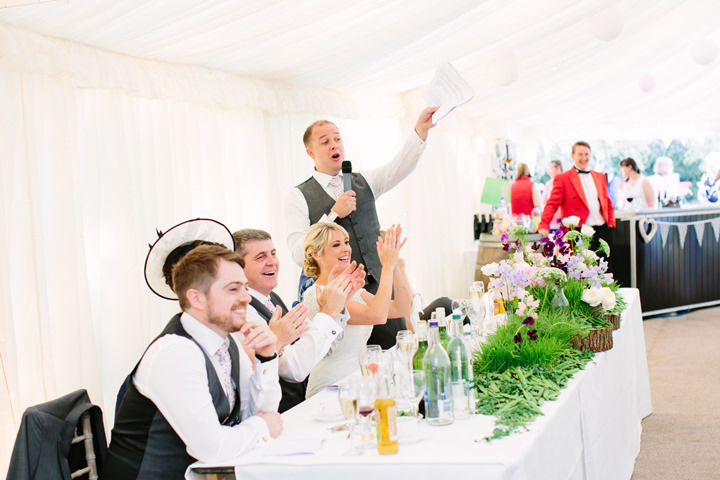 Advice for other couples
Take a few moments here & there to just stop & take everything in & smile.
Also make sure you both see each other & make time to see each other as it can get very hectic. If you are like me & love photos, you want to make sure everything is captured for you to look back on, if you have put so much hard work in to produce such a beautiful setting, it would be a shame to have no images of it, so pick a photographer you know will capture all the little details. Also make sure you have scheduled time for couples shots in the evening the light is amazing and it is really worth missing the teas & coffee for
Biggest surprise
Otis – My puppy. Me & Aaron were planning on getting a puppy after the wedding as sadly I had to have my 15 year old terrier Murphy put to sleep in April & he was a huge part of my life & we both decided that we would get another dog after the wedding. Being a slight control freak that I am I had already started to look for Jack Russell puppies with a rough coat & was freely talking to Aaron that I would call it Otis. He had already found a dog, fibbing to me about a golf trip a month or so before the wedding, he had actually been to view puppies! Aaron's sister Kerry snuck off the day before the wedding when we were decorating the marquee and travelled to Frome to get Otis. Once at the wedding reception and after all the speeches Aaron asked for the microphone back – he said how he had told me my wedding present was at the hotel & said that he had lied and then asked Charley to bring in Otis! As soon as I heard Otis I knew he had got me a puppy! I was so happy & shocked & just couldn't believe it!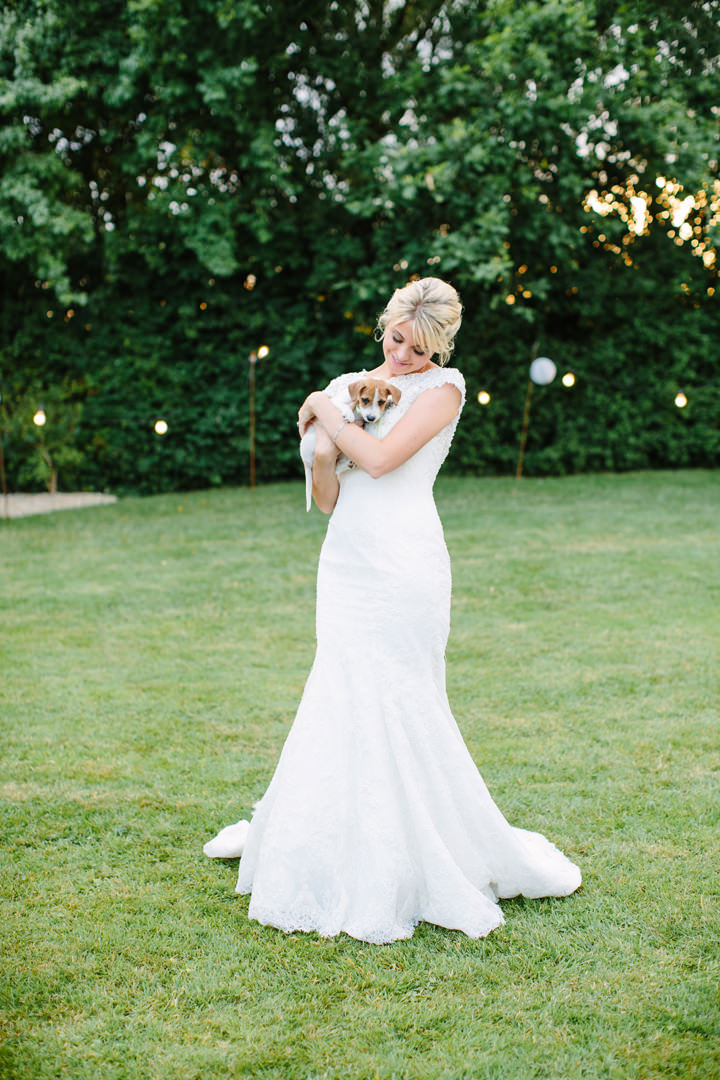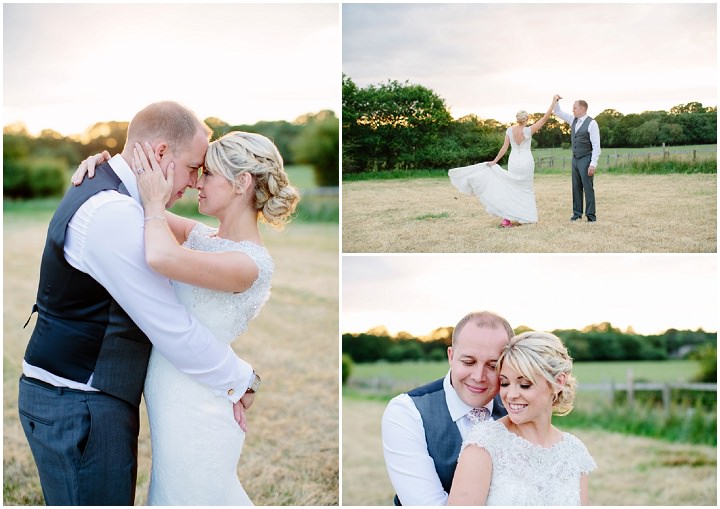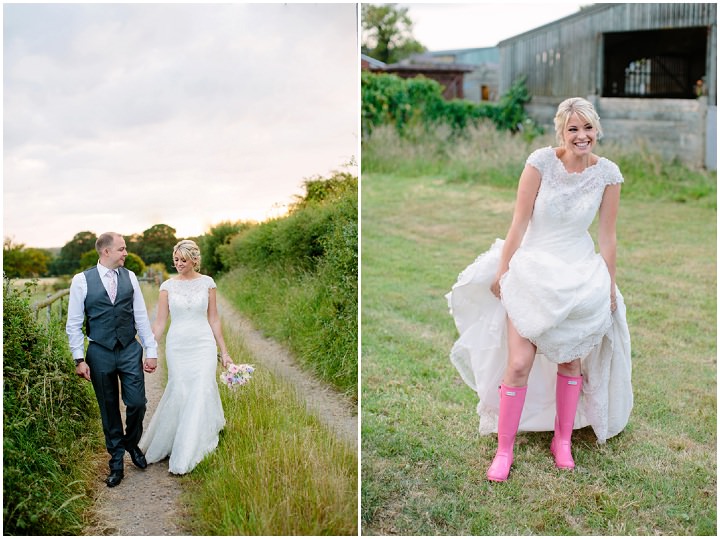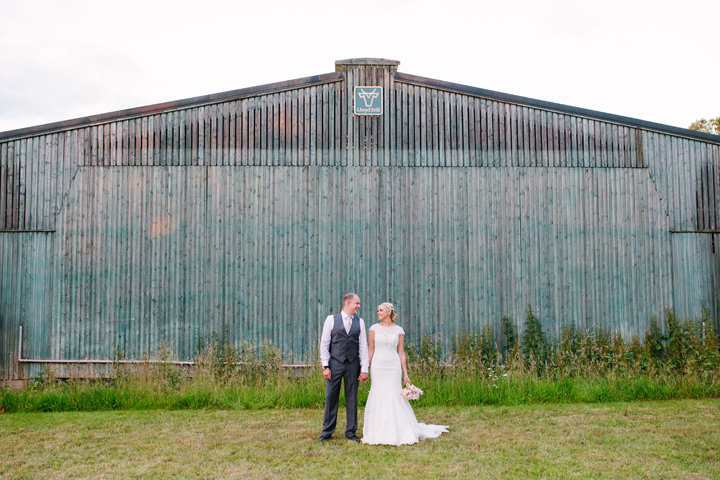 Supplier Shout Outs
For more information on Hayley's work go to:
www.hayleysavagephotography.co.uk
[email protected]
07746313690
FACEBOOK
@hayleysavphoto
Photographer based in Hampshire. Creative, Natural & Storytelling style.