On the afternoon of Hallowe'en, today we have a darkly gothic and glamorous shoot for you from the fabulous Sarah Brabbin. Featuring couture evening gowns from Angel Couture, luxurious blooms and patisserie and gorgeous model this is perfect inspiration for those of you planning an Autumn/Winter wedding. I simply love the dresses and venue location of a disused dance hall.
A dark luxe shoot featuring glamorous couture evening gowns, velvety blood roses, rich decadent dark cherry liqueur velvet cakes, Chesterfield sofa and a beautiful young ballerina in a faded, forgotten dance hall.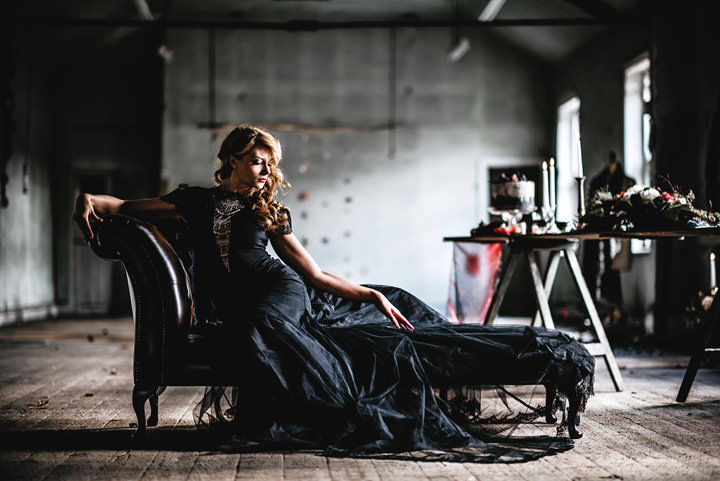 More about the shoot
Myself and Jane at WooBWoo had been talking about doing a dark shoot for ages, and when we saw Kay Heeley's latest designs for Angel Couture we knew they'd be the perfect match and got really rather giddy about the possibilities.
As a rocker and a drummer I've always been into the darker side of things. We wanted to create a darker feel shoot that wasn't the traditional Christmas or Autumnal feel, something a little darker now the nights are drawing in, but not fake blood, pumpkins and vampire capes.
We wanted to create something a little different – something somewhere between gothic and glamour, without it being either, we like a challenge and we all work so well together and have a real good laugh at the same time as working really hard.
The team who made the shoot possible:
For more information on Sarah's work go to:
www.sarahbrabbin.co.uk / [email protected] /  FACEBOOK / T: @SarahWedPhotog