Happy Friday everyone and happy Halloween!  How are you all today? I hope you are looking forward to the weekend? Have you got anything planned for Halloween? We are having a little family get together for Dexter and his cousin Ted this evening. They are both very small but now we have children we wanted to celebrate more than we normally would do. I have a cute pumpkin outfit for Dexter that he will be wearing later on and I will be in the kitchen this afternoon making some Halloween treats! Before that though I have the last wedding of the week for you. It's a super cute barn wedding for you filled with lots of rustic details and loads of DIY and handmade projects. Big thanks to Jules Fortune for the lovely photos.
'A vintage themed rustic wedding. The most perfect day in the most beautiful setting very personal to us as a couple, everything we could of ever imagined'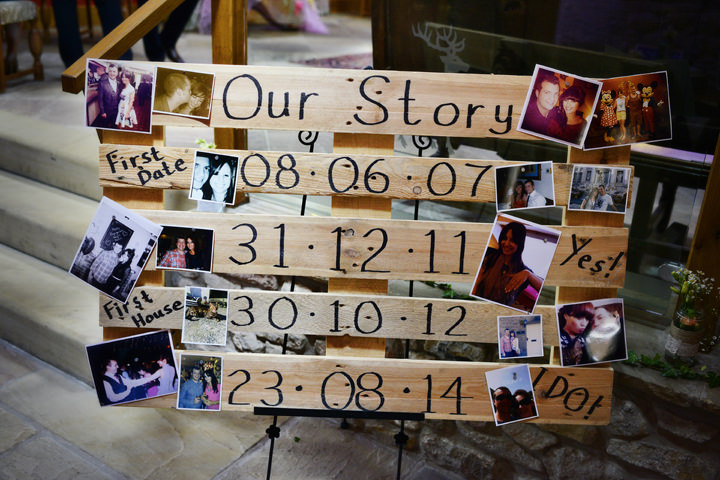 Rachel and Daniel were married on 23rd August 2014 at Emmanuel Church, Pleasington, Lancs and the reception Browsholme Hall & The Tithe Barn, Clitheroe, Lancs. I grew up with Immanuel Church and knew I would always want to be married in that church. The venue of The Tithe Barn, we loved as soon as we walked in, we loved the rustic country feel and its uniqueness as a wedding venue, it had beautiful grounds and scenery. We had 68 guests to the day reception, 120 in the evening and it took 16 months to plan.
How they met
We met on a night out in our local town, we have been together 6 years
The Proposal
Dan proposed in the afternoon on new years eve 2011 in York. We had arrived at our hotel for the weekend. There were a lovely bouquet of flowers in the room which I thought was an extra special touch from the hotel (oops they were from Dan all along) and after sorting out my bags and checking out the room, I came out of the bathroom to find Dan down on one knee with ring in hand. We subsequently had an amazing weekend in York. York had been our first mini break away when we first got together, and somewhere we both love.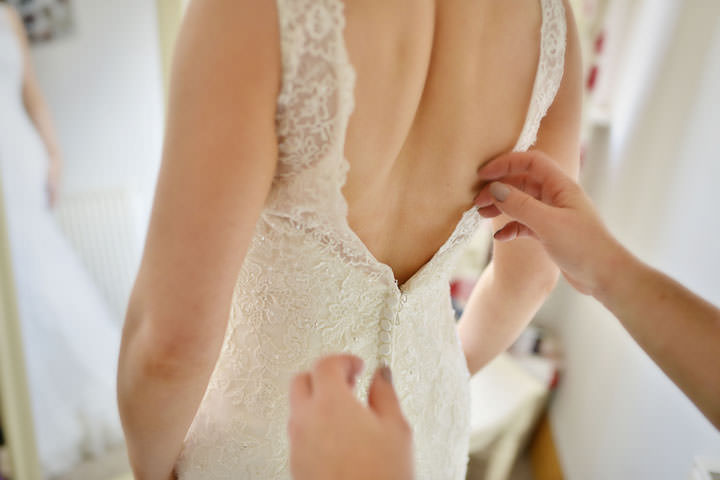 How did you allocate your budget
We allocated our budget to the things that were essential to the day first. My dress, the bridesmaid dresses and the groomsmans suits were very important to us for us to love them but especially for those wearing them to love them too. The photographer was the first thing that we booked as it was essential we had a brill photographer. The flowers, venue and entertainment also were allocated a substantial amount of the budget as they contributed so much to our day.
I liked to think we thought of everyone when planning our wedding, as much as a day for us to enjoy our priority was to ensure everyone else had an amazing day.
How did you choose your photographer
We were at a wedding fayre and firstly heard Jules talking to another couple, her friendly, professional and bubbly character drew me in to look at her work, we were blown away with how stunning, personal and quirky her photography was. Throughout the whole planning process we felt she knew exactly what we wanted.
The Dress
My dress was by Maggie Sottero, my earrings were by Jenny Packham, and my bracelet was handmade by Lou Lou Belle Designs. My shoes were by Rainbow Club. Our rings were made for us by Ged at Precious Metals, Brierfield. He was the most patient man with me especially designing my perfect ring.
The Suit and Bridesmaids
Dan's Suit was from Ted Baker, The mens suits were from Next, Bridesmaid dresses were from Ted Baker. Flower Girls were from Monsoon
Theme or Colour Scheme
We wanted chic, vintage and beautiful. The theme of peach and mint green did run into nearly everything in the wedding, we worked to more of a theme than an individual colour.
Flowers
My bouquet consisted of peach David Austin roses, stocks, daisys and delicate greenery. Bridemaids and groomsmen had gypsophillia
Decoration
-We made most of the decoration ourselves with help from family and friends, especially my mum who made all of my bunting by hand from material that we bought, the bunting was hung from the barn beams and outside.
-Myself and Dan made our own Hessian 'Mr & Mrs' bunting from hessian corn sacks.
-Myself and my friends decorated glass jars to hold the flowers on the tables.
-We had chalkboards dotted about the venue personalised for us using a chalk pen.
-We made our table plan out of a vintage suitcase to which we hung twine and pegged on the tables with peoples names on.
-The centre pieces were wooden troughs with similar flowers to my bouquet on every table.
-We had lace drapes that hung from central chandeliers in the barn.
-We made paper pom poms which hung around the barn in pastel shades, which the groomsmen very dangerously put up hanging from the extremely high ceilings.
-My mum made an R and a D letter out of self wired gypsophillia.
Food
Our starter was ' A trio of soup shooters which included Tomato, Vegetable and Carrot and coriander with artisan breads'
The main was Chicken Breast wrapped in Cumbrian air dried ham, stuffed with sun blushed tomato, Champagne and pink peppercorn sauce, seasonal veg and creamy potato.
The dessert was lemon cheesecake with edible flowers.
The evening reception food was fish, chips and mushy peas in wooden boats
Wedding Cake
Our wedding cake was 'A Naked Cake' It consisted of three tiers. The bottom layer was Victoria sponge with raspberry jam and cream, the middle layer was lemon sponge with a lemon curd filling and the top layer was orange sponge with white chocolate buttercream. It was decorated with fruit and our wedding flowers. The cake topper was mini bunting made my mum.
Entertainment
Our DJ acted as our host for the day and evening. He was an amazing host. Between the day and the evening reception we had an acoustic guitarist called Lloyd Willacy who sang and played guitar outside as the sun was setting and the weather was lovely. This filled the gap between the day and night reception.
Buy or DIY your Stationery
We made all of our stationary including the save the dates, invites, name cards, table plan and menu cards. We used kraft card, bunting and stamping for a lot of the stationary carrying the theme right through
Personal or Handmade Touches
-We also personalised our wedding favours. I bought vintage teacups and saucers from charity shops and car boots.
-My mum made peach and mint green hanging hearts out of material and hessian.
-The female guests each received a teacup with a hanging heart sat inside. Everyone knows I love anything vintage and love anything heart themed in the home, hence the array of decorative hearts around our home.
-The men received a mini bottle of Jagermeister, as it became popular on Dan's stag do and boys get togethers.
-We also made 'Words of Wisdom' cards which each guest had at their place on the table, this enabled them to leave us some personal messages of 'words of wisdom' whilst encouraging a bit of fun getting them to draw the person next to them.
-My sister made me a little guestbook with fitting materials with the theme.
-Another personal touch one of my favourites was our Guestbook Log which we bought from a local woodsman farmer. We chose our own unique slice of wood and varnished it so that it could be written upon. Our guests signed their name and it sits within our home. It encompassed the rustic theme of our wedding.
-My best friend and bridesmaid Katie, provided us with an amazing sweet table, we decorated all the jars ourselves and guests were able to enjoy this on the day, she bought us personalised rustic sweetie bags for the guests to use.
-Dan and his groomsmen bought vintage golf clubs as props for the photos to highlight their love for golf!
Special Moments
The first special moment was when me and Dan had the car journey from the church to the reception venue to really talk about the service and enjoy each others company as the day went so fast and you both talk to so many people. I loved it when we both walked into the barn and saw just how beautiful it looked and what all our hardwork had achieved. A highlight for both of us was the speeches by my Dad, Dan and the bestman they were so emotional yet had everyone in stitches of laughter.
The unexpected dance-off on the dancefloor between Dan and some of his friends was the funniest part of the day!
Advice to other couples
For planning I would say keep the meaning of the day at the centre of everything you plan. By doing this we were able to create a wedding which was very personal to us, family and friends.
Ask for help! You cant do everything on your own and people absolutely love to help and be part of it and see on the day what they helped to create.
Tips for the day itself – Relax and enjoy it all.. and don't worry about other's enjoying themselves because they will and if everyone is ok because they are…it all comes together in the end. Dance lots, with each other and your guests!
Biggest surprise
How relaxed I was on the day and how people filled the dancefloor all night!
Supplier Shout Outs
Sugared Almonds Bridal Boutique in Earby – www.sugaredalmondsbridalwear.co.uk
Their patience and expertise really did enable me to find and fall in love with the perfect dress
Dan's suit – www.tedbaker.com
Men's Suits – www.next.co.uk
Bridesmaid dresses – www.tedbaker.comFlower Girl Dresses- Monsoon
Men's Ties – www.bridalwearlancashire.co.uk
Shoes – www.rainbowclub.co.uk
Veil – www.richard-designs.com
Earrings – www.debenhams.com/women/no-1-jenny-packham
Bracelet- Handmade by Lisa Longhurst – www.louloubelle.co.uk
Hair comb – www.debenhams.com/women/jon-richard
Janine Dixon MUA – www.artistecreative.com
Photographer – www.julesfortunephotography.com
Absolutely amazing photographer. Was so much fun on the day! She captured our whole day just how we had imagined, she was so patient and her unique quirkiness was loved by everyone!! I couldn't recommend her enough!
Cake – www.mrsspendlovescakes.co.uk
Flowers- Charlie Sumner, Helmshore, Lancs
Wooden table troughs and blackboards – http://www.countrybaskets.co.uk/branches/manchester
Entertainment – www.Dancefloor Couture.co.uk
Amazing day hosted by Robin Kershaw, he knew exactly what we wanted, enabled the day ran smoothly, and facilitated a brill evening reception where the dancefloor was never ever empty!
Singer – Lloyd Willacy
Lace Drapes – www.creativecoverhire.co.uk
Catering – www.rowleyscatering.co.uk
Suitcase – Bought off ebay, decorated ourselves
Tree Slice – www.rusticweddingsettings.co.uk
Wedding postbox – www.wedding-postboxes.com
Wedding car – www.lancashireclassicjaguarhire.co.uk
Various other elements of the wedding were DIY creations by us, family and friends using crafts, materials, hessian, lace, jars, stamps,kraft card, printer, twine

For more information on Jules' work go to

www.julesfortunephotography.com
www.boudoirphotoshoots.blogspot.co.uk
www.twitter.com/photoboudoir
www.facebook.com/pages/Jules-Fortune-Photography
www.julesfortunephotography.blogspot.co.uk
My Style ~ l would describe my style as timeless & classic. I take my time to capture just the right images.Looking for the right light, and that special moment. My approach throughout the day is relaxed, capturing your story as it unfolds in a documentary style. Couple shots are taken with a little direction; but its simply a matter of letting your personalities shine through in the photos.My editing style is a mixture of moody black & whites and bright zesty colour, with each set of wedding images being carefully edited to a high standard.
[jprel]