I have a totally exquisite wedding for you today, I know you shouldn't have favourites but this is one of my personal favorites for a while. I found it incredibly hard to choose which images to use as each photos is just so beautiful, and they all tell the story of this stunning wedding so well! Jenny the bride has gone to so much trouble to make this wedding so unique and personal in its many details, the post has ended up being a little longer than normal. You can Blame Lisa Devlin from Devlin Photos for her pure awesomeness and amazing photography skills, but thank her at the same time as this wedding really is a beauty!
The gorgeous couple (and you have to admit they are pretty striking together) are Jenny and James who were married on 26th May at St Mary's Church, Thorpe, Surrey with the reception at Redlands Farm, Lyne also in Surrey. They had 120 guests in the day and another 20 in the evening. The wedding is a full on village fete with loads of fete games, hay bales, rustic country food and a really amazing chilled out atmosphere. The details in this wedding are outstanding, and the whole thing just oozes rustic chic! and so much imagination………..I truelly LOVE it!
They describe their wedding as 'A rustic country DIY barn wedding, filled with lots of personal touches. It was an informal English wedding, with lots of laughter, love and sun!'
The venue
We were so lucky to be able to have the reception on the farm where Jenny's grandparents lived for over 50 years (thanks to the kindness of the current owner), making it really special. The church is less than 5 minutes away in a nearby village.
How they met
We met at work (James worked in Finance, Jenny in Marketing) and have been together for 3.5 years.
The proposal
James proposed over breakfast at The Bellagio in Vegas. He ordered room service and hid the ring under one of the silver food covers for Jenny to find. We then rang all our family and friends and ran up a huge phone bill!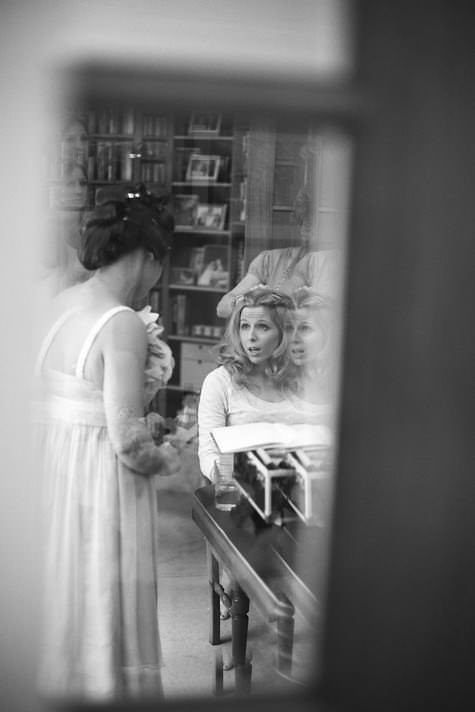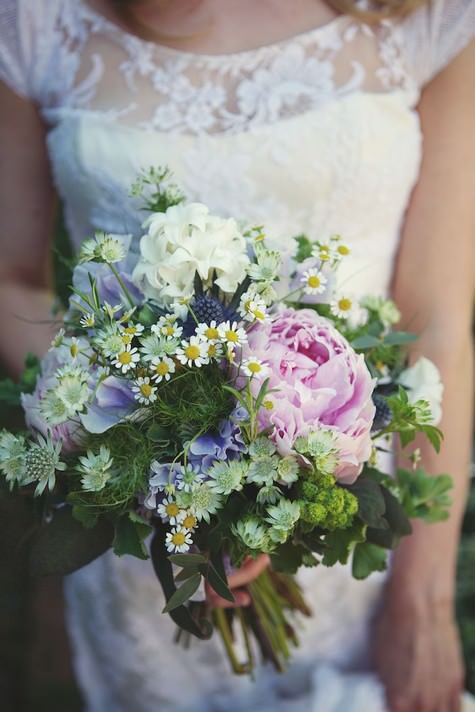 The Photographer
We'd seen Lisa (Devlin)'s work in several magazines and blogs and thought her style would fit in perfectly with the feel/tone of our wedding.
The Dress
My dress was by Cymbeline and called Antibes. The shoes were ivory courts from Faith. My earrings were a gift from my Mum.
The suit and bridesmaids
The suits were light grey and by Lanifico F.LLI Cerruti (from Moss Bros). The bridesmaids were in shades of dusty pink and all had different styles; Ivy by Fever (dress with flowers on shoulder), Madrid by Fever (dress with two ivory flowers on neckline), Fenn Wright Mason (ivory top section) and Rare from Topshop (capped sleeve dress).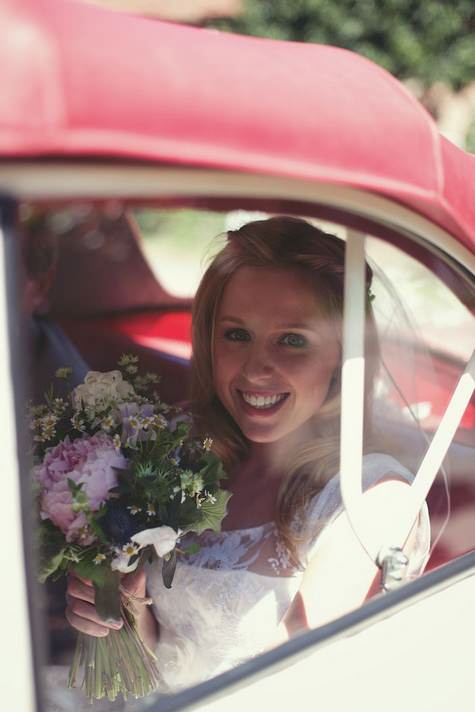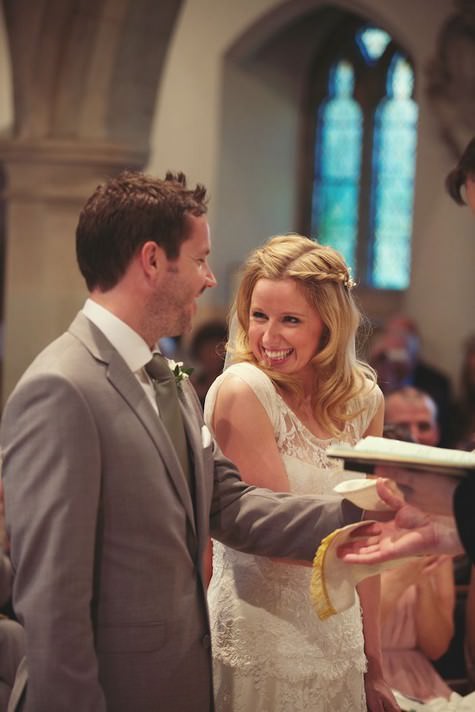 Theme
We tried not to stick too rigidly to a colour scheme. The bridal party were in dusty pink and grey, but we went for spring flowers in all pastel colours, with lots of herbs and foliage. We made all the invites, Order of Services, table names and place names ourselves with different shades of rustic browns and ivory.
Food
We wanted to keep the menu as rustic and simple as possible so we had the following:
Canapés: Mini beef & red wine pies, Mini Yorkshire puddings with fillet beef and horseradish, Mini fish and chips served with ketchup in paper chip cones, Tomato chutney and stilton cheese tarts, Avocado and sweet chilli crostini.
Starter: Home cooked gammon slices, roast sirloin slices, cheddar cheese, roasted cherry tomatoes, red onion chutney, bloomer bread and butter.
Main: Pork and apple sausages, colcannon mash, baby carrots, peas and beans, served with red wine onion gravy.
Dessert: Mini apple crumble, Mini chocolate fondant, Mini pavlova with Chantilly whipped cream and raspberries.
Evening food: Cheese board with bread, crackers, grapes and celery.
Cake: Vanilla bean cake with white chocolate buttercream and raspberry jam, covered in icing sugar and decorated with flowers and berries.
Entertainment
During the drinks reception we had a traditional village fete, provided by The Original Fete Company. It was a real crowd pleaser and brought all our family and friends together. Games included Splat the Rat, a Coconut Shy, Hook the Duck, Darts and Balls in a Bucket, all with sweetie goodie bags for the winners.
The Swinging Little Big Band played in the evening, performing Rat Pack classics along with swing style versions of songs by bands such as The Beatles and The Rolling Stones. We also created our own playlist, full of nostalgic songs we grew up listening to and that we knew would get people on the dancefloor.
Flowers
Our flowers were from The Traditional Flower Company and a real mixture of spring flowers and herbs. These included peonies, daisies, tulips, sweet peas, mint, rosemary, hycainth, veronica, lavender and cow's parsley. The table centrepieces were in large jam jars wrapped in hessian and tied with raffia.
Decoration
We had quite simple and rustic decorations. We hung bunting outside of the church and had a few lavender trees at the entrance. Inside we had lots of jam jars, filled with either a candle or cow's parsley and decorated with lace, raffia or hessian.
The barn was also filled with jam jars, on window sills and beams, with either flowers or candles. There were also jugs and buckets full of flowers, wooden hearts, fairy lights and wooden signs (No Dad Dancing, To Have & To Hold etc). We also had several floor lamps and used hay bales to make seating areas (we covered them in fabric and added white cushions). We built the frame for the bar ourselves and had lots of old wooden crates, tin baths and wooden barrels filled with bottles so guests could help themselves if they wanted to. The bar frame was decorated with ivy and blackboard signs. We also had table full of homemade flapjacks, cakes, biscuits etc that guest could nibble on throughout the day. That area of the barn also had white paper lanterns hanging from the ceiling providing nice warm lighting. We scattered the floor of the barn with natural confetti which had lavender in and made the room smell wonderful!
Personal touches
• In our Order of Service we listed all of the guests' names and thanked them for being there.
• Apart from the centrepieces and bouquets, all the additional flowers were arranged by James's Mum and the bridesmaids the day before the wedding.
• James built the seating plan himself, and it was his favourite decoration!
• The frame of the bar was built by James and his Dad and brothers with branches we found in our local wood.
• We hung photos of all our immediate family and the bridal party on a twine washing line.
• We had a table near the bar which had homemade goodies on for guests to pick at (flapjacks, cake, biscuits etc). The table also had old cookbooks and biscuit tins on. We also made sure there was a jar of malted milk biscuits on the table, as Jenny's Gran always used to have them at the farm.
• We made the place names to look like bunting hanging from the back of everyone's chair, with one flag per letter.
• For the favours we brought everyone a lottery ticket. These were in brown envelopes wrapped in raffia with 'For Richer… For Poorer' on the front.
• We made white, pink and grey pom poms for the barn and hung them across the beams.
• The bride's Mum made all the napkins for the day using different Cath Kidston-type fabric.
• We made all the direction signs i.e. Church, Wedding, Toilets.
• As part of the fete there was a Punch & Judy show which showed pictures of us both from when we were born right up to the present day.
Special moments
The church service was a big highlight as there was lots of laughter and personal touches throughout. We'd selected upbeat hymns we used to sing at school so it was nice to have some nostalgia and everyone seemed to really enjoy them.
We'd hired a 1950's red heritage bus to take guests from the church to the farm which was a big hit, and we travelled in a Morris Minor convertible which felt really special. Other special moments were having our grandparents there as both our Grans had been ill in the run up to the wedding and it was touch and go as to whether they would attend. Two of the bridesmaids came especially from Australia and it was really special having them there and being part of the day. We had other guests come from Canada, France, Wales and all over the UK – it was wonderful that people made such an effort. A big highlight for us was just watching everyone having a good time together, even if they'd only just met.
Planning advice
Looking back we're really glad that we stuck to what we wanted for the day, and not what other people wanted or expected. It was really rewarding to see all our ideas come together and we really felt that the day was 100% 'us.' We also spent a lot of time on little details and finishing touches, and made things as personal as we could.
We also had a photo guest book, so there's a picture of every guest next to their message (most with a crazy prop or funny pose). It's really great to look back on and ensures we captured a photo of everyone on the day.
On the day itself make sure you spend some time together alone – even just 10 minutes, so you can share your excitement and remember it together.
Biggest surprise
Seeing Jenny's Nan in the church as we came back down the aisle. She had been taken to hospital that morning so we didn't think she was going to be there.
Supplier Shout Outs
Lisa Devlin, http://devlinphotos.co.uk
Alexandra Merri, http://thebijoubride.com
The Traditional Flower Company: http://traditionalflower.co.uk
Delightful Dining, http://delightfuldining.co.uk
Maisie Fantaisie, http://maisiefantaisie.co.uk
The Original Fete Company: http://originalfeteco.co.uk
The Swinging Little Big Band: http://littlebigband.co.uk
Hair & Make up: Christina Jessel, http://christinajessel.com & Stephanie Gannon-Malcom, http://stephanieg-m.com
For more information on Lisa's work go to:
http://devlinphotos.co.uk
http://devlinphotos.co.uk/blog
FACEBOOK
TWITTER