Happy Wednesday everyone, I hope you are all well and happy. Todays wedding is a gorgeous West Sussex barn wedding, which is FULL of personality and so many amazing homemade details. Stella and Jamie did really well by sticking to their £10k budget. They prioritized the things that were most important to them and then Stella went off and created a whole host of amazing personal and handmade projects. From embroidered handkerchiefs to handmade bunting, a real life wishing tree to all the handmade decoration. This wedding is full to the brim with so many lovely ideas. Thanks to Abigail Rex Photography for the images.
It was the most wonderful experience sharing our promises to one another in front of the people that we both introduced into each others lives and have met along the way. We ate great food, laughed, cried and danced, I would do it every day if I could.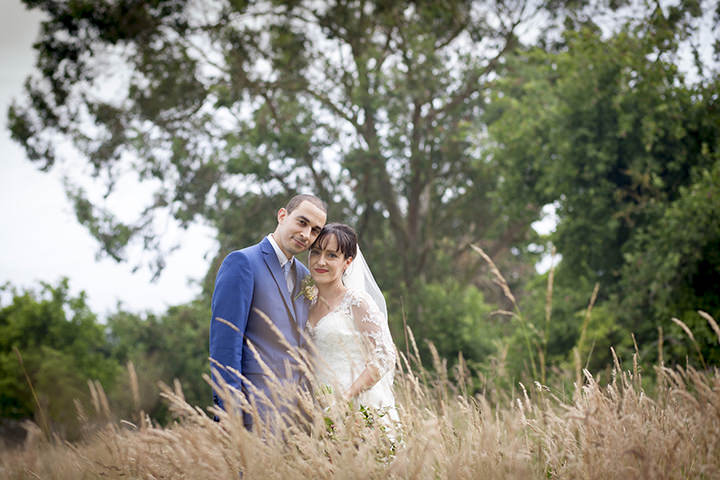 Stella and Jamie were married on the the 9th July 2016 in a legal ceremony at Brighton Town Hall, a humanist ceremony at Wiston Village Hall and a reception at The Secret Barn, Wiston, West Sussex. 'We had been together five years when we got engaged. Three years later we had a daughter, Faith and after getting over the shock of that we decided to get married! It felt like the right thing to do, in particular to show our son, Ruben, that we were committed to each other and to him.  We had a legal ceremony on the 31st March 2016, this was the day we met in 2007.It was a very intimate ceremony with our parents, children and my two best friends.  We  had a lovely meal afterwards at La Plateau in Brighton. We chose the date for our 'wedding' because Jamie's Grandparents wedding anniversary was the day before ours and his Parents the day after. We had 60 day guests and an extra 30 in the evening. The main wedding took about a year to plan. As soon as we booked the venue it was all guns blazing.  We wanted to keep the cost down but also give our family and friends a day to remember.'
How they met
I was 27 when I met Jamie.  I was a single Mum to my son Ruben, who was nearly four at the time.  I had reached the conclusion that it would be Ruben and I against the world for the foreseeable future.  I went for a rare night out with a friend in Brixton, London.  It was there I met Jamie.  It was very random but we met again a few weeks later and have been together for nine years.
The Proposal
Jamie is from West Yorkshire and ever since he was young he had a 'favourite view', which was overlooking Howarth. Howarth is famous for the being the setting of Wuthering Heights.  I am a hopeless romantic and love stories such as those written by the Bronte sisters.  The Yorkshire moors are really wild and moody. One weekend we were up there visiting his parents and he said he was going to take me somewhere.  We drove along and I suggested that we stop to look at his view.  As we got to the top of the hill I turned around and he was down on one knee.  After he popped the question we went to a nearby bed and breakfast with an outdoor hot tub and beautiful gardens.  It was wonderful spending time where Heathcliff once roamed.
How did you allocate your budget? 
We spent approximately £10,000.  Most of my friends have spent at least double that and I refused to spend more than £10k.  I know some things you can't cut costs on such as food, booze and the dress!  I did a lot of stuff my own and tried not to get carried away and throw money at things that didn't really matter. I wanted it to feel effortless, even though it was far from it!
Where did you splurge and where did you save?
My dress was £1200, including the veil and alterations from Proposals in Chichester. I know that no matter what, I won't be getting married again so I wanted something new.  I spend most of my life living in vintage (second hand!) clothes so I wanted something new but classic. I enjoyed the whole process of choosing a dress and the development of having it altered to fit YOU exactly and to share that with my Mum who was kind enough to buy my dress for me, which made it all the more special.  I had thought I'd be really dieting before my wedding but although I was careful I didn't lose lots of weight and actually I didn't care. I felt amazing.  It's interesting how happiness can make you feel relaxed and at peace with yourself. The food had to be goooood.  Our favourite thing to do is eat so there had to be plenty and it had to be fresh and delicious. I also bought the most expensive pair of shoes I have ever owned but I fell in love with them so much and couldn't find anything else that compared.  After that it was the venue; We chose the Secret Barn in Wiston, West Sussex which is a barn on a working farm in its most organic state. Its rustic and raw and beautiful with it's exposed beams and natural light, which when peppered with fairly lights which made it feel magical.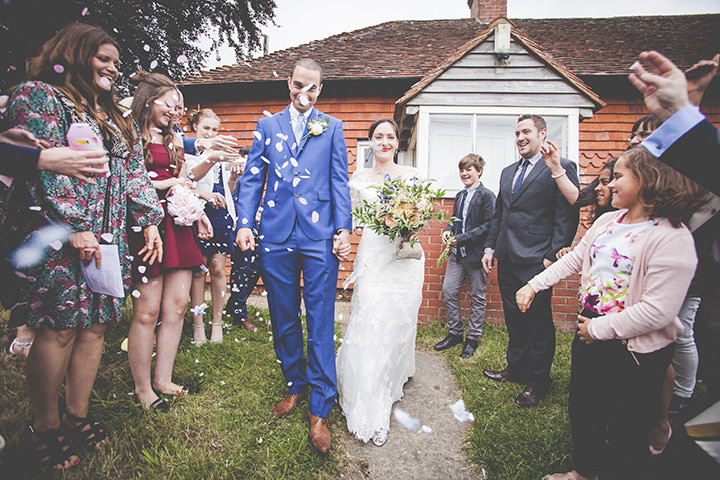 How did you choose your photographer?
I found my photographer from trawling the internet. Some photographers I found were £2000 + and felt a little pretentious.  I wanted one that captured the essence of the day but didn't take themselves too seriously. After stumbling across her website I found Abby Rex. We met in Costa and it felt like I had met an old friend. She was professional but so down to earth. I'm not a huge fan of having my photograph taken so it was important that I had someone who made me feel comfortable and she did. I am delighted with the finished article. The photographs were beautifully finished and I feel very lucky to have found her.
The Dress
The legal part was all fairly laid back and the main planning was having my dress made which I had at Dig For Victory in Brighton.  I bought my shoes from Ebay for £2! I had my hair done for both ceremonies by Kitty Boo and I did my own make up. My dress was by Sottero and Midgley, Annora.  It was so comfortable and I didn't feel like I had to spend the day adjusting myself. My shoes were by Rachel Simpson in blue mimosa. They were the perfect height and I didn't have to wear them in.  I had blue topaz earrings.
The suit and bridesmaids
I decided not to have bridesmaids as I couldn't possibly choose between my friends.  So my daughter was my flower girl and my son gave me away. Jamie bought his blue suit from Reiss. The light blue ties were worn by the best men and father, these were bought from French Connection.
Theme or colour scheme
I was quite set on the idea that I didn't want a colour scheme as I didn't want it to feel contrived. However the more Pinterest I looked at and the more bits and bobs I bought I realised I was gravitating towards blue and white.  It was subtle but I think it might have made it feel a little more polished.
Flowers
My flower lady again was lovely. Annie May completely understood my vision of natural flowers, no uniformity or oasis.  Delphiniums were the star of the show and I used dried delphiniums on my invitations.
Decoration
For the village hall I made pom poms from tissue paper, hung by vintage lace from the market. I bought dried hops to hang from a local café that was closing down.  Beware these are messy and very smelly! They looked beautiful though.  I bought a garden arch from Amazon and started growing Cinderella roses around it to have as a foal point for a type of 'alter'. My mother in-law made me doily bunting using plain white doilies on gingham ribbon which looked beautiful.  I planted various blue flowers in white containers including tea pots to dot around the room. Blue hydrangea looked amazing. I spent a long time making my own bunting for the barn. I used fabrics from C & H fabrics, which were a mixture of spots and gingham. I also hand embroidered vintage handkerchiefs for each of the guest as their place name which doubled up as their favours.  I sourced vintage tablecloths from Ebay, on average about £7 a piece.  I liked the way they were mismatched but were all white linen with different coloured flowers. I used an old dolls house as a card box. I liked the quirkiness of this and to make it personal I bought some Playmobil figures (Jamie, Ruben , Faith and I) to go along with the house.
Food
Our food was supplied from Petal and Feast.  We started with delicious canapes, followed by a hog roast accompanied by seasonal salads. For dessert we had a selection of ice-creams delivered from a vintage style bike.
Wedding cake
I wasn't fussed about a wedding cake. I didn't like the idea of everyone standing around watching us cut a cake. Which to me is the most boring thing ever!  However, I spotted a Fiona Cairns cake which looked very similar to The Secret Barn so we asked for a sample.  Fiona Cairns kindly obliged and it was so delicious we had to get one.  People just cut their own and it was gone in minutes.
Entertainment
We had a Ceillidh for our entertainment.  I wanted something that would appeal to all ages and get everyone up and enjoying themselves. This was perfect.  Friends and family were hooked and really got stuck in.
Stationery
I made invitations and table numbers myself.  I used brown card and doilies and rubber stamps.  Dried flowers meant they were in keeping with the overall rustic theme. I made my table planner out of an old wooden ladder I found on the street and painted and a window frame that came out of the Victorian windows from our house.  Just some lace to hang the name tags on and that was it, job done.
Personal Touches
For me it's the small details in other peoples weddings that I notice. So I wanted to make sure I had thought of everything.  We had a wishing tree set back, at the end of a little bridge, which was lit up by tea lights in jars. The wishing tree was dressed in lots of pastel ribbons and lace and a vintage case was used to store tags where people could write their own wishes.  It was a lovely keepsake and also a nice thing for guests to do for us. While planning the wedding I was undecided what music to walk down the aisle to.  Jamie and I couldn't agree on one song.  One day I was in a taxi and a song came on and I found myself in floods of tears.  I knew that was the one! I walked in to Ludovico Eunaudi, i giorni. Listen to it, its mesmerising.  Some weeks after I spotted a man playing a keyboard, busking in the Pavilion gardens.  His manner was gentle and he was really talented. He agreed to play at our wedding and did not disappoint.
Special Moments or Highlights
We personalised our own vows which was a nice touch.  It felt much more meaningful and not like we were just going through the motions.  I was brought up going to church and would have quite liked a church wedding. However, Jamie is not religious so that was not an option.  I wanted to have an element of the church in the service so we used the idea of mass where people offer each other a sign of peace; instead we asked our guests to offer each other a sign of friendship. It was lovely to see our friends and family shaking hands, hugging and laughing together.
Another nice moment was on the way to the church. My friend Elaine drove me in her eggshell coloured Volkswagen Beetle to the ceremony. We pulled over and my friend Sarah was following and she joined us. We sat in a lay by and had a glass of champagne together.  It felt emotional sharing these last few moments together with my best friends. Likewise, after the ceremony, Elaine drove Jamie and I to the barn and attached some decorated tin cans to the back so we could make a racket as we drank yet more champagne, letting everyone know we were 'just married'.
Advice for other couples
Try and enjoy the planning because that really is part of the fun. Make a plan of what you want early on and get some mood boards together and try and stick more or less to it or you can get lost along the way.  I kept a lot of my plans to myself because I wanted to create the 'wow' factor and it seemed to work. If you are doing all of the decorations yourself make sure you have plenty of time before to set up.  It took us two days. Finally, don't be nervous, the people that love you most in the world are there because they want the best for you. It will be the best day ever no matter what.
Biggest Surprise
I was surprised how quickly I got ready. Our ceremony was at 2pm.  If I could do it again I might make it a bit earlier so we could have an extra hour partying.   Finally I've been surprised just how much I like being married. It is different; it's even better….
For more information on Abigail's work go to:
www.abigailrex.co.uk / [email protected] / 01273 507590 / 07446 877603
I am based on the outskirts of Brighton, and cover weddings mostly across the south. I offer highly creative yet uncontrived wedding photography, so the couple's day can unfurl all by itself. I charge affordable prices!

[jprel]