We are heading across to Canada today for the most stunning wedding. It's another rainy wedding which I seem to be featuring a lot of at the moment, but that doesn't make it any less beautiful. In fact Jordan and Bobby completely embraced the rain and it really adds to the day. Jordan is the most stunning bride, in her bare feet and beautiful gown, but it's their super cute baby that really steals the show, check out the picture of him asleep in Jordans eyes, sooo cute!! The whole day is set off beautifully with the clean modern colour scheme of green and white and Jordans wish that the florals take prime spot is realised with the most amazing blooms. Big thanks to Grace & Gold Studios for these gorgeous images, I know you are going to love this wedding!
A day forever remembered – rainy, raw, & bursting with love – everything we could have ever dreamed of & more.
Jordan and Bobby were married on the 13th August 2016 at a Private Residence in Morrisburg, ON Canada followed by a reception at The Harvest Barn, Upper Canada Village. 'We decided to get married in my parent's back yard purely because it is a stunning location and in our minds, there wasn't a more beautiful, or meaningful place to say our "I do's". We had 130 guests and the wedding took 8 months to plan.'
How they met
Bobby & I grew up in a few towns apart. We always knew of each other, but didn't actually know each other. I was heading out with my girlfriends for a night on the town, and when we were deciding where to go, my one friend mentioned heading to "The Whiskey Bar" because she mentioned Bobby & Brodie often go there, and at least we would know some people. I always thought Bobby was handsome, so I was in agreement. We went, and sure enough, Bobby & his best friend Brodie were there. The chemistry was instant, a few months to follow, Bobby asked me to be his girlfriend on one summer night at Bluefest and well, here we are today. Bobby and I have been together for just over 2 years – when you know, you know, right?
The Proposal
On January 22nd, 2016, after last call to board a flight to Mexico (my Christmas present!), Bobby got down on one knee and asked me to be his wife. As my eyes teared up (I'll blame that on pregnancy hormones…) I said "yes", so easily. At first,  I thought it was some kind of sick joke! Who proposes at the airport, BEFORE, a romantic vacation!? I'll tell you who does, my Bobby does. Probably the easiest question I've ever answered.  Last September (2015) we made the decision to give this parenting thing a try, very unexpectedly, and in January we made the decision to do that together as husband and wife.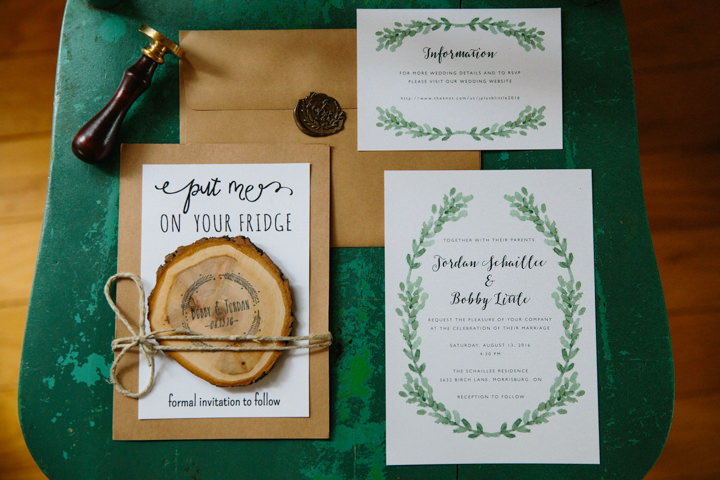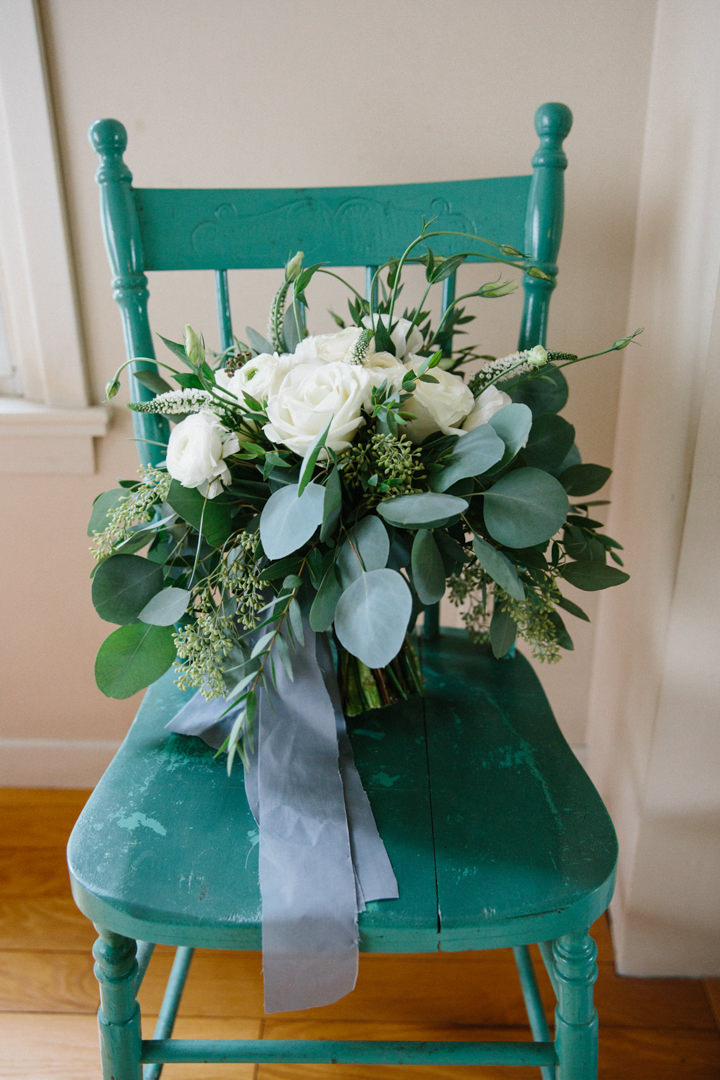 How did you allocate your budget?
I had three major focuses when planning my wedding & to me, the rest was secondary.
Florals – this was SO important to me because I truly envisioned it as the centerpiece of our wedding that would bring my theme and vision to life. Going with our natural theme – green and white were the only two colours I could imagine. I didn't have a large floral budget (1000$ and under), so the flowers that we did have, had to be particular, extravagant and strategic. Luckily my parents are amazing gardeners and the flowers they had grown and planted were spectacular and added to my vision, perfectly. If it wasn't for them, I would have really had to up my floral budget!
Photographer – this was another one of the most important aspects of the wedding to me. You can invest all the time, money and energy in the world into your wedding, but if you don't have someone skilled enough to capture it and bring the beauty of the day to life, your work and effort can sadly sometimes go unnoticed. One of the first things I began to research was the photographer. After I was referred to Grace & Gold Studios by a Facebook friend I instantly connected with their style & work.
The Dress
The dress was from Lulus and my barefoot sandals were ordered online for $2. Quite arguably every bride's top detail! The dress, oh, the dress! Bobby & I got engaged when I was 6 months pregnant, anyone who has ever been pregnant knows, you don't feel or look your absolute best. My due date came and went and on May 13th, we welcomed our healthy baby boy into this world. From that day on, it was crunch time. I needed to return to my pre-pregnancy weight & begin the hunt for THE dress. 10 days postpartum I was back to my pregnancy weight (thanks, breastfeeding!) and I began the search. A week before I had planned to shop, my sister sent me a picture of a potential bridesmaid dress, I saw it in white and LOVED IT – I told her I was going to order it in white (looking back, I should have asked – bride-zilla moment!) to see if it would work for a wedding dress. While browsing the site, I stumbled across 3 other dresses I liked and decided to order them all and hope 1/3 would turn out. I impatiently waited for the package and when it arrived, I ripped it to shreds and immediately stated trying on the dresses. I liked them all, but as soon as I slipped on the last dress, I knew it was the dress I would wear to marry Bobby.
The Suits and Bridesmaids
The Suits were from TipTop. The bridesmaid dresses were also from Lulus.
Theme or Colour Scheme
Theme: Boho barefoot bride with a green & white (natural) colour scheme because we are both nature lovers.
Flowers
Lushes bouquet blooming with white veronica, white lisianthus, white ranunculus (the one that I was waiting on), white roses, seeded eucalyptus, dusty miller, parvifolia tied with beautiful grey material ribbon.
Decoration
Mostly handmade, wooden, natural theme décor. Centrepieces were a variety of home grown plants and hand painted, terracotta pots (my parents nursed all of these plants and helped with the painting of the pots – my maid of honour/sister, too!)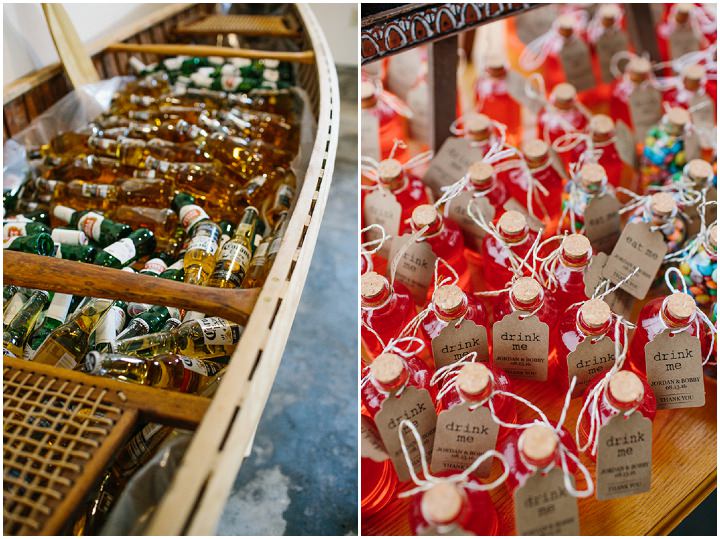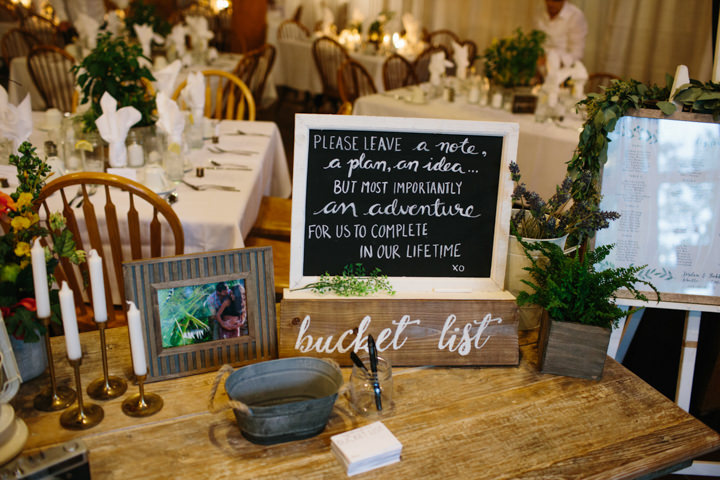 Food
Starter: garden salad with apple vinaigrette dressing.
Main: Chicken kiev, roasted potatoes, & roasted vegetables.
Dessert: cake!
Cake
The wedding cake was chocolate with textured butter cream icing.
Entertainment
We had an acoustic guitar player at ceremony and a DJ at reception.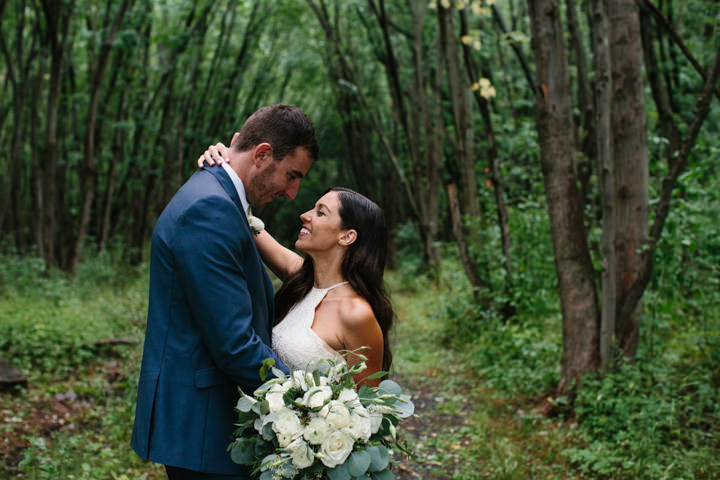 Stationery
We ordered all our stationery from Etsy. Seating Plan, Programes and Invitations.
Personal Touches
Our personal touches included: the homegrown plants & hand painted pots that were used as the centrepieces, The handpainted signs created by my maid of honour/sister, Kristen, The handcrafted wedding favours (shots) made by bride & groom and The handcrafted coolers [antique crates], canoe cooler, and arbour were designed and created by my dad.
Special Moments or Highlights
Top 3 highlights/moments:
#1: our first kiss as husband & wife, in the rain. The days leading up to the wedding, I religiously tracked the weather. Praying for no rain & seeing the forecasted weather as 90% chance of rain with 35-45 mm expected I was somewhat convinced it wouldn't happened. As the day drew closer, my views of rain changed & my plan B was no longer an option I would consider. I started to see the rain as somewhat of a blessing – a refreshing, rejuvenating, much needed rain would give life back into our dry, dwindling surroundings. When I woke up the morning of, to rain and dark clouds, I knew we would get married in the rain. As we stood up there, pronounced husband & wife, the rain fell, & we kissed – I knew our day & our marriage would be blessed.
#2: having our son present & walked down the aisle. This was such a special thing to both Bobby & I. firstly, because we never thought we would have our first born, in the world, present at our wedding. Secondly, because he was a symbol of our love. And thirdly, because he is our world and the day would have never been complete without him there.
#3: when we arrived home, together as a family, married. There is so much anticipation and build up to "the big day" – but when we returned home, dress dirty, hair a mess, cake stains on his dress shirt, and a dirty diaper for Beau, it was a realization that our life together as husband and wife had finally begun. It's so easy to get wrapped up in the day and the party but important to remember, rain or shine, perfect or imperfect, the point of the day is the marriage that follows. We were both excited to reflect on and relive the day, but most importantly, move forward, together, as husband and wife.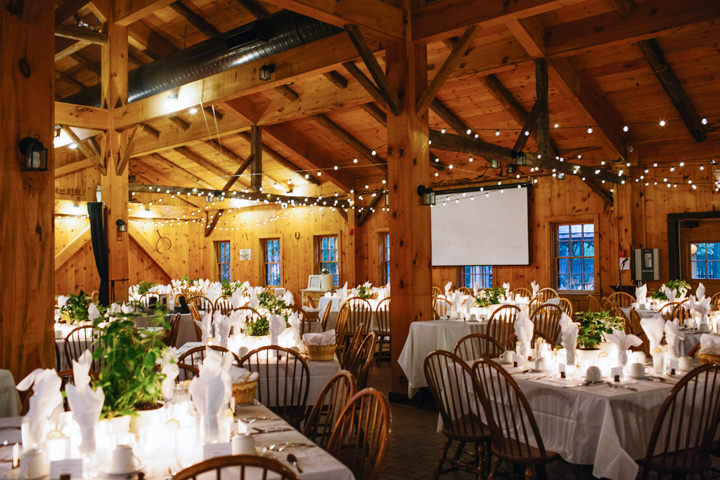 Advice for other couples
Relax – it's only one day. Rain or shine, hot or cold, the party is fun, but keep in mind that point of the day is to celebrate the love that you & your partner share. The day is not as important as the marriage that follows!
Biggest Surprise
My gift from bobby – instead of purchasing a gift (which he normally would) he recorded a video message for me. It was such a shock because it is so unlike him & meant the world to me that he thought of such a nice gesture all on his own.
Supplier Shout Outs
For more information about Grace and Gold Studios please go to:
www.graceandgoldstudios.com /  www.graceandgoldstudios.com/blog / [email protected] / 1 (613) 608 0268 / FACEBOOK / Instagram: @tracy.grace /
Grace & Gold Studios is a talented team of award winning photographers that believe that the little moments are just as important as the big. Our style is a mix of photo journalism and fine art editorial to capture beautiful images that represent the true joy and genuine moments of your big day. We strive to create images that show each of our clients in their unique love story. ! ! We are based in Ottawa, ON but love to travel. Take us anywhere your love will go!! 
Due to an email issue if you have emailed me between the 2nd & 9th of December, please resend it.
X