I have a real smasher of a wedding for you today, courtesy of the incredibly talented Matt Parry. Kate and Robert are both architects so where looking for a building that ticked lots of boxes. They found there perfect building in The West Mill in Derbyshire, giving them the industrial chic look they were going for combined with great light. They filled it with lots of colour, mixed up the textures and patterns, and dressed the bridesmaids in gold glitter. An eclectic mix that really made this wedding shine.
It was such an incredibly happy day from start to finish; I think Rob and I are still sailing on the crest of our wedding wave even now! If only you could bottle that feeling.
Kate and Robert were married on the 8th January 2016 at The West Mill, Darley Abbey, Derbyshire. 'Rob and I are both Architects so it was really important for us to get married in a beautiful, interesting and unusual space that we both loved. We love industrial architecture and started looking for venues of this type around Yorkshire and Derbyshire where we had met, studied and fallen in love. We first saw The West Mill before it even opened when it was just a building site, with piles of rubble outside, holes in the floor and no toilets or lights, but even at that first viewing, it didn't take an Architect to see what an incredibly beautiful building it was and what an amazing venue it would soon be! The natural daylight throughout the building was exquisite, the variety of different rooms and spaces were perfect for an indoor winter wedding and the brick walls and industrial features gave us the texture and richness we were looking for.'
The Dress
I found my dress at Monsoon. I loved my dress at first sight because it completely stopped me in my tracks after hours of infinite trawling online and I kept going back to it time and time again. It was unusual and modern but still classically beautiful too. I loved the glamour of the amazing embellishments but I also loved it for its simplicity, softness and movement. It was incredibly comfortable and easy to wear and the shape was really flattering. It wasn't what I thought I would buy when I started looking but looking back now, my dress suited me perfectly. I spent hours wading through websites and pinterest results looking at designer dresses but everything I found was completely unaffordable for my budget and over and above what I felt comfortable spending. I am a high street girl through and through and was really pleased to find an affordable dress from Moonson, a great, ethical high street store that was so beautifully crafted and ironically more unusual than any of the other dresses I had been looking at.
Bridesmaids
My bridesmaids dresses were a triumph and I can take very little credit at all! All I asked for in my 'brief' to the girls was that whatever they wore was gold. I didn't mind whether they wore long dresses, short ones, a skirt and top or even trousers. I love all my bridesmaids so much so it was important to me that they all felt amazing in what they were wearing and that, most importantly, they felt like themselves. They bought them from ; Phase Eight, EBay, Asos, New Look, Topshop, TK Maxx. All chosen by the bridesmaids themselves The different shades of gold all worked together so well and I loved the different styles, patterns and textures.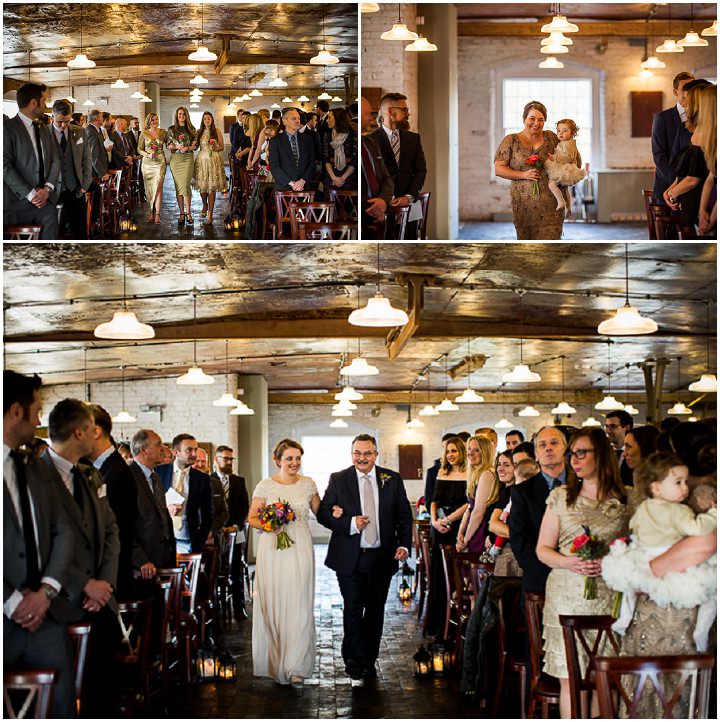 Theme or colour scheme
I think one word to describe our wedding theme would be eclectic! Tough industrial texture meets bold geometric pattern meets glittering jewellery box?! Despite it being a winter wedding, we were keen that it would be a bright, vibrant and warm wedding, loaded with as much colour and texture as we could pack in! The bridesmaids wore embellished gold dresses in different shades and the table decorations, stationery and flowers were in a range of rich jewel tones with flashes of metallic finishes to compliment the dresses.
Flowers
Following the theme of vibrant colour and texture we asked the florist to create arrangements using the rich jewel tone colours we loved with flowers of all different shapes and sizes. I liked thistles, craspedia, colourful roses and succulents and Nadia, the florist, did an incredible job of taking these suggestions, interpreting our theme and providing the most beautiful bouquets and table arrangements, far beyond anything I could have imagined. We used Tate & Lyle Golden Syrup tins for centrepiece vases because we they were fun icons of British food and design and they complimented the colour scheme.
Personal Touches
Rob & I made the ceremony arrangement above the Registrar's table following a tutorial we found on YouTube! We hollowed out light bulbs (which is a lot harder than the tutorial makes it look!) and hung them from a piece of copper plumbing pipe using gold ribbons. The florist then filled each one with flowers on the day to provide a novel centrepiece that hung over our heads as we made our vows.
I made the table runners using a variety of fabrics I ordered online. They added colour and pattern to the tables and complimented our wedding stationery. We then teamed these with concrete table numbers we cast ourselves in cake moulds!
Our cake was truly unique because it was designed and made entirely by my mum.
Special Moments or Highlights
Rob and I kept our vows very simple, following the legal text as set out by the registrar. So when we both gave speeches at the reception we used this opportunity to tell everyone how much we loved each other and how happy we were to be married. Our speeches were funny (we hope) but were also an emotional and personal tribute to each other and the fun and laughter that we share together everyday.
Advice
Don't get carried away with all the things you are told you 'must' have at your wedding. Simple details that are personal to you are much more meaningful and don't have to cost the earth. With a room full of all the people you love, some romance and a bit of bubbly, you can't fail to have an amazing time!
Supplier Shout Outs
Photographer: Matt Parry (www.mattparryphotography.co.uk)
Venue: www.thewestmillvenue.com
Caterers: Jenkinsons Caterers (www.jenkinsonscaterers.co.uk)
Cake: Margaret Jackson (Bride's Mum)
Flowers: Nadia Di Tullio Flowers (nadiaditullio.com)
Stationery: Designed by the Bride & Groom, printed by Freestyle Print (freestyleprint.com)
Decorations: Table Runners, Place Cards, Table Plan and Ceremony Decorations all made by the Bride & Groom. 'LOVE' letters and Storm Candles, The West Mill's own.
Styling: The Bride & Groom
Dress: 'Eyre' Bridal Dress from Monsoon (uk.monsoon.co.uk)
Shoes: 'Save the Night' Heels from Asos (www.asos.com)
Headpiece: Element4you on Etsy (www.etsy.com)
Hair: Hair Kandi, Sheffield (www.hairkandi.com/)
Bridesmaid dresses: A variety; Phase Eight, EBay, Asos, New Look, Topshop, TK Maxx. All chosen by the bridesmaids themselves.
Groomswear: 'Garrett' Microweave Suit from John Lewis & Co. (www.johnlewis.com)
FOR MORE INFORMATION ON MATT'S WORK PLEASE GO TO:
www.mattparryphotography.co.uk / www.mattparryphotography.co.uk/blog /FACEBOOK / PINTEREST / I: mattparryphoto / T: mattparryphotos