Well Hello Friday and have I got a wedding for you today to end the week in style. I must firstly apologise for the slight hick up in blogging this week. As Kelly C may have told you little Dexter has been poorly this week, a few trips to the doctors and then a trip to the hospital meant that my blogging duties were a little less than normal this week so I must apologise. However I have a beauty of a wedding to make up for it sent into me Matt Parry Photography and Knot and Pop wedding planners. It's a wedding bursting with colour, style, humour and a whole lot of Bollywood Kitch. With Flamingos, palm trees, the most gorgeous outdoor ceremony and some absolutely stunning outfits, this wedding is a sight of beauty from beginning to end. Enjoy!
'A fantastical Bollywood Miami beach dream in quintessential English countryside with sprinkles of love, laughter, fun and flamingos'
Pinky and Mike were married on Saturday 21st June 2014 at Sywell Grange in Northamptonshire. 'The venue was close to my family home and where I grew up. It has beautiful countryside with endless fields and a very quintessential English feel, and great for the outdoor celebrations that we envisaged. We had a total of 300 guests for the wedding. We had been planning it for a number of months, but things really gained momentum, with lots of suppliers found and the theme and scheme developed when we contacted Knot & Pop in February – lots happened in the final 4 months!'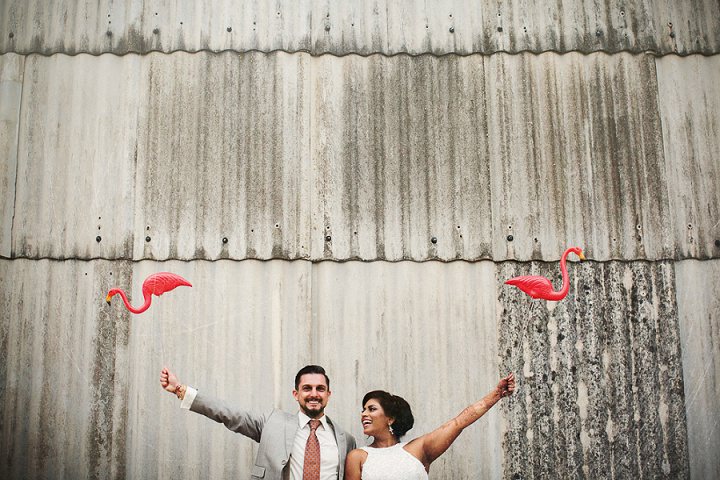 How they met
We first met over 12 years ago in Bristol, the attraction was instant and we were inseparable.
The Proposal
A Christmas holiday to Noosa was planned and we were both so excited. Mike for the amazing longboard surfing and me because I love holidays! We had decided to go to the park for sunset with some bubbles. Mike was walking the wrong way to the park and I was getting a little annoyed as I didn't want to miss the sunset as the sky had been moody all day and it looked like some sun was trying to peek through. We walked over a river and there waiting was an ornate wooden gondola (one which I pointed to the day before and said to Mike it was the most cheesiest of things!) Mike then confessed that instead of the park, he had arranged for us to ride the gondola for sunset. I didn't think anything of it and thought it must be my Christmas present. We popped open the champers, the clouds parted on command and there was the most spectacular sunset you could imagine! The rest is just for us…
The Dress
Evening Dress: Rachel Gilbert, Paddington, Sydney. Rich, elegant and regal. I felt like I was royalty and didn't want to take it off.
The gold jewellery I wore all belonged to my mother. She had the exquisite pieces made back in the 1970's and had worn them for her wedding. It was a very special and emotional moment for us.
My looks were inspired by Bollywood royalty for my Indian look, and Hollywood Royalty for my Evening look!
The Suit and Bridesmaids
We had custom made sarees and sherwani's for the bridal and grooms party during our 12 day visit to India. They all looked spectacular. Mike wore a custom made sherwani from India and for the evening celebrations wore a custom 1940's style suit from Anton's, Paddington Sydney
How did you choose your photographer
Choose your photographer with care, we scored jackpot with Matt Parry, he was simply amazing and we received images way beyond our expectations that were filled with emotion and captured so many moments from the day.
Theme or Colour Scheme
The theme was Bollywood Beach. The aim for Knot & Pop was to create a day that fused the cultures of India and the West, mixing bright colours with sea foams green for a feel of beach-side belonging. With hints of modernity, the theme was bedded in a rustic appeal, with small quips and quirks reflective of the out-going, fun and live life to the max couple we are.
Bringing a bit of Australia and their sandy sun-shine state, and state of mind back to the UK, the wedding felt like a pocket of tropical retro-cool – surprisingly set on a stunning English farm!
Mike and I knew exactly the colours we wanted. I had to have my favourite flamingo pink and coral. We love anything seafoam green with gold setting it all off, and black as the accent colour. We then handed over to Knot & Pop to bring it to life!
Flowers
The florist was Amelia Cornish who mixed peonies with native Australian flowers such as the waratah. The flowers were Aussie inspired, as this is now our home. We wanted colour and texture. Knot & Pop are experts in floral choices and helped us with our vision. Amelia Cornish executed the flowers beautifully and provided the artistry that made everyone comment on how beautiful they were.
Decoration
The décor mixed fringe garlands with pom pom honeycomb and felt balls, flamingos, gold painted pineapples – a riotous mix of rustic meets fun modern details. Gorgeous tropical inspired flowers, including native Australian flowers, sat in painted and crush glitter jam jars for eye-popping, bright and bold displays. Bespoke signage was made by Knot & Pop, including a backdrop for the DJ booth with Pinky's favourite song 'Pump Up The Jam' emblazoned onto palm tree wallpaper, with the bar named after Mike and Pinky, surrounded by a wall of hanging palm leaves. That was just some of the details that went into the most fun of wedding days, that Knot & Pop worked and flexed their creative muscle on to bring to life for us.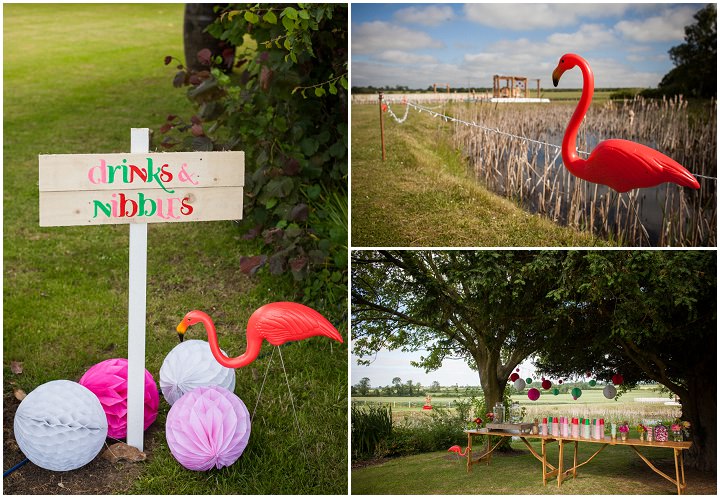 Food
We had delicious Indian food for both the wedding and the reception. The wedding breakfast was a traditional Gujurati feast, where as the evening was more contemporary.
Wedding Cake
An amazing tiered cake that had two iced peacocks a top with their feathers flowing the length of the cake. Really kitsch and we loved it!
Entertainment
We had a 5 -piece brass band called the Gold Diggers Brass Band which were fantastic and they also played our first dance and really got the party going. We also had DJ Harj who played an eclectic mix of music ranging from bhangra to the Beach Boys and everything in between. The DJ set finished at 1am, and the party was still going. There was only one thing left to do. My cousin drove his convertible Mercedes into the marquee and the tunes were restored and the party went on till around 4am!
Buy or DIY your Stationery
Mike is a graphic designer so he worked his magic across all the invitation stationery and menus. He designed and handmade the invitations which were beautifully crafted from Indian khadi paper. Knot & Pop then tied into the design and produced bespoke painted signage and the most amazing interactive table plan that created a beach-scene with trays full of sand, umbrella cocktails sticks as parasols and pink gold dipped tags as name tags, aka beach towels. People took the cocktail sticks to dress their Welcome Cocktails which really got everyone excited for the evening celebrations to unfold.
Personal or Handmade Touches
There were so many personal touches that Knot & Pop helped bring to live. From the bespoke cocktails and bar menu we had designed, to 'Mike and Pinkys Bar' signage to the 'Pump Up The Jam' DJ sign (my favourite dance floor filler!), to the table plan with beach names of places we'd been and the sense of fun that flowed through everything – it couldn't have been more us from start to finish (an impromptu finish with a friend's convertible car with booming sound system pulling up and into the marquee to keep the party going until 3am…epic!)
Special Moments
Mike: So many to choose from… Seeing Pinky dressed like a queen in her traditional wedding dress for the first time from behind the Antharpat (cloth screen that covers the grooms face when the bride enters). She looked amazing!
Pinky: To pin point one memorable moment is very difficult. I can't believe how Mike had thrown himself into the depths of a culture he was so new to. It was touching! It was an emotionally charged day with family and friends who had travelled from far and wide! Would it be when we had a fly by (again and again) together with wing walkers when we made our grand entrance to the evening reception! Would it be the Fresh Pinks rap by my maids of honour Jo and Claire! Or our first dance as a married couple!
Advice to other couples
If you can, get help from a wedding planner! We decided to have Knot and Pop help us as we now live in Australia and we were finding it challenging to organise from here. Susie from Knot and Pop was our main gal when it came to the planning and running of the day. It must not be underestimated how much Susie helped us from the start and to the final last detail. We had never met someone so organised and professional and she gave us a new meaning to being diligent. The brief we had given to Knot and Pop was Fifties Miami kitsch mixed with Bollywood beach with flamingos! Everything else just flowed. Mike chose the colour palette and this gave Susie the base to build from…and the result speaks for itself. Amazing!
Biggest surprise
Too many! The Fresh pinks rap from the Maids of Honour, the planes flying-by, how amazing the décor of the marquee looked and the organisation skills of Knot & Pop, and the mums and dads dancing the night away!
Supplier ShoutOuts
For more information on Matt's work please go to:
Buckinghamshire Wedding Photographer – www.mattparryphotography.co.uk
www.mattparryphotography.co.uk/blog
FACEBOOK
@mattparryphotos