Amber, todays beautiful bride, had always dreamed of getting married in her parents back garden, so when Joshua proposed to her she knew exactly where her wedding planning would lead. Not being a fussy couple they opted for an intimate ceremony with their nearest and dearest and then a bigger party for the reception. With their mum growing all the flowers herself for the bouquet and the decoration and a friend making the cake, this beautiful back garden wedding really does have a home grown feel to it. With a gorgeous and touching first look, and bridal portraits taken at the local skate park where they met, this wedding is jam-packed with personal touches and is just so damn cute! Big thanks to Anna Pumer Photography for the beautiful photography, even making the rain look pretty.
We would describe our wedding as a chilled fun day for everyone we loved. We just wanted to get all of our favourite people together to eat, drink and relax.
Amber and Joshua were married on the 26th June 2016 in the bride's parents' garden. 'Since I was sixteen I have always dreamed of getting married in my parents' garden, I guess I've just always known that's what I wanted to do. It took a little convincing but once my mum and dad were on board they loved the idea. They were so helpful with the preparations and getting the garden ready and I'll forever be grateful to them for making my dream come true. For the ceremony we only had 23 guests, we are quite shy so saying our vows in front of loads of people would be terrifying. We kept it to immediate family and our closest friends. It was still scary but I'm so glad we did it in front of the people we love most. For the reception we had around 70 guests. We had a year and a half to plan, which was great because it gave us enough time to do all the DIY projects and to get the garden and my parents house ready.'
How they met
We met when we were fifteen at the local skate park, Josh used to ride his bmx there and I used to go there with friends. That was in 2009 so we've had seven years together.
The proposal
On the lead up to Christmas every morning we would sit in bed with our son River and all have our Advent Calendars and on Christmas Eve I didn't find a chocolate in my advent calendar, I found a ring! At first I didn't see it and was just concerned about why I didn't have any chocolate but then I realised. After hiding my face behind my advent calendar for a while (I was pretty shocked) Josh popped the question and I said yes! It really was lovely and it was so nice that it was just River and us.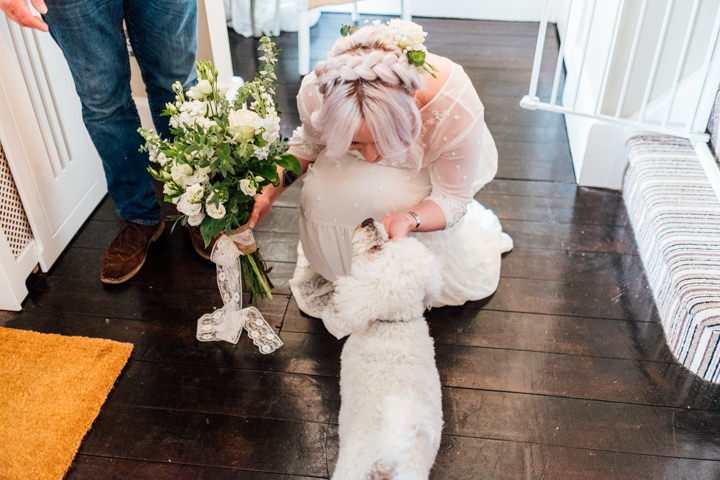 How did you allocate your budget?
We didn't really set a budget, we knew we wanted to do a lot ourselves and having my parents' garden as the venue obviously saved us a lot. I'm not even sure how much the whole thing cost, but I reckon it would've been under £4,000.
Where did you splurge and where did you save?
Our main expense was our lovely photographer Anna, we knew that the photography would be the most we spent (it was the most important thing to us) so we were willing to spend as much as we had to, to get the best photographer for our wedding.
We saved a lot on decorating and filling the garden by going to the car boot sale and picking up bits and bobs. We got lots of lace and pretty lampshades, stuff for the bar & lanterns etc. All for bargain prices.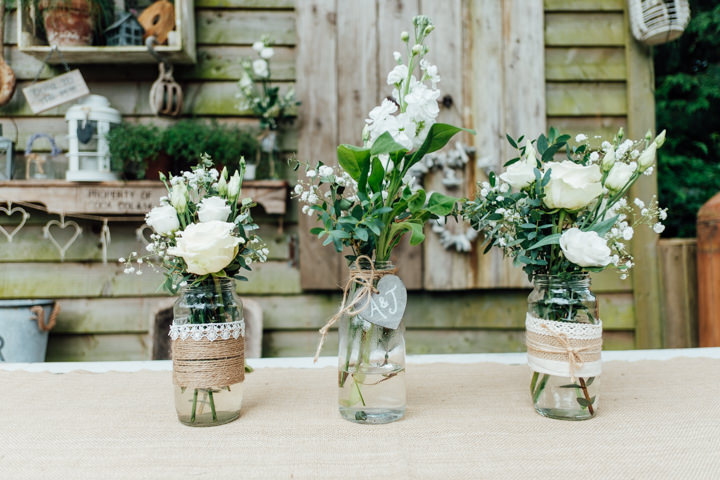 Why did you choose your photographer?
We saw a wedding which Anna our photographer had shot. We instantly fell in love with the images and after finding Anna's website we knew she was the one. We didn't want posed photos, we wanted natural photos of everyone having fun and Anna is amazing at this. She is also the queen of rain shots, so we were pretty happy when it rained. We got some awesome photos!
The dress
My dress was from ASOS, which I got about a year before the wedding. It wasn't even part of their wedding range it was just a maxi dress, it was £47.50 in the sale and it was perfect for me. I didn't want a wedding dress; I wanted something that reflected me and something that I could be comfortable in.
The suit and bridesmaids
Josh wore trousers and a shirt from River Island, a jacket from Next and his shoes were from Primark. It all worked really well together and he added some Star Wars pins to his jacket, which looked really cool.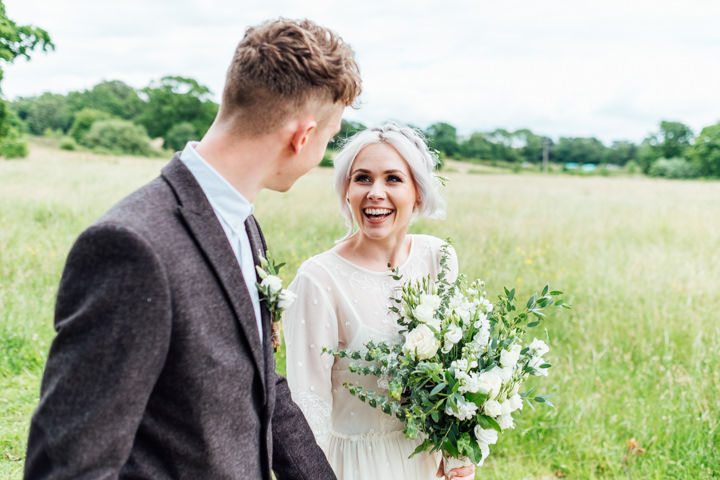 Theme or colour scheme
We didn't really pick a theme, we knew we wanted lots of greenery with white flowers; we decorated lots of little jars with lace and garden string. We wanted the bar (which Josh made) to be quite rustic with lots of photos and ornaments in. He also had some of his artwork in there, which was lovely.
Flowers
Our flowers were all sorts of different white flowers; we had roses, stocks, lisianthus and gypsophila along with two different types of eucalyptus to add lots of green.  My mum and I went to a local flower warehouse where traders buy their flowers and bought big bunches to arrange. We spent a whole day arranging flowers and it was so much fun, we even had my Nan helping out. I was so happy with how they looked and loved that we did them ourselves.
Decoration
For decoration we had little jars with our flowers in, we had so many of them! We also had big vases of flowers within the house to make that looks beautiful. We had lots of chalkboards, which Josh wrote on, he's pretty good at arty stuff like that. My favourite bit decoration wise was where we had our ceremony; under the grape vines we had an old fireplace with flowers on top and chandeliers. We even managed to wire the chandeliers so they would light up and they looked really lovely. We also had a vintage bike with flowers in the basket and lampshades hung from a tree. We bought lots of potted plants to decorate the garden with too.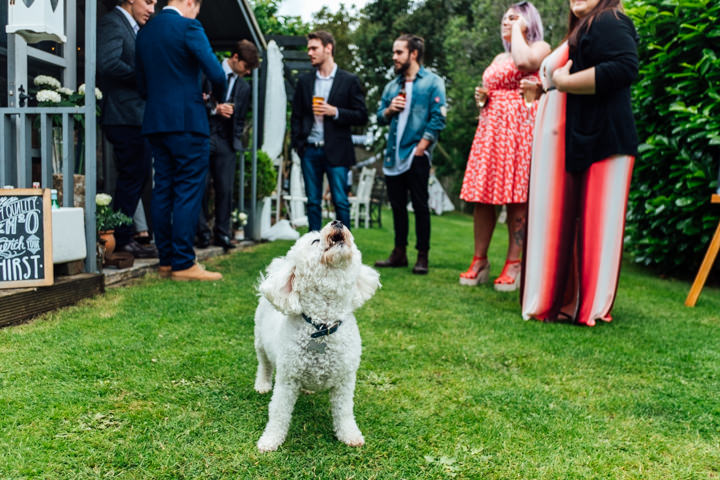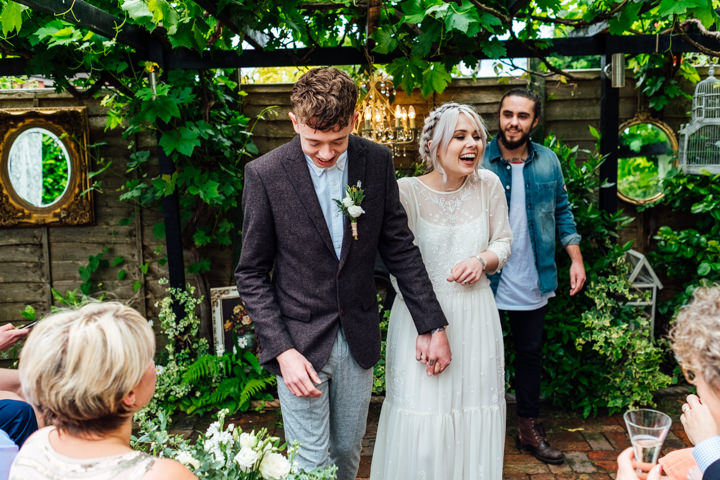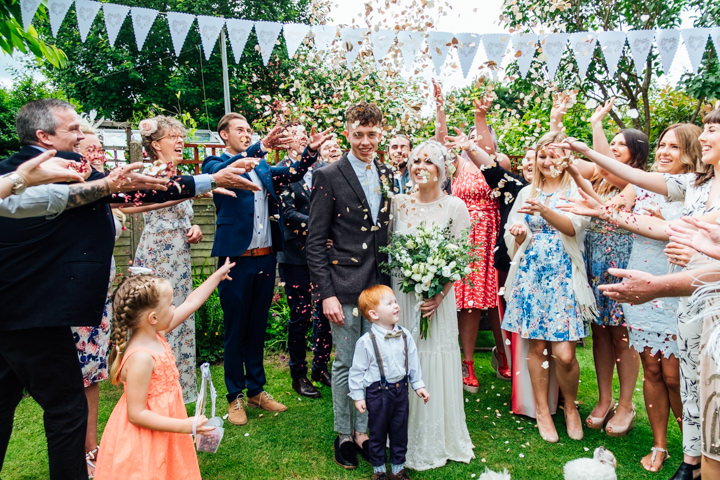 Food
We got our food from M&S from their catering range! We had vegetarian/vegan food and everyone really enjoyed it. We added lots of extra bit like olives, French bread etc. We had a cake made out of cheese, which was beautiful.
Wedding Cake
We asked our friend Karolina, who is a very talented chef to make our wedding cake! It was honestly the best cake I have ever tasted and she even made the top layer vegan for Josh. It looked amazing too. We loved it!
Entertainment
For entertainment we had darts in the bar, giant Jenga, limbo and ring toss which we made out of wine bottles. Jenga went down really well. Who doesn't love Jenga? We made our own playlist, as we wanted music that we loved and songs that were important to us.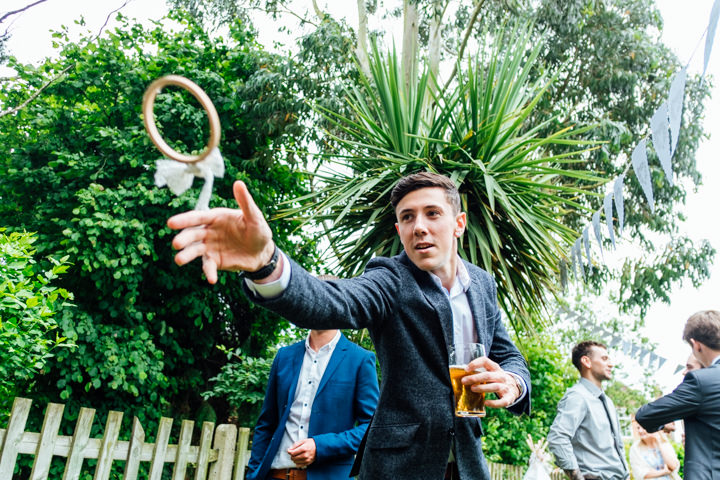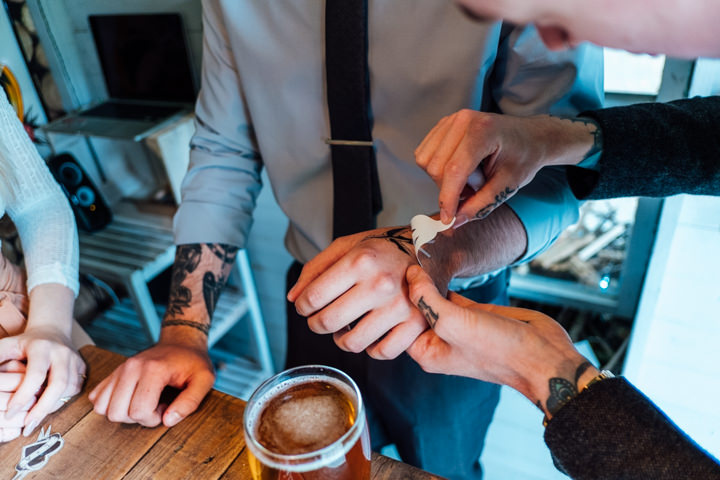 Stationery
We made all of the invitations ourselves, it took weeks!
Personal Touches
Pretty much everything was really personal, we did so much ourselves. It was hard work but it was such an achievement. I think it made the day really special knowing how much we had put into it and that everything worked out perfectly.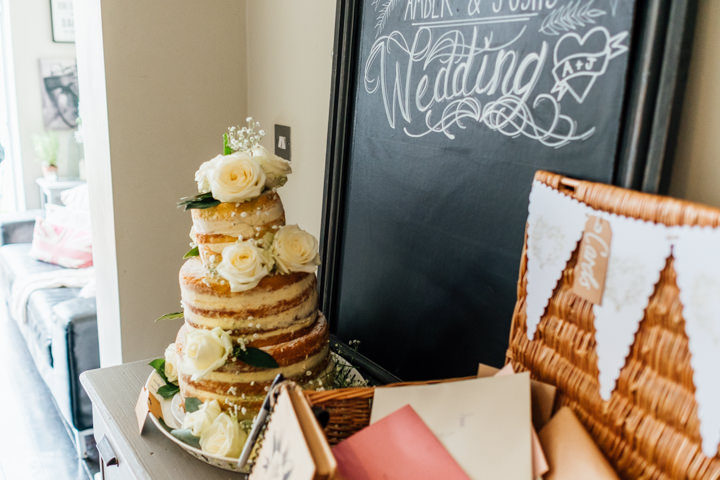 Special Moments or Highlights
One of our best friends came back from Australia to officiate the ceremony. That was a pretty special part of the day.
Advice for other couples
The only advice we'd really give it do what's right for you, don't do anything that you feel you have to. We had no first dance or speeches because that's not us, we can't dance or speak in public so doing those things would have just made us nervous. You've got to plan a day that you'll enjoy and when it comes round soak in every moment and spend time with the people you love.
Biggest Surprise
The biggest surprise was probably mum and dad booking us a lovely car to go to the hotel in. We were happy with a taxi and we thought that's what we were getting. Instead a beautiful Rolls Royce turned up.  Going in that was pretty cool.


For more information on Anna's work go to:
www.annapumerphotography.com / www.annapumerphotography.com/blog / [email protected] / I: @annapumerphotography / 07598445182
My photos are fun and creative, with an up close and personal style, getting into the heart of the action. My goal is to make people laugh and cry at the photos even if they don't know the couple. I shun tradition and my couples book me for my laid back, friendly approach. I'm based in Broadstairs, Kent but shoot weddings everywhere."