Happy Monday everyone, I hope you all had a wonderful weekend and that you are nicely rested and ready for another busy week ahead on the blog. We have a week full of weddings from the UK this week starting off with this fabulous Devin Wedding that takes place in one of my favorite venues, Tunnels beaches. Lynne and Jon wanted a chilled out wedding, that reflected the vibe of a destination wedding but without the hassle, so Tunnels beaches was the perfect location for them. They brought in a travel themed that reflected their time spent camper-vanning around America and filed their day with lovely homemade details and decoration. Such a fabulous location for a wedding and some beautiful portrait shots for the couple to cherish from Anna Pumer Photography.
Our wedding day was fun, laid-back and full of love. And, oh my word, did we luck out with the weather!
Lynne and Jon were married on the 14th of September 2016 at Tunnels Beaches, Devon. 'We were still trying to decide whether to get married at home or abroad when we found Tunnels Beaches' website. It seemed like a perfect solution – far enough from our home in Sheffield that we could make an event of it, but close enough that we didn't have to worry about flights, passports and paperwork in a different language! We read loads of great reviews, most of which mentioned how relaxed the venue is and how easy it is to work with the wedding co-ordinators, so we booked it just from seeing it online. We only went down to view it in person 6 months after paying the deposit! We had 50 guests and the wedding took 18 months to plan.'
How they met
We'd been working in the same office for about two and half years, but we only started talking on one of our work nights out. We went for our first date on the night of the London 2012 Olympic opening ceremony and we've been together ever since.
The Proposal
When we'd been together for about nine months, we decided to quit our jobs and go travelling. After six months on the road, we found ourselves in Australia in time for New Year. We knew we were heading back to the UK soon, so we splashed out on some tickets for a New Year's Eve party at the Sydney Opera House. Jon proposed just after the midnight fireworks – he even got down on one knee with a ring!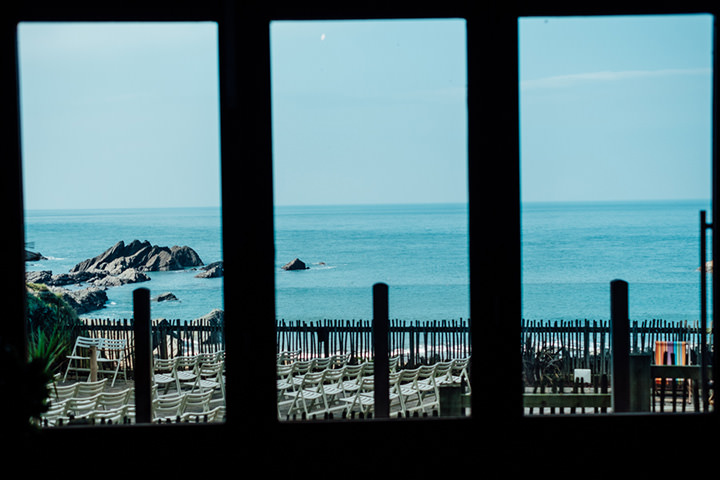 How did you allocate your budget?
We sat down with a list of everything we knew we wanted or needed then estimated how much we thought everything would cost. Where something ended up coming in over-budget, we tried to rein costs back on something else.
Where did you splurge and where did you save?
Because we were dragging them all the way down to Devon, we splurged on three nights' accommodation for our wedding party. We saved money on things we weren't as interested in, like the cake, and by making things ourselves, such as the stationery and decorations.
How did you choose your photographer?
We found Anna by chance, really. We'd googled "Tunnels Beaches photographer" and Anna's bucket list of places she wanted to shoot appeared in the search results. We looked at her galleries and loved her style of photography – so vibrant and fun! We skyped with her and realised she'd be the perfect fit for the relaxed beach wedding feel we wanted. She was such a great choice – all our guests commented on how lovely she was and our photos are stunning!
The Dress
My dress was by Maggie Sottero. I hated it when I saw it on the hanger, but my sister liked the look of it and convinced me to try it on. As soon as I stepped into it, I absolutely fell in love. I've always loved Irregular Choice shoes, so I chose a pair from their wedding collection for the ceremony, but spent most of the day in flip flops! My necklace was custom-made in America by Michael Vincent. He created a beautiful pendant out of a Yellowstone US quarter to suit our theme.
The Suit and Bridesmaids
Jon's suit was by Racing Green. His best men wore the same. They all had cufflinks made out of the same Yellowstone quarter as my necklace. The bridesmaids' dresses were Jenny Packham.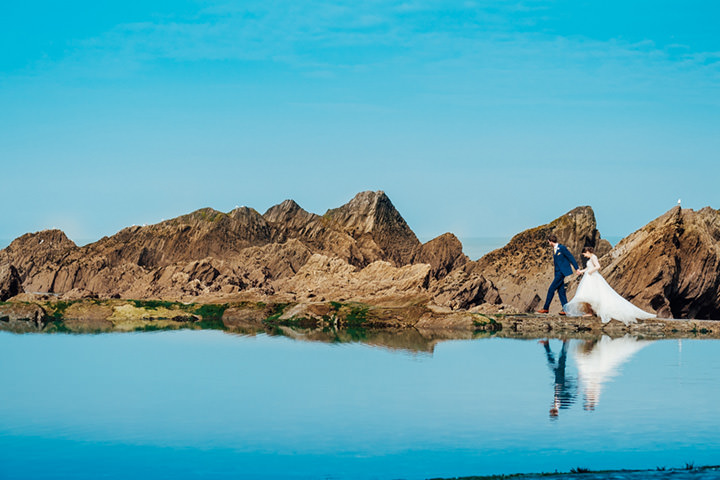 Theme or Colour Scheme
While we were travelling we spent three months camper-vanning around America and we wanted to remember this in our wedding theme. We spent a lot of time in the National Parks, so we designed our stationery based on their posters and named our tables after the ones we'd visited.
Flowers
We decided early on in the planning that we didn't want real flowers, so I decided to make them out of paper. To keep with our theme, I made a lot of the flowers from a US road atlas. The others were made out of colours similar to those found in the maps. The only real flowers were the roses around the gazebo where we had our ceremony which were leftover from the wedding the day before!
Decoration
We decorated each table with a postcard from the National Park we'd named it after, along with mini figurines of the animals you'd find in that park. Apart from that, we didn't have much decoration-wise. The venue really didn't need it.
Food
We had a buffet-style barbecue, which we ate outside. The weather was so good that we stayed outside all evening.
Wedding Cake
We had chocolate cupcakes from M&S. I moulded some of the National Parks quarters I'd collected while we were in America to make the chocolate coin decorations for the top of each cupcake.
Entertainment
We didn't have any entertainment, just music and the beach.
Stationery
We designed all the stationery ourselves. One of our suppliers from work kindly printed everything for us for free!
Personal Touches
The stationery, paper flowers and chocolate coins were the biggest things we made ourselves but there were a few other touches, like personalised mugs for the wedding party. We also put together the playlist for the whole day ourselves, which made the music much more personal to us.
Special Moments and Personal Touches
Assembling all our guests on the beach for the group photo was memorable and resulted in a great picture of everyone. The sunset was absolutely amazing – we were expecting the clouds to cover over, so we had to run down to the beach in time to get some photos, that's why you can see my ice cream cone on pretty much every sunset shot! Dancing outside by the firepit is also up there on our list of special moments.
Advice for other couples
Design your day so it's exactly the way you want it to be. And take time to remember the little things – one of my favourite memories of the day is simply the sound of the waves breaking on the beach during our ceremony.
What was your biggest surprise of the day?
How easy and relaxed the day was! Everything just seemed to happen without any stress or worry. I think the staff at the venue only asked us two questions the whole day – whether we wanted to eat inside or outside and what time we wanted our evening food. It was absolutely perfect as it let us relax and just enjoy our day.
Supplier Shout Outs
FOR MORE INFORMATION ON ANNA'S WORK GO TO:
www.annapumerphotography.com / www.annapumerphotography.com/blog / [email protected] / I: @annapumerphotography / 07598445182
My photos are fun and creative, with an up close and personal style, getting into the heart of the action. I shun tradition and cheese, and my couples book me for my laid back, friendly approach. My photographs show the fun at weddings, and all the emotions and moments that make up a wedding day. I'm based in Kent and shoot weddings all over the UK and Europe.