Confetti, I love it! When putting together a real wedding submission, the confetti shot is one of my favourites and one I am sure to include in every wedding I publish. Confetti typifies a wedding, so why not make it a real focal point of your big day. Today we are talking to Shropshire Petals who have been busy planning their summer petal harvest, trialling new colours and introducing brand-new products. Today Shropshire Petals talk us through their new additions, I'm sure you will find something super pretty to add to your wedding day decoration.
' Shropshire Petals grow and produce natural petal confetti on their Shropshire farm. Each petal is delicately hand picked to ensure only the finest are used for your confetti. Natural Petal Confetti is the perfect choice when it comes to choosing your confetti, as it is 100% biodegradable and eco-friendly; it is the preferred choice by churches and venues'
Confetti Cones
In true Shropshire Petals style, they have recently launched their new collection of confetti cones. Inspired by the stunning tones from the 2016 wedding colour palette, the new collection includes navy, brown craft, yellow, grey, blue, pink, lilac and green confetti cones.
As well as their iconic white confetti cone, each cone is embossed with the Shropshire Petals flower, giving them a subtle texture.
Confetti cones are available to order as a package, which includes 10 cones and a litre of confetti, the Shropshire Box package, which comes with 25 confetti cones and plenty of confetti to fill them and the Bo-Peep Confetti Basket, which comes complete with 20 cones and 2 litres of confetti.
Pick and mix your unique confetti mix or choose from one of their recommended mixes to match or contrast your wedding theme.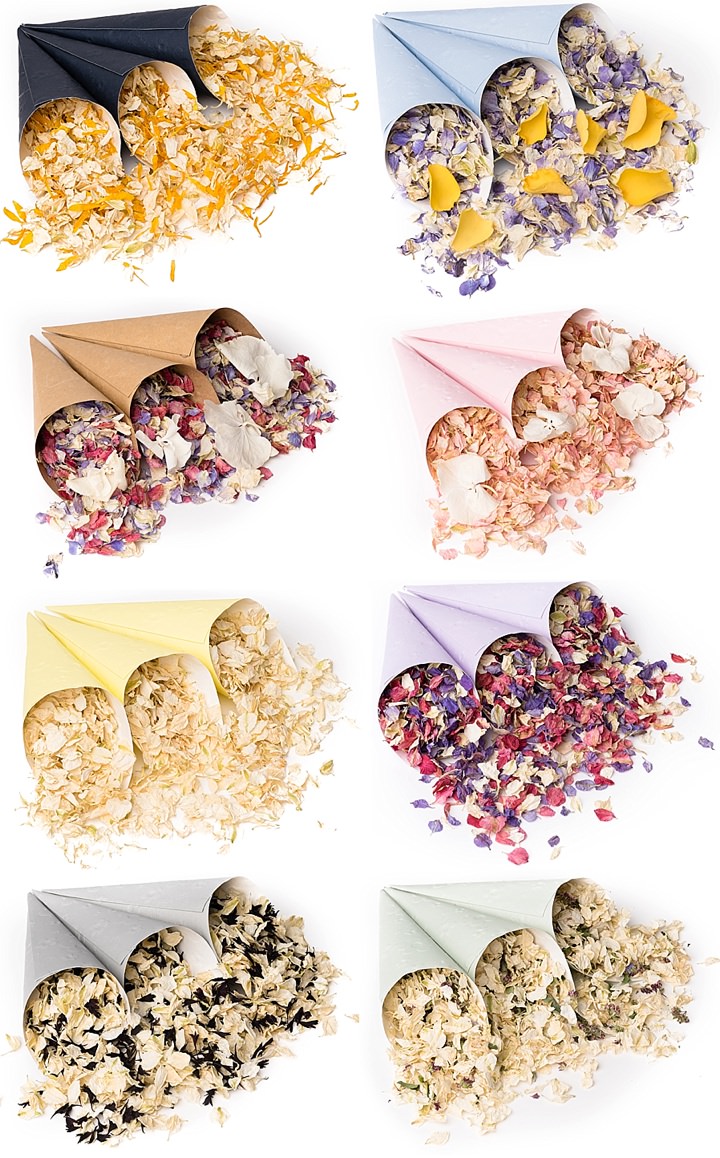 Hessian Canvas Bag
As confetti is a must at every wedding, choosing how to present it can be difficult. Do you have a flower girl handing it out to guests, do you have confetti cones for each guest, and do you have a basket, a box, a bucket or even a suitcase to display your confetti? Shropshire Petals have launched the perfect solution – their new Hessian Canvas Bag is light, simple and can be placed anywhere ready for your guests to take a handful from.
Why not make a cute sign to place near your bag to instruct guests to take a handful when its time for your confetti shot. Add some pointers such 'When the new Mr & Mrs pass by, throw up high and yell hooray!'
The Hessian Canvas Bag holds 5 litres of confetti, enough for 50 handfuls, which makes it perfect for medium and large weddings.
Bramble is back
Back by popular demand is the pretty Bramble hydrangea petal, a sage green petal with red berry tips. Perfect for a wedding in any season, this petal is versatile and is great mixed with nude tones or vibrant colourful petals.
Use the pick and mix tool to create your favourite mix including Bramble. TIP – choose the right colours to go with it. This might sound simple, but you will need to consider where your confetti moment is to take place; is the background light or dark. Choose colours to stand out with your background – light or bright colours for darker backgrounds and darker, mixed colours if your photo is to be taken in an open area.
Special offers
Weddings are expensive, which is why Shropshire Petals are always adding new special offers to their website to help couples to make savings on their wedding day. They have three brand-new offers to share:
25 Mini Lavender Bundle – 25 country chic bundles of lavender ties with raffia for an extra country twist. These are perfect for decorating tables, chairs, using as place settings, decorating pew ends and more. The 25 Mini Lavender Bundle package is available for £50.
25 Individual Confetti Sachets – 25 confetti sachets, each containing the perfect amount of confetti for one person to throw. These are small enough to hand out with your order of service ensuring every guest receives one. The 25 Individual Confetti Sachets are £40 with delphinium and wildflower confetti or £45 with delphinium and larger petals.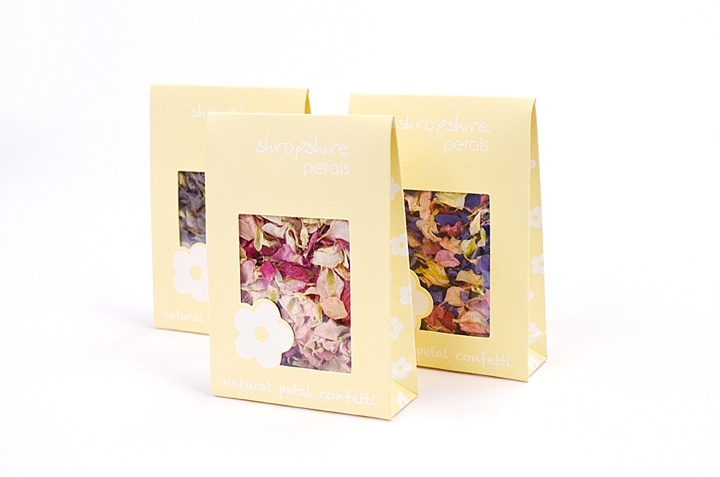 10 litre bag of Mix it Up and 100 Confetti Cones – Mix it up confetti is made up of seconds stock, which means it is full of colour. It includes delphinium, wildflower and even the odd rose and hydrangea petal. Great for a big wedding as this package comes with 100 white confetti cones. At only £100 for all of this, that makes each cone with confetti only £1 each. Have fun with your confetti moment!
Not sure how much to order? Use the Confetti Calculator to calculate how much you will need depending on your individual wedding. Don't forget to order your free sample online!
To find out more about Shropshire Petals
www.shropshirepetals.com / www.shropshirepetals.com/blog / [email protected] / FACEBOOK / @confettipetals / 01952 691 553