With summer just around the corner (she says in a very optimistic voice) it's great to look back on weddings from last year to remind ourselves just what summer actually looks like. It's hard to imagine such warm weather, picnics and garden games, but this wedding brought to us by John Barwood Photography does just that. Becky and Ben chose a laid back marquee wedding with an afternoon tea and lots of fair ground games to keep their 300 guests entertained. The result is a fun-filled day, with lots of DIY details and decorations and a thoroughly wonderful wedding.
'Saying goodbye to our old single life and starting a new exciting life together and a great party with our nearest and dearest'
Becky and Ben were married on 9th August 2014. The ceremony was held at St Mary's Church Ilminster, Somerset followed by a reception at The Old Pavillion, Honiton. 'As Christians we wanted to get married in a church building however as our own Church meet in a Town Hall we had to borrow a local Church building. Plus St Mary's is beautiful and a perfect size for our guests. The choice of venue was mainly down to the number of guests we invited. It was quite hard to find a venue that would seat 300 people. So we decided a marquee was the best idea. Having a marquee enabled us to design the whole venue, including lighting, layout and lots of pom poms. The Pavilion also offered space for children to play, a chillout space in the cricket pavilion, a shepherds hut, yurt and gave the option of camping for the brave. Ben proposed in 2013 so we had just over a year. Quite a nice length of time really, it meant that we had to get on with it but didn't feel rushed'
How they met
We met at our local church in Chard and for a while mixed with the same circle of friends. Then I (Becky) decided I would like to learn how to dance so decided to join my Auntie and cousin at some Jive classes. Casually I asked if anyone else was interested and Ben seemed keen, now I know why! So after a few jive sessions a few of us bought tickets to a Christmas dance. I hoped that Ben would ask me to dance, and he didn't disappoint me! Part way through a dance he asked if I would like to go out for a drink in the New Year. Well the New Year was at least a week away, far too long, so the next evening we went out for our first date.
The Proposal
It was on a Sunday after our church service. Whilst at church I suggested to Ben that we should go out for lunch to which he said he had already booked a table at a local pub. After the meal Ben asked if I would like to go for a walk in Neroche Woods before going home? We walked to a bench that over looked the valley and Ben opened his bag to reveal a MilkyWay and Rolo yoghurt. As I peeled back the lid and looked at my yoghurt I wondered why I could see a small piece of ClingFilm sticking out the top. That's when Ben said "Oh no, be careful there is something in your yoghurt". I carefully ate a couple of spoonful and poked around in the caramel only to lift out a sticky ring, at this point I couldn't see what it looked like. It was at that point he asked if I would marry him and at the same time licked off the sticky sauce to reveal a beautiful diamond ring. It wasn't until we got to Ben's parent's house and I could wash my hands I could truly see how stunning the ring was.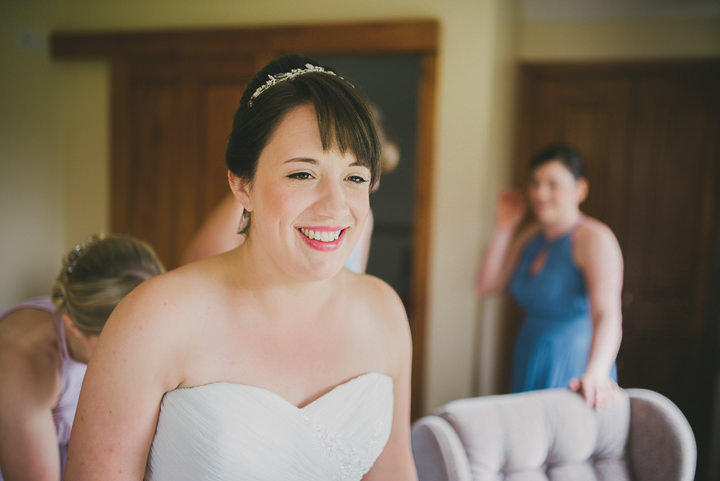 How did you allocate your budget
The majority of the budget was spent on the marquee and catering. The food was really important to us. We wanted it to be relaxed, taste fantastic and me modern. Melanie from 'The Railway' Honiton did a fantastic job. She met with us regularly leading up to the wedding to design a menu and organised all of the catering equipment and crockery. Some of our guests were still commenting on the food weeks later.
Where did you splurge and where did you save
Looking back we probably could have done without the fairground games, however they were great fun and kept the guest entertained.
We saved money by making and printing the invitations and orders of service ourselves. Also both of our families helped out a lot by making decorations, creating the sweet trolley, providing the wedding party cars.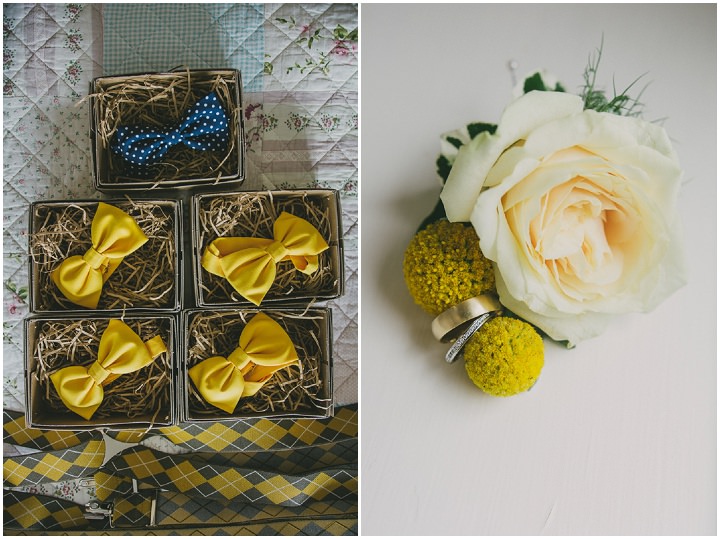 How did you choose your photographer
We both felt that one of the most important elements to get right was the photography. And we certainly weren't disappointed. John and Sophie we absolutely fantastic leading up to the wedding, on the day, and after and we couldn't have been happier with the result; definitely worth every penny. We have just had our first baby (in November) and were absolutely thrilled with the new born photos Sophie took.
The Dress
My dress was designed by Mark Lesley and was purchased from The Bridal Emporium, Exeter along with my hair accessories. My Shoes were Rainbow and accessories were purchased from eBay.
The Suit and Bridesmaids
Ben's Jacket and trousers were bought from Luget's, Exeter along with the hire of the
the Groom's Men's suits. And bow ties from MrsBowtie.com. The bridesmaids wore the same style Dessey dresses but different colours in a Lux Chiffon fabric. The youngest bridesmaid wore a dress from Monsoon and the flower girl's dress came from Debenhams.

Theme or Colour Scheme
At the start we agreed on multi-coloured/ sweet pea coloured and then Ben set his heart on his mustard trousers so to be honest the theme was 'English Summer'.
Flowers
The wedding party flowers were designed and made by Cottage Flowers of Ilminster. Lots of roses and blousy flowers in pastel hues. The Reception flowers were bought and arranged by my talented Uncle Reuben and included cottage garden flowers.
Decoration
Inside the marquee the main statement was the mass of tissue paper Pom Poms my Auntie and Cousin made. In addition to this a team of friends helped me sew mini bunting for the back of every other chair. On the tables we used old children's books stacked up to place the small jugs of flowers on.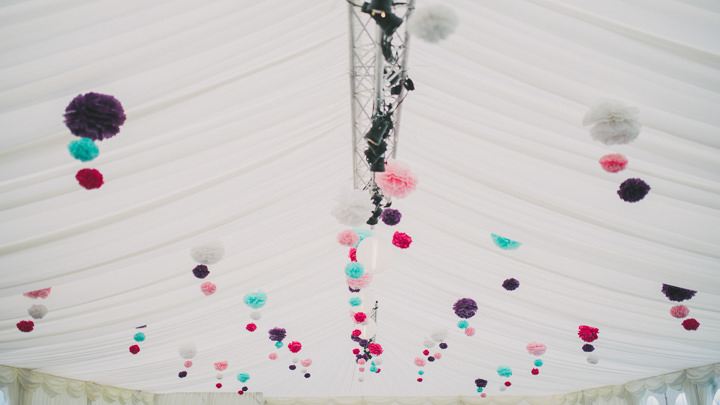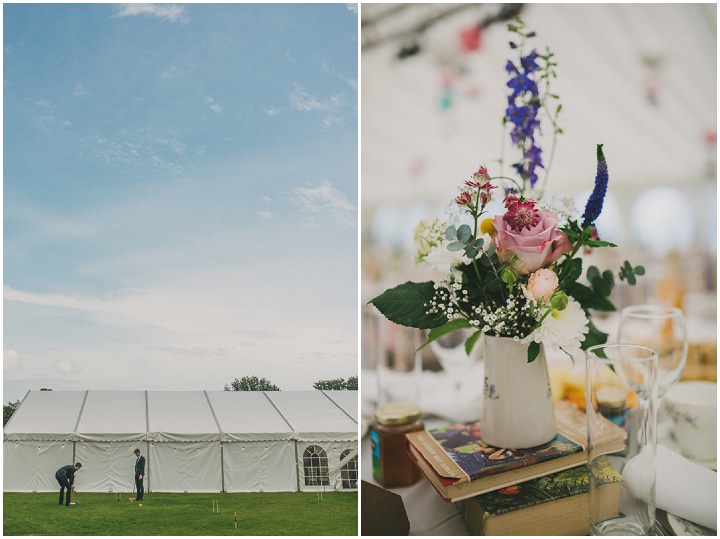 Food
The afternoon meal consisted of a beautiful English High Tea including a variety of mini sandwiches, scones, brownies, glazed sausages.
The evening food consisted of mini versions of our favourite foods: fish and chips, chicken in yellow bean sauce, Chinese ribs & Sesame beef chow mein; we love Chinese food! For dessert we hired the 'Café Bon Bon' Ice Cream Tricycle, which was a huge success.
Wedding Cake
The Wedding cake was made by Ben's nieces and nephews who at the time were all under the age of 8. Each family made a layer and also took a photo of themselves making the cake to be displayed on the table. This was one of our best ideas and meant so much to us both.
Entertainment
Outside we had the Fairground games provided by Fun4events.co.uk
The music in the evening was fantastic and really got everyone on the dance floor. They were a Band from Somerset called Soul Solutions. The band was a good size and they really gave it all their energy.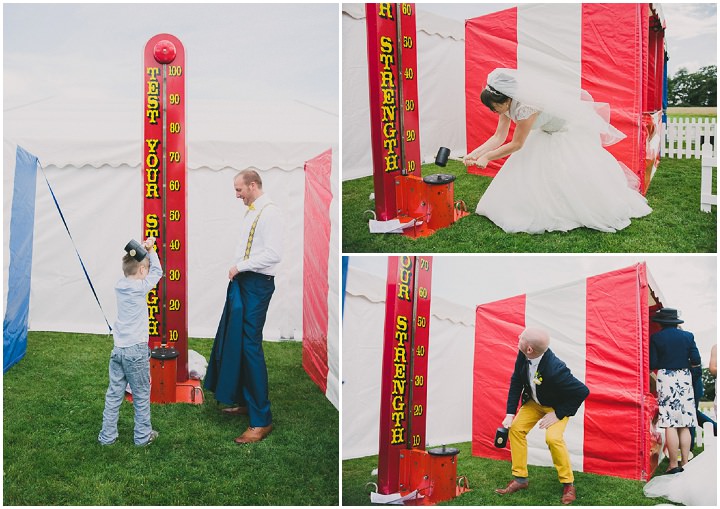 The Stationery
Ben very cleverly designed all the stationery and we had it printed by a local company, Chard Digital Print, Chard.
Personal or Handmade Touches
The sweet trolley was a huge hit with our guests and was pretty much cleared out after ten minutes! It was easy to set up and only cost £80. On the tables we stacked up old children's books as centre pieces and on them stood small jugs of flowers. We bought the jugs from charity shops which meant we could keep them. At the end of the night they were given away to the guests as another keepsake.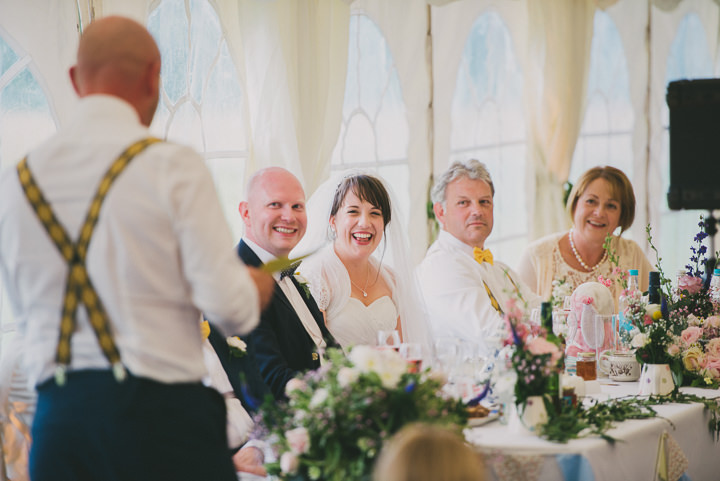 Special Moments
For both of us the best part of the day was standing in the Church in front of our friends and family making the vows that would last a life time.
Advice to other couples
Get as many people involves as possible! Many hands make light work, plus everyone adds their own creative streak.
Biggest surprise
During the speeches the Best Man suggested that I may grow up to be similar to my mum. With that Ben turned and ran out of the marquee and across the field! The whole tent roared with laughter.
Supplier Shout Outs
For more information on John's work please go to:
www.johnbarwoodphotography.co.uk / [email protected] / 07971920250 / FACEBOOK / @jbarwood / I:johnbarwood / PINTEREST
Husband & wife team John & Soph are based in Bristol and love travelling all over the globe capturing couples in love. Using an approach that combines documentary and fine art photography they love to capture beautiful, honest and timeless images that perfectly reflect their couples.