This afternoon on the blog you are in for a real treat. I am a big fan of Amy Faith's work and this afternoon I am delighted to share with you this gorgeous styled shoot that she organised with a fabulous team of suppliers. An eclectic shoot, bringing elements of 1920's glamour together with modern geometric design. The perfect contrast for a society obsessed with beautiful trinkets from the past and a hopeful attitude for an idealistic future. Thank you Amy for sharing these images with us today, they are absolutely gorgeous!
'An eclectic shoot, bringing elements of 1920's glamour together with modern geometric design'
More about the Shoot
What made you decide to do the Shoot
I absolutely adore the thought of 2 people joining hands in the most unconventional of spaces. I'm not sure that new couples planning their weddings are totally aware that, although a building may not be approved for marriage ceremonies to take place within them, they can obtain a marriage certificate privately prior to their wedding day, leaving them free to hold their wedding celebration (with a blessing instead of an official ceremony) absolutely anywhere they like. It opens up a vast array of alternative venues in which bohemian couples may host their wedding day. I've also noticed that wedding fads change quite slowly, and only now are we seeing a totally new approach to decorating and styling a venue. There is a new element of geometry and art deco design creeping slowly into the wedding industry. Lots of sleek, elegant lines adorning stationary, geometric favours dotted about on tables, venues littered with opulent colours like copper, gold and bronze. I think this looks particularly decadent when teamed with pieces of upcycled furniture, antique ornaments and mismatched china, all of which is easy for anyone to acquire. As a great fan of a visual juxtaposition, I adore the contrast of things such as cement floors, paint spattered walls and industrial furnishings against decorative touches like gold candlesticks, antique glass ornaments, disco balls and sequin table runners. I hope that by bringing these styles together it may help likeminded couples also create their perfect wedding theme.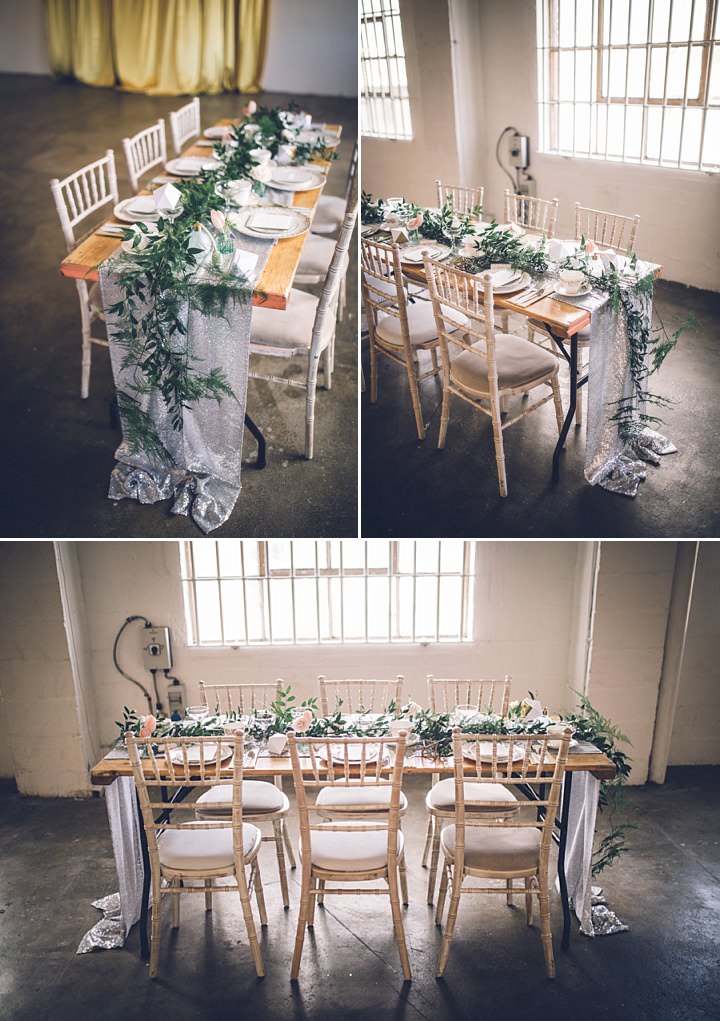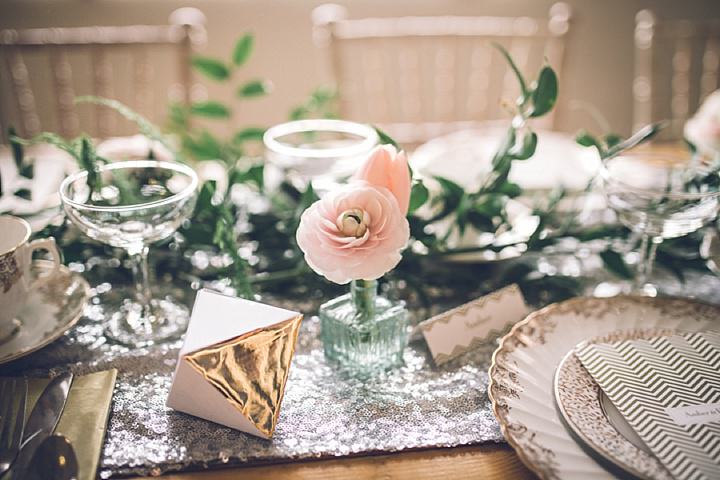 What was your inspiration behind the shoot
When planning the shoot, I decided to look outside of the UK and at some of the beautiful industrial themed weddings happening in places like New York. My general idea for the shoot was if 2 people were to spontaneously decide one morning "Hey, let's get married today! Let's have a super chic, yet totally nonchalant wedding". I pictured a small group of friends finding an empty warehouse with lots of natural light, filling it with odds and ends that they had gathered together on a moment's notice, smothering it in sequins and lashings of green foliage. Wearing expensive gowns, dripping with hand stitched beading, yet walking around bare foot. Pouring vintage champagne into a set of old crystal glasses found in someone's attic. Dancing all night to modern records played on a dusty gramophone. It's that devil-may-care, decadent attitude that makes me fall in love with this wedding style over and over again.
What did you want to get out for the shoot and do you feel you accomplished this
I wanted the chance to influence any bohemian couples out there who are currently planning the style of their wedding, who are also maybe looking for something slightly different to the norm. I wanted to show that they too can dress up an otherwise bare industrial space with a mixture of items from the past, alongside amazing modern designs, to create an eclectic aesthetic. Because, as long as they were surrounded by their closest friends on their big day, it shouldn't actually matter if the pews were in straight lines, or if the wedding china actually matched or if the hundreds of oddly shaped candles around the altar spilled wax all over the cement floor. And if anyone takes inspiration from this shoot for their wedding, I would definitely consider that a huge accomplishment.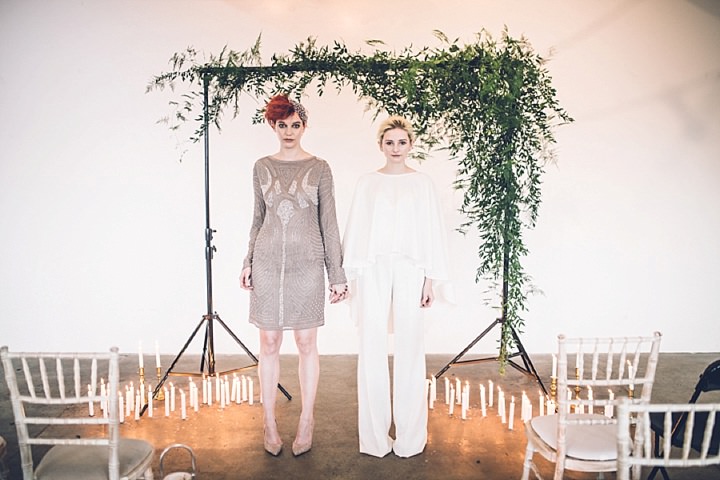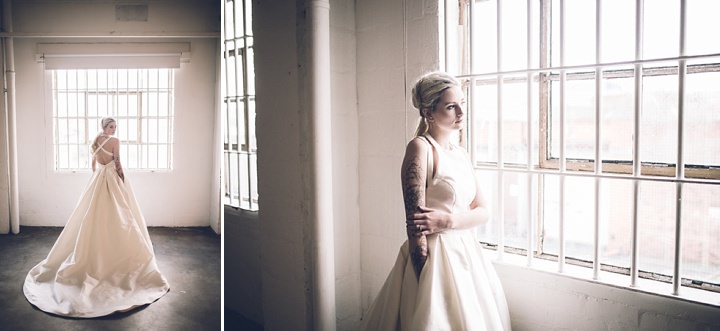 Are you planning any more shoots
I am definitely planning more styled shoots – however I can't reveal too much about it yet, as the incredibly magical and secret location is going to be set in a private venue which is not often let out for general use. But you can definitely expect something special!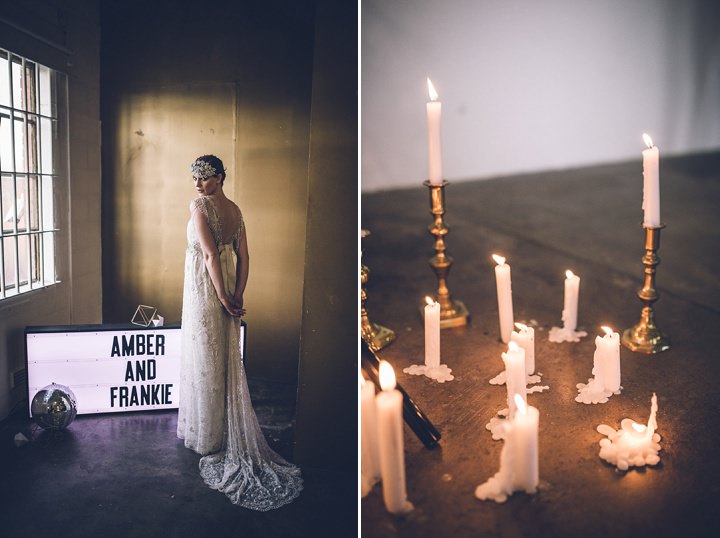 The Suppliers who made the shoot possible
To find more from Amy Faith Photography
http://amyfaithphotography.com/ / [email protected] / FACEBOOK / @AmyFaithPhoto / I:amyfaithphoto / PINTEREST