This afternoon blog we have the most amazing wedding inspiration to share with you. This styled shoot is full of pretty and whimsical details, the woodland setting is just perfect and the wedding details and colours look absolutely magical. I love the hand painted cake, the lights, In fact, I love everything about this shoot. A big thanks to Ela Aksoy from Bo Chic Weddings for sending us this beautiful shoot to feature. I am going to go and immediately pin it all to my Pinterest boards. Enjoy!

'A magical Mid-Summer Night's Dream inspired shoot

set in an enchanted woodland wedding venue. From ethereal dresses and wild bouquets to delicate details, flora and fauna, this shoot represents the alternative couple and their ideal vision of a romantic wedding'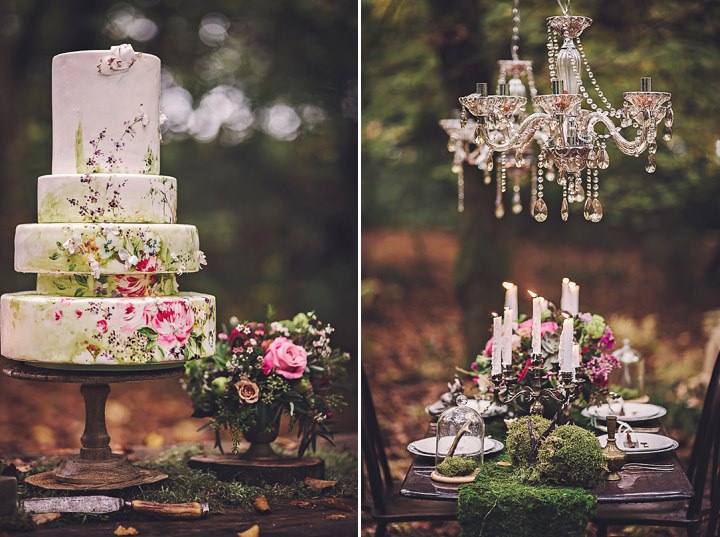 What made you decide to do the Shoot
Matthew of Matthew Bishop Photography got in touch with me as he wanted to do a shoot at Woodland Weddings Ltd – a new woodland wedding venue based in Tring who are launching their venue this year and wanted some fresh images for their website. He asked me to be involved from a coordination and styling point of view and after visiting the beautiful venue, I was very keen to get going.
I aimed to create something that hadn't been seen before and I've always wanted to design a shoot with a new take on a Mid-Summer Night's Dream and thought this was the perfect venue for it!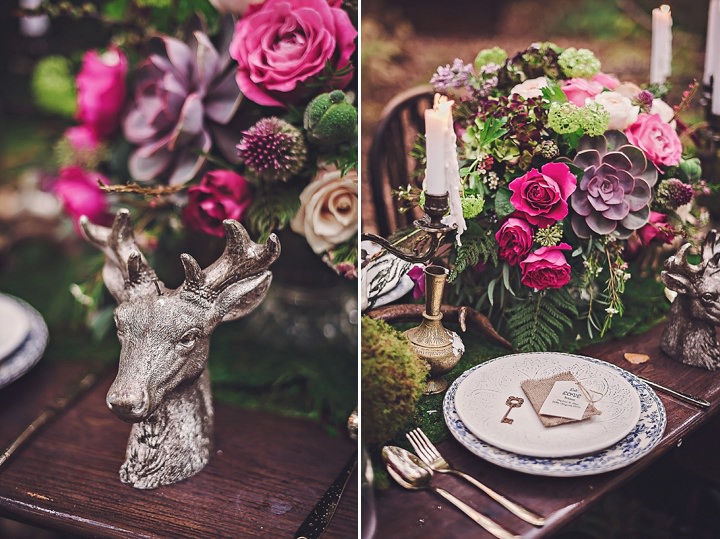 What was your inspiration behind it
A Shakespearian aura inspired by A Mid-Summer Night's Dream was the main inspiration behind the shoot. Nature, flora and fauna were also a big inspiration as I wanted to incorporate the nature of the woodland into the styling. The cake itself, hand painted by Nevie Pie Cakes, was amazing – it was full of beautiful details from hand painted flowers and trees to deer and sugar craft butterflies. I added vintage books, candles, moss and flowers to the cake table which brought a sense of wild romance. I like the mismatched vibe, so not much of my styling for the shoot was symmetrical or matching – I think things look more beautiful when it appears as if they were naturally there or just 'placed' there.
The Mid-Summer Night's Dream inspiration was brought to life in the details. From stags and antlers to little gold-painted donkeys, there was an animalistic element to the styling which was, of course, inspired by the animals in A Mid-Summer Night's Dream. Mushrooms were carved out of wood and nestled between the tree stumps to add a wild, enchanted vibe. Plenty of lanterns, candles and flowers really added to the naturally romantic, woodland feel I was aiming for.
The colour palette was a mixture of berry tones and fuchsia hues, which worked really well in the woodland, brightening up the venue and adding colour lots of colour. I also asked Joules to include a light pink, blush colour within the flowers and plenty of greenery to add texture. Including little touches of gold here and there created an element of luxe within the table scape, cake design and stationery – this worked really well in creating a magical feel. All of the attire was inspired by bohemian style – lightweight, delicate bridal wear by Katya Katya Shehurina and a stunning oversized flower crown by Willow and Thyme completed the ethereal, boho bridal look I was hoping for. The white of the dress and lush bouquet against the darkness of the woods looked so beautiful! The flower girl wore super cute dresses by Little Bevan which were featured on Brides The Show catwalk in 2015 and they really suited the boho vibe (especially the purple ombre dress – beautiful!)
What did you want to achieve from the shoot and do you feel you accomplished this
Originally I was hoping to do the shoot earlier than October, so the images/film would have a summer-y vibe with shots taken in natural, hazy sunlight… But, as you can see from the images, this isn't how they turned out. Due to a number of factors the shoot had to be postponed to a very wet and rainy October! This sounds like a disaster but it meant Matt and Hazel achieved a completely different feel within their images/film, more mystical and moody (a good moody!) and we LOVE them! I think this really gives a new take on A Mid-Summer Night's Dream inspiration, focusing more on the 'night' rather than the 'summer', and I'm so happy with how the shoot turned out. We have a stunning range of images (by Matthew Bishop Photography) and a super cool, artsy film (by Heartfelt Productions) to go with them.
Are you planning any more shoots
Yes, I have some very exciting ideas lined up for 2016 with some super talented suppliers, so watch this space!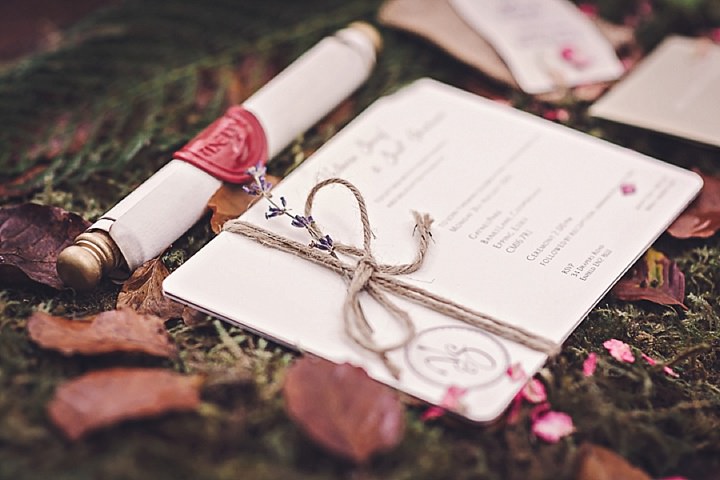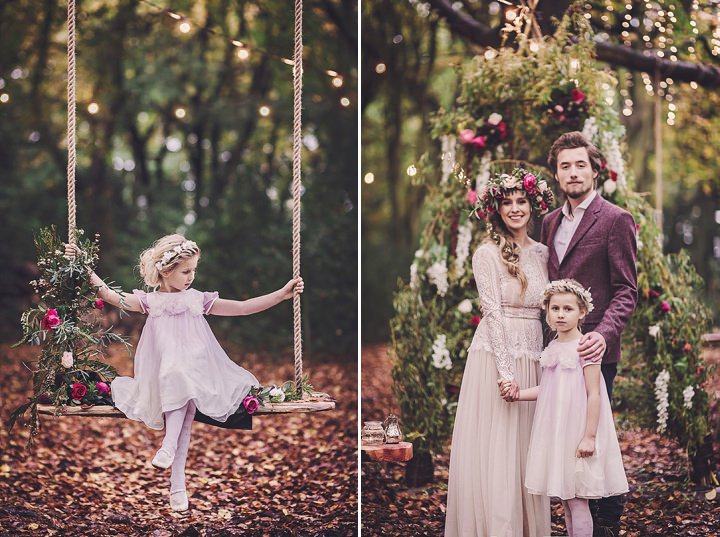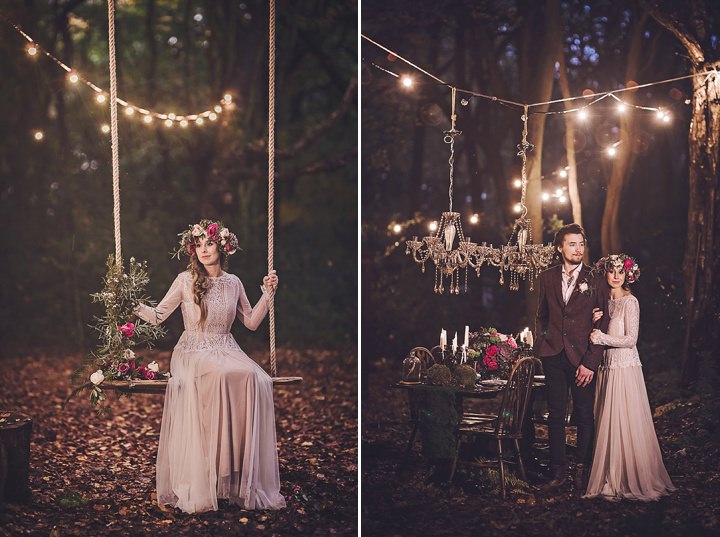 The Suppliers who made the shoot possible
To find more from Bochic Weddings and Events
www.bo-chic.com / www.bo-chic.com/index.php / [email protected] / FACEBOOK / @bochic_weddings / I:bochic_weddings / PINTEREST