Today we are heading off for a huge dose of summer sunshine with this stunning Tuscany Wedding. Lord knows that we need some sunshine at the moment, the weather here in the UK is positively horrid. I hope today's helping of wedding pretty puts you in a good mood and starts you thinking about your summer holidays! Emily and Daniel have always loved Tuscany so decided it was the ideal place to get married. They kept things simple as the Italian backdrop was so amazing, and created a soft, natural looking ceremony area and beautiful reception with long tables for relaxed dining. Putting their art degrees to good use they both created some really pretty DIY projects that really added a lovely helping of personality into the day. Thanks to David Bastianoni Photography for the lovely images.
'We were so blessed that day. Family, friends, sunshine, music, food & all the love in the world: The time of our lives'
Emily and Daniel were married on 30th July 2015 at Tenuta La Borriana, Carmignano, Tuscany, Italy. 'Italy has long been a favourite holiday destination for Daniel & I. The art, food, history & culture as well as the romance, beauty and sunshine! We thought it would be the perfect place to get married… and it was! We had 83 guests plus 4 children. We got engaged in June 2013 and started making plans straight away. In the 2 years building up to the wedding, we visited Italy twice. The first time was with our parents, to explore venues and meet the 'Getting Married in Italy' team. The second visit was to our chosen venue. We met the lovely family who run La Borriana and started to build a picture of how the wedding would be.'
How they met
We met in Sheffield, England. We were both studying Art and everything just fell in to place like it was meant to be all along. We've been together almost 7 years now.
The Proposal
Daniel packed up a picnic as a surprise. We drove in the car for a few hours and eventually I realised we were visiting the park where we'd shared our first kiss. He'd made a playlist of my favourite songs and spread out a delicious lunch. He told me to fetch some juice from the basket and as I turned, he was there on one knee with a ring! It was the most beautiful surprise, I cried with joy and of course said 'Yes!' We then drove about 400 miles to see our families to share the good news, it was a dreamlike day and one I'll always remember.
How did you allocate your budget
We had to be clever with our budget. Getting married in Italy meant that some family and friends couldn't join us and therefore we wanted a celebration back in Britain too. Once we figured out what we'd need for that, all our other savings went towards our wedding day in Italy. You have to think of the hidden costs when getting married abroad, which can be difficult – for example, we had to get certificates translated and then securely shipped to Italy. These things all add up but it was all well worth it!
Where did you splurge and where did you save
We wanted the wedding to be a part of a holiday with family and friends, so many of us stayed at the venue for a week. Friends joked that it was a 'Wedding week' as opposed to day but it just created the most wonderful atmosphere in the build up to the big day. We didn't have to spend the week there but that was our choice, to make it a holiday and therefore our 'splurge.' We were very good at saving too, we handmade so many things (that is where our art degrees come in handy!) From the invites, to the favours and eventually the 'Thank you' cards, we cut, folded and printed them all at home.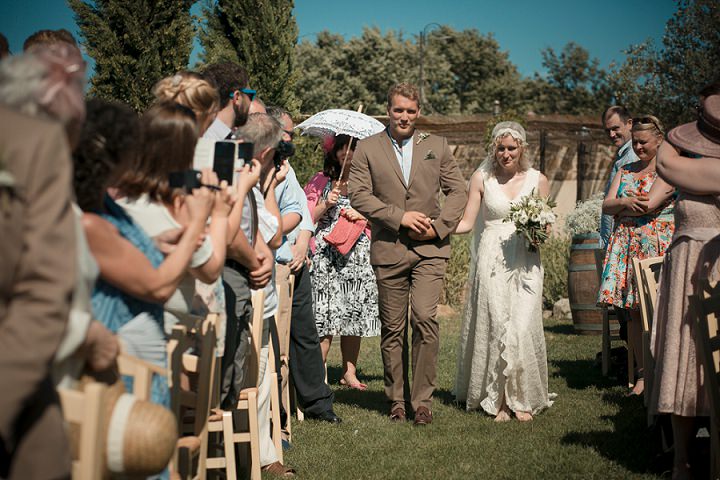 How did you choose your photographer
Our photographer was recommended to us by the 'Getting Married in Italy' team. They knew we wanted a certain feel to our pictures, nothing too formal but something that captured the 'real' atmosphere of the day. Daniele was brilliant, a real gentleman and his photographs are stunning.
The Dress
My dress was by Finnish designer Minna Hepburn. I went to her showroom in London after spotting the dress in a bridal magazine. The showroom is above a church, it felt very special to be trying on your wedding dress to the sound of people singing worship music. I knew I wanted my veil to be a 'Juliet Cap' chapel length, like my Grandmother had worn and her mother before that. I found a very similar one in Sheffield, which was perfect. My shoes were from Accessorize and I was bought a beautiful 1920's clutch bag from a flea market in Cowbridge, which finished off the outfit. Daniel passed a present to me on the day of the wedding via his sister, a sweet pair of sapphire earrings that matched with my engagement ring. I also wore a very special ring that had belonged to my Great, Great Grandmother.
The Suit and Bridesmaids
Daniel was absolutely over the moon with his suit. He went with my brothers to London after failing to find anything in Wales where we live. He had something in mind and Jaeger came up trumps. He didn't want to wear a tie, so bought a 'Grandad collar' shirt from COS. The bridesmaids' dresses were an amazing find in H&M! They were a bargain and exactly what we were after.
Theme or Colour Scheme
Getting married in a Tuscan olive grove means you are surrounded by beautiful colours, shades and hues. We didn't want to have any strong colours in our 'wedding palette' that would clash with the natural environment. We kept everything as 'Italian' themed as possible. Friends even knitted us large woollen olives with little faces, to give to our younger guests!
Flowers
A ton of Gypsophilia, Queen Annes Lace, Lisianthus, White Heather, White Roses, White Sweet Pea, trailing Jasmine, Olive vine & sprigs of Rosemary, Thyme & Lavender. I wish they could have lasted forever, they were divine!
Decoration
Due to our surroundings, we needed very little in the way of decoration. We tried to let the surroundings and flowers do the talking. Daniel's sister made some wonderful bunting and we decorated the wine cellar with paper decorations and fairy lights for the disco.
Food
When in Rome… We really let the Italians take over in this aspect of the wedding. They created some amazing menus and we handpicked each course. Everyone told me that as the Bride, I wouldn't eat much on the day. How wrong they were! I've never tasted food like it, we started with an Aperitif buffet. There were olives and pecorino cheese with honey, Bruschettas with Tuscan salami and ham, with plenty of Prosecco to wash it down. We had a Pasta course too (Ravioli with ricotta and a nettle sauce) and eventually the main course of Roast Scamone Beef, with rocket and flakes of Grana cheese. Before the wedding cake, we had a round of Vin Santo with Cantucci, our guests enjoyed the lot!
Wedding Cake
We asked for a traditional Italian wedding cake, it was laden with fresh fruit and continued on the theme of the day. The Italians asked us to choose a 'cutting of the cake' song, which we'd never heard of previously. It was nice to cut the cake whilst our family and friends danced around us with sparklers.
Entertainment
We asked for some local music and we were very pleased when an 'Italian folk duo' rocked up to the wedding. They were the perfect soundtrack to the day. Later in the evening we had our disco in the wine cellar, with an eclectic mix of music from Whitney Houston to The Strokes, it was a fun place to dance!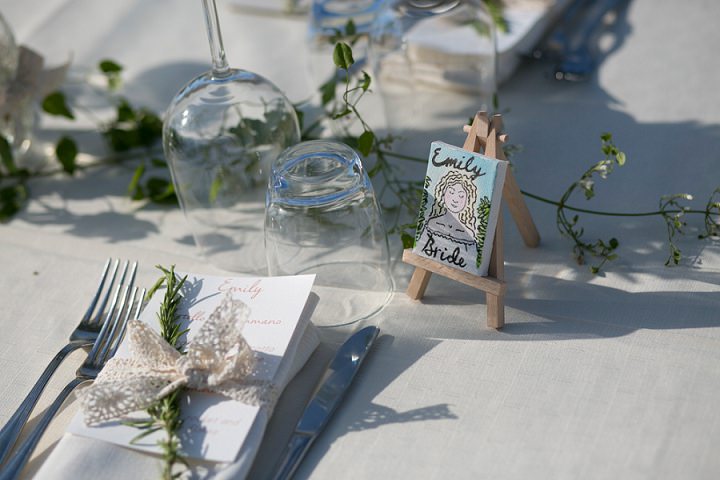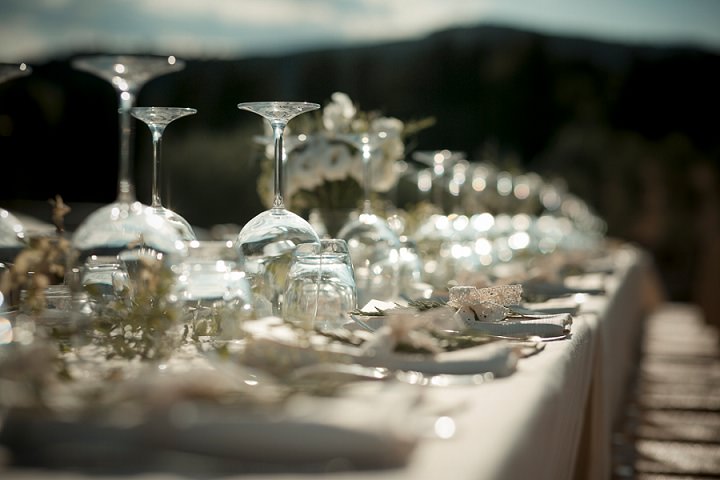 The Stationery
We made the lot!
Personal or Handmade Touches
Daniel & I really wanted live music for the wedding ceremony, so we had a guitarist and violinist to play me down the aisle and both of us back down the olive grove path. It was magical to hear 'Take Care' by Beach House with an Italian twist & when they played a rendition of 'Postcards from Italy' by Beirut, we were both beaming! Daniel wanted the guys to have a certain look, so his Grandfather, Father, Best-Men and brother in laws all wore plaited belts and had olive green pocket squares. He also made them all a bracelet of beads to wear, just a cool little touch. It's nice that months after the wedding, the guys are all still wearing them, happy memories! We also painted tiny portraits of each other to mark our places at the dinner table, neither of us were too impressed with our own efforts but we loved each other's attempts.
Special Moments
After our photos with family and friends, we went with the photographer Daniele out into the vineyard. We'd been watching a small 'Piaggio Ape' 3 wheel truck collecting olives during the week and thought it would be great to have some photos in or around it. 2 minutes later, Daniele & Daniel had broken in and I was in the back. Our guests were watching over the balcony, laughing as it all unfolded. Shortly after, we walked around to the terrace where we'd be having dinner. Our folk duo were playing 'That's Amore' as a surprise for us and we were greeted by cheers as we appeared before everyone. It was simply unforgettable seeing all your loved ones, supporting you and celebrating your marriage, simply all our dreams come true!
Advice to other couples
Although it truly should be a celebration for family and friends, your big day is just that, your day! By all means listen to advice and suggestions but don't be afraid to follow your dream plans. We had a really hard to decision to make when choosing to get married in Italy. Despite planning a party back at home, we knew there'd be people who couldn't make it and they may be upset by our choice. We'd never have changed our minds though and so glad we didn't, in fact we were really surprised by the number of people who chose to travel, you may find yourself surprised by things to?!
Biggest surprise
We were told on the day of the wedding that the local mayor had taken a 'personal interest' in the British couple who were getting married close by. Sure enough, he turned up to the wedding wearing a bright Italian sash! He spoke at the start of the ceremony on our home country of Wales and presented us with our marriage certificate. It was amazing if not slightly surreal. It honestly felt like our two countries had come together for the day, we left Italy with an even bigger family… Now that is amore!
Supplier Shout Outs
For more information on Daniele's work please go to:
www.davidbastianoni.com / www.davidbastianoni.com/blog / [email protected] / FACEBOOK
Due to an email issue if you have emailed me between the 2nd & 9th of December, please resend it.
X